Shop.  Sell. Save. Smart! is the motto of the nation's leading children's and maternity consignment sales event franchise.  It's also this mama's favorite way to find awesome deals for my son and me.  My son has an obsession with Elmo (or "Melmo" as he calls him). Just a few weeks ago at my local Just Between Friends (JBF) event I stocked up on Elmo dolls, books, DVDs and CDs.  I was able to buy so much because I was paying a fraction of retail prices for gently used items.  An event franchise that allows moms like me to save a ton, or even get money by consigning, was started in a mama's living room 15 years ago!
I'm honored to have Shannon Wilburn, the CEO and co-founder of JBF, join PSMM for this guest post.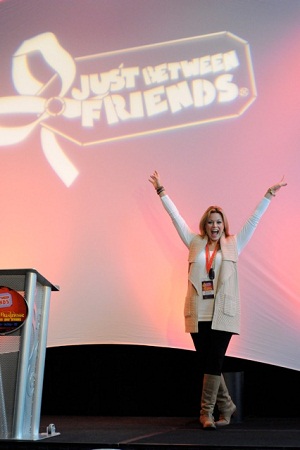 Shannon, how did you and your fellow innovator, Daven, come up with the concept for JBF?  Share your journey with us!
I look back and I can't believe that I had the opportunity to do this.  I'm so floored how the Lord laid the path before me.  It wasn't easy!  Last year someone said to me, "you're like an overnight success."  I thought to myself, "ya, a 14 year overnight success."
In 1997, I had been looking for a way to contribute to my family's income.  My husband is a pastor and I had a degree in Elementary Education that I wasn't using.  I really wanted to be a stay-at-home mom to my then one and two year old.
My mother called me one fateful day after her co-workers had shown her a bunch of cute baby items they had purchased at a local consignment sale.  She said, "Shannon, I don't know much about it, but all I know is that families participate, they bring things, and it's an event that just happens twice a year."
Consignment wasn't something new to me because when I was in middle school my father became disabled.  He went from having a six figure income to being unemployed.  I had a clothing budget and wanted to buy as much as I could so I shopped consignments.  When I became a mom it was very natural for me to buy my kid's clothes at consignment stores.  So when my mom heard about this idea she thought I could totally do it!
Even though I thought it was a great idea I wasn't 100% sold on the concept, so I approached a friend of mine from church.  Daven was the biggest bargain hunter I knew: from dumpster diving to having garage sales all the time!  Daven jumped right onboard and that's how our partnership formed.
We had our first Just Between Friends Bazaar in my living room, using my kitchen drawer as a cash register, and sold $2,000 worth of merchandise.  I made $150 from that first sale and it was the hardest $150 I've ever made.  We talked seventeen of our friends into consigning used clothing items for the event.  We did all we could to make those items look their best; we washed everything, clipped loose threads, sewn buttons, and got out stains.  All of that grueling work paid off because people who attended our event asked when the next one was.  Before we knew it we had moved to a three-car garage, then a church gymnasium, and in 2000 we took a huge leap of faith and moved to our local fairgrounds to hold bi-annual JBF events.
Soon friends and family were asking to duplicate our events in their area.  Daven and I didn't have a business background so we just shared all of our secrets and gave people permission to use our business name.  It was a lesson learned but it was a great way to start growing JBF.
The Lord had his hand in this the whole time.  I soon found myself answering the same question over and over again and a friend of mine who owned a small business suggested I franchise.  I bought the book Franchising for Dummies and we sold our first franchise in 2004.  We now have 125 franchises in 24 states!
There's no way that I could've imagined this.  I just feel so honored and blessed that I get to do this! I love the corporate staff I work with.  My franchisees are awesome and they're very smart savvy business women (and a few men!).  It's a joy and an honor to be part of it!  I don't see myself doing anything else.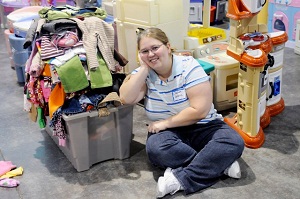 JBF offers mamas a one stop shopping event for all baby necessities and even maternity clothes.  From inventions like Boppy pillows and Crocs shoes, a lot has changed with baby items over the past 15 years.  What was a hot seller when you first started, and what's the most popular item at the JBF events these days?   
It's totally not fair!  Those of you with young kids have it easy.  The Exersaucer was just introduced when my kids were little but it had two toys on it and we thought it was so fun.  Now you have these Exersaucers that you could leave your child in for two years and they wouldn't know what to do with themselves because there are so many gadgets.
The items that continue to be popular at JBF events throughout the years are the ride-on toys and outdoor toys and all the baby equipment.
I'm sure it has been a very long road with many lessons and unexpected rewards!  Share with us a special moment that stands out along the journey.
Just this past March, a franchisee had a conversation with one of her sellers, a pregnant mom expecting her third, who was really struggling.  She was on welfare, couldn't afford the two children she already had, and felt as if she might need to give her baby up.  She was hoping to sell all of her items at the upcoming JBF event so she could afford to buy baby equipment and clothe her two children.
The franchisee shared this on our private message board with fellow JBF franchisers and corporate staff.  A fellow JBF'r came forth, feeling as if the Lord had put this on her heart, and wrote a blank check so the mother could get whatever she needed for her children!
That's not an uncommon story!  Yesterday another franchisee was sharing with me that a mom was standing in the doorway of an event crying because she knew she'd be able to afford everything she needed for her family.
Not to be heart wrenching but it's just a part of the business we do.  This isn't just JBF; it's all mom and pop consignment sales that are out there.  There's an intrinsic value to what we do.  It's a lot of hard work but it's so rewarding.
According to the JBF website, "A portion of proceeds and/or unsold, donated items are given to non-profit groups who use the clothing and funds to help local families in need."  You recently reported those donations total over $7,000,000!  So not only can moms save money and make money by cleaning out their kid's clutter, but they can also give back to their own communities!  Share a little more about this…  
We have so many families who participate with JBF events that don't need to.  They are upper middle class and they could give away their stuff because they don't need the income generated by selling their items.  However, what they're doing when they consign is allowing families without their means a dignified way to clothe their family.
We needed an outlet for sellers who didn't want their unsold items back and started to partner with nonprofits.  The JBF in Tulsa has partnered with the same nonprofit for the past 12 years!  The community knows they'll get quality gently used items following our sales.  Not only are we able to help everyday families but we are also helping families who can't afford anything.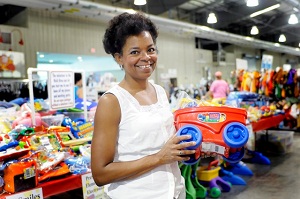 A lot of mamas reading this right now have BIG dreams but very little time.  What are your words of wisdom? 
I tell our franchisees that this isn't a hobby – it's a business.  If they're going to make this commitment then they're making it to the whole community! You need time or money to have a Just Between Friends franchise or really any small business.  We started JBF in 1997 but I still worked another job from 2000 – 2004.  It wasn't until JBF was making as much as my job that I could quit and that took 7 years.  It's so important to set realistic expectations.
My words of wisdom are to do something that you love.  Do something that you're passionate about because then it doesn't always feel like work.
Here's another piece of advice that has been really helpful for me. You know the woman who is great at everything: best cook, looks great, crafty, smart, etc.  Well, you never see the areas where she's weak but we all have them!  I think it's important to know your strengths and your weaknesses. Then focus on your strengths and hire out your weakness!!!  How much is your time worth?  You might think you have to be all things to all people because you don't have a lot of money.  You need to think outside the box like hiring a virtual assistant.
Lastly, find a mentor!  Look within your circle of influence and see who you look up to.  Give that person a call and odds are they'll sit down with you for 30 minutes to an hour.  I love sitting at the feet of some of these small business owners in Tulsa because they help me so much.   You don't have to have all of the answers when you surround yourself with smart people!

Editor's note:  I interviewed Shannon over the phone and wrote up this post.  I truly wish I could've videotaped our conversation because she has such great energy and a BIG heart.  I did my best to convey that within the interview above.  I really want to encourage everyone to experience your local JBF event (click here to find one by you) and if you like it, share it with your friends!  Better yet, invite some friends to experience the event with you.  If there isn't a JBF event in your area and you're looking for a small business opportunity then click here for franchising information.