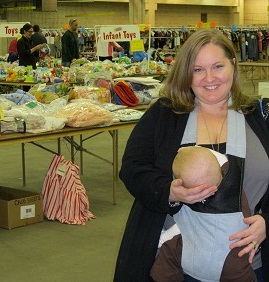 I love finding practical ways to save money and below are my 5 favorites!
Create a Budget – While it might sound like a drag, creating a budget can be EMPOWERING!  It's the only way to know what's coming in, what's going out, and what you have left to play with.  Below are three easy tools you can use for creating a budget.
The secret to a successful budget is sticking to it!
Contact all of Your Providers –  Twice a year I call all of my providers; phone, cable, internet, insurance, credit card companies and so on to make sure I'm getting the best possible deal!  I've saved hundreds with my phone and insurance companies, talked my internet provider down to $25 a month, and have gone from an APR of 17% to 10% on my credit card (I do my best to keep a zero balance).  I've found being transferred to the cancellations department directly works best.  These people want your business and they're usually willing to cut a deal to keep you as a loyal customer.  It never hurts to make a phone call and the worst they can say is no.  An afternoon of phone calls could save you hundreds of dollars a year!!
Cancel Cable – Wait……don't roll your eyes or swear to never read a blog post of mine again.  Hear me out!  Cable is expensive and Mommy Land doesn't allow for much downtime.  Thankfully there are great sites like Hulu Plus and Netflix where you can watch your favorite TV shows and movies for a fraction of the price of cable.  I LOVE Grey's Anatomy and enjoy watching it on Friday mornings rather than Thursday evenings on www.abc.com for free.  Consider taking that extra $75 +/- and using it for something that will save you time like hiring a house keeper two times a month.  Or better yet role that money into an automatic savings account.
Date Nights – Budget date nights with your partner rather than blowing through lots of money eating out often.  Don't have a partner in Mommy Land?  Date nights with girlfriends works just as well!  Try to limit these excursions to bi-monthly or monthly and save a ton of money by cooking at home the rest of the month.  There's a mystique to date nights!  It's fun to get all dolled up and connect with your loved one.  Consider swapping babysitting evenings with friends so you don't need to pay for a sitter.  If you really enjoy eating out as a family then have a Date Night and Family Night out monthly.  Spice up cooking at home by finding fun recipes on Pinterest and build your own board if ideas.  While you're on Pinterest stop by and "follow" the Plus Size Birth board!
Consignment Shopping – Here's one of the best ways to save and I have a great deal for my Colorado friends below.  I LOVE to shop and at the top of this post you'll see a picture of me babywearing while shopping at a Just Between Friends consignment sale.  My son grows so quickly that I just can't justify spending the money on new clothes or shoes.  At consignment sales I can find great deals on gently worn name brand items.  You can find local consignment stores and sales by Googling and check the Just Between Friends website to see if there's an event coming up in your area.

Share your money saving tips within the comments below and if you live in Colorado be sure to take advantage of this awesome Just Between Friends event…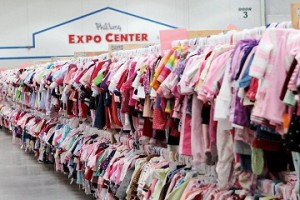 The Just Between Friends Denver spring sale is coming up April 19-22 at the National Western Complex. This is a huge semi-annual kids' (and maternity) consignment sale. This is an amazing event- community based, a way to recycle kids clothing in good shape and save money! There is still time to sign up to consign and even to volunteer.

If you like making money, saving money & great deals, you've come to the right place! Ask Moms who know: JBF Denver means the cutest stuff and the best deals around! Over 90,000 items at 40-90% below retail, and 35,000 sq ft of bargains.
*What You Will Find: KID'S CLOTHING for newborn-preteen, MATERNITY clothing and items, BABY equipment, NURSERY items, dress- up costumes, STROLLERS, OUTSIDE PLAYground equipment, books, kids movies, SHOES, and TOYS, toys, toys!
Join hundreds of Denver families and SELL your children's outgrown and unused items (and make up to 75%), SHOP (save up to 90% off retail) and VOLUNTEER (shop first, before the public for the best deals)!
SALE SCHEDULE: Open to the Public
THURSDAY, APRIL 19- 10a-7p- $2 ADMISSION
FRIDAY, APRIL 20- 10a-5p – NEW MERCHANDISE
SATURDAY, APRIL 21- 10a-3p -25% OFF MOST ITEMS
SUNDAY, APRIL 22 – 9a-3p- 50% OFF MOST ITEMS
FREE PARKING FOR HALF-PRICE SALE: Compliments of Colorado Parent Magazine
Visit our WEBSITE for Consigning Info, Volunteering Info, PreSale Info, etc… http://denver.jbfsale.com
We accept cash, debit and MC/Visa credit cards.
Just Between Friends Denver: April 19-22 @ National Western Complex (I-70 and Brighton Blvd)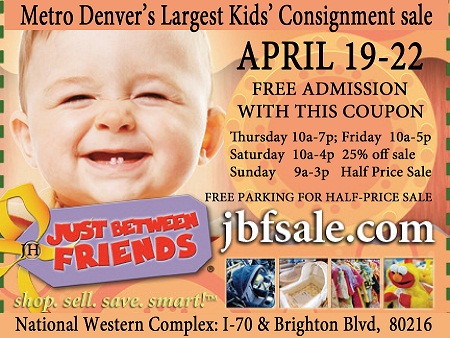 Comments
comments