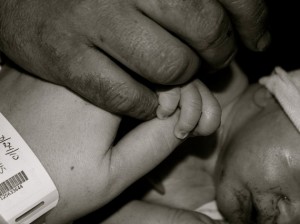 Congratulations and welcome to Mommy Land!  There are countless parenting philosophies but the best way to parent is with love.  Now is the time to follow your instincts!  Below are some tips to help you survive the next forty minutes let alone the next forty years.
Questions?   Have a question about parenting or just wonder where you can find a baby wrap or nursing bra in your size?  Head on over to Plus Size Mommy Memoirs Facebook page!  Join a wonderful community of women supporting one another before, during, and after childbirth.
Share Your Birth Story!  Take a moment to write your birth story and share it with other plus size ladies!  Click here to learn more.
Take the Birth Survey!  "The Birth Survey is structured around the Coalition for Improving Maternity Services (CIMS) evidence-based 10 Steps to Mother-Friendly Care and other quality of care indicators."
Feeling Blue?  You're not alone and it's completely normal!  According to www.postpartum.net one in eight women suffers from postpartum depression.  It's so important to seek support be it from your loved ones or online resources.
Breastfeeding Support! By clicking here you'll be connected with helpful resources, stories from breastfeeding moms, and see tender pictures to encourage success with breastfeeding!  If you are unable to breastfeed Bottle Babies is a helpful resource.   
Take Care!  Remember it took nine months to grow a baby and your body needs at least that much time to go back to "normal".  While it's important to eat healthy and be active don't push yourself too hard too fast.  Try your best to continue to care for your body the same way you did when you were carrying your child.  Be kind to yourself!