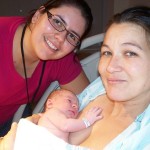 Melissa Van Dam, Birthing Blessings
http://birthingblessings.webs.com
BirthingBlessings@rogers.com /705-715-3100
Service Area: Orillia, Barrie, Simcoe County & Muskoka Areas
Welcome to Birthing Blessings Doula Services. I believe pregnancy, childbirth and parenting is a blessing. My goal is to support women through this journey. As a birth doula I offer prenatal, birth and breastfeeding support.