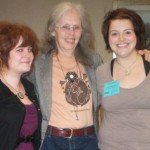 Charlie Rae Young & Megan D'Orazio, Barefoot Birth
www.barefootbirth.wordpress.com
info@barefootbirth.com /813-944-9120 & 813-841-7191


Barefoot Birth provides a wide variety of personalized services to meet a new mother's growing and ever-changing needs including pregnancy, birth, and postpartum doula support, massage therapy, professional family photography, and belly casting. We offer assistance and support for whichever decisions you make regarding birth and motherhood, and commit to nurturing you and your baby during this beautiful time. We are full spectrum doulas supporting ALL women regardless of their age, socioeconomic status, race, size, or sexual preference.