This is a paid promotional blog post and I also received clothes in exchange for my review. Rest assured that I only promote products or services that my family and I would personally use. Please read my disclaimer for more information and now let's chat about a new way to donate plus size maternity clothes.
I have a love/hate relationship with plus size maternity clothes. I love them because they become a necessity during pregnancy. Plus, some of those tops and dresses are so adorable. On the other hand, I hate them because they are difficult to find and often double the price of straight size maternity wear. If we're being honest, plus size maternity clothes are an investment in both time and money. I believe it is for this reason that, when it comes time to part with those jeans with the obnoxious band, it's great to know they are going to be properly rehomed. So when it comes time to donate plus size maternity clothes, I have a new way I can't want to share with you!
Schoola! Schoola is my new favorite option because it's the gift that keeps on giving and I love finding ways to give back! Through this resource you can donate your plus size maternity clothes (or your kid's gently used clothes) with ease. They send you a bag that includes shipping (see photo below) and you just toss it in the mail. Hello! No need to leave the house or pay to ship your clothes somewhere to donate them. As a busy mom on a budget, I really appreciate that.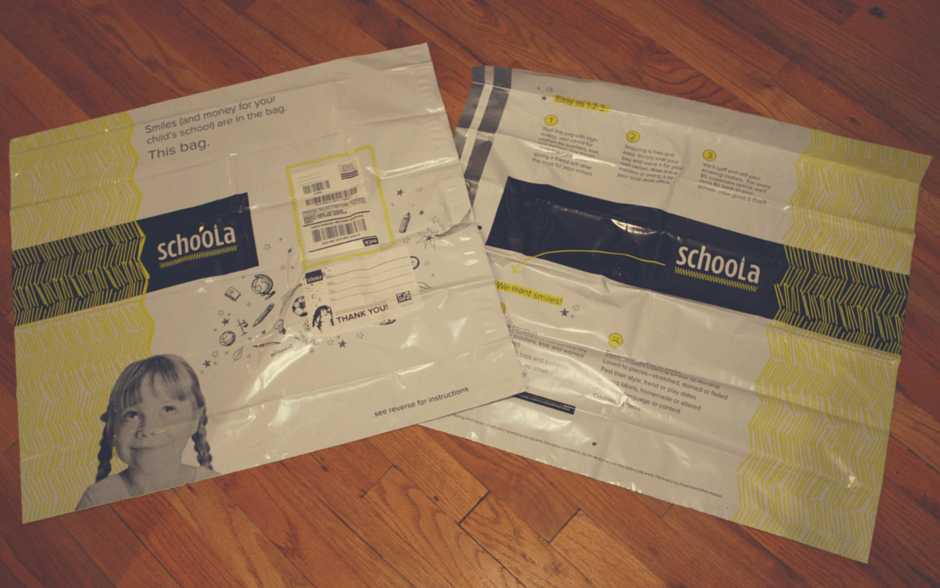 (The bags are so big I had to lay the on the floor to photograph them!)
After they receive your items, they're sold on their website with 40% of the proceeds going to schools. These funds help to support programs like art, music, fieldtrips and physical education. If you wish, you can even select to support the Malala Fund. How awesome is that?! You donate your items and not only know that they are going to people who want them but also going towards helping schools in need!!
Watch this video for a better understanding of how Schoola works. Then you'll understand why they are an option I highly recommend for those who want to donate plus size maternity clothes or other gently worn items (like kid's clothes that we all know they outgrow so quickly).
Schoola isn't just for donating items, you can also purchase gently worn clothing at an affordable rate. Since I'm not pregnant and in need of plus size maternity clothes, the Schoola team picked out these items for my son. I was really impressed with the quality and they were items I would've picked out for him myself had I been shopping at a typical store where I'm sure I would have paid so much more!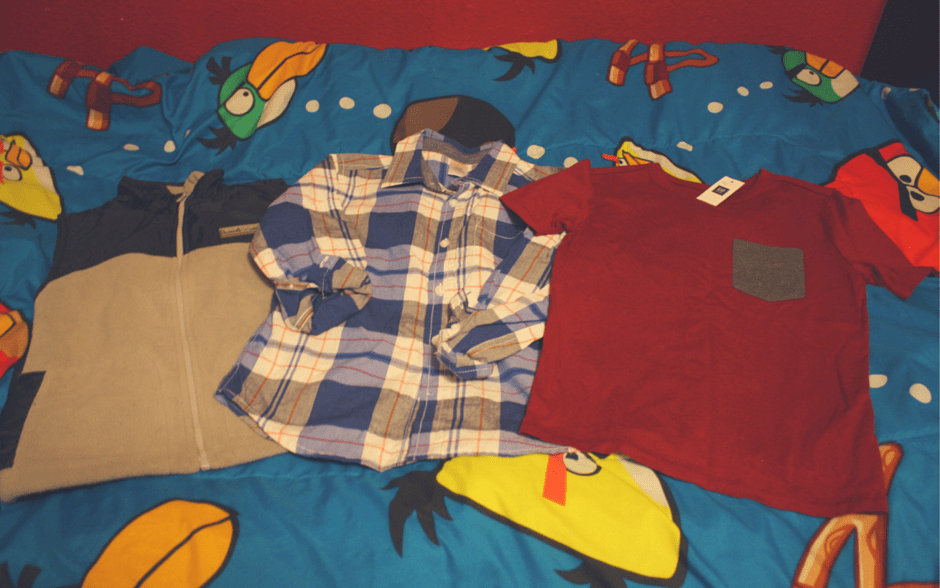 (Are your kids into Angry Birds too?)
I get such a warm fuzzy feeling knowing that I can either donate or buy clothes and that such a large portion of the proceeds are helping schools in need!
Since I'm not quite ready to donate my plus size maternity clothes (still haven't decided if we're going to have another baby or not, but that's another blog post), I plan to purge my son's closet this week and fill up the bags Schoola provided me with. You can order your very own bags by clicking Schoola. Remember you don't have to pay to receive the bags or to ship them back to Schoola. That part is free and so easy, there's really no excuse! Learn more at Schoola
So there you have it, next time someone asks me where they can donate plus size maternity clothes I'll share this new way! Let me know how you've passed along your plus size maternity clothes in the comments below.
You Might Also Like: Why My Family Switched to Natural Healthy Products
Get Support!
Subscribe to our informative weekly newsletter, and you'll receive a free resource on how to connect with a size-friendly care provider.