Postpartum…oh postpartum. That time in our lives when we feel so out of touch with our body and often question if we're doing all the right things for our newborn. It's a time of blissful uncertainty and insomnia.
I've been a mom for over 5 years now and I'm still immediately triggered when someone asks me about my introduction to motherhood. My son came early and wasn't quite ready to thrive. Breastfeeding felt impossible and bonding was challenging. I often found myself crying and questioning my instincts rather than following them.
Looking back on those first few weeks I was so thankful to have amazing partner and family support. Yet, I really wish I would've set money aside for a postpartum doula. I feel like that could've made a dramatic difference for myself and my newly formed family.
I've invited my friend, Carolyn Butler with Doula Wise, to talk about her role as a postpartum doula. She's also a postpartum doula trainer in Colorado so she's very knowledgeable and highly skilled.
As a Postpartum Doula my ultimate goal is to be fired by my clients. Sounds crazy, I know, but if I have done my job well, this is the best outcome. I teach new parents how to care for babies without having to make a lot of the common mistakes. I work in their homes on any schedule they choose, daytime or overnights. I like to start my first shift on the day the new parents come home from the hospital or birthing location so I can help them better organize themselves and their "stuff" right from the beginning. If mom is breastfeeding, everything needs to be convenient to her in the space that she spends most of her days and nights. Usually, this is not in the nursery. Babies rarely spend their first months in their cribs or in their own rooms. As a doula, I share evidence-based information and this evidence indicates that babies thrive best when they are in close proximity to their parents, in other words, not sleeping in the nursery but in the parents' room for at least the first 6 months.
This is just one example of the information I share in my work. What does infant sleep look like? When can a new parent expect to have the baby "sleep through the night"? How can parents get the sleep they need to function when a new baby is in the house? How much should a baby eat? How do you calm a baby when they seem to be inconsolable? Is a schedule necessary and if so how do you set one up? How and when should you swaddle a newborn? What do you really need in the way of "stuff"? How can you take care of yourself and still take care of a baby? The questions go on and on and my job is to help answer as many as possible. The behavior that I model when I am in the home can be learned by the parents and practiced on a daily basis. I do not take over total care of the baby, I just give the parents examples of how to do it so they can practice on their own and be successful when I am not there.
Besides the education piece that is the biggest part of my work, I help with chores in the home that new parents cannot possibly maintain without extra help. I do laundry, walk the dog, run errands, clean the kitchen, prepare meals, grocery shop, and do light housekeeping. I do not do anything medical like take a temperature or a blood pressure or diagnose or prescribe medication. I do assess how mom and baby are doing and offer professional referrals when indicated. I work closely with an IBCLC (a breastfeeding guru) when things are not going as they should. I have been called a "Fairy Godmother" and a "baby whisperer" and a "lifesaver" by my clients (even though they fire me anyway). I am usually with a client for up to 3 months after birth in some capacity. That could be just one day or night a week by the time the baby is 12 weeks old. I am delighted when babies are sleeping through the night (usually 5 hours at a time) and the parents no longer need me. It is bittersweet, but it is my ultimate goal to walk away knowing I have supported a new family and given them all the best start they could have.
Interview questions for a Postpartum Doula:
Are you certified or certifying with a reputable organization? DONA (Doulas of North America) at DONA.org is the oldest and most respected doula organization in the world with CAPPA (Childbirth and Postpartum Professional Association) at CAPPA.net following close behind. These are the 2 organizations that are most recognized by health professionals and insurance companies although there are numerous others out there now without the longevity of these. Make sure the person is at least working on a certification process and has a current CPR certification as well as liability insurance. These are good signs that the person is a true professional and will work within a defined scope of practice.
Ask them to talk about their experiences with their past clients, explaining what they liked most and what they liked least. Ask for references! This person will be working in your home closely with your whole family. It is good to know what others' experiences with them were like.
Make sure your personalities are a good fit. You will be spending a lot of time with this person in some intimate situations. If you do not feel comfortable with them in the interview process, you will definitely not be comfortable with them in your home. Trust your instincts!
To find a reputable postpartum doula, check out the pregnancy or baby centers in your area. Ask your childbirth educator for referrals or if you have a birth doula, they can be an excellent resource for postpartum doulas. You can also go to DONA.org or CAPPA.net and check listings for your area. It is good to interview more than one person so you get more of a feel for different approaches and philosophies. There are doula agencies popping up in a lot of metropolitan areas now that are also good resources but agencies tend to attract the newer, less experienced doulas and charge similar prices as the more seasoned ones.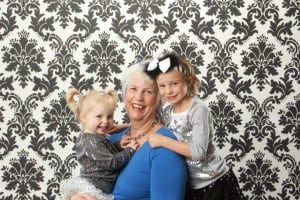 Carolyn Butler, CLD(DONA), CPD(DONA & CAPPA), MA
To learn more about Carolyn and her services, including CAPPA Postpartum Doula Training classes in the Denver metro area, go to doulawise.com and check out her facebook page.
Get Support!
Subscribe to our informative weekly newsletter, and you'll receive a free resource on how to connect with a size-friendly care provider.