It has been a year since I became very active in the Body Love community. I've connected with so many amazing individuals who are all working towards helping people to love themselves. It's pretty rad! Rachel Estapa, founder of More To Love, recently reached out to me. I have been a fan of her work and was delighted she also appreciates what I'm doing. We chatted on the phone and I felt like I was connecting with an old friend. I invited her to share some of her wonderful tips for loving your body within the guest post below. Please help me to welcome Rachel to the Plus Mommy community.  
If loving your body was as easy as proclaiming "I want to love myself!" we'd all be happily there by now, right?
The truth is, learning to value and appreciate your body takes time and often can feel very overwhelming at first. It's like going to a foreign country that looked spectacular in the ads, but when you arrive, you feel lost and confused.
And while learning to love your body takes work and commitment, know you do not have to go it alone.
A few years ago, I decided to drop out of dieting school. After thousands of hours, dollars, tears, and worries wasted on trying to lose weight, I made a bold choice to accept and love the body I had. The moment I did so, I felt instant relief . . . and the next morning, I panicked.
"What does 'love my body like this' even mean?"
My first impulse was to go back on a diet thinking I was crazy to try and love my larger body, but something inside said, "No way, Rachel! You've got this. Time to follow your own path."
Today, I'm considered a body-acceptance and confidence expert. I started a blog called More To Love, which first chronicled my own journey to body acceptance. I wrote about how I was actively pursuing happiness and wellness without focusing on weight. It changed my life and along the way, thousands of other women's too.
The crown jewel of my work is my month-long online course, More To Love Class, which step-by-step teaches women how to apply body acceptance to their lives daily in a safe, positive and community-supported way.
You Might Also Like: #MyBodyIsNOTBroken: Plus Size Women Speak-Out About Plus Size Pregnancy
I often get asked 'how can I start loving my body right now?' so I'm sharing exclusively with the readers of Plus Size Birth three easy tips you to feel better about your body at any size.
Clean Your Digital House
The science is in: what you see most of, you become. One of the first suggestions I give to people who want to start learning to love themselves more is to take a good look at what kind of digital life they lead. Are you following weight-loss blogs or people who make you feel ashamed? Is someone on your Facebook feed not leading the kind of life you're inspired by and can relate with? Well, it's time to say farewell!
Slowly start to incorporate websites, pages, and people who fill you up with inspiration and make you feel happier, more energized. People like Tess Munster and Jes Baker are just the tip of the body acceptance world, but they often share other people's positive work too.  Clean and replace over time, and your digital life will reflect more of what you aspire to be, and you'll feel more connected to the values of body acceptance.
Trust Body Love Is Not Pass or Fail
Diets promote feelings of failure anytime you venture off course. For many women, the rigid life of dieting has left them scared to trust their own voice and body. Choices are either right or wrong, black or white, and living like that increases stress and unhappiness.
In the More To Love approach, body acceptance is defined simply as being honest with whatever arises as you work on yourself. Failure isn't in the More To Love vocabulary. I tell my students "It's impossible to fail at learning to love your body" because I strongly believe any approach which encourages greater awareness, compassion and understanding will always enhance your life.
When you shift away from trying to control each aspect of your body it's similar to learning to walk—there will be bumps and falls, but it's all worth it because eventually, you'll move with greater freedom and ease.
Learn How to Love Your Body
I believe the best approach to body acceptance is the one you create for yourself. Your body is unique, and when you know how to listen and tune in to it better, you will have a wealth of information to help you be happier. I'm not an expert on your body; I'm an expert on teaching women how to listen better to theirs.
The women who have gone through my More To Love Class each walked away with a plan on how to work on confidence while balancing health and happiness for their unique body. It's so empowering to live by your own standards and trust that you have what it takes to find balance with what you have right before you.
But perhaps the biggest tip out of all this is that when you choose to love your body, you are also making a commitment to respect and appreciate all parts of you, beyond the body. It's a holistic approach, and one that filters out to every area of your life.
The body is a powerful window to help examine deeper areas of our lives, but often, we just need the right tools to help us see clearer.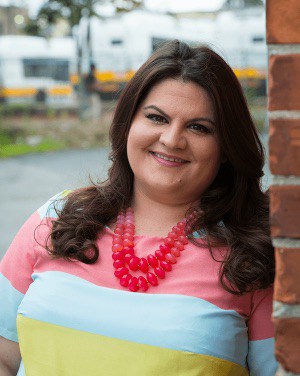 Rachel Estapa is founder of More To Love and helps women learn how to love their bodies. She is a trained and certified life coach whose work has been featured in the Boston Globe, Huffington Post, XOJane, Boston Magazine and beyond. Her signature program, More To Love Class, begins April 9, 2015. For more, visit the More To Love website and on Facebook.  
What is More To Love Class? MTLClass is a month-long online course to teach women like you how to love their body and make health and happiness work for your unique life. MTLClass women value personal growth and desire freedom from negative body image.
Students of the More To Love Class receive daily easy-to-follow activities comprised of exercises and assignments designed to teach an aspect of body confidence. Each student shares their work in a private and secure online social network, and receives encouragement and feedback from peers and from the instructor, Rachel Estapa. Rachel is a trained, certified, and fully accredited life coach whose writing and work on body acceptance has been featured in print and online publications worldwide. 
Get Support!
Subscribe to our informative weekly newsletter, and you'll receive a free resource on how to connect with a size-friendly care provider.