Are you on the hunt for the best plus size nursing pillows? We've got you covered because not all extra-large nursing pillows are the same!
Below you'll see plus size parent-approved extra-large nursing pillow options, including the large Boppy Pillow, and tips for free and inexpensive options.
Disclosure: Plus Size Birth is a participant in the Amazon Services LLC Associates Program, an affiliate advertising program. As an Amazon Associate, I earn from qualifying purchases. Read more about these links in my disclosure policy.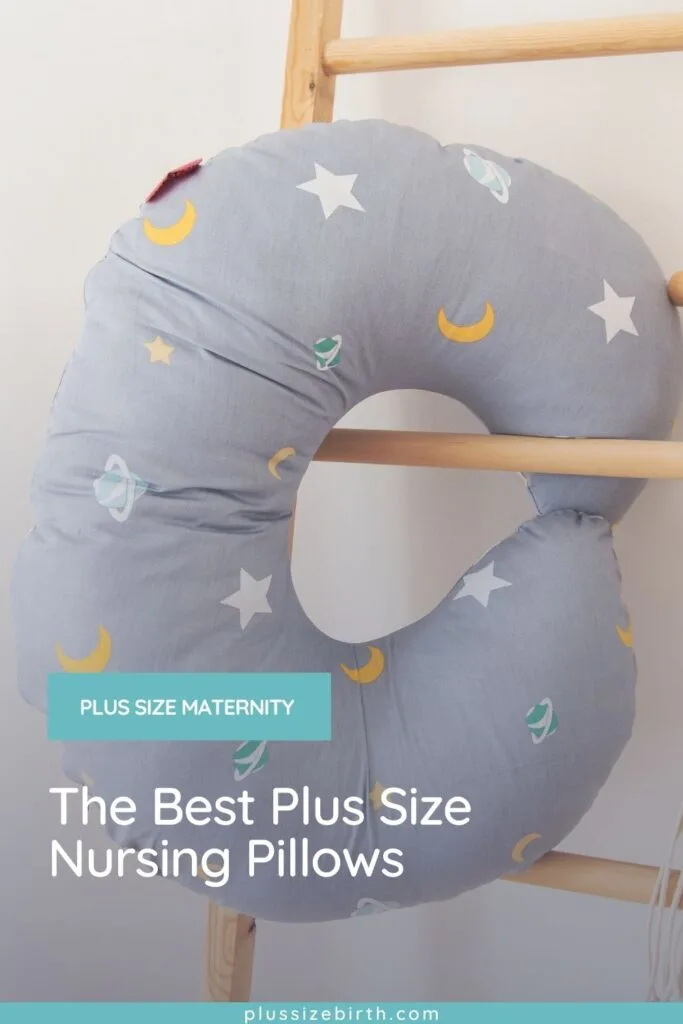 Best Extra Large Nursing Pillow For Plus Size Moms
Are there different size boppy pillows? The answer is YES!
While the original Boppy design is one of the most popular on the market, it's not very size friendly. So, are there different size Boppy Pillows? The answer is yes and this large Boppy Pillow is a plus size mom favorite!
This new XL Boppy Pillow, Boppy Best Latch, is a redesign and it is size friendly! Due to this new design, Boppy has made our list of the best nursing pillow for plus size moms.
This extra large nursing pillow comes with a removable and adjustable belt up to 52 inches (but you don't need to use it).
The pillow is soft on one side and firm on the other so you can decide what works best for you and your nursing needs.
This is a popular plus size nursing pillow (be sure to select the "twin" pillow because that is their plus size option). This Breastfriend Pillow offers back support!! It also has the unique feature of a storage pocket. This is a helpful place to tuck your water bottle, nipple cream, and cell phone.
If you're looking for an extra-large nursing pillow this is a great option because it fits people of all sizes with the unique design. This big V nursing pillow holds its shape for many years and will become a great pillow for family snuggles long after your breastfeeding journey has come to an end.
Plus, it doubles as a maternity sleep pillow during pregnancy!
Think outside the box with this adjustable height breastfeeding pillow that works well for plus size parents.
If you're at all concerned about the traditionally shaped nursing pillows not working for larger bodies, this pillow is a great alternative. It allows you to easily adjust the height you need to comfortably breastfeed or bottlefeed.
With mixed reviews, this pillow isn't for everyone, but it just might be what you've been searching for to support your feeding needs.
Free or Inexpensive Plus Size Breastfeeding Pillow And Extra Large Nursing Pillow Options
Extra Large Nursing Pillow AKA Regular Pillows!
While fancy plus size nursing pillows are nice to have, they sure aren't a necessity. You can simply use your own pillows or buy inexpensive body pillows at stores like Ross or Target. Just be sure to keep plenty of clean pillowcases handy.
Ask a Friend
Do a posting on Facebook or reach out to your local mommy friends and see if anyone has an extra nursing pillow or is no longer using theirs. You might end up with a $50 pillow in exchange for a hug!
Consignment Stores
Baby consignment stores are not only a great place to shop for gently used baby clothes but also nursing pillows. You can often find the older Boppy design and while they are usually too snug for larger bodies, they can be stretched out.
During pregnancy, you can sit in a chair or on the couch (prop up those feet) and place the pillow on your lap. Use the pillow as a nice prop for your favorite pregnancy book!* Over time the Boppy will stretch out. Or you might be lucky enough to snag one of these plus size nursing pillows that we highly recommend listed above.
Whether you get a nursing pillow from a friend or consignment store, most of them have a slip-cover that can be easily removed and then washed in your favorite fragrance-free laundry soap like Charlie's Soap.
You'll find your plus size nursing pillows will become a book, snack, and laptop prop long after you're done nursing!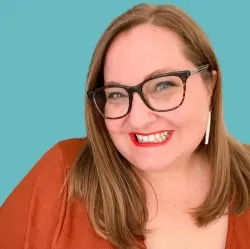 Latest posts by Jen McLellan, CBE
(see all)