When it comes to plus size maternity clothes, it's time we talk about options well beyond 2XL! We've searched the internet to find plus size maternity clothing options up to 6XL.
Disclosure: Plus Size Birth is a participant in the Amazon Services LLC Associates Program, an affiliate advertising program. As an Amazon Associate, I earn from qualifying purchases. Read more about these links in my disclosure policy.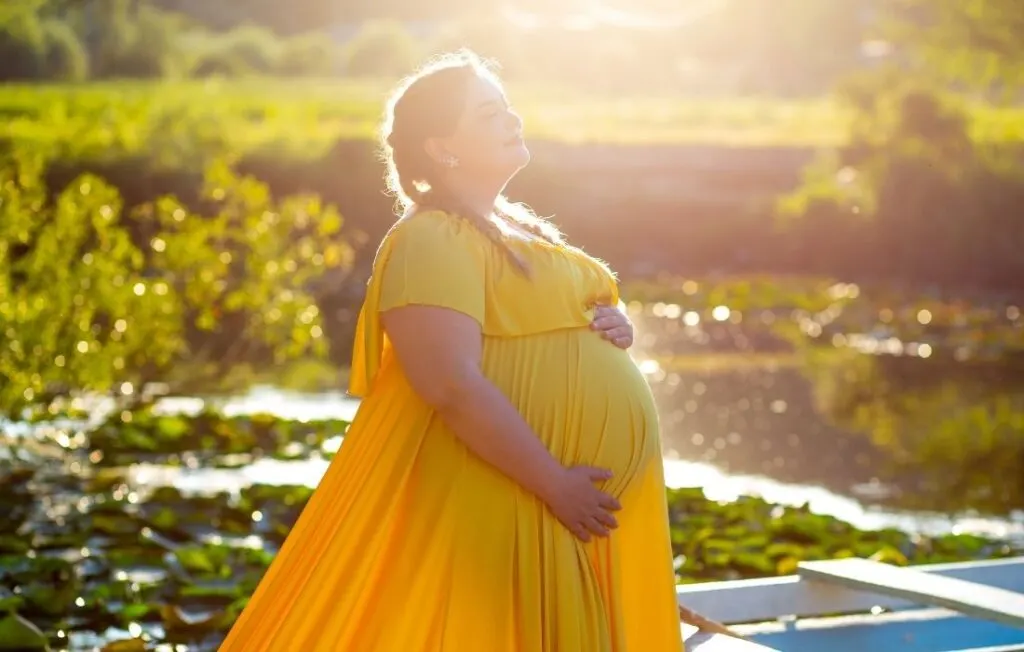 Plus Size Maternity Clothing And Size-Inclusive Items
Gone are the days of only wearing sweats and oversized t-shirts when you're plus size and pregnant. And thank goodness!
Don't get us wrong – we love a good pair of plus size yoga pants. But it's nice to have more options than just sizing up regular plus size clothes.
Along with maternity clothing, we're covering items you're hunting for, like nursing pillows and baby carriers!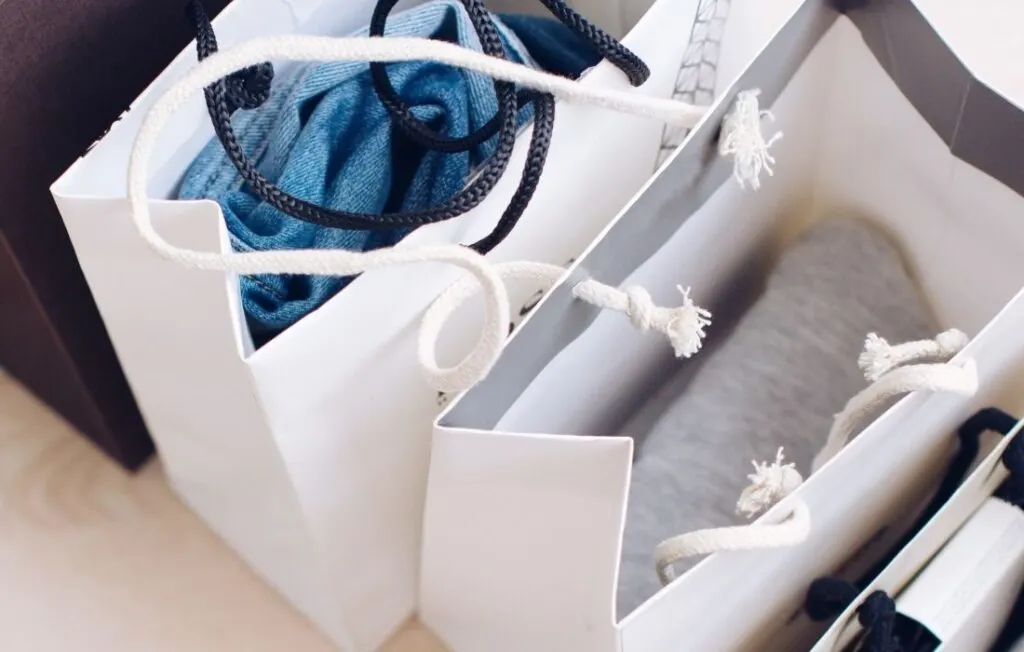 Where To Buy Plus Size Maternity Clothes
We surveyed plus size parents and searched the internet to bring you the best places to shop.
From gorgeous maternity dresses for photoshoots to labor and delivery gowns, you'll find all you need in a few clicks.
The shops recommended below offer sizing ranging from XXL to custom sizing beyond 5XL plus size maternity clothes.
We truly have a helpful resource for everybody!
Up to size 7XL
You can find it all on Amazon, from belly bands to nursing bras and even plus size maternity wedding dresses.
Many of our top maternity resources like, Plus Size Maternity Clothes Must-Haves Size 3XL And Beyond are full of Amazon links – including some that go up to 7XL.
Thanks to the reviews, you quickly know if it's a win or if you should keep scrolling. Below are some popular wins shared by followers of the Plus Size Birth Instagram community.
So, with reading reviews in mind and looking closely at sizing charts, you can find some fantastic deals!
Up to size 32
ASOS, with headquarters in London, England, is a popular online shopping option for people around the globe. From the USA, Canada, to Australia, they have an easy-to-use drop-down tab to select your country.
Known for its plus size selection, AOSO also has maternity options (currently up to size 20). With that said, many people like using their plus size clothes as maternity options by selecting flowy shirts and maxi dresses.
Just be sure to search for items by size because not all of their regular plus size clothes go to their largest sizes available.
Custom sizing available
Etsy isn't just for adorable crafts. It's a popular resource for plus size maternity gowns, delivery gowns, nursing covers, and more!
Best of all, by shopping via Etsy, you're supporting a small shop that is size-inclusive. Yes, incredibly size-friendly because many of the shops offer custom sizing!
Believe it or not, you can get a custom maternity dress for under $100 (and many gowns well beyond that price point).
Up to size 6XL
Good American makes the list because people rave about their selection of plus size maternity jeans. However, while they state their maternity clothes go up to size 30, most of what we see goes to size 24.
Be sure to note, some of their sizes are marked "waitlisted." Hopefully, the more people who request larger sizing, the more they'll carry.
Their jeans are pricey but absolutely adorable!
Up to size 3XL (overall)
Does anyone else remember shopping in the plus size selection at JCPenny growing up? I sure do! And so, it shouldn't come as a surprise that they have a plus size maternity selection online.
Most of the plus size maternity JC Penny items go to a size 3XL. However, if you're up for a hunt, a few plus size maternity 5XL and 6XL options are available.
Up to size 3XL
You might have some lucky in-store, but Kohl's online selection of maternity clothes is your best bet! You'll have to poke around to find the 3XL selection, but there are many 2XL options.
Kohls does have a nice variety of 3XL nursing bras that are often on sale.
Up to size 26/28
Lane Bryant maternity items are back but super limited. Currently, they are offering a seamless nursing cami or nursing bra. The quality of these items looks excellent, but the price tag is more than other retailers if you miss a sale.
Up to size 4XL
Maurices plus size maternity collection isn't as extensive as their straight sizes, but it's still pretty impressive. And it's nice to see that each offering comes in a few variations, all machine washable.
Up to size 3XL
For those who want the in-store shopping experience, Motherhood Maternity is the store you hear about often.
Their maternity clothes go to size 3XL, and they have a good clearance selection for those on a budget.
And yes, they are known for having the best plus size maternity jeans!
Up to size XXL
Old Navy is making a comeback with their inclusive sizing in-store, but their maternity still only goes up to XXL. And while that might be a great fit for some, we're hoping they make improvements here soon!
Up to size 3XL
Ah, yes, the ever-popular Pink Blush Maternity! If you scroll through the #plussizematernity hashtag on Instagram, you'll see a lot of tags to Pink Blush Maternity.
And it's no wonder, as they have a wonderful selection of maternity clothes! The only downside is that their sizing is limited to 3XL, and many of their items run small. But if you're a size 20 or below, you've found your maternity jackpot.
Be sure to explore their clearance for some fabulous steals!
Up to size 4XL
Storq is a brand that designs maternity and nursing clothing with a focus on comfort and versatility.
Notably, they offer a size range that includes up to 4XL or size 30, demonstrating their commitment to accommodating a diverse range of body sizes and types.
Storq's plus size maternity apparel, known for its premium quality, commands a bit of a higher price tag, but it's definitely a worthwhile investment for its lasting value and style.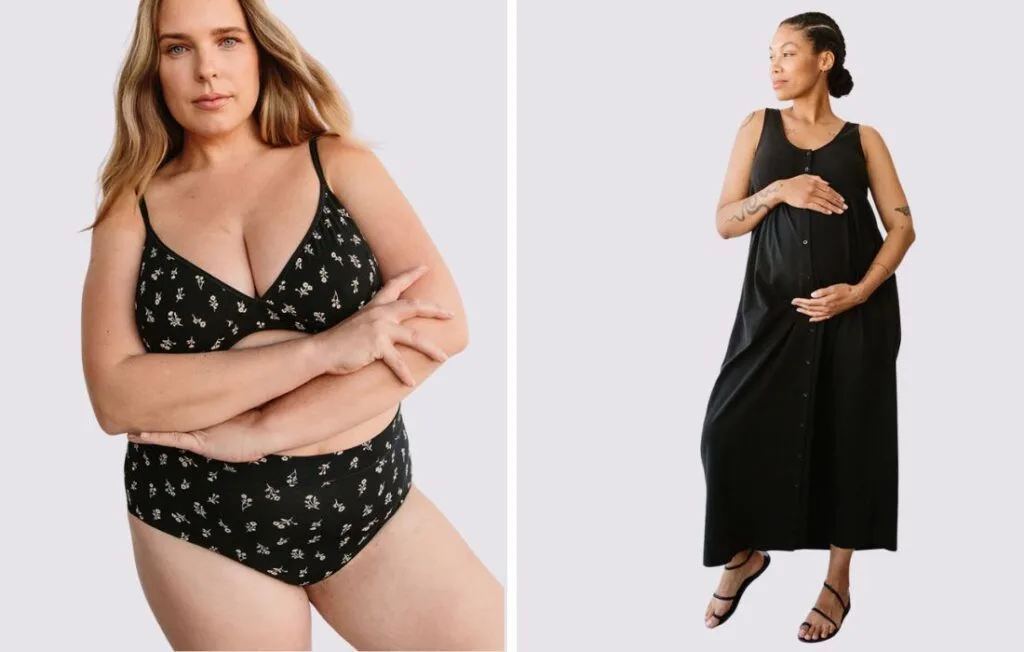 Up to size 24
Stitch Fix is a fun way to get hand-selected clothing sent to your door that fits your style!
As for sizing, here's what they list on their website, "We offer maternity items in sizes 0-16 & XS-XXL as well as bump-friendly items in sizes 1X-3X, 14W-24W."
If you want a more size-inclusive option for curated clothing, check out Dia & Co that goes to size 32. While they don't currently offer maternity boxes, you can let your stylist know you're looking for items that work well for pregnancy.
Up to size XXL
Target's selection of maternity clothes isn't very size-inclusive, maxing out at XXL in stores and online. However, they offer many plus size clothing options that work well for maternity up to 4XL online.
Up to size 6XL
Where Torrid lacks with their selection of items, they make up with their impressive size range. Like Torrid's regular plus size clothes, their maternity line goes up to size 6XL/30.
Up to size 40
I know we all want cute maternity clothes, but suitable clothing is an investment. Also, maternity is a finite amount of time! So we're excited to share that Universal Standard is doing something unique.
Universal Standard worked with Danielle Brooks from Orange Is The New Black to curate a collection of plus size pregnancy clothes that go from pregnancy to postpartum and beyond! Best of all, not only are you getting great quality clothes, but the sizing goes up to 40.
Up to size 3XL
Are you searching for affordable plus size maternity clothes? Oh! Mamma from Walmart is an excellent resource. Unbelievably you can pick up a pair of plus size maternity jeans for under $17 and a plus size maternity top for under $10 (up to size 3XL).
Here's hoping they increase their sizing soon! In the meantime, you can pick up one of their plus size dresses that go up to size 4XL. Flowy dresses work well for maternity and beyond.
Up to size 28 (USA) / 32 (UK)
For our friends in the UK, Yours Clothing is a go-to resource for plus size maternity clothes. And if you're outside of the UK, you can still order their selection that is pretty size-friendly!
Yours Clothing has a lot of cute options, similar to what you can find at Motherhood Maternity, but it will take much longer for shipping.
Used Maternity Clothes
Buying second-hand or used plus size maternity clothes are a great way to save money!
Sites like Poshmark have gently used maternity clothes. You can even try Facebook Marketplace and search for maternity clothes. There are also Facebook groups dedicated to buy-sell-trade plus size clothes, including maternity.
You might even be able to snag some clothes for free! Reach out to your plus size mom friends who recently gave birth, and see if they have clothes you can borrow.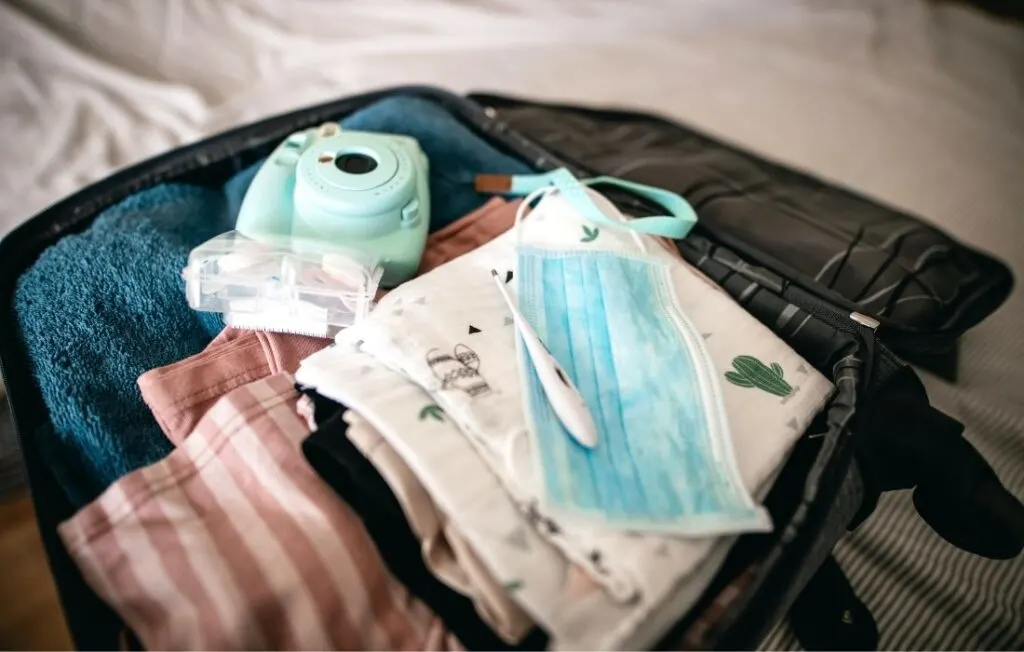 Maternity Staples
Beyond plus size maternity clothes, there are a few staples you'll want to purchase during your pregnancy.
Below you'll see different categories that you can click on to see a full resource and plenty of products you'll love.
A plus size belly band or plus size maternity belt will provide you with a bit of extra support from pregnancy to postpartum.
If you purchase a band, like the one below, be sure to bring it to the hospital, as it can also help to hold monitors in place during labor.
From pregnancy to postpartum, you're going to need special undies (and diapers or pads), like the ones recommended below.
If you're planning to nurse, it can be quite a hunt to find larger nursing bras. But have no fear because we have helpful resources for plus size nursing bras and plus size pumping bras.
We also have you covered with plus size nursing dresses and large nursing covers.
Speaking of nursing, you might want a pillow designed to fit your body. Sadly, not all nursing pillows are size-friendly but don't worry because we have a list of our favorite nursing pillows, including the My Breast Friend.
When it comes to staying active throughout your pregnancy, swimming and water aerobics are fantastic plus size pregnancy exercises. To enjoy the weightlessness of water during pregnancy, you're going to need a plus size maternity swimsuit!
If you're planning a maternity photoshoot or want to wear a fancy dress for your baby shower, you'll love our selection of dresses up to size 6XL.
We even have a special list of red plus size maternity dresses for holiday events. And you can tie your look together with plus size maternity tights!
Are you feeling chilly? No worries, we have you covered with our favorite plus size maternity coats.
Babywearing is for parents of ALL sizes! Sadly, many people think that babywearing isn't accessible to them because of their size. We're here to tell you that's not the case. There's a baby carrier out there for people of all sizes, from structured carriers to wraps like this Moby.
Everyone wants a comfy place to snuggle with their newborn baby, but many of the gliders and rockers available are size-friendly.
Speaking of setting up your nursery, you might like to see this list of extra-wide baby gates.
We hope you feel covered with all of these plus size maternity clothes and size-inclusive items you've been scouring the internet to find.
If you're looking for even more plus size maternity items, we have a list of 29 things you should have on your list.
If there's anything we missed, feel free to contact us at [email protected].