On the hunt for plus size nursing apparel including plus size nursing bras, plus size nursing tanks and plus size pumping bras? We've got you covered! We'll also answer two commonly asked questions about breastfeeding when you're plus size.
Disclosure: Plus Size Birth is a participant in the Amazon Services LLC Associates Program, an affiliate advertising program. As an Amazon Associate, I earn from qualifying purchases. Read more about these links in my disclosure policy.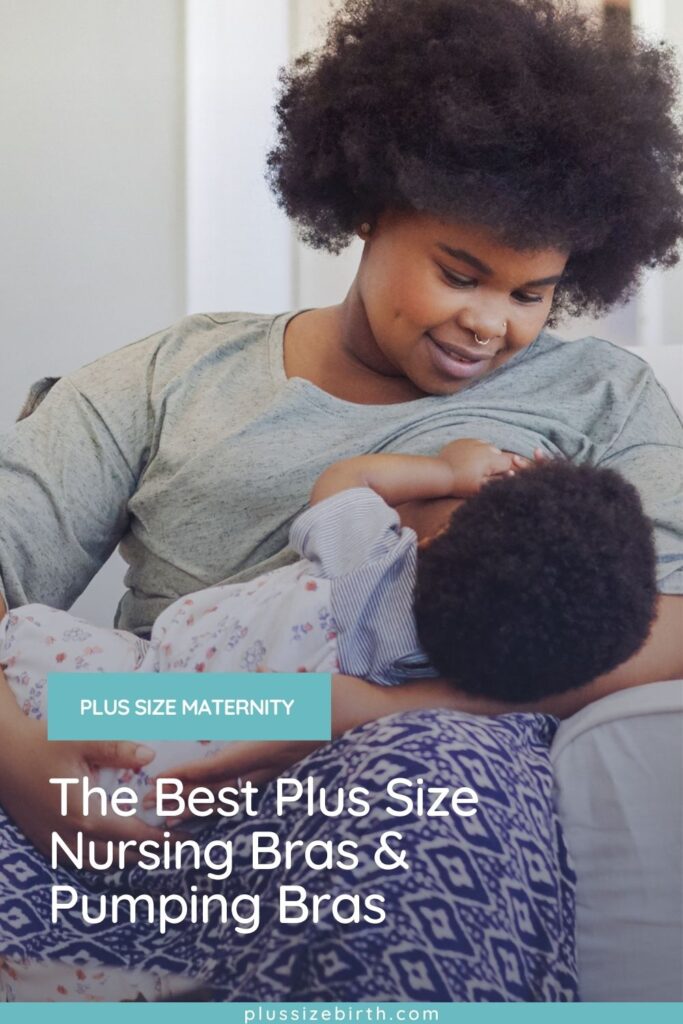 When should I purchase a nursing bra?
Many lactation consultants will recommend waiting until after your milk comes in to buy a nursing bra. This way you can get an accurate measurement of what size nursing bra you need.
With that said, most people end up purchasing a maternity nursing bra during pregnancy.
How can I set myself up for success with breastfeeding?
Breastfeeding can be challenging regardless of your size.
Plus size people have extra hurdles to cross over; from difficult births, struggles with Polycystic Ovary Syndrome, to finding nursing bras that fit.
Some women are led to believe they will be unable to nurse due to the size of their breasts. Sadly this misinformation doesn't only come from family members but also care providers.
Setting yourself up for success long before your baby arrives can make all the difference!
First off, it is critical to surround yourself with supportive people!
Parents-to-be should consider taking a breastfeeding class during pregnancy and read helpful breastfeeding books.
Most communities have weekly breastfeeding groups like La Leche League. Some are free, and others have a small fee.
An easy way to locate a group is a simple Google search or stopping by a facility that supports new parents. These groups have many benefits beyond helping people to nurse, including helping new mothers to feel less isolated.
Related: 4 Mom Approved Plus Size Nursing Pillows
Studies show one intervention that significantly improves breastfeeding outcomes is support from an International Board Certified Lactation Consultant (IBCLC).
The Affordable Care Act states that breastfeeding support is to be covered. Your insurance should reimburse for IBCLC care but call your provider to be sure. When working with an IBCLC, request a superbill to aid in seeking reimbursement.
By having supportive people in place and helpful resources, you'll be ready to nurse!

Best Plus Size Nursing Bras
If you're planning to breastfeed, you'll want to own a few nursing bras. Unfortunately, it can be difficult to find plus size maternity bras beyond a 40D.
Don't worry, we have you covered! We have nursing bra options up to a 48E and DIY suggestions that go to 54G and beyond!
1. BRAVADO!

Full Cup Maternity & Nursing Sleep Bra
Plus Size Information: 42 – 46 E – G
Bravado is a popular brand when it comes to plus size nursing bras. Their X-Large Plus fits people all the way up to a size 46G and comes in three colors.
2. Gratlin

Women's Comfort Support Plus Size Cotton Maternity Nursing Bra
Plus Size Information: 5XL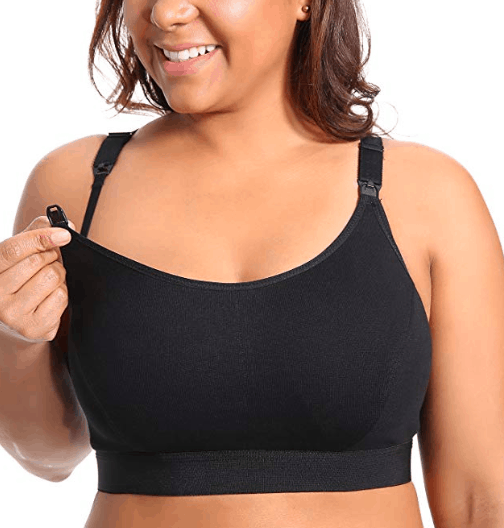 Gratlin is a great option for plus size women who need a larger band size but smaller cup size. This plus size nursing bra goes from 48C – 48E and comes in three different colors.
Plus Size Information: 3XL
This plus size maternity bra from Motherhood Maternity provides full coverage and is easy to snap down.
Plus Size Information: 42 – 46G
This bra goes all the way up to size 46 I (I as in igloo). It's more of a traditional-looking nursing bra with an underwire providing lift and support.
5. Leading Lady

Women's Nursing Wireless Sports Bra
Plus Size Information: 46DDD
This plus size Leading Lady wireless plus size nursing sports bra is affordable and provides great support.
6. Elomi

Plus Size Underwire Nursing
Plus Size Information: 44HH
Some people prefer the support of a plus size nursing bra with an underwire.
With that said, you might be aware that people caution against wearing nursing bras with underwires due to the wire possibility impacting milk production or causing a clogged milk duct. Be sure to run these concerns past a lactation consultant, and know that most issues arise because people aren't wearing the correct sized bra.
This bra goes from a 32GG all the way up to a 44HH. It's perfect for a date night with lace details and it comes in blush or black.
Where To Buy Plus Size Nursing Bras
If you're looking for even more options for where to buy plus size nursing bras beyond the favorites above, you'll see retailers we recommend below.
Many of the options you saw above are from Amazon because there's such a wide variety of brands and sizes available.
Kindred Bravely's soft, and quality materials are a popular maternity option. While many of their clothes max out at size 2XL, their nursing bras go up to 46I.
The Playtex® Nursing Foam Nursing Bra goes up to size 3XL. Kohl's carries this bra along with their other plus size maternity clothes.
Milkful's all-in-one nursing and pumping bra, designed with plus size bodies in mind, goes from 42D – 52G.
One of our must-have plus size nursing bra recommendations is the nursing wrap sleep bra from Motherhood Maternity. See their full nursing bra selection that goes to size 3XL/40 DDD.
As we shared in our plus size maternity underwear resource, Target and Walmart's sizing for maternity is limited (44DDD overall being the largest size with a limited selection in that size). The same is true for their nursing bras, but you might find something that works for you.
While Torrid's selection of maternity clothes is limited, the sizing on their clothing is excellent – going all the way up to 6XL. In addition, they offer nursing bras that go to size 48DDD. Hopefully, they'll expand their bra sizing in the future.
Don't fret if we haven't shared your size yet, because we have DIY options below that will work for you!
DIY Plus Size Nursing Bras
Need a larger size nursing bra? We have some options for you from making your own nursing bra (it's simpler than it sounds), getting a bra extender, to purchase a plus size sports bra.
Many Nordstroms locations will transform your regular bra into a nursing bra for a small fee (call in advance to make sure they're still offering this service). You can ask your local tailor what they charge to do this and purchase nursing bra clips in advance. Or, as you'll see in this video, transform your own bra into a nursing bra.
2. Leading Lady Women's Plus-Size Wireless Padded T-Shirt Bra
Plus Size Information: 54G
Now that you know how to transform any bra into a nursing bra, you have some options! Take your own bra and tun it into a nursing bra or purchase a regular bra. For most people, their breast size does increase while nursing so you might need to size up. If that's the case, below you'll see a Leading Lady bra that goes all the way up to a 54G and comes in many different colors and patterns!
If your nursing bra's band is too snug or you need a slightly larger size band, consider purchasing a bra extender.
Plus Size Information: 52F
Another option is to size-up with a sports bra. This sports bra goes up to a 52F and conveniently clips down in the front making it really easy for nursing.
Best Plus Size Nursing Tanks
Plus size maternity tanks allow you to wear your own tops and lift up or down to nurse. They are so convenient and cost less than most plus size maternity tops.
Plus Size Information: 4XL
When it comes to one of the best plus size nursing tank options, plus size Naked Nursing Tank is at the top of our list! All plus size nursing tank tops should go up to size 5XL and come in a variety of colors! With a unique design allows you to easily breastfeed without exposing your belly, it's easy to see why this is a favorite! If you don't see the size you need, just click on one of the tank images and select your size with the drop down option.
Plus Size Information: 6XL
Motherhood Maternity's tank with built-in bra is a popular option, but their sizing seems to be currently very limited. Don't limit yourself to the "maternity" label! Regular tanks with built-in bras that have a bit of stretch will last throughout your pregnancy. You just might need to size up.
Best Plus Size Pumping Bra
We can't end this resource without listing two popular plus size pumping bra options!
1. Pump Strap

Hands-Free Pumping & Nursing Bra
Plus Size Information: DD – J Cup Size
Pump Strap markets their plus size hands-free pumping bra to fit most moms. If it doesn't work well for you they have a free return policy.
2. Simple Wishes

Hands-Free Plus Size Pumping Bra
Plus Size Information: 44-46 DFG
This hands-free pumping bra is a favorite for many plus size moms with a design that includes straps and comes in two colors.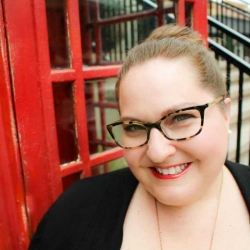 Latest posts by plussizebirth
(see all)