Finding great maternity underwear when you're pregnant is tricky regardless of your size. But when you're plus size – oh my! The good news is, from comfortable to sexy, we've got your booty covered with the best plus size maternity underwear options. Including highly sought-after plus size support maternity underwear and 3x maternity underwear!
In addition to our top picks, you'll also hear from plus size moms sharing what plus size underwear worked best for them!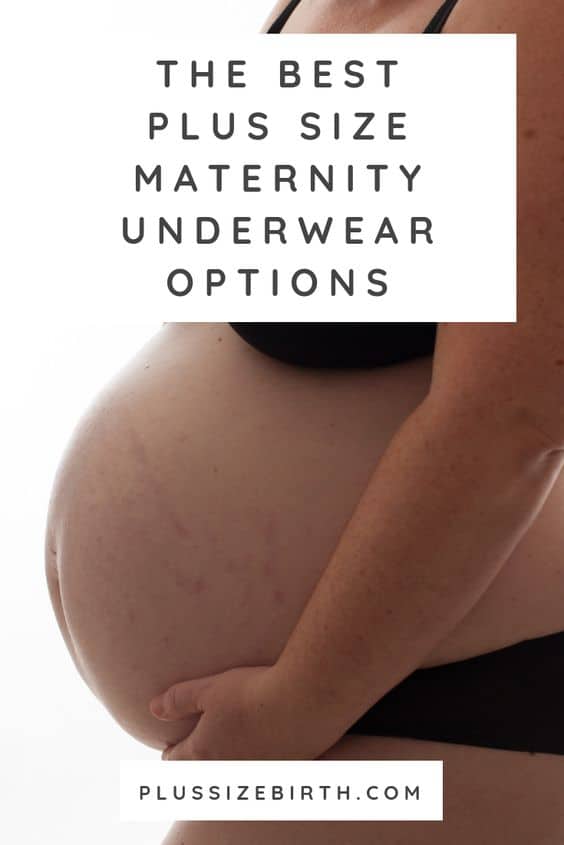 Different Types Of Plus Size Maternity Undies
When it comes to plus size maternity undergarments – these are the ones that come to mind first for most people. Plus size maternity briefs AKA "granny panties" provide great comfort and support. We feel like every panty drawer needs at least a few of these!
Below you'll see full panel maternity underwear plus size options.
All basic plus size full coverage maternity panties provide some level of support, but this plus size maternity underwear over the belly option goes to the next level!
Plus size belly support underwear is made from different materials like spandex. You not only get full belly coverage but these can also help smooth out your belly if it's shaped like a B and you'd like a smoother shape.
From your plus size pregnancy well into postpartum, plus size boy short underwear is a great pick! Yes, there are maternity-specific options but you don't have to pay extra for that maternity label. The design of these undies should last from pregnancy to motherhood.
Speaking of design, boy shorts not only come in many patterns and colors but also can be frilly with lace – plus size maternity intimates! There's truly a style for every preference (both examples below go up to a 5XL).
It's time to talk about sexy pregnancy panties! We mentioned lace with boy shorts but some people don't like that full coverage maternity underwear look. You can purchase maternity bikini underwear that sits below your belly if that's what most comfy and desirable for you. If this design is something you prefer, you might also be able to wear your own pre-pregnancy underwear longer than you'd expect.
If your panty preference is a thong, just size-up for plus size maternity thongs! You can do the same with plus size maternity lingerie – just size-up or select baby doll designs with a slit opening for your growing belly.
No one really wants to talk about it, but preparing for postpartum bleeding is an important part of getting ready to have a baby. Your postpartum recovery process will include a few days to a few weeks of bleeding so you might be wondering about your disposable maternity underwear plus-size options for postpartum. Honestly, this is just a fancy way of saying plus size adult diapers!
Before we share some disposable options, let's first address a concern people have during labor.
Will the mesh underwear hospitals provide for labor and postpartum fit me if I'm plus size?
The answer is that these mesh undies aren't one-size-fits-all, they actually come in different sizes! Be sure to ask your care provider about what your selected medical facility offers. You can also purchase your own mesh underwear that goes up to a 3XL.

If the disposable options don't run large enough or aren't appealing to you, here are some large pads you can use with your own underwear.
"Whatever you do just buy some big ones to that you don't mind tossing out (if need be) for the month after." – Sarah


6. Plus Size Underwear & Other Options
We've mentioned this a few times already but good old regular plus size underwear, whatever your preferred style, can last throughout your pregnancy. Just size-up!
"I just wore my regular underwear but a size bigger!" – Brandi
One of the most popular options for those who like the full brief coverage is Fruit Of The Loom Flexible Fit that goes up to a size 6XL. There are other options below, including high waisted undies, that last well from pregnancy to postpartum.
"Grannies all the way! Just My Size brand is great!" – Krista
Another option might make you chuckle but it's a suggestion many plus size moms-to-be share: wear your regular underwear backwards!
"Wear them backwards" – Tinika
Boxer briefs are another solution people have found if their partner wears them. The benefit of boxer briefs is that not only do they work as maternity underwear, they also offer some belly support and prevent inner thigh chafing.
"My hub's boxers! LOL" – Jessica
Last but not least, just go commando!
"Umm…. I wore none." – Ashley

Where To Buy Plus Size Maternity Underwear & Regular Plus Size Underwear
While there are options beyond this short list, below you'll see the most popular places to purchase plus size underwear (maternity or regular).
Motherhood Maternity is the go-to for all things plus size maternity. What a lot of people don't know is that you can purchase Motherhood Maternity underwear and maternity clothes options on Amazon!
Walmart! The plus size maternity underwear Walmart selection is limited. That said, their regular plus size underwear sizes are a popular option during maternity. People just size-up! Target is an option too but their sizes run smaller.
"Walmart has a small maternity section. They have these super comfy over belly 2-packs. I still wear mine!!!" – Jerrica
Belevation is another popular plus size maternity brand because of their plus size underwear support design.
"Belevation are soooo comfy!" – Alexandra
Torrid and Lane Bryant are leaders when it comes to plus size clothing. For plus size maternity undies, sizing up regular underwear is a suggestion you've read about. While many people don't want to spend $15+ for 1 pair of underwear, both of these stores often have sales and great clearance selections.

Kindred Bravely might work if you're on the smaller size of the plus size spectrum (18/20). The quality of their clothes is superb but they aren't by definition a plus size clothing brand.

Amazon is the leading online shopping resource and there are far more plus size maternity options that can be found via Amazon than anywhere else!
From briefs to thongs, now you have a lot of great options when it comes to finding your perfect pair of plus size maternity underwear! Feel free to share in the comments below anything that worked well for you.
Get Support!
Subscribe to our informative weekly newsletter, and you'll receive a free resource on how to connect with a size-friendly care provider.