Recently I had a conversation with my friend Brianna Hobbs from the Flippin' Delicious blog. She shared her frustrations in finding good nursing apparel when she had her daughters.
"Being in the 14 – 16 range, I need options too. Most clothes are cut for thinner gals and aren't flattering on my larger body. I might be smaller than some, but I still identify as a plus size mom."
As Brianna pointed out – I need to provide resources for all the plus size moms!
My content aims to serve not only the mom who rocks a 26 but also the one who wears a size 16!
So, when Kindred Bravely reached out to me to do a sponsored review and share affiliate links, I welcomed the opportunity to talk about Kindred Bravely sizing.
Sponsored product review of Kindred Bravely.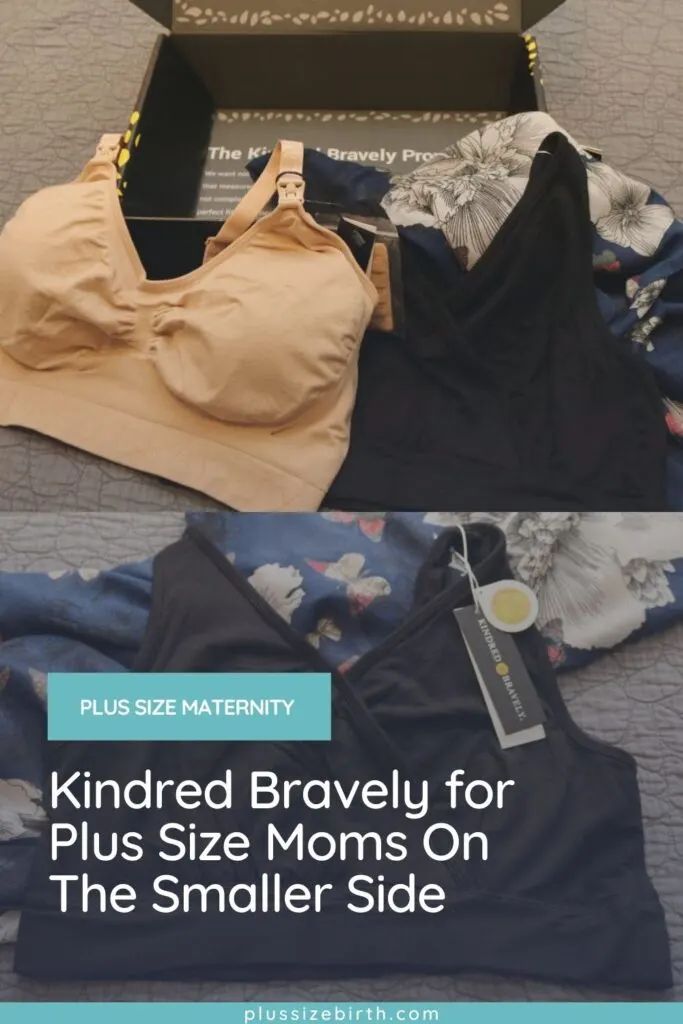 Full disclosure: over the past few years, I've received multiple requests from Plus Mommy community members to do a Kindred Bravely review!
Kindred Bravely isn't a plus-size focused brand. They do carry options for moms who typically wear sizes 14-18.
In addition, some of their bras go up to a 46″ band size. If you land within that size range, I'm really excited to introduce Kindred Bravely to you.
I was first intrigued about Kindred Bravely when I heard of them from another friend of mine, Bryn Huntpalmer from The Birth Hour Podcast.
Bryn often talks about how she loves Kindred Bravely because of their unique X-Large-Busty sizing.
In fact, their Simply Sublime Nursing Bra (which I review below!) goes all the way up to an I cup size (that's 'I' – as in Igloo)!
This is super helpful for moms who are smaller on top but have larger breasts and then carry their weight mainly on the lower part of their body. A pear body shape!
As you'll see below, I had a great time unboxing the products Kindred Bravely sent me while knowing they wouldn't fit me personally. Then, to my great surprise and delight, one of the products actually did!
But I'm getting ahead of myself…
Let's unbox!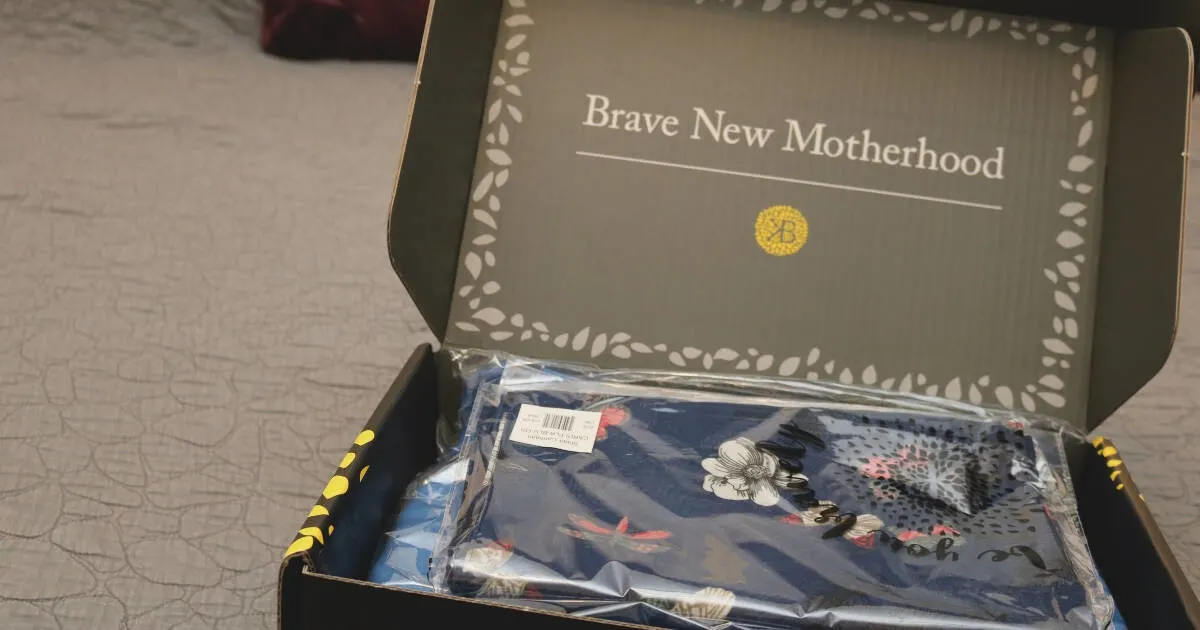 Kindred Bravely send me their French Terry Scoop Back Nursing & Sleep Bra, Simply Sublime Nursing Bra, and a beautiful Sheer Cardigan.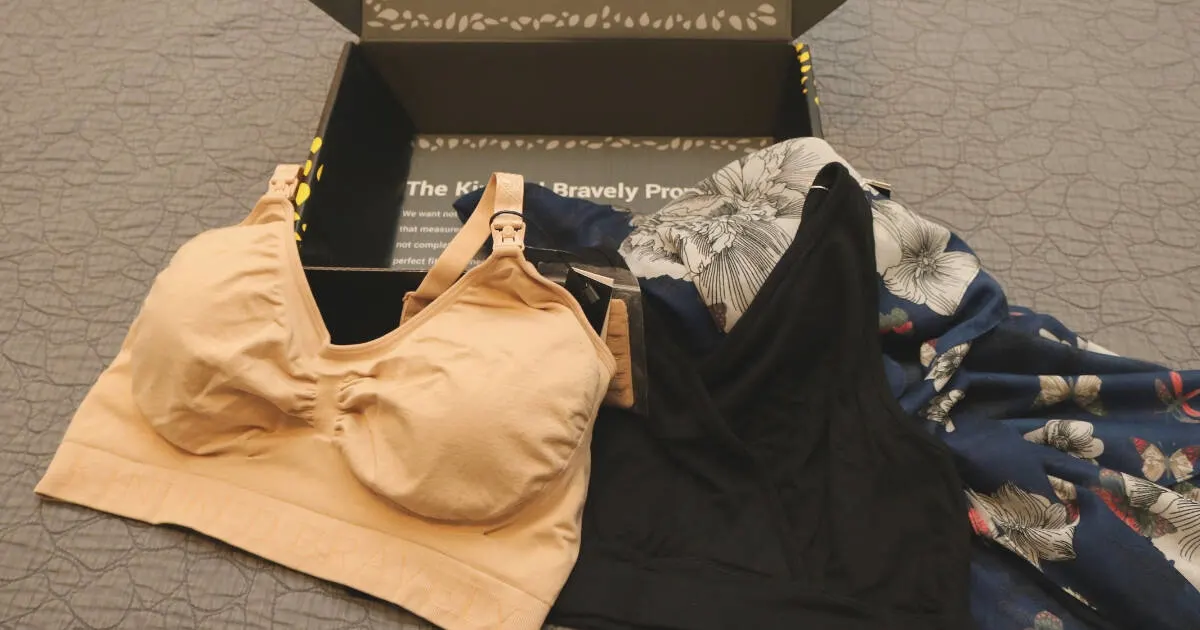 Sizes 28B – 42I
I'm pretty sure I started talking about how much I love nursing sleep bras on the fourth blog post I ever wrote!
I'm obsessed with sleep nursing bras.
Our breasts become so tender during not only nursing, but pregnancy and this style of bra provides just enough support and softness.
This is the bra you want to get early on in your pregnancy.
This specific nursing and sleep bra has Kindred Bravely's signature buttery soft material and outstanding quality.
Not only that, their design for their Busty Sizes includes a 2″ elastic chest band to help hold your breasts in! That's a unique feature I wish more brands were aware larger busty people need.
This bra comes in 7 different colors, including a delightful floral pattern, and goes up to a size XXL-Busty.
Product Details – Double layer flat front, single layer back with a wide 2 in chest band and binding around arm and neck openings. Elastin included in neck opening binding from chestband to shoulder seam on both sides.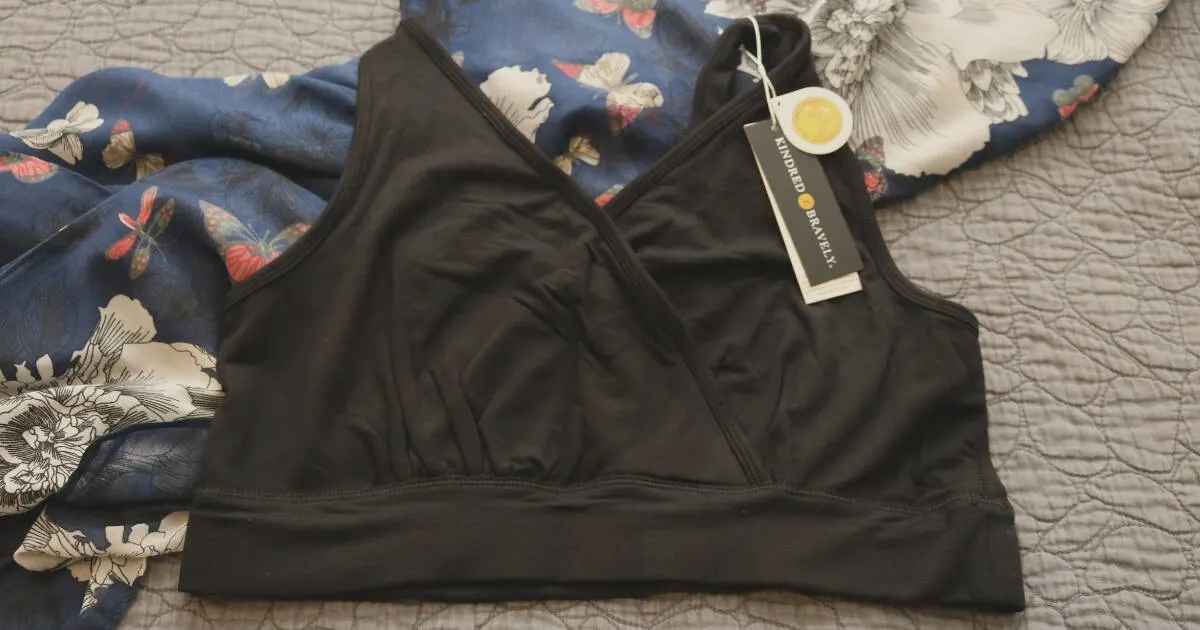 Sizes 30B – 44I
Remember how I mentioned above that Kindred Bravely's material is buttery soft? Well, their Simply Sublime nursing bra takes that to a whole other level by using the softest nility (AKA amazing) yarn.
Not only is this Kindred Braverly bra durable and functional, but it also comes in six different colors, including a really pretty pale pink!
Product Details: It features drop cups with removable padding and molded branded clips, adjustable shoulder straps, and logo design. Adjustable hook closure back.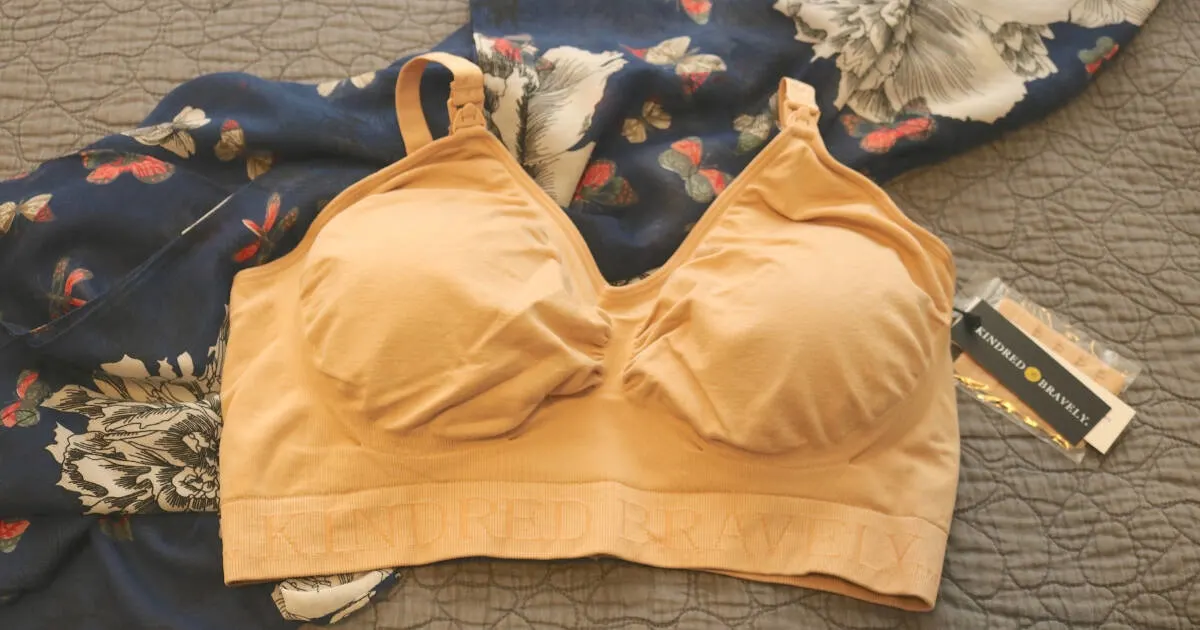 Size Small – XXL
You've probably already narrowed down what I was teasing above – Kindred Bravely's sheer cardigan! I'm in love with this cardigan that is perfect for discreetly nursing… or wearing around town like I'll be doing well beyond my breastfeeding days!
This cardigan comes in two different patterns and is really affordable and adorable.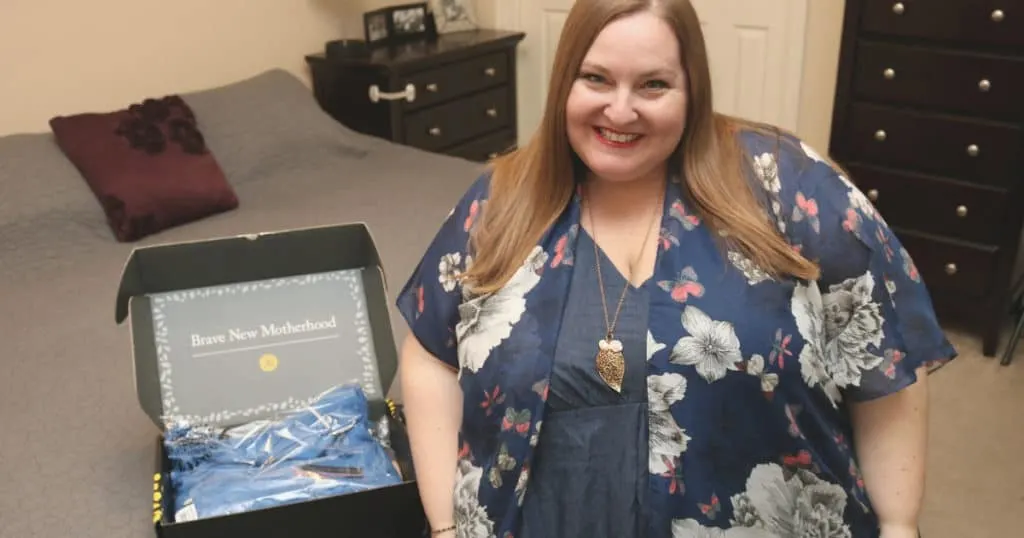 What stands out to me most about Kindred Bravely is the quality of everything they produce – from their contemporary packaging to the design and function of each of their products. The fact that their Busty (also known as busty plus size) options are designed with more support is outstanding.
Of course, my only complaint is their sizing and I hope in time they'll expand so even more moms can enjoy all that Kindred Bravely has to offer!
If you're a smaller plus size mom, I highly encourage you to check out Kindred Bravely today.
You Might Also Like:
6 Things Every Plus Size Breastfeeding Mom Needs
8 Plus Size Nursing Dresses You'll Want To Own
The Best Plus Size Pumping Bras And Helpful Pumping Tips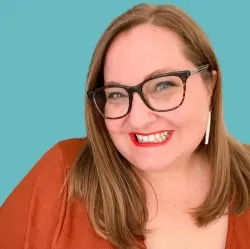 Latest posts by Jen McLellan, CBE
(see all)