Are you on the hunt for the best plus size pumping bras that will allow you to do other tasks while pumping? From our favorite plus size hands-free pumping bra to highly recommended pumps – you've found the right place!
You'll also get fantastic tips from other plus size pumping parents to make it easy to pump anywhere anytime.
Disclosure: Plus Size Birth is a participant in the Amazon Services LLC Associates Program, an affiliate advertising program. As an Amazon Associate, I earn from qualifying purchases. Read more about these links in my disclosure policy.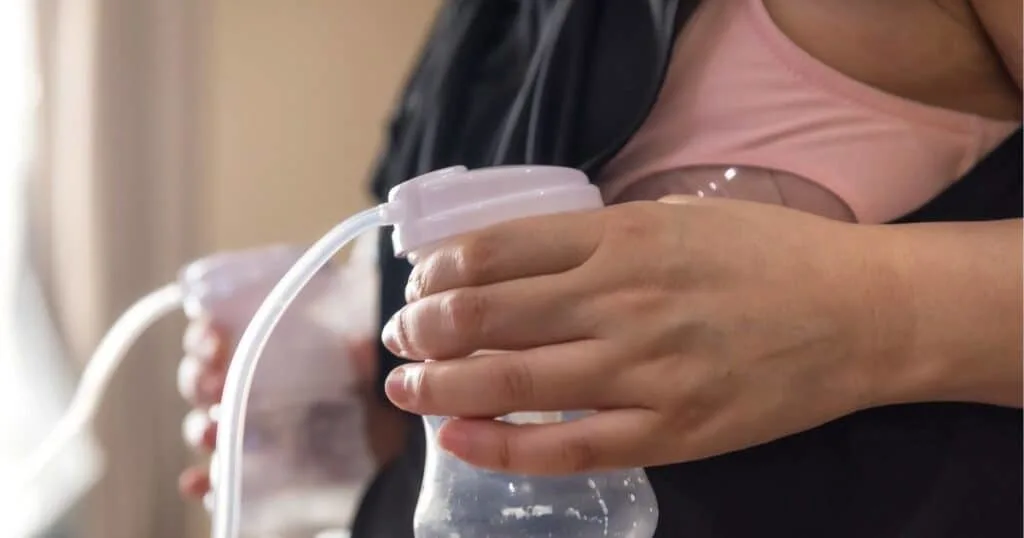 Why Do I Need A Plus Size Pumping Bra?
It won't take long to realize that if you want to sleep, go back to work or even run an errand, you'll probably need to pump extra milk.
Pumping is essential to provide relief when your baby is not close by, and it's a great way to help increase your milk supply.
Without the right size plus size pumping bra, the weight of your breasts can cause shoulder and back pain. You also have to deal with the pump flange coming off, and fussing with it if it's not the right fit (more on that later).

An excellent plus size pumping bra is one designed with plus size bodies in mind!
When Should I Purchase A Pumping Bra?
According to Laurel Wilson, a board-certified lactation consultant, you should wait until a few weeks postpartum to buy a plus size breast pump bra. Waiting to purchase will help you find a more accurate size once your milk comes in.
That said, you may not have the luxury of going shopping when you have a breastfeeding baby, so it's okay to purchase when you feel ready.
Unfortunately, shopping for plus size pumping bras is easier said than done. But we've got your back, literally.
What To Look For In Plus Size Pumping Bras?
Ideally, you want a bra that you can remove the front panel or unsnap the middle part easily to pump.
A great pumping bra comes with an opening for the pump flange, so you don't have to wear a bustier.
Most moms find that a combination of a nursing and a pumping bra in one is better because you don't want to keep changing bras every time you want to pump.
With that in mind, you should also look for a bra that is the right fit for you.
How To Find The Perfect Fitting Plus Size Breast Pump Bra?
A few years ago, a movement to educate women about their bra size started. This is because most women were not wearing their ideal fit, which caused a plethora of issues from back pain to discomfort.
As a plus size parent, choosing the right fit for your current breasts is crucial to avoid unnecessary challenges.
If a bra is too big, it won't support your breasts well, leading to back and shoulder pain.
If the bra is too small, you are looking at the possibility of clogged ducts, discomfort, and pain.
Consider having a professional measure your bra size before you invest in a good pumping or nursing bra. From Nordstroms to Lane Bryant, there are trained salespeople who can assist you.
With that said, consider connecting with a lactation consultant who can assist you with far more than just finding the correct measurement to assist with buying the best plus size pumping bra.
Or, if that's not feasible, here's a helpful video from Kindred Bravely.

Different Types Of Plus Size Pumping Bras
When it comes to plus size pumping bras you have hands-free, underwire-free, underwire, and sports bras.
Plus Size Hands-Fee Pumping Bras
Every parent knows that multitasking is not easy when you have a small baby.
A bra that allows hands-free pumping is excellent because you can enjoy some tea and a snack while pumping or finishing something on your to-do list.
Most working moms find this extremely convenient because you can attach your pump anytime and carry on with your work.
Sizes: X-Small – X-Plus (To Size 48J)
When surveying plus size pumping moms about the best plus size pumping bra, Simple Wishes was recommended most often.
This plus size hands free pumping bra goes to a 48 J according to their size chart. With that said, it has accommodated larger parents. It's available via Amazon, so easy to return if it's not the right fit for you.
Pump Strap

Hands-Free Plus Size Pumping Bra
Sizes: One Size Plus (To Cup Size K)
According to the Pump Strap, "This Beige adjustable pump bra fits all women above sizes XXL and with a DD +, G, H, I or J bra size."
Plus size pumping parents agree it's a plus size breast pump bra you'll want to consider checking out.
Plus Size Underwire-Free Nursing Bra
You might be excited to wear a sexy underwire bra. Unfortunately, the underwire on a pumping bra is not the best idea unless you know it's a perfect fit.
An ill-fitting plus size nursing bra with an underwire can compress milk ducts and cause unnecessary pain.
Choose a bra made of comfortable material like cotton and come with different levels of supportive features.
Make sure the bra is also adjustable and has a good stretch.
Momcozy Nursing And Pumping Adjustable Supportive Nursing Bra
Sizes: 32C- 44G
Momcozy made our list because it comes highly recommended by plus size pumping moms who wear size 44 E and below. If you're looking for a larger option, we sure have you covered with other options below.

BRAVADO Full Cup Hands-Free Clip And Pump Nursing Bra
Sizes: 32B – 46J
Bravado is a popular nursing bra option and their full cup design works well for plus size parents up to size 46G.
Milkful

All-In-One Nursing And Pumping Bra
Sizes: 42C – 52G
Milkful was designed with plus size moms in mind! Emily, the owner of Milkful, consulted with plus size moms to understand their unique needs while pumping and nursing. This is another option plus size pumping parents rave about.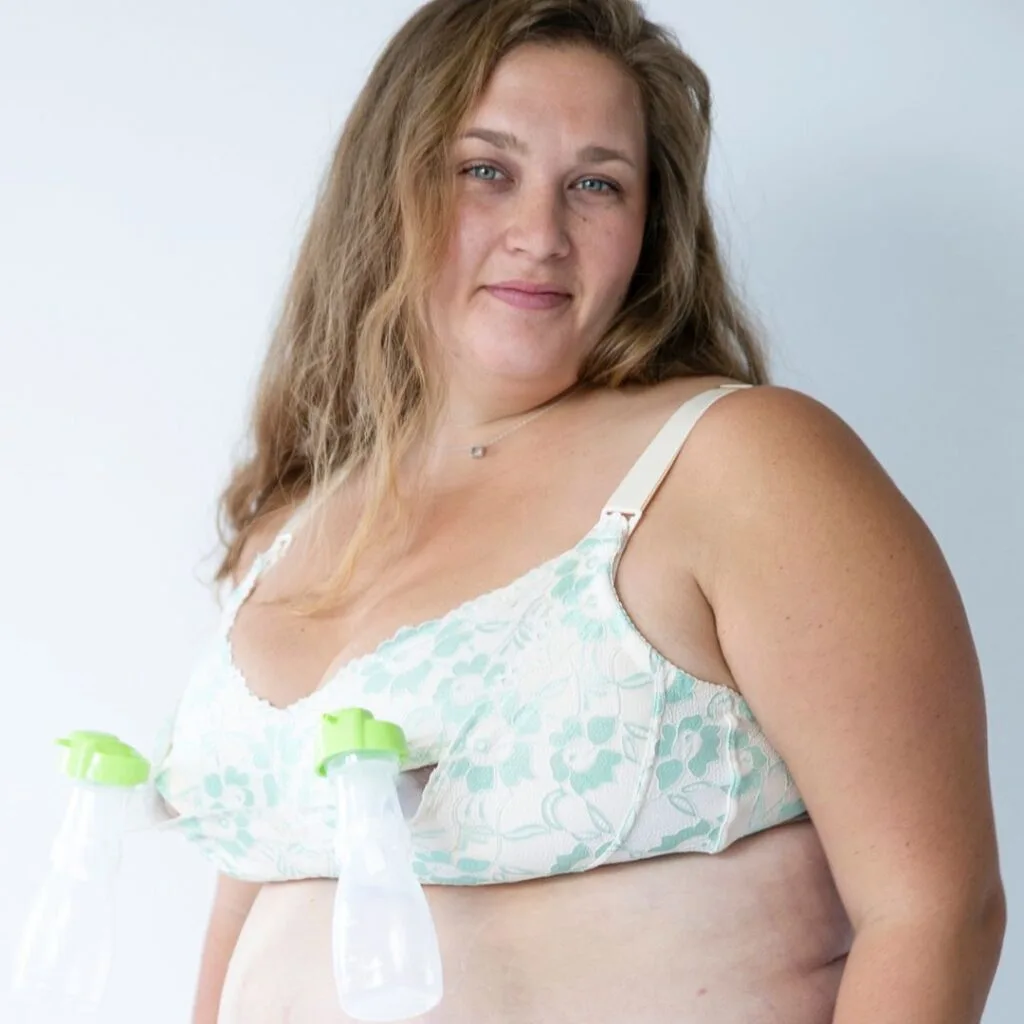 DIY Pumping Bra With Plus Size Sports Bras
Sizes: X-Large – 6X (To Size 56DDD)
Need a larger size pumping bra or on a tight budget? We have you covered!
There's no shame in a DIY plus size pumping bra. You can use a free option by taking a bra or sports bra and cutting a hole in the center of each cup that's accommodating enough for pumping.
Or you can purchase an inexpensive pumping bra from Just My Size that goes to a 6X.
Recommended Breast Pumps When You Are Plus Size
Just like there are different types of plus size pumping bras, there are a few different types of pumps. Below you'll see recommended breast pumps from plus size moms.
Electric Pumps
Medela is a popular option because it's known for being a hospital-grade pump that's easy to use and clean.
When you survey plus size pumping moms about their go-to pump, Spectra Baby is always mentioned the most! Spectra is another hospital-grade pump.
Wearable Breast Pump
Willow

Wearable Double Electric Breast Pump with App
If you don't like all the gadgets that come with a traditional pump and loud noises, then you might be interested in this wearable design that fits in your bra and works quite well for many pumping parents. Along with Willow, Freemie is another wearable option that's less expensive.
Hand Pump
If you're looking for a convenient hand pump that works well, look no further than the extremely popular Haakaa! Spend a few minutes reading the reviews to understand why this pump, which costs under $20, gets such a big buzz.
Tips For Pumping When You're Plus Size
Using the correct size pumping bra is 70% of the work when it comes to pumping. Having a bra that holds your breasts and the flanges in place while giving you the comfort you require is ideal!
How To Find The Right Size Flange For Pumping
Assuming that big-breasts require a small flange is a huge misconception. An improperly fitted flange can cause pain, skin damage, and spills.
Measure your nipples to find the right fit. Ideally, the flange should be 4mm larger than your nipples. If this sounds overwhelming, a lactation counselor can assist you in finding the correct size flange.
"Flange size does not equal breast size. I thought because I had large breasts I needed a large size flange. So wrong! Make sure to fit your flange properly for your nipple size. The right size makes all the difference." – Sylvia
Use The Right Angle While Pumping
You also want to ensure the pump is angled correctly, and the flange is centered.
Here's a helpful tip – try pumping in front of a mirror a couple of times to ensure that the nipple goes into the tunnel and not just hanging on the side.
You can also feel the positioning with your senses and adjust it accordingly.
Getting the right angle is the secret to comfortable and spill-free pumping.
"If you have downward-pointing nipples, attach your flanges and bottles at a 45° angle facing outwards, called motorcycle handles. Helps with comfort and milk flow since bottles are not held up on the stomach." – Suzanne Gillies-Smith, Plus Size Breastfeeding
Use The Right Suction Setting
The most uncomfortable part about pumping milk is often the suction.
Ideally, you should use the highest suction setting to get maximum results. However, you can start low in the beginning and get used to the feeling before ramping it to full gear.
With time you will know which setting works best for you, and the discomfort will decrease.
Find A Quiet, Comfortable Place To Pump
Producing milk requires a stress-free situation because of the hormones needed for the letdown.
It would help if you found a place where you can comfortably sit, relax, and pump away without feeling judged or rushed.
The Break Time for Nursing Mothers law requires employers covered by the Fair Labor Standards Act (FLSA) to provide accommodations. This includes a private space that is not a bathroom for pumping.
The pumping process can take anywhere between 20 and 30 minutes, so you should not rush it.
Instead, find something else to do or have a snack while the pump is doing its job. And be sure to drink plenty of water to help with milk production!
If you're away from your baby, some people find looking at images, or their baby or videos help with letdown. You can even bring a baby blanket as the scent of your baby can assist with letdown.
"Prop up pillows behind you! I have to make sure I'm sitting up straight or even leaning forward slightly so the milk doesn't flow back toward me and so the bottles don't bump into my stomach. Pillows help make that a lot more comfortable!" – Angela
Resources For Pumping While Plus Size
Along with helpful tips, you need items that work for your body! While many lactating parents experience spilled milk, pumping anxiety, and sore nipples, plus size women can have additional struggles finding the proper supportive resources beyond pumping bras.
We have you covered with the resources below!
Additional pumping resources parents of all sizes highly recommend are below.
"Boob lube AKA lanolin or coconut oil on the flanges helps cut down chafing under a pumping bra. Just a dab around the inside of the nipple/breast transition and another around the inside rim of the flange where it ends on your breast." – Deena
"Kiinde! Pump directly into bags, feed directly from bags. Huge time saver!" – Jenna
Tips For Pumping With Large Breasts
According to Leigh Anne O'Connor, IBCLC, there are some specific things big-busted people can do to make pumping more comfortable. Top on her list is getting a professional pump fitting by a lactation expert.
On top of recommending comfortable pumps for plus size women, the consultant will also help assess the correct size flanges, teach you the right angle, and suction setting.
You might also benefit from lifting your breast by placing a rolled washcloth, cloth diaper, or burp cloth under your breasts.
Be Open To Getting Help With Pumping
A big part of successful pumping is arming yourself with a great plus size pumping bra and comfortable pumps for plus size people.
That said, pumping is a stressful experience for most people. If you are feeling uncomfortable or experiencing any issues with the process, you should know that you are not alone.
Reach out to other moms or a lactation consultant for some much-needed support.
Don't underestimate the power of sharing with fellow moms and connecting with other people!
In the spirit of support, we're ending this resource with a few more tips from other plus size breastfeeding moms.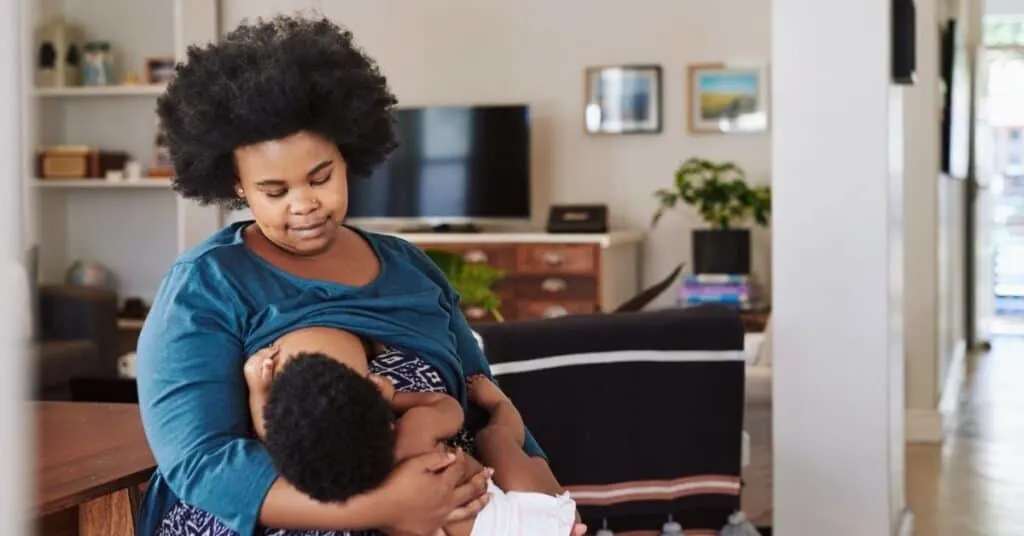 "When I was having a hard time getting the flow going, I'd put a heating pad on my breasts to relax and get the milk moving. It worked wonders." – Bridgett
"Drink as much water as humanly possible. Then drink more." – Lori
"With my first, I made my own pumping bra out of a sports bra because I couldn't find a pumping bra in my size. With my second I used Simple Wishes which had more than enough room for my large chest." – Stephanie
"Make sure to get large enough breast shields…too small hurts…" – Sarah
"I had to use a rolled receiving blanket under my breast and I would have to lean forward otherwise the bottles would rest too much on my stomach and not allow the flanges to create a seal, there was a lot of leaked milk from that." – Sylvia
We hope you found these resources and tips beneficial to select the best plus size pumping bra and feel supported throughout your pumping journey!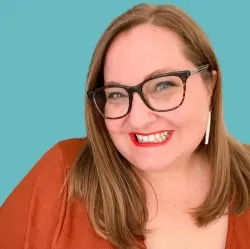 Latest posts by Jen McLellan, CBE
(see all)