Wondering where to find a plus size rocking chair or extra-wide glider for your nursy?
There's something so very special about setting up your nursery.
From picking out the theme to choosing the right mobile, having every last detail just right brings you one step closer to holding your baby in your arms.
An essential item every nursery needs is a comfortable place to rock and feed your baby.
Unfortunately, finding an extra-wide glider or plus size rocking chairs for you and your partner can be frustrating when you don't know where to look… or what to look for!
Many gliders look deceiving with lots of cushioning but have a seat width that's not much wider than an airplane seat at 17" – 19" wide.
When you're plus size, that's just not enough, but we have you covered in this resource!
Disclosure: Plus Size Birth is a participant in the Amazon Services LLC Associates Program, an affiliate advertising program. As an Amazon Associate, I earn from qualifying purchases. Read more about these links in my disclosure policy.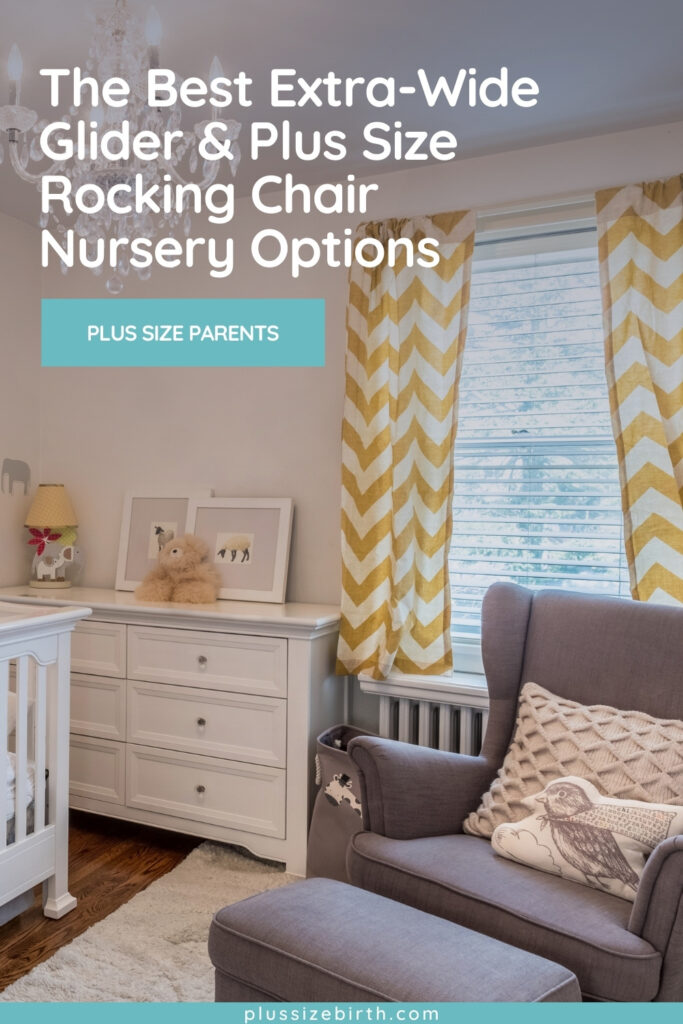 Nursery Glider & Plus Size Rocking Chairs For Plus Size Parents
Finding a comfortable oversized rocking chair is essential!
Every new parent can share stories of how often they've stayed as still as can be once they've finally gotten a fussy newborn to sleep. Then there are the hours spent breastfeeding (or bottle feeding!) with an arm crooked and back arched awkwardly in your seat.
We've asked other plus size moms and scoured the Internet to bring you the helpful extra-wide glider and rocking chair options below!
Let's start by thinking outside of the box.
One go-to for many plus size parents looking for an extra-large glider is purchasing a La-Z-Boy.
If you don't want to pay the increased price for the brand name you can just buy an extra-wide rocker-recliner.
While these plus size recliners don't have the look of a traditional baby rocker, they are often far more comfortable and durable. Plus, this chair will remain a staple in your home long after your nursery is transformed into a big kid's room.
Below are two extra-large glider rocker designs that are far more affordable than a La-Z-Boy. Grab a cute throw pillow and blanket that matches your nursery colors and you'll be good-to-go!
This recliner has a weight limit of 350 lbs and has material that's easy to wipe off for spit-up or diaper blowouts (the joys of motherhood).
And this isn't your average recliner – it's has a massage function!
This oversized recliner has many great reviews including comfortably supporting people weighing over 400 lb.
If you want more of that traditional nursery rocker, we've got you covered with options below.
How adorable is this wide rocker? It has a weight limit of 225 lbs but reviewers say it's very sturdy and would hold well beyond the recommendation.
Esright is another extra-wide rocker option that boasts a more sleek look if your nursery décor is more modern.
This pretty pink glider might be a perfect fit for your nursery theme (it also comes in other colors like charcoal). With a 250 lb weight limit, it might also be a great fit for you!
This uniquely designed glider swivels all the way around with easy-to-clean fabric. It has a weight limit of 300 lbs with lots of positive reviews online for easy setup.
Since we started this resource with an out-of-the-box idea, let's end with another one!
A patio rocker? Yes! Outdoor furniture is incredibly durable and easy to clean.
Once you're done with it in the nursery, you can move it outside to comfortably watch your kids play in the yard!
We hope you've found this extra-wide glider and rocking chair resource helpful!
You can also find great plus size rocker options via Goodwill and garage sales in your community. It might take a few weekends of hunting to find the perfect fit for your nursery but that can be a lot of fun to do with girlfriends or your loved one.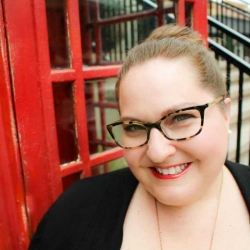 Latest posts by plussizebirth
(see all)