Welcome to this second trimester plus size pregnancy breakdown! Hopefully, nausea (if you're experiencing it) will start subsiding and you'll feel more like yourself in the coming days or weeks.
This resource will support you throughout the second trimester of a plus size pregnancy with helpful tips and evidence-based information.
Disclosure: Plus Size Birth is a participant in the Amazon Services LLC Associates Program, an affiliate advertising program. As an Amazon Associate, I earn from qualifying purchases. Read more about these links in my disclosure policy.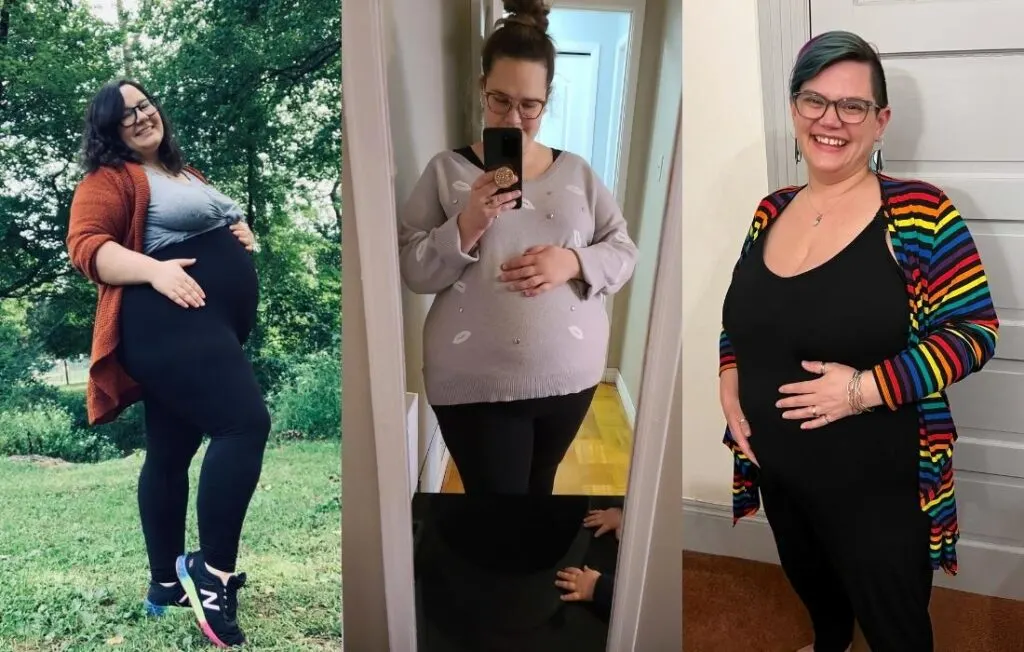 Second Trimester Quick Overview
Throughout your second trimester, you'll continue going to prenatal visits monthly. However, depending on if you're classified as high-risk or not, you might have additional appointments with maternal-fetal medicine or other specialists.
In this section, we'll focus on your changing belly and when you'll start feeling movement. In addition, you'll get helpful tips for pregnancy discomforts and learn what to expect with your upcoming glucose screen. We'll also cover size-inclusive items you might need for your pregnancy, and so much more!
A friendly reminder that our goal is to help you feel prepared and informed to navigate anything that may or may not occur during a plus size pregnancy.
Plus Size Second Trimester Pregnancy Breakdown
None of the information on this website or our social media outlets should be interpreted as medical advice. Always talk to your care provider about any questions or concerns you may have!
Ready to learn what to expect throughout your second trimester? We can't wait to walk you through each week!
Week 14: Back Pain & SPD
Experiencing aches and discomfort is pretty standard as your body stretches to accommodate pregnancy.
Some people don't like anything touching their belly during pregnancy. Other people find a belly band comforting for additional support and light compression. And we have a resource for plus size belly bands and support belts.
Common pregnancy discomforts are one thing, but what can you do if you develop Symphysis Pubis Dysfunction (SPD)?
This is when the ligaments that stabilize your pelvic joints become too stretchy or relaxed and your pelvic joint becomes unstable. We tend to see higher incidences of this among plus size people during pregnancy.
Step one – talk to your care provider about any concerns you have during pregnancy, especially if you're in pain. There are a few stretches for SPD that your care provider might recommend, and below are other helpful remedies.
Placing a pillow between your legs while sleeping is a big recommendation. And you can take that a step further by investing in a pregnancy sleep pillow.
You'll want to start sleeping on your left side during pregnancy (to help with blood flow to your uterus). This pillow helps to keep you in that position.
Try avoiding sitting for long periods and staying active (but don't do activities that cause pain). Prenatal yoga can be beneficial for both SPD and back pain during pregnancy.
If yoga is new to you, you'll want to find a resource like Body Positive Yoga, where the instructor is trained on how to support people in larger bodies.
Some people also report feeling alleviation from warm baths and chiropractic care. Be sure to connect with a chiropractor specially trained to work with people during pregnancy and postpartum.
We can't emphasize enough the importance of talking to your care provider whenever you're concerned – they are there for you, and no question or worry is a silly one!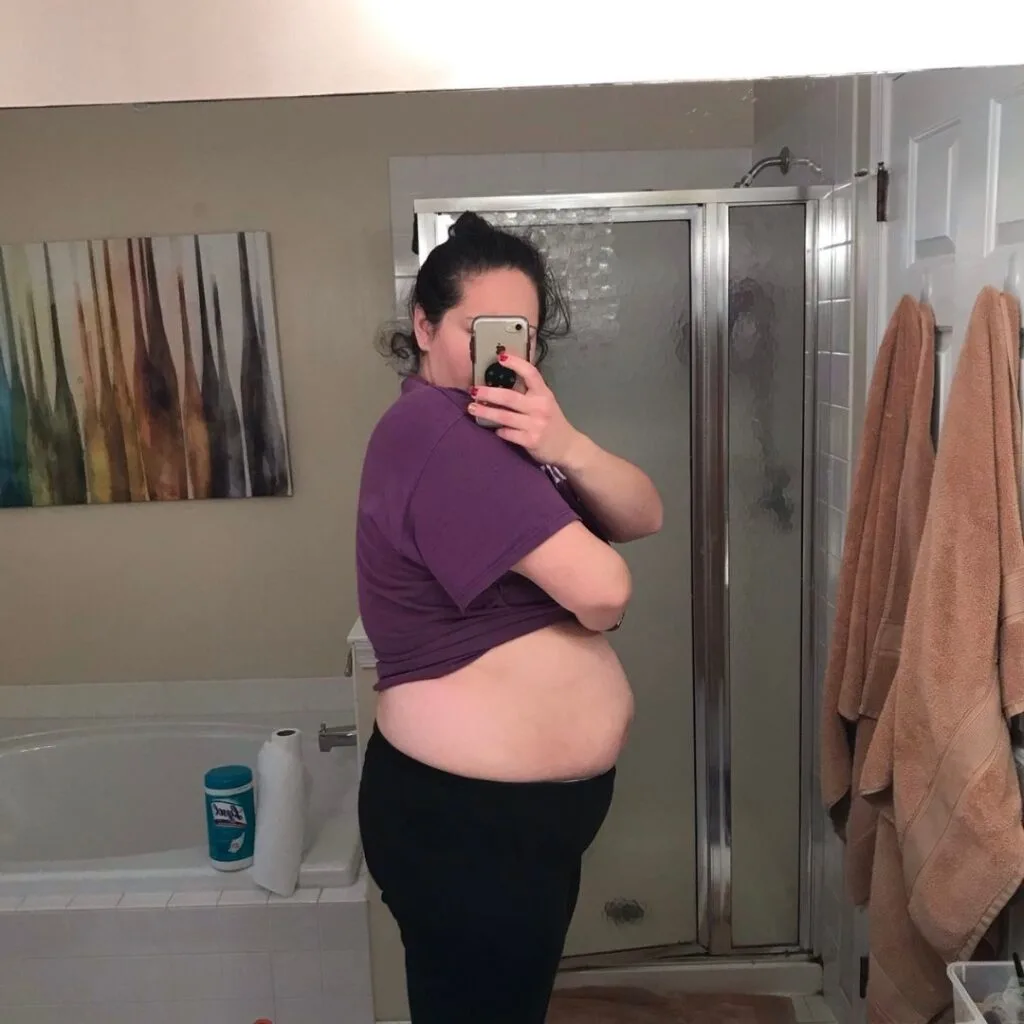 Week 15: Hearing the Baby's Heartbeat
Starting around this time, your care provider will likely be able to use a handheld doppler during prenatal visits to listen to your baby's heartbeat. And you'll be able to hear it too!
Do not be alarmed if it takes a while to find the heartbeat or if they can't find it at all the first time they try. This is normal and does not mean there is anything wrong.
While dopplers work on most people with a high BMI, finding your baby's heartbeat can take a little bit longer, especially when their heart is tiny. Like with ultrasounds, it will get easier to detect the heartbeat as your baby grows.
If your care provider can't find the heartbeat, they'll likely recommend trying again on your next visit. If they have any concerns, they'll probably suggest an ultrasound to reassure everyone.
Be kind to yourself if you leave your prenatal visit feeling disappointed if the heartbeat isn't detected.
If you're considering purchasing an at-home fetal doppler, talk to your care provider first. Ask if they'll teach you how to use it properly if you decide to buy. Also, while we have a recommendation below that other plus size moms enjoyed, do your research before purchasing.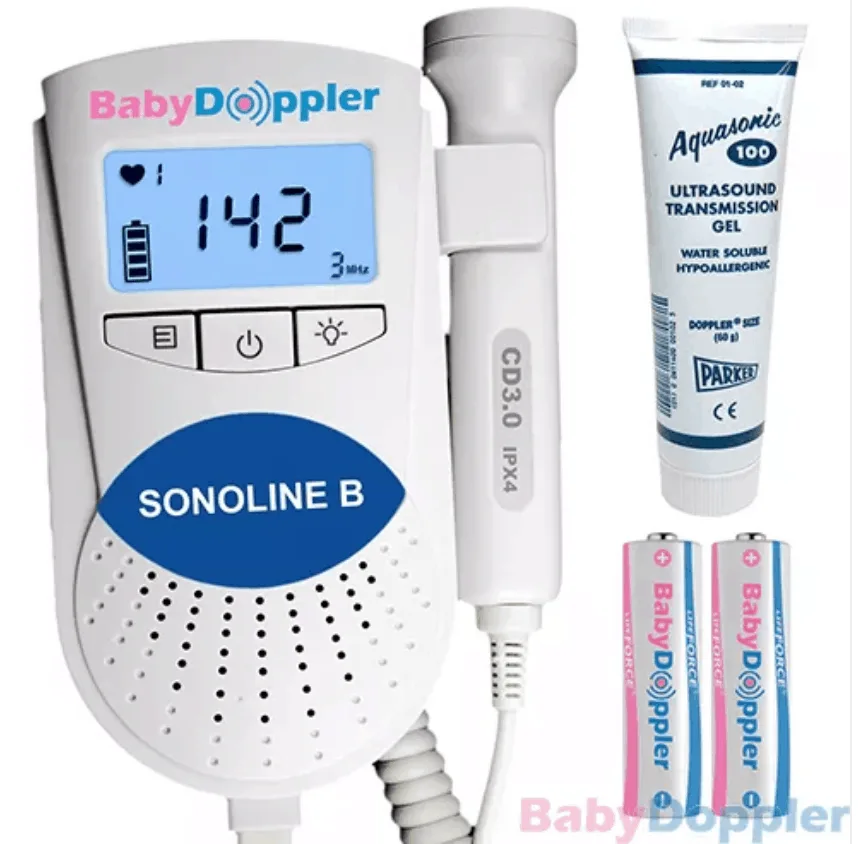 It can take a while to find the heartbeat and sometimes you might pick up your own heartbeat instead. These things can lead to unnecessary stress. However, some people, including families who have experienced a loss, take great comfort in having an at-home doppler once they know how to use it.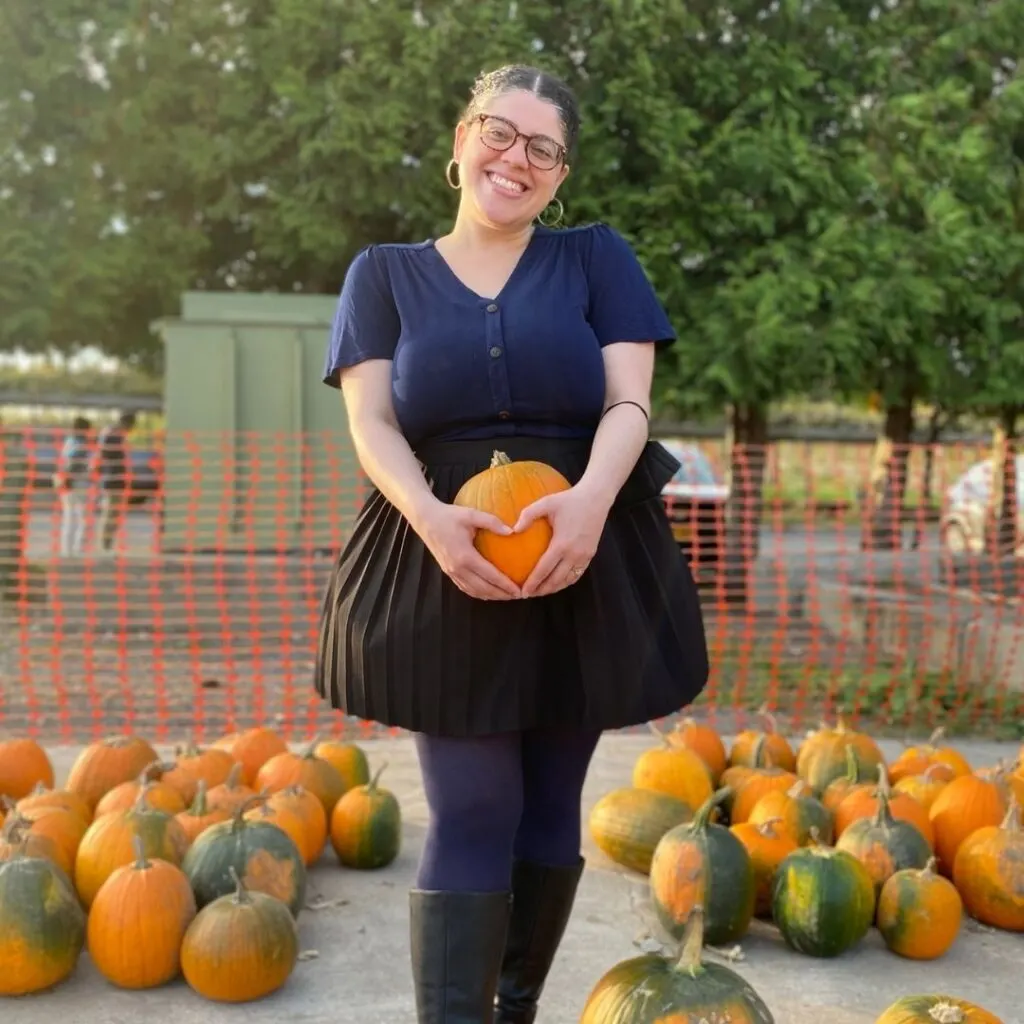 Week 16: Feeling Movement
When do you feel the baby move during a plus size pregnancy?
While most of us feel movement around the 16 – 22 week mark, it's different for every body and every pregnancy. Often, when you're pregnant in a larger body, you need a little more time.
Additionally, the placement of your placenta has a significant impact on when fetal movements are detected. During an ultrasound, you can ask if they can show you where your placenta is and if it has implanted anteriorly (in the front); that will likely make it a bit harder to feel movements.
You probably won't start feeling movement until closer to the 20 – 22 week mark, or even beyond, if this is your first pregnancy.
Try not to stress. Soon enough, you will likely feel the rhythm of your baby. And in no time, they'll be bouncing on your bladder!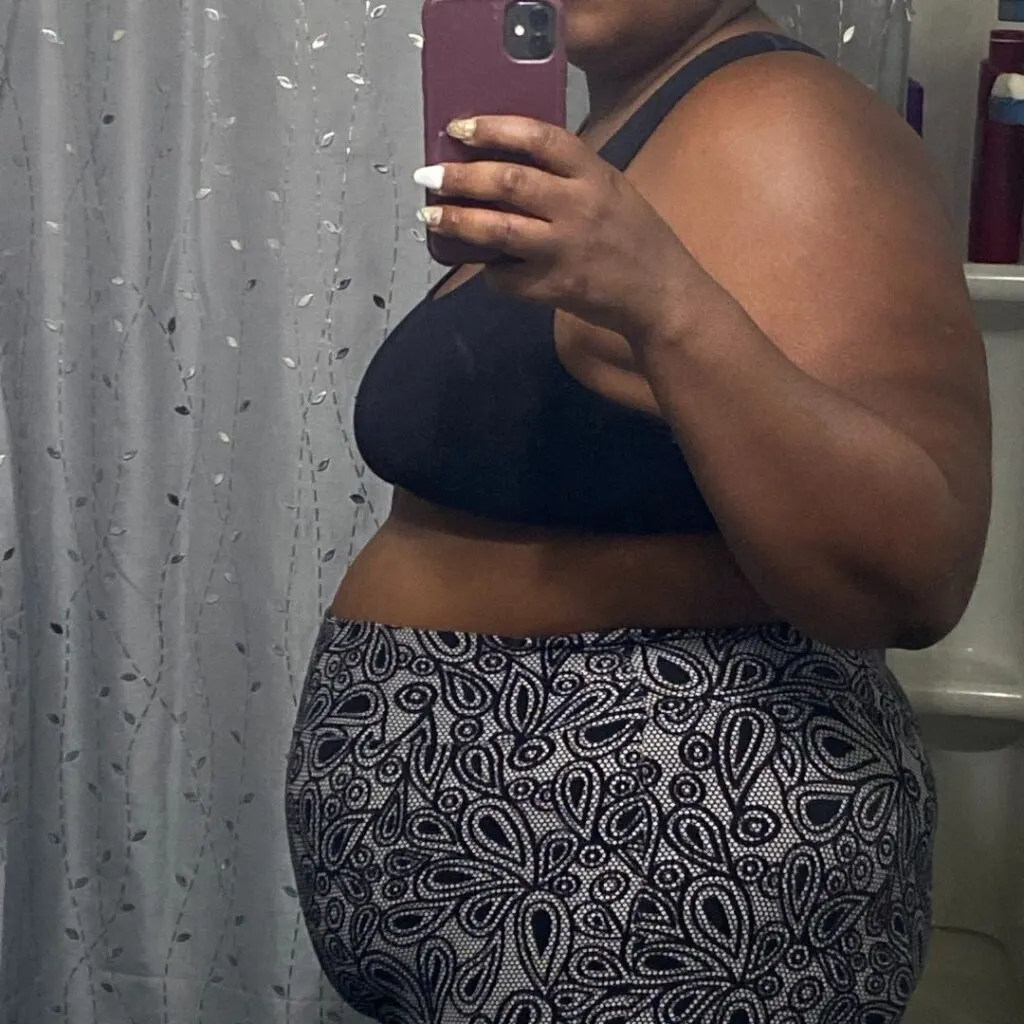 Week 17: Waiting on Your Bump to Pop
Now that we've covered when you'll feel movement, you're likely wondering: when will I start showing during a plus size pregnancy?
The answer here is the same; it's different for every body and every pregnancy. With that said, it's typical to wait longer to show during a plus size pregnancy.
When we asked community members on the Plus Mommy Facebook page, many shared that their bumps started to pop around the 24-week mark of pregnancy. For others, it took much longer. A few never felt like they looked pregnant at all.
But as you've likely noticed when looking at the bump photos throughout the plus size pregnancy week by week breakdowns – many people start showing well before 24-weeks!
Now's a great time to head on over to Plus Size Birth on Instagram to see hundreds of beautiful plus size bumps!
Before you do that, let's quickly review something that needs to be talked about far more often – how to wear a seatbelt correctly when you have a belly (pregnant or not). The lap portion of your seatbelt goes under your belly and snug across your hip bones.
During this informative podcast episode, Dr. Alisa Baer, a pediatrician, and co-founder of The Car Seat Lady, also addressed where plus size parents should position kids in the car and much more. Safety first!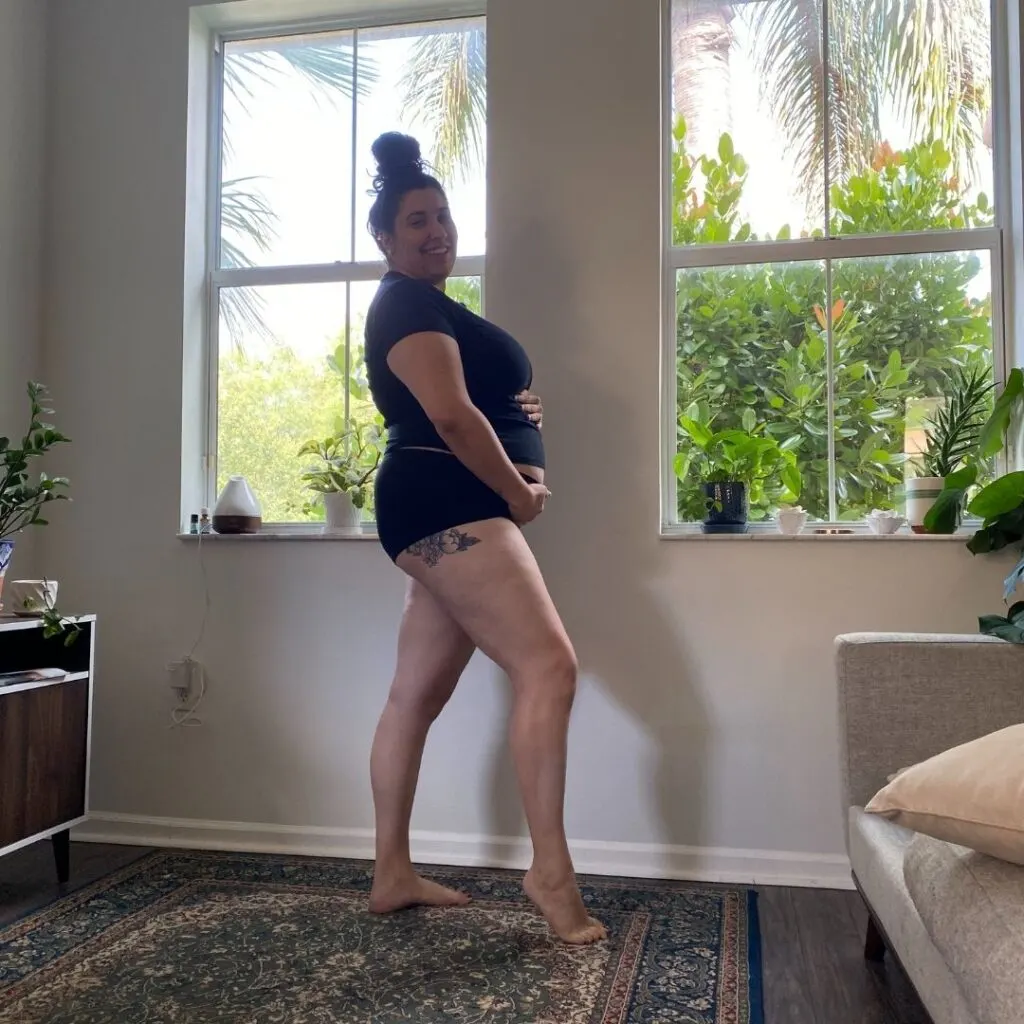 Week 18: Plus Size Pregnancy Belly Shapes
We dream of the day when everyone feels represented in mainstream pregnancy magazines and online spaces. We've seen improvement with popular social media outlets from resources like The Bump and BabyCenter in recent years. But unfortunately, their websites aren't as inclusive.
Pregnant bellies come in all shapes, sizes, and colors!
Please don't feel like something is wrong with you if you have more of a B-shaped belly or your bump never quite appears.
We're sure you're wondering what shape your belly will be. So, during your 18th week of pregnancy, let's dive deeper into belly shapes during a plus size pregnancy.
Yes, it's absolutely possible that you'll have a round D-shaped belly. And, as you learned last week, it might just take a few weeks longer to appear.
The shape of your belly has a lot to do with your fascia, the band or sheet of connective tissue beneath the skin.
Having a B belly is extremely common during a plus size pregnancy. And if you have a "muffin top," you'll likely have a B-shaped bump during pregnancy.
An apron belly happens when your body has a natural fold or flap that hangs at the bottom of the abdomen. Some people have a B belly and an apron belly during pregnancy and well beyond.
Other people have a variation between a B belly and a D belly, along with an apron belly.
And lastly, some people don't feel like they ever look pregnant and have only a slightly larger belly than before pregnancy.
All of these plus size pregnancy belly shapes are normal and don't negatively impact your baby growing within your amazing body!
While we encourage people to embrace whatever size belly they have, we also understand it can be emotionally challenging. So, you might consider purchasing a belly band. A band can help smooth out your bump to appear more like a D belly if this feels important to you.
Maternity clothes can also help create the illusion of more of a D-shaped belly. This is especially the case for maxi dresses and plus size maternity tops worn with a belly band.
Whatever shape your belly takes, it is the perfect home for your growing baby!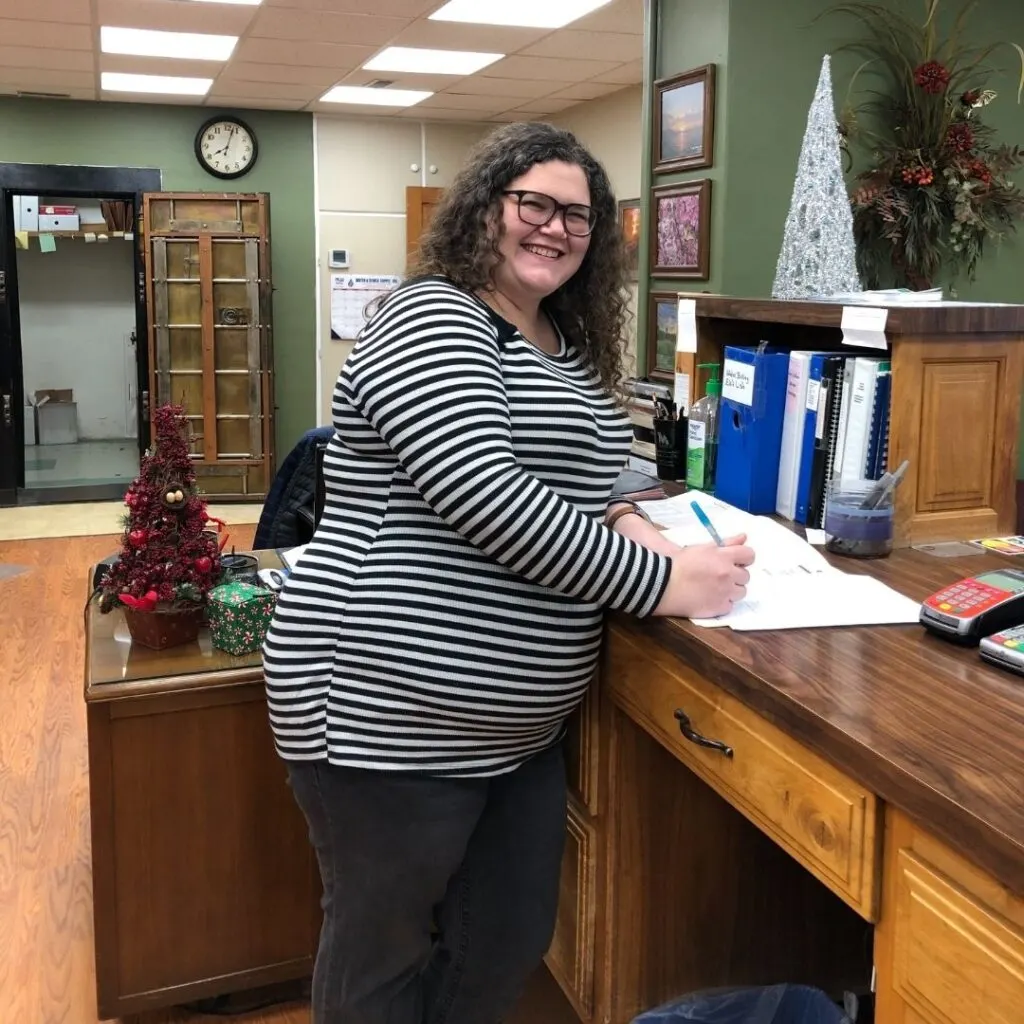 Week 19: Mid-Pregnancy Ultrasound
Between 18 and 22 weeks, it's time for your anatomy scan during your mid-pregnancy ultrasound.
Don't be alarmed if your appointment is scheduled toward the end of that timeframe or possibly a little beyond.
As we shared during week 12 of your plus size pregnancy, it's harder for ultrasound waves to go through adipose (fat) tissue.
Your anatomy scan is performed with an external ultrasound.
Your provider wants to make sure they can get a clear picture. If they can't get the necessary measurements, they might recommend waiting a few weeks or referring you to a specialist for stronger imaging.
And if you haven't already, be sure to review our tips for preparing for an ultrasound when you're plus size, also located in week 12 of the first trimester plus size pregnancy breakdown.
Along with an ultrasound, you'll have a prenatal care appointment with your selected provider at that same visit or around the same timeframe.
You can expect a conversation about how you're feeling overall and your provider will look for signs of pregnancy complications: significant swelling, for example.
Don't be surprised if a conversation about your pregnancy weight gain arises during this appointment. And remember, it's just one measurement to look at during pregnancy for your and your baby's health.
When you're in a larger body, you have a higher risk of developing deep vein thrombosis (DVT). Your provider might also inform you of warning signs and recommend you wear compression socks.
This prenatal visit is a great time to assess again if your care provider is size-friendly. In addition, you can download our My Size-Friendly Care Providers Guide.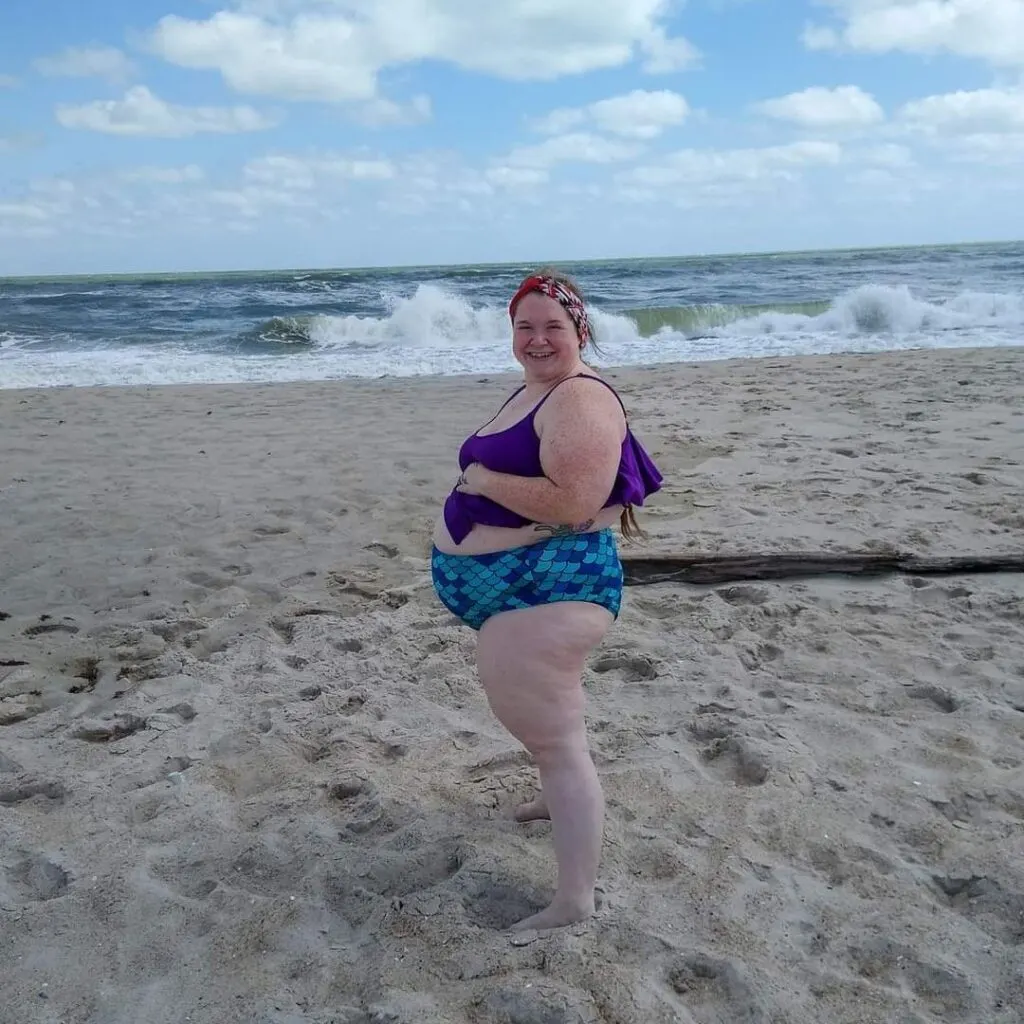 Week 20: Fundal Height Measurements
Your care provider will likely start measuring your fundal height during your upcoming prenatal visit or sooner. With that said, some care providers skip these measurements altogether, so don't worry if this doesn't happen.
If your provider is doing a fundal height measurement, they'll measure the distance from your pubic bone to the top of your uterus. This measurement estimates your baby's size and looks for a growth curve. It's usually done with a simple tape measure.
When you go into pregnancy already having a belly, your curve will be "ahead" of someone who began pregnancy with a smaller stomach.
Measuring ahead doesn't mean you're further along; it just means your measurement curve is unique to your body, and your provider will look for consistent growth.
Slight augmentations need to occur throughout a plus size pregnancy. This sure doesn't mean there's anything wrong with your body and your body's ability to have a healthy outcome!
Week 21: Selecting a Childbirth Education Course
There isn't enough time during your prenatal visits for your provider to go over everything you need to know. You're free to get this education in whatever way you choose!
Now is a great time to research childbirth education classes. You might also want to look into courses on topics like unmedicated labor, lactation, newborn care, and preparing for postpartum.
Your doula might provide these classes if you have a doula or they might be able to point you to someone who does!
Online childbirth education courses we recommend:
Size-friendly doulas we respect who offer childbirth education virtually or in-person:
For in-person options, hospital classes can be an affordable option. However, it's important to note that they often teach you more about being a good patient than being an excellent advocate for your labor and birth.
So, consider researching additional options for local childbirth education if you want that in-person experience.
Once you pick the class that feels like the right fit, you can reach out to the instructor to ensure they offer size-inclusive seating options for the class. For example, chairs without arms might be available to participants.
Back jack chairs provide back support when seated on the floor, but they commonly have a weight limit of just over 200 lbs. And birth/exercise balls can range in weight limits of 250 lbs up to our go-to recommendation that can hold over 1,000 lbs.
Along with the size-specific information we provide, we hope a childbirth education course helps you feel informed and empowered for your upcoming birth.
Week 22: Setting Healthy Boundaries
Will my family make negative comments about my body during pregnancy? Sadly, that's a fear many plus size people share during pregnancy.
There's so much misinformation online about being pregnant in a larger body that it's no wonder there's a societal belief that plus size people don't have healthy pregnancies.
We hope by now, you've read enough information to shift the narrative in your head – but how can you inform your loved ones when it comes to their well-meaning concerns?
The National Institute of Child Health and Human Development's National Child and Maternal Health Education Program launched the Pregnancy for Every Body Initiative in 2019.
This initiative provides consumers and providers with evidence-based information and handouts. Best of all, the content is written in a far more positive manner than you'll see on most leading pregnancy websites.
If you choose to peruse this resource, you'll see a familiar resource listed – Plus Size Birth. We proudly collaborated on this project along with leaders in maternal health throughout the United States!
So while we encourage you to share our articles and informational videos – we sure understand a resource on the National Institute of Health's website might put well-meaning family members' concerns at ease even quicker.
You can also teach loved ones to understand the difference between relative risk and absolute risks for those who might feel nervous upon hearing of increased risk.
Hopefully, seeing evidence-based resources which show you can have a healthy outcome will be enough.
Still, if disparaging comments about the size of your body or your body's ability to get pregnant are a thing – it's time to set healthy boundaries if you haven't already.
Here's a resource with helpful tips on setting boundaries. And you can use these suggestions not only during pregnancy but also throughout parenthood. Trust us, they'll come in handy then too!
Now's a critical time to start building a support network if you don't have one already. And you want to be very selective with who you allow into your bubble.
Boundaries help to make that process easier!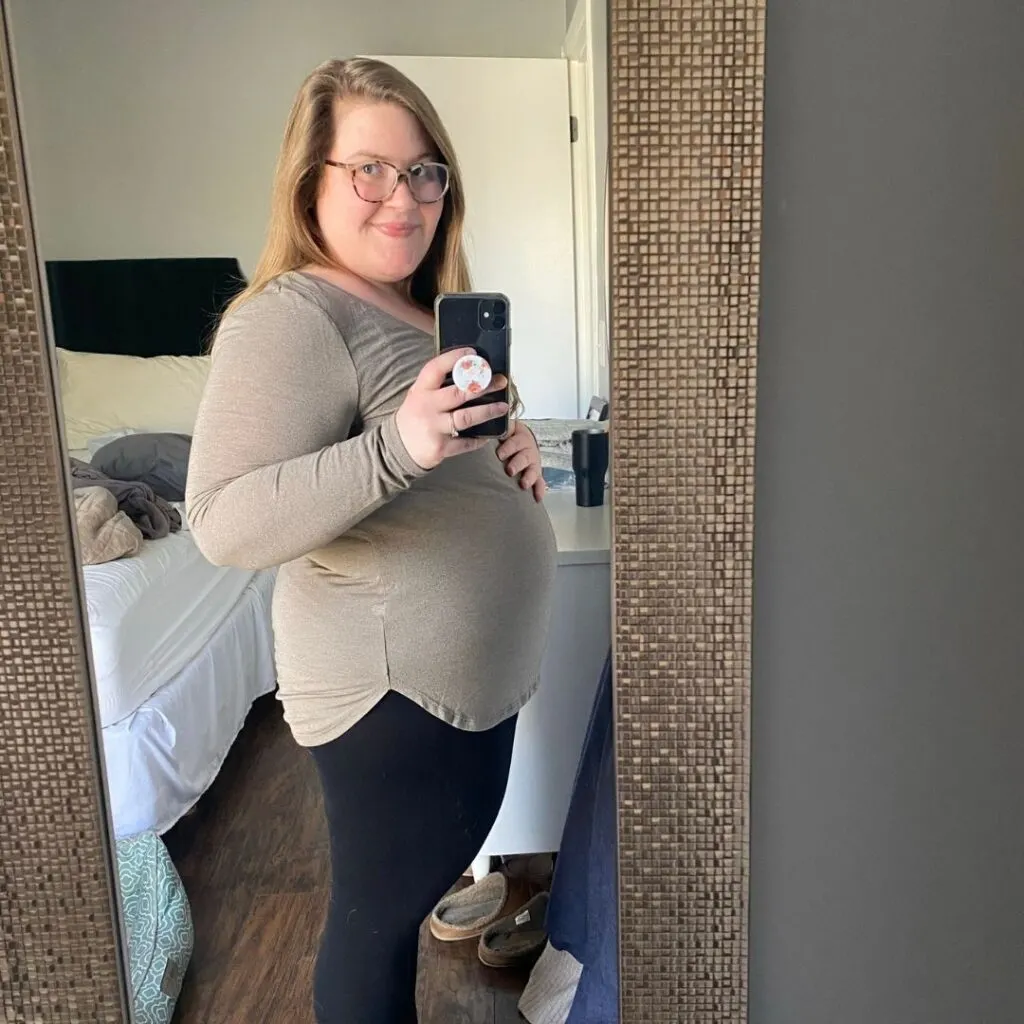 Week 23: Positive Self-Talk
Around 16 – 22 weeks of pregnancy, your baby may pick up faint sounds inside your body, like your heartbeat or digestive noises. Then, after 23 weeks, depending on their development, they'll be able to hear your voice.
Only it's not just the sounds your body makes that they'll hear, but also muffled noises of the outside world. What's incredible is that only your voice sounds loud to your baby and reverberates throughout your body as you speak.
So, focus on positive self-talk, especially when it comes to your body because your baby is already listening!
Touch your soft belly lovingly, even if it isn't the size or shape you imagined it would be – it's your baby's home.

Here's a list of body-positive books. There are even recommendations for kids, so add a few to your baby registry.
We also have powerful interviews with actors, musicians, authors, care providers, and moms sharing their path to self-love on the Plus Mommy Podcast that can help you in your journey.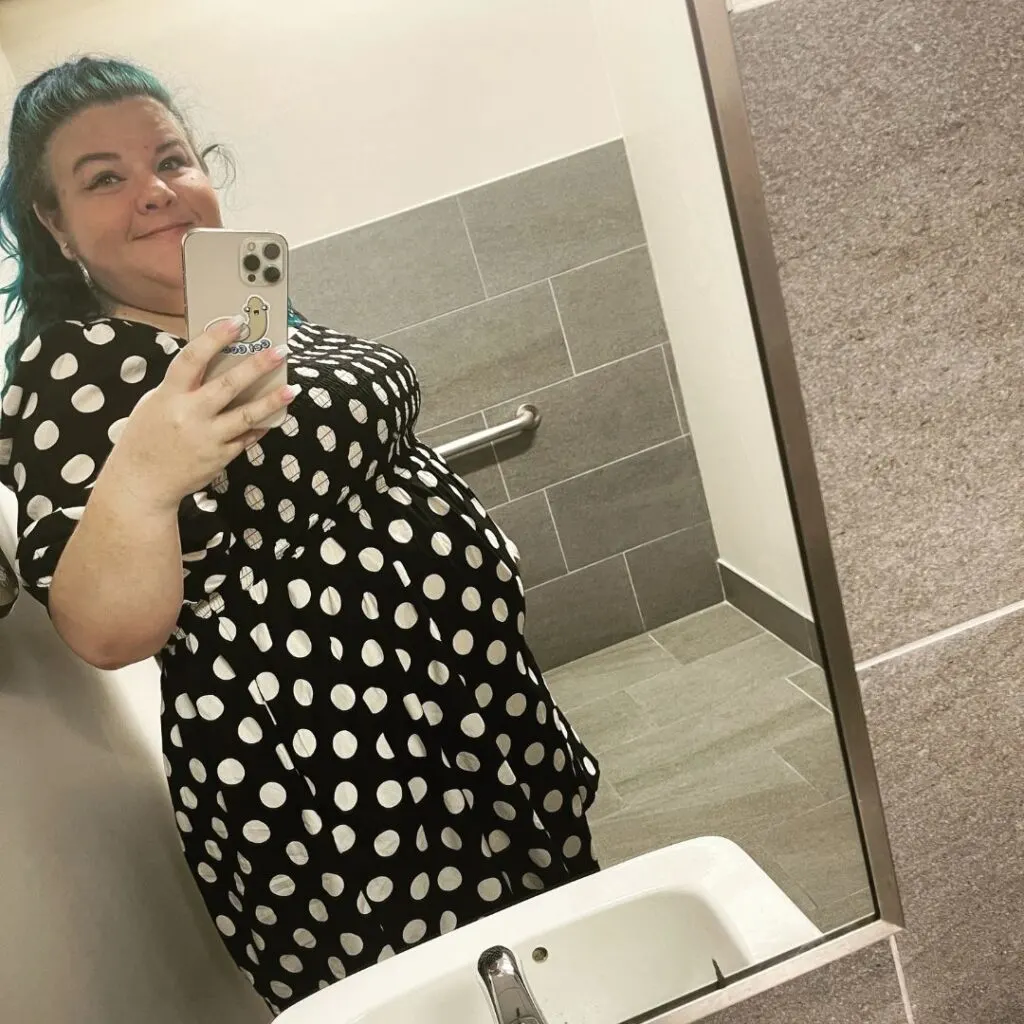 Week 24: Glucose Screening for Gestational Diabetes
Between 24 and 28 weeks of pregnancy, you'll have a glucose screen to test for gestational diabetes.
As we covered in expectations during the first prenatal care visit, it's common for people with a BMI over 30 to have an early screening at the beginning of pregnancy. At that point in your pregnancy, providers are looking to see if you're already pre-diabetic or diabetic. In 2020, it was discovered that early screening has not made a significant difference, but it's still common practice.
Now all these weeks later, it's time to see if you have gestational diabetes (GD).
While people with a BMI over 30 are at greater risk of developing GD, it's a pregnancy complication that impacts people of all sizes and dietary habits.
Nearly everyone dreads doing the one-hour glucose screening. The proof is in the thousands of pregnancy message forums full of questions about tips for passing the test and making the process less intimidating.
Please hear us say that developing gestational diabetes isn't a moral failing. Getting accurate test results is critical for the well-being of you and your baby!
Some care providers offer alternatives to the glucose screen to test for gestational diabetes, so you can always inquire.
If you do not pass the 1-hour test, you will be asked to return to do the test again, this time in a three-hour version. You will need to fast beforehand for the second test, so this means a morning appointment is often the easiest.
If you are diagnosed with gestational diabetes following the three-hour test, your care provider should connect you with someone to teach you how to take your blood sugar readings multiple times a day.
You will likely also receive guidance on how to change what you are eating and how you are moving to help manage diabetes. And your provider will likely refer you to a maternal-fetal medicine specialist for additional tests and screenings.
Again, all of this happens in the best interest of you and your baby – it's not meant to shame you or cause alarm.
Some people can control their blood sugar numbers with nutrition and movement, while others need medication.
We have some helpful nutritional resources that are beneficial during pregnancy, even if you don't have gestational diabetes. And you can even listen to this podcast episode while waiting at the doctor's office during your screening!
It's common to screen people with a BMI over 30 early in pregnancy and again around 24 – 28 weeks. If your care provider is testing multiple times beyond that or can't believe you don't have gestational diabetes when you pass over and over, that's a red flag!
While it's not always easy to do so, it's never too late to switch care providers or get a second opinion. You deserve to be treated with evidence-based, compassionate care. And remember, whenever possible, connect with a size-friendly healthcare provider.

The odds of not developing gestational diabetes are in your favor. With that said, if you are diagnosed with gestational diabetes there is zero reasons to be hard on yourself. We hope you connect with a fantastic team to support you!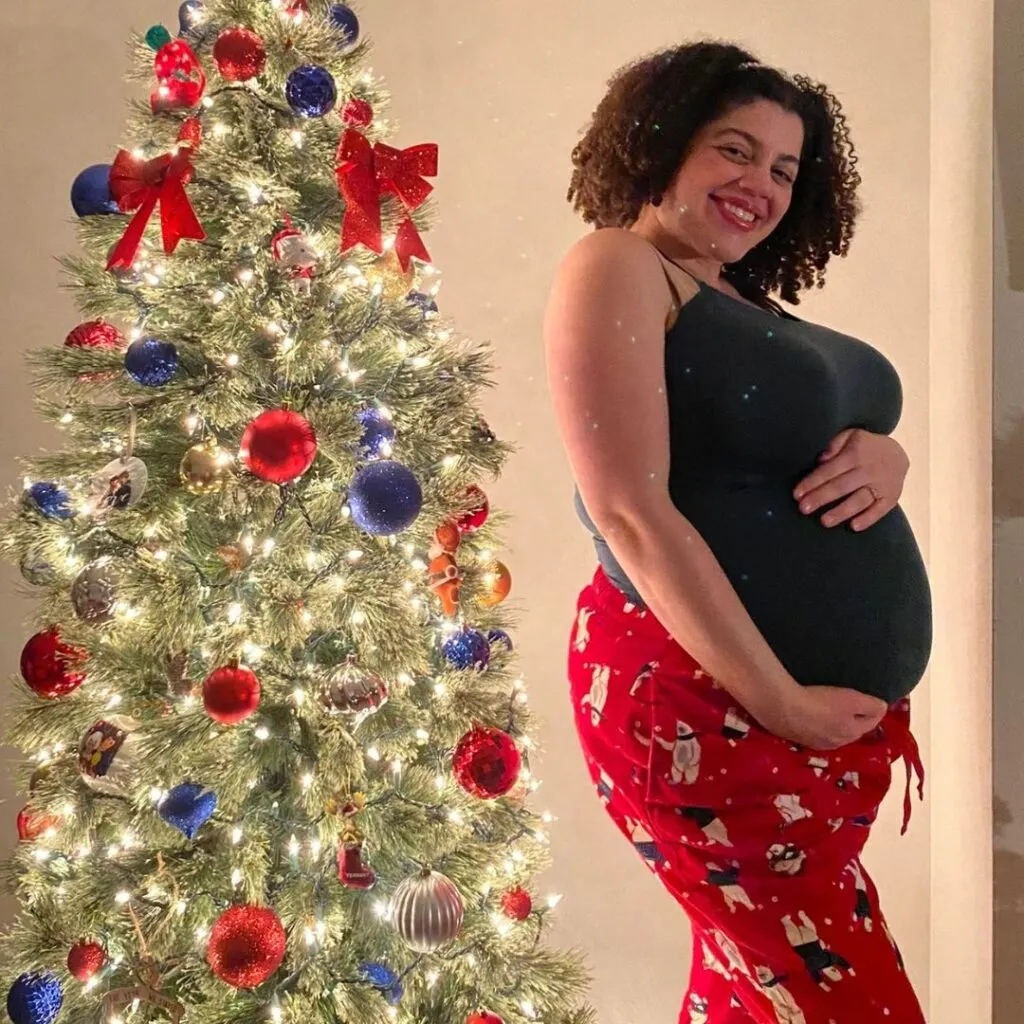 Week 25: Baby Registry (Size-Inclusive Needs)
Now's a time when you might start thinking about all the items you'll need or want for your baby registry and setting up your nursery.
Many popular gliders and rocking chairs don't accommodate parents of all sizes. And, baby gates, don't get us started!
Then there are items needed explicitly for your postpartum recovery that you might worry won't fit – like diapers or disposable underwear marketed as one size fits all.
Have no fear; we have you covered with our list of 29 Plus Size Pregnancy Gifts! In addition, there's a helpful table of contents so you can jump directly to the item you've been searching for or scroll through the entire list.
Don't forget, our extensive plus size maternity clothes guide is also just a click away!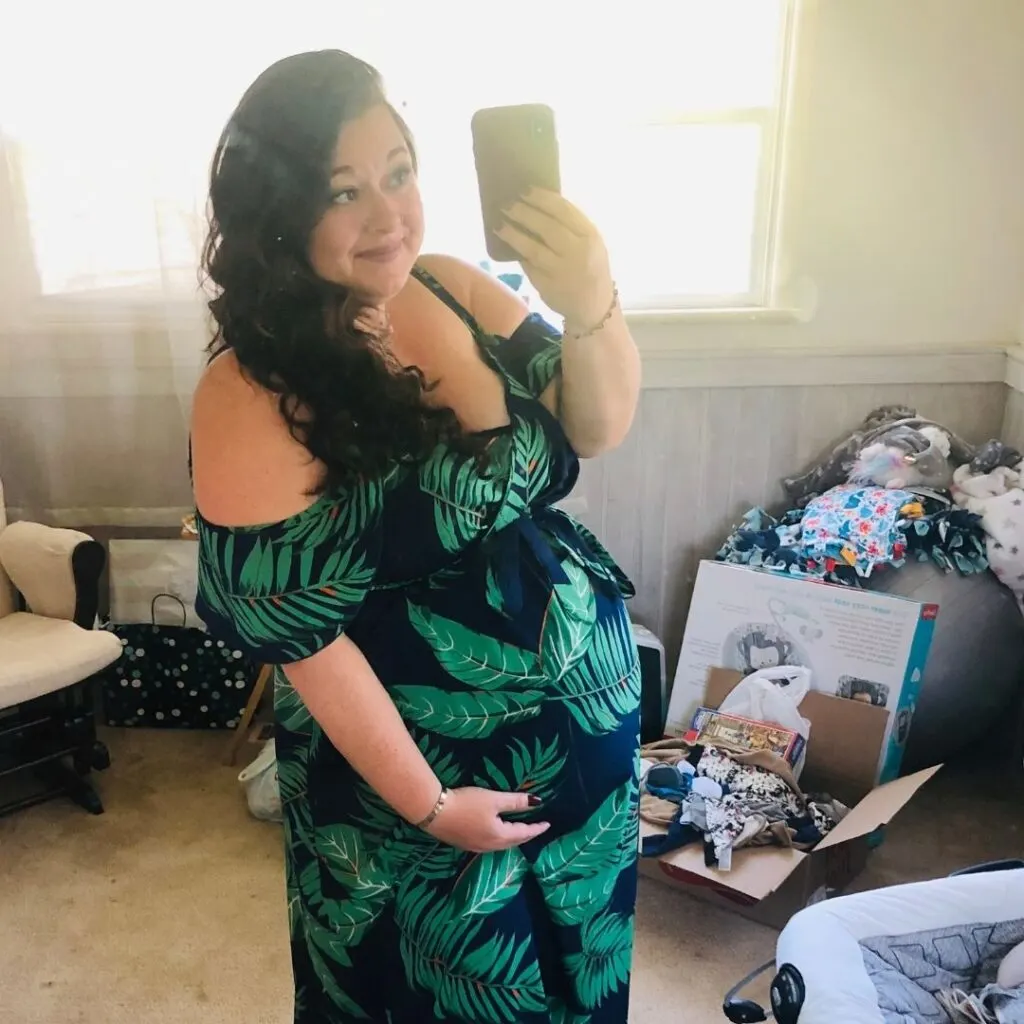 Week 26: Informed Consent & BRAIN Acronym
This week, we want to provide you with an excellent tool for advocating for yourself in healthcare settings.
You are likely not an expert on birth, but you are the expert on your body.
As a mentally competent adult, you get to make your healthcare decisions even if it often feels like you're being told what to do during pregnancy (and beyond).
Your care provider must receive your informed consent.
Informed consent is more than simply signing a consent form. It is a communication process between you and a care provider that results in your authorization or agreement to undergo a specific medical intervention.
As your pregnancy progresses, your care provider might make recommendations that give you pause. Sometimes, you want a lot more information but aren't sure what questions to ask.
In labor, things often feel uneventful one minute and like they are moving out of control the next.
Unless there is an emergent situation, you should be able to use the BRAIN acronym to help you feel confident about decisions you need to make throughout your pregnancy, labor, and for the rest of your life!
We encourage you to copy the text below and save it to your phone.
BRAIN Acronym
B – What are the benefits?
R– What are the risks?
A – What are the alternatives?
I – Always listen to your intuition!
N – What happens next or if we do nothing?
Can you see how asking these questions helps to dig deeper into whatever is being recommended? We hope so!
We have even more healthcare advocacy tips that are available to you at any time.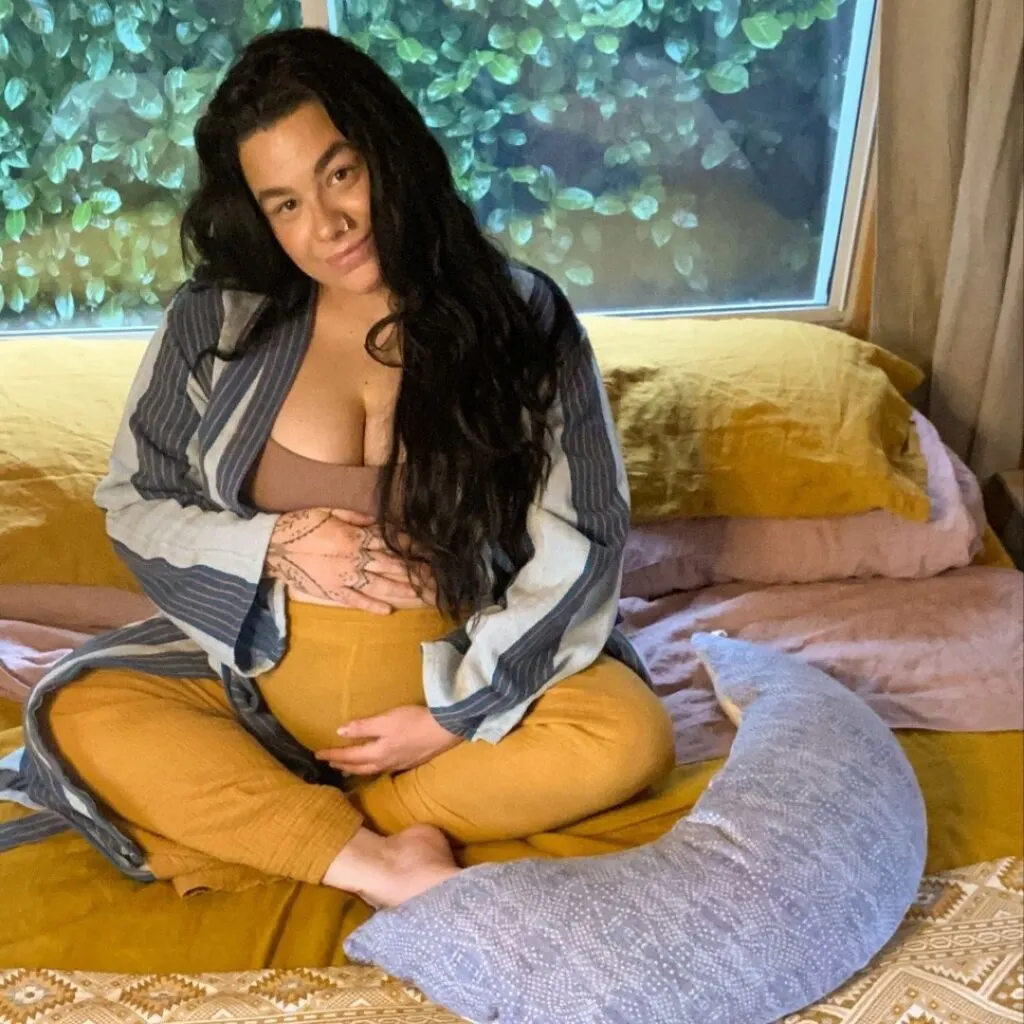 Week 27: Take Maternity Photos
We encourage you to take photos throughout your pregnancy. These images don't have to be the fancy maternity photos you see in pregnancy magazines; you can simply take selfies in the mirror if that's more accessible to you.
But whatever you do, document your pregnancy!
You will never get this moment back. Sure, you might become pregnant again, but this pregnancy should be captured.
We hear time and time again on Instagram how much people regret not taking maternity photos. So consider researching local maternity photographers or hand over your phone to a friend for a DIY photo shoot.
For Inspiration, click the #plussizepregnancy hashtag on Instagram. You'll see over 85,000 images! And while you're there, be sure to follow Plus Size Birth if you haven't already.
When researching local maternity photographers for a professional shoot, see if their social media images proudly display diverse bodies.
You can even reach out and ask about their experience photographing plus size women during pregnancy. Many maternity photographers are skilled at helping your bump to look more prominent and round (if that's the look you're going for).
For a DIY maternity photoshoot, we love the e-book Picture Play for outstanding tips on how to give your cell phone images a professional polish with phone apps.
We really hope you'll document your pregnancy and have images to cherish forever!
And with that, you've reached the end of your second trimester! Head on over to our third trimester resource to get continued support throughout your plus size pregnancy.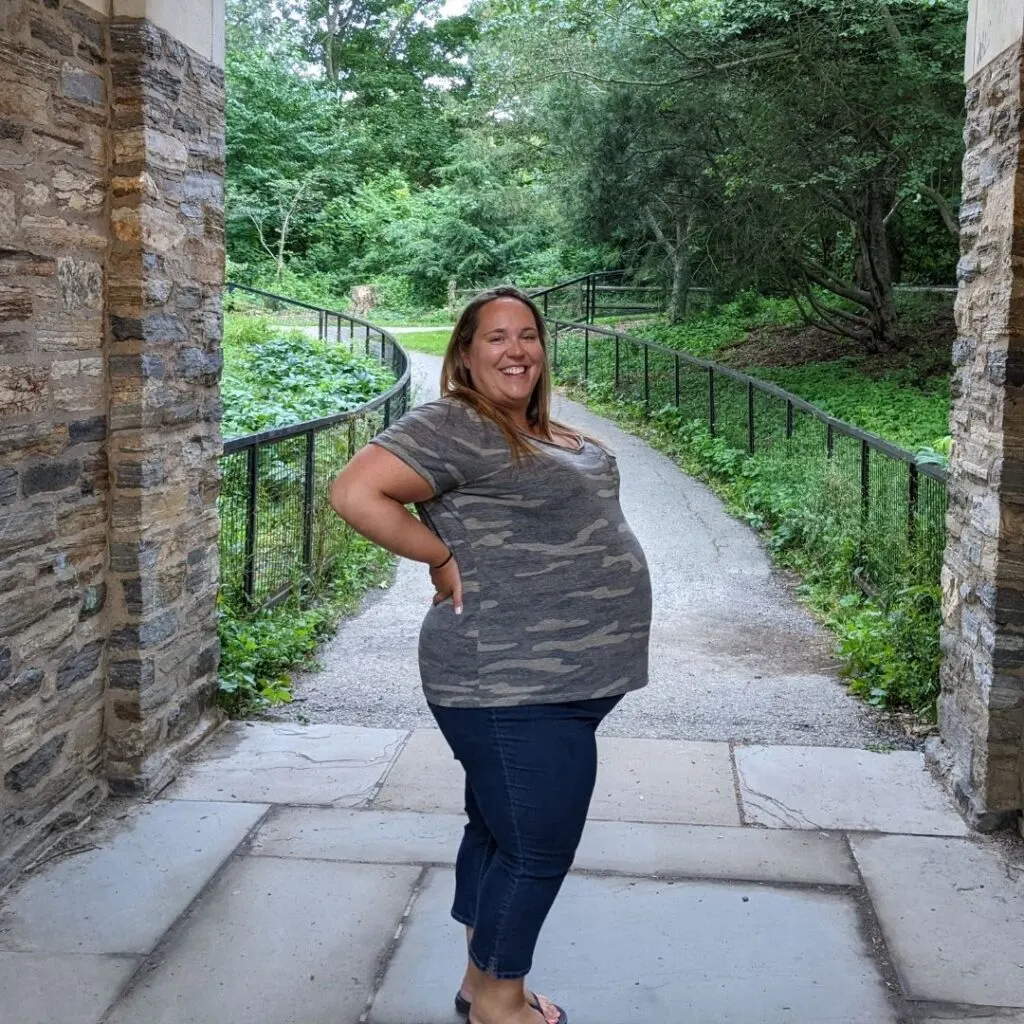 ---
Second Trimester Plus Size Pregnancy References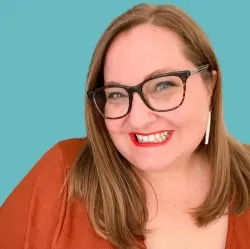 Latest posts by Jen McLellan, CBE
(see all)