Are you searching for the best extra-wide baby gates? You've come to the right place!
Once you have a child, your whole life suddenly becomes one-handed.
No matter what you're doing, it somehow turns into a juggling act between what you need to do and what your child needs.
The juggling act turns into an obstacle course when you add in baby gates that often aren't accomodating for plus size parents.
To help rid our lives of the side-step for good, we gathered a selection of extra-wide baby gates so you can comfortably and safely move around your home.
Disclosure: Plus Size Birth is a participant in the Amazon Services LLC Associates Program, an affiliate advertising program. As an Amazon Associate, I earn from qualifying purchases. Read more about these links in my disclosure policy.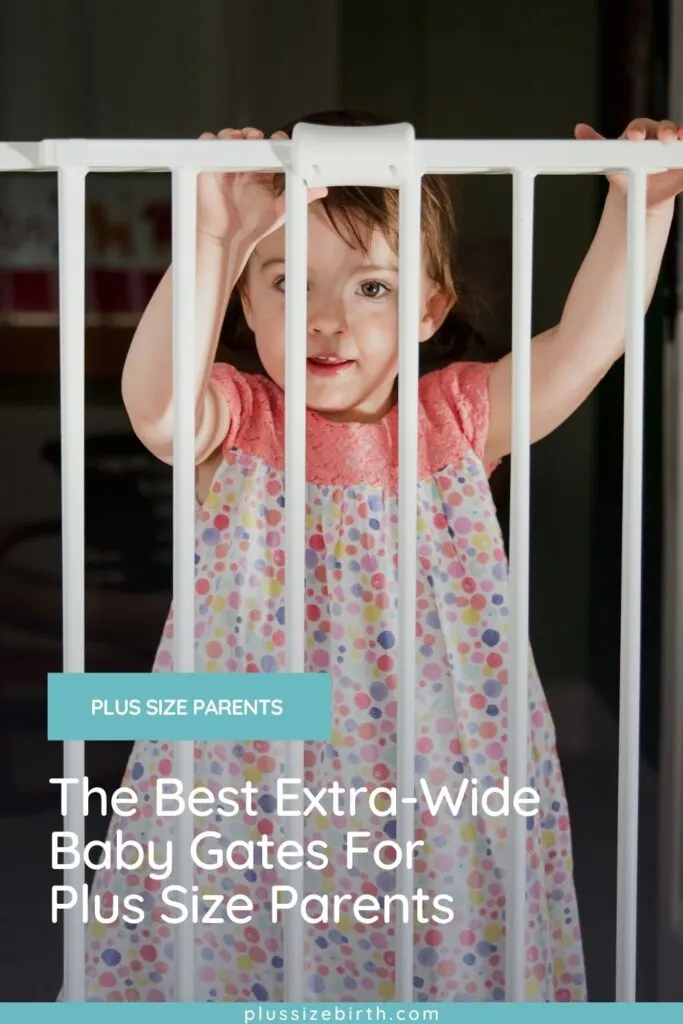 Extra-Wide Baby Gate Options
Best All-Around
This is an excellent baby gate known for its maneuverability, auto-locking, and ease of use.
It's also a reasonably affordable option once you factor in its sleek design and extra accommodating space.
The downside? It does come with the necessity for a little bit of handy work, so make sure you've got tools (or a handyman!) at the ready to install.
Best All-Around
Are you looking for just a tad extra room? You're covered with this extra-wide baby gate option.
This retractable design stretches out to 55 inches, making it extra-wide and extra easy to use.
An easy to switch-on lock creates a safe environment to keep babies in their place while also allowing you to enter the space, even one-handed easily!
It comes in grey or black, and if you have two spaces in your home that need to be gated, you can get a special price when you buy a two-pack.
3.

59″

Retractable Extra-Wide Baby Gate
Easy To Use
If ease is what you're after, then look no further than this retractable baby gate.
Whereas the previous one is ideal for doors and stairways, this one has a little more flexibility.
It extends up to 59 inches across, meaning plenty of room to attach to wider door frames or spaces, and still allow for maximum access through.
Not only is the mesh gate flexible (literally and figuratively), it's effortless to maneuver with one hand while you have your plus size nursing pillow in the other.
No more frustrating hang-ups when you're just trying to move through your house!
4.

70.9″

Wide Retractable Baby Gate
Best Bang For Your Buck
Are you looking for a super-wide baby gate?
This ultimate baby gate is not only wide, but it's also budget-friendly and easy to install.
The slots well in wide staircases and door frames, both indoor and outdoor, and stretches up to 70 inches.
On top of offering the most space–making your life at home so much easier, but it's incredibly affordable: less than $20!
5.

Momcozy

Retractable Extra-Wide Gate
Most Color Options
This retractable extra-wide baby gate is a great mid-range option.
It extends up to 55 inches wide, which isn't the widest baby gate on our list, but certainly qualifies as an accommodating option to improve the ease with which you move through your house.
The best thing about this gate is its look!
It's mesh, but it comes in white, grey, or black so that you can match it to your decor.
Any questions? Enjoy their customer service and technical consultation.
6.

Regalo

2-in-1 Wide Baby Gate
Best Value And Look
No narrow passageways here! This baby gate slots into your wide door frames and still allows full access.
The product is "designed to be sleek and secure." This baby gate is a good looking and affordable alternative for those who don't like the mesh rollup baby gate look.
There are a few tedious steps to installing this baby gate. However, if you're looking for a budget-friendly extra-wide baby gate for doors and stairways, this is your solution.
Widest
Want ease and accommodation? Check out this super wide baby gate. that extends all the way up to 192″.
It's easy to adjust for the space you need and can also create a play yard standing 26″ tall.
You Might Also Like: 7 Extra-Wide Glider And Plus Size Rocking Chair Nursery Options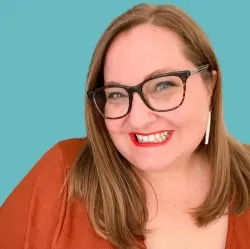 Latest posts by Jen McLellan, CBE
(see all)