If you're plus size and pregnant or a new parent planning to nurse, here are plus size nursing dresses that are both functional and comfortable to wear throughout pregnancy and postpartum.
We're sharing options that are a must for your maternity wardrobe!
Disclosure: Plus Size Birth is a participant in the Amazon Services LLC Associates Program, an affiliate advertising program. As an Amazon Associate, I earn from qualifying purchases. Read more about these links in my disclosure policy.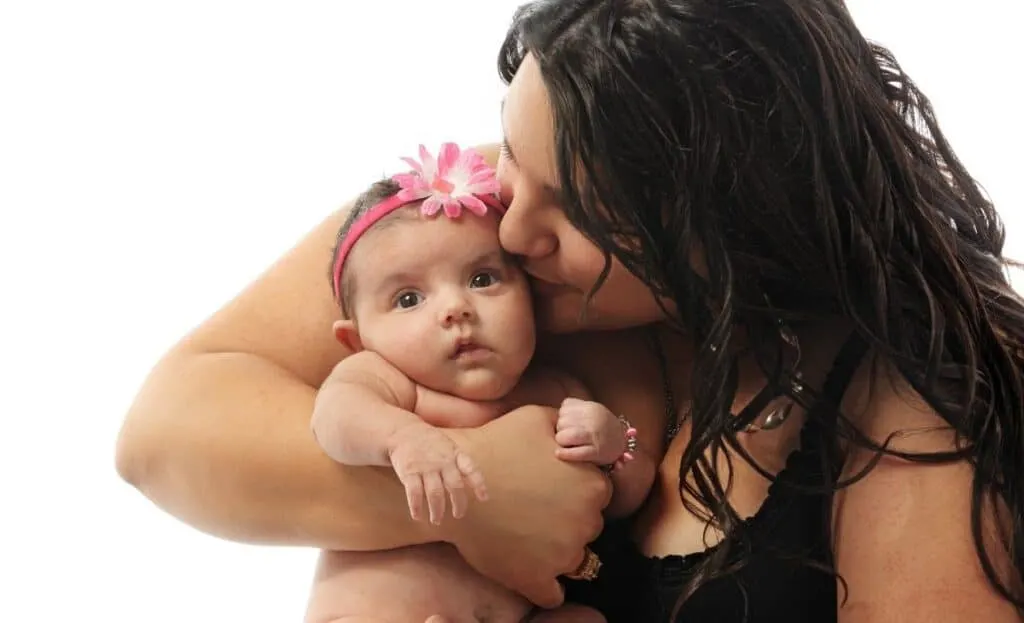 The postpartum period is a whirlwind of emotions; you're exhausted and sleep-deprived as your little one wakes you up multiple times throughout the night.
Nursing parents must adjust to a new body and ensure the clothes they wear provide easy access whenever their baby feels hungry.
We are here to ease your struggles with our plus size postpartum tips, and below, we have our top list of plus size nursing gowns – from daily wear to nightgowns.
Where To Buy Plus Size Nursing Gowns
Before we share our list of the best plus size breastfeeding gowns, you'll see the retailers we recommend below.
Amazon is an affordable and size-inclusive option for many during pregnancy. And when it comes to places to shop for nursing dresses, it's one of our go-to options.
Kindred Bravely's soft, and quality materials make them a go-to for many during pregnancy and postpartum, but most of their clothes don't exceed a size 2XL.
Motherhood Maternity's selection of plus size nursing options goes quickly, especially when items are on sale, but it's a popular option for those needing maternity clothes size 3XL or smaller.
Pink Blush has a lovely selection of nursing dresses you can wear from maternity to postpartum. They go from size 1X – 3X.
Storq stands out as a maternity and nursing wear brand that emphasizes both comfort and versatility in its designs, offering sizes up to 4XL. While their clothing range is on the higher end of the price spectrum due to the premium quality materials used, this investment offers lasting value and style for plus size nursing and maternity clothes.
See even more plus size maternity clothes options!
Popular Plus Size Nursing Dresses
Our first set of recommended dresses are ones you'll feel most comfortable wearing at home for lounging or sleeping, and then we'll share nursing dresses.
Plus Size Nursing Nightgowns
MONNURO Plus Size Maternity Nightgown
Sizes: 1XL – 5XL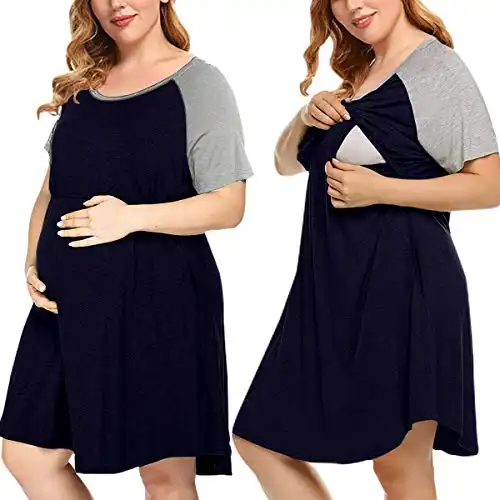 Made of a stretchy, breathable, and comfortable material, this plus-size postpartum dress from MONNURO is a dream come true.
It has a double-layer nursing closure that helps you feed your little one easily.
This plus size breastfeeding gown also features a fashionable O-neck design and a two-tone color scheme that will leave you looking cute – even after an exhausting night of tending to your baby's needs.
The stretchable fabric also makes it the perfect thing to wear throughout your pregnancy, providing ample space for your growing belly.
Those who have bought this have nothing but good things to say. People particularly love the light and comfortable material, allowing the wearer to stay crisp and fresh, even throughout scorching summer nights.
They also appreciate the elastic band under the breasts, providing ample support without leaving red marks.
Just Love Plus Size Nightgown
Sizes: Small – 3XL
Don't be afraid to look beyond the maternity label when buying plus size nursing dresses – especially if you're looking for options beyond 3XL.
This 100% cotton plus size nightgown has buttons that allow for nursing. It has many rave reviews, including some from breastfeeding moms.
Add this nightgown to your list if you're looking for something comfy and breathable to wear around the house.
Speaking of breastfeeding, see our resource on the best plus size pumping bras.
PENGEE Maternity Nightgown Labor Delivery Postpartum Gown 3 in 1
Sizing: The XXL – 3XL option accommodates a bust measurement of 55.1 inches.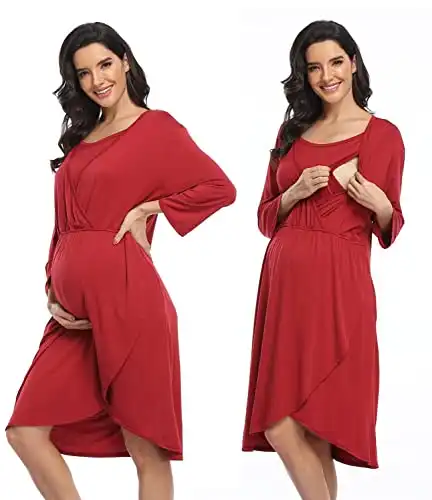 The PENGEE Nursing Labor Delivery Postpartum Gown 3 in 1 is designed to support you from pregnancy, labor, to postpartum.
Crafted from a soft, stretchy mix of 95% Polyester and 5% Spandex, it comfortably accommodates bodily changes throughout pregnancy and postpartum.
The gown features an easy-open function for nursing, offering quick and effortless access for feeding your baby and providing skin-to-skin.
iloveSIA Nightgowns with Built-in Nursing Bra
Sizes: XL – 3XL
These nursing dresses provide support and easy accessibility with a built-in nursing bra. The added support is fantastic for sore breasts during pregnancy and while you're feeding your baby during postpartum.
The smooth stretchy fabric is 92% nylon and 8% spandex and goes to size 3XL (or a 44DD/E bra size).
The three-pack provides different color options, but you can buy one dress if you'd prefer.
Only Necessities Plus Size Long Snap-Front Knit Lounger or Nightgown
Sizes: 1XL – 3XL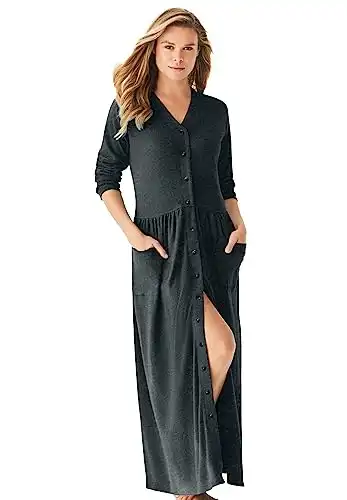 The Only Necessities Women's Plus Size Long Snap-Front Knit Lounger is a versatile house dress or nightgown, perfect for those seeking comfort and convenience during postpartum.
Made from a soft knit blend of cotton and polyester, it offers a soothing feel against the skin.
One of its standout features is the full snap front, which makes it an excellent choice for nursing.
Catering to a wide range of body types to 6XL, making it a cozy and accommodating option.
IN'VOLAND

Plus Size Sleeveless Nightgown
Sizes: 12 – 26
For those who prefer an elegant plus size postpartum dress, this sleeveless plus size nursing gown is for you!
It's made of stretchy soft modal fabric, and comes in many colors. This slip also features adjustable straps, allowing you to adapt it to your needs.
Averaging a 4.5 out of 5 rating on Amazon, it's clear that this plus-size postpartum dress is new parent-approved!
Customers are in awe of the slip's lightweight and surprisingly soft material and flexibility.
Plus Size Nursing Dresses
For those headed back to work or ready to go out and about, here are a few plus size nursing dresses you'll love! Don't forget to scope out the list of our favorite plus size maternity tights to pair with your dress.
Pink Blush

Plus-Size Nursing Wrap Dress
Sizes: 1X – 3X
If you want to turn heads wherever you go, this wrap dress from Pink Blush is definitely for you.
This dress features a sash tie and a flattering v-neckline; this garment will make you feel fabulous without compromising your need for practicality.
Its polyester fabric is easy to wash and practically stain-free. So you'll have nothing to worry about if your baby accidentally spits up or spills something on your new favorite dress.
Customers on the Pink Blush website compliment the versatility and many different colors and patterns.
Nemidor

Plus Size Maxi Dress
Sizes: 14 – 26
Not all new parents have the budget for Pink Blush's wrap dress. Fortunately, this dupe from Nemidor has a similar design and silhouette but is way more affordable.
Not to mention available in larger sizes and comes in different colors and patterns.
While the Pink Blush version only goes up to 3XL, this dress, perfect for nursing, can accommodate up to a size 26.
To add to that, its a glamorous plunging neckline and comfortable sleeves! It also comes in various patterns. This dress is the ideal choice for your semi-formal events or for taking plus size maternity photos.
Smallshow Plus Size Maternity Nursing Dress
Sizes: XL – 2XL
From running errands to lounging at home – this nursing dress will fit whatever occasion you have on the calendar. Our only complaint is that it maxes out at a size 2XL (check Latched Mama for larger options with similar designs).
This dress is comfy and stretchy with 93.1% modal rayon and 6.9% spandex fabric. Thanks to the wide variety of colors and patterns, customers have bought more than just one – and they aren't afraid to admit it!
What To Wear Under Your Plus Size Nursing Gown
Carrying a baby around for the past nine months has made a body without one feel somewhat strange. That's why undergarments that provide support are a must.
Here's what you can wear underneath your plus size nursing dress.
Depends Plus Size Adult Diapers For Postpartum
FIT-FLEX from Depend is an undergarment with maximum absorbency, flexible fabric, and an odor-control material.
Its form-fitting elastic makes for a smooth and discreet fit underneath your clothes.
The waistband is also extremely comfortable and will leave neither harsh nor red marks on your body.
Customers love the support that this FIT-FLEX Incontinence Underwear gives! The soft material provides a snug yet pleasant fit.
These plus size adult diapers for postpartum go up to a 45 – 64″ waist.
They are worth their price tag, and we have even more suggestions for postpartum underwear.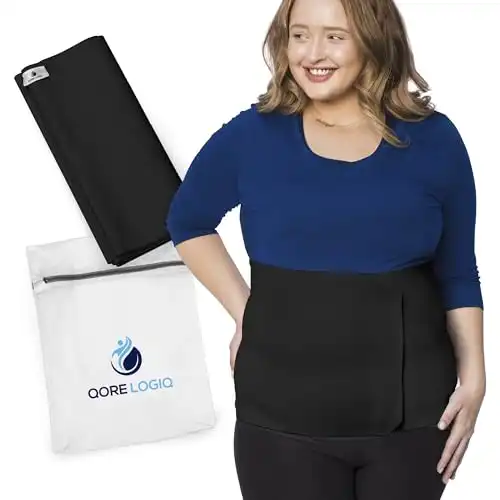 This abdominal binder is a must-have, especially for those who have had a cesarean birth.
Besides being used as a girdle, this abdominal stomach binder is also great for many other reasons. It promotes blood and oxygen flow and helps with strained abdominal muscles.
Another option is a belly band, and the XL size below goes to a size 22 – 26 pre-pregnancy.
Those who have bought this lightweight and plush elastic abdominal stomach binder rave about its features. People like its breathable material, durable closures, and stretchy fabric.
Look at these recommendations if you're interested in other belly bands and support belts.
We hope you've enjoyed our curated list of plus size nursing dresses. If you're interested in plus size baby carriers, we've got you covered there, too!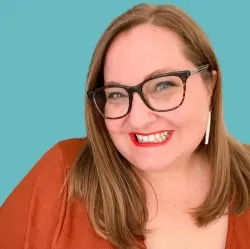 Latest posts by Jen McLellan, CBE
(see all)