If you're plus size and pregnant or a new parent planning to breastfeed, here are plus size nursing dresses that are both functional and comfortable.
Without a doubt, we're sharing options that are a must for your postpartum wardrobe!
Disclosure: Plus Size Birth is a participant in the Amazon Services LLC Associates Program, an affiliate advertising program. As an Amazon Associate, I earn from qualifying purchases. Read more about these links in my disclosure policy.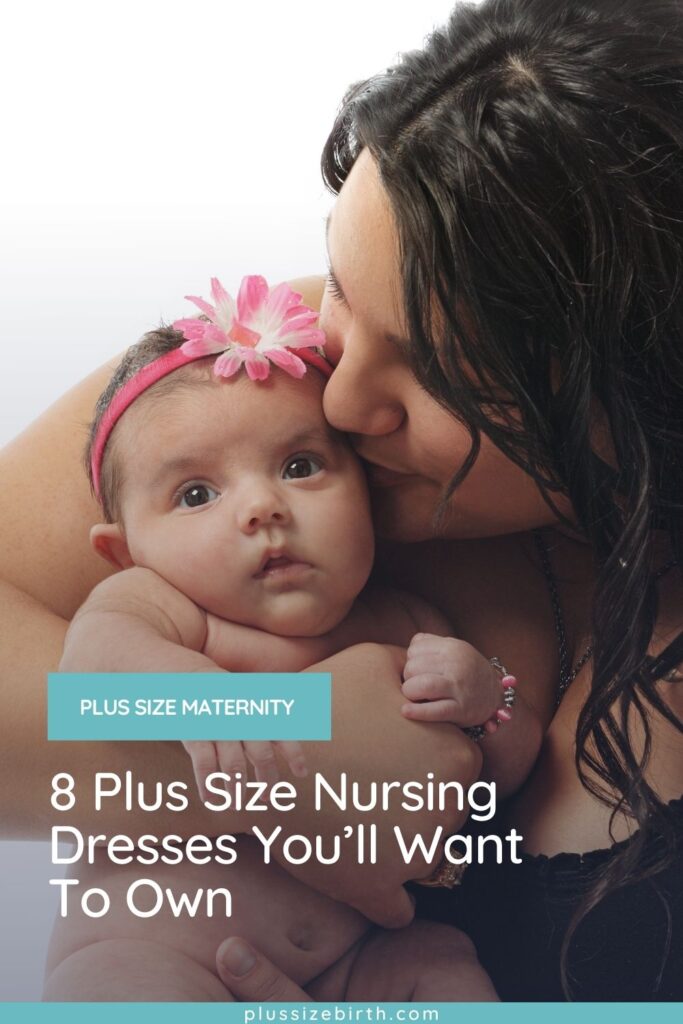 Plus Size Nursing Gowns
More often than not, the postpartum period is a whirlwind of emotions; you're exhausted and sleep-deprived as your little one wakes you up multiple times throughout the night, crying for milk.
For most parents following a plus size pregnancy, the postpartum period is characterized by a general feeling of discomfort.
Breastfeeding or chestfeeding parents have to adjust to a new body – one they've shared with another for the past nine months. They also have to make sure the clothes they wear provide easy access whenever their baby starts feeling hungry.
Plus size mothers often complain about the lack of plus size maternity and postpartum options. In addition, it's frustrating that many plus size breastfeeding dresses tend to be unflattering, not taking into consideration their unique needs.
Thankfully, we have you covered with these plus size nursing gowns!
Our first set of recommended dresses are ones you'll feel most comfortable wearing at home or as a plus size nursing nightgown.
Savi Mom

Original Maternity Nursing Dress
Available in a whole slew of great and eye-catching colors, this plus size nursing dress boasts of a fantastic fit! As well as an easy-access opening that allows you to effortlessly nurse your little one without sacrificing either your comfort or modesty.
To add to that, this particular plus size postpartum dress is designed and distributed by Savi Mom, a brand renowned across the country to be made by moms for moms.
So you know that they have nothing but your experience and best interests in mind.
Many have raved about this plus size nursing dress, with reviewers praising its soft and high-quality fabric. It has a practical easy-access opening for breastfeeding and the fabulous colors that it comes in.
Speaking of breastfeeding, be sure to see our resource on the best plus size pumping bras.
IN'VOLAND

Plus Size Maternity Nightgown
Made of a stretchy, breathable, and comfortable material, this plus-size postpartum dress from IN'VOLAND is a dream come true.
It has a double-layer nursing closure that helps you breastfeed your little one easily.
This plus size breastfeeding gown also features a fashionable O-neck design and a two-tone color scheme that will leave you looking great – even after an exhausting night of tending to your baby's needs.
The stretchable fabric also makes it the perfect thing to wear throughout your plus size pregnancy, providing ample space for your growing belly.
Those who have bought this have nothing but good things to say.
New mothers particularly love the light and comfortable material, allowing the wearer to stay crisp and fresh, even throughout scorching summer nights.
They also appreciate the elastic band under the breasts, which provides ample support without leaving nasty red marks behind.
IN'VOLAND

Plus Size Sleeveless Nightgown
For new mothers who prefer dressier, more elegant plus size postpartum dresses, then this sleeveless plus size nursing gown from IN'VOLAND is made for you!
The stretchy material and incredibly versatile form mean that it can be worn both inside and outside the house – particularly great for those trying to save a few dollars.
This slip also features adjustable straps, allowing you to adapt it to whatever your needs may be.
With its unique and practical design, combined with the wide range of colors that it comes in, this plus size nursing dress will undoubtedly be your holy grail clothing in the months to come.
Averaging a 4.5 out of 5 ratings on Amazon, it's clear that this plus-size postpartum dress is new parent-approved!
Customers are in awe of the slip's lightweight and surprisingly soft material, as well as its flexibility.
You can wear it anywhere you want, and it can be adjusted to fit your needs. Overall, this is a must-have for any new mother's wardrobe.
Plus Size Nursing Dresses
For those headed back to work or ready to go out and about, here are a few plus size nursing dresses you'll love!
Smallshow

Plus Size Maternity Nursing Dress With Pockets
From running errands to lounging at home – plus size maternity nursing dress is sure to fit whatever occasion you have!
Designed by the Smallshow Store brand with the needs of plus size new parents in mind, this is a dress made of both rayon and spandex. That means that it's both incredibly lightweight and stretchable.
This dress is a sure wardrobe winner, whether you dress it up with fancy flats and accessories or dress it down with your favorite pair of summer sandals.
Thanks to the wide variety of colors and patterns that this plus size postpartum dress is available in, customers have bought more than just one – and they aren't afraid to admit it!
Praising the skirt's flowy and comfortable design, as well as its adequate stretch, this will undoubtedly be a garment that you'll reach for over and over again.
Don't forget to scope out the list of our favorite plus size maternity tights to pair with your dress!
Those going for a fancier look should check out this sleeveless surplice maxi dress from the Motherhood Maternity. This dress features a flattering and feminine silhouette and a comfortable empire waist tie that will accommodate those whose bumps are still growing.
Additionally, this maxi dress also has a pull-on closure that will help make nursing your little one more accessible and much less uncomfortable.
With stretchable material, this plus size maternity dress makes space for growing bellies while still maintaining its beautiful form.
New moms love this plus size nursing dress for its easy-access opening for breastfeeding, as well as its elegant design.
Pink Blush

Floral Plus-Size Nursing Wrap Dress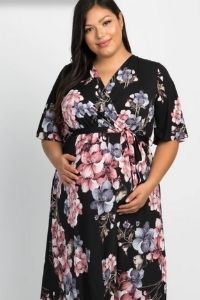 If you want to turn heads wherever you go, this floral wrap dress from Pink Blush is definitely for you!
A mid-length dress that features half-bell sleeves, a sash tie, and a flattering v-neckline, this garment will make you feel fabulous without compromising your need for practicality.
Its polyester fabric is easy to wash and practically stain-free. So you'll have nothing to worry about if your baby accidentally spits up or spills something on your new favorite dress.
Customers on the Pink Blush website compliment the versatility and flattering fit of this plus size nursing dress.
It may be a bit pricey, but it sure is worth every penny!
Nemidor

Women's Sleeve Floral Print Plus Size Maxi Dress
Understandably, not a lot of new parents have the budget for Pink Blush's Floral Wrap Dress. Fortunately, this dupe from Nemidor has a similar design and silhouette but is way more affordable.
Not to mention available in larger sizes!
While the Pink Blush version only goes up to 3XL, this particular plus size nursing dress can accommodate up to a size 26.
To add to that, its glamorous plunging neckline and comfortable sleeves! It also comes in various patterns. This dress is the ideal choice for your semi-formal events or for taking plus size maternity photos.
Besides its incredible fit and silhouette, customers also love the fact that this plus size postpartum dress comes with pockets.
Yes, pockets!
Nemidor is known all over the United States for their beautiful and fashionable designs, so you'll never go wrong with their bestselling plus size floral print maxi dresses.
Milumia

Plus Size Asymmetrical High Low Maxi Dress
This plus size bohemian maxi dress from Milumia features a stunning silhouette and comes in a wide range of patterns.
There's sure to be a print to fit everyone's tastes, from tropical plants to spring blooms!
This plus size postpartum dress also comes with a ruffled asymmetrical hem and high-waist design. This dress has an easy-to-remove wrap belt that's convenient for breastfeeding.
Additionally, its versatile silhouette makes it appropriate for all sorts of occasions, whether it be a beach vacation or a casual gathering with friends.
In addition to its beautiful design and patterns, customers also rave about this maxi dress's silhouette – modest and elegant yet with a hint of sultry.
What To Wear Under Plus Size Nursing Dresses
Understandably, carrying a baby around for the past nine months has made a body without one feel somewhat strange. That's is why undergarments that provide support are a must.
Here's what you can wear underneath your plus size nursing dress.
Depend

Plus Size Adult Diapers For Postpartum
FIT-FLEX from Depend is an undergarment that boasts of maximum absorbency, flexible fabric, and an odor-control material.
Its form-fitting elastic makes for a smooth and discreet fit underneath your clothes.
The waistband is also extremely comfortable and will leave neither harsh nor red marks on your body.
Customers love the support that this FIT-FLEX Incontinence Underwear gives! The soft material provides a snug yet pleasant fit.
These plus size adult diapers for postpartum go all the way up to a 45 – 64″ waist.
They are definitely worth their price tag!
BraceAbility

XL – 4XL Plus Size Bariatric Abdominal Stomach Binder
This abdominal binder is a must-have, especially for those who have had a cesarean birth.
The garment boasts of a hook and loop design that can be easily tightened and loosened to meet your needs.
Besides being used as a girdle, this abdominal stomach binder is also great for many other reasons. It promotes blood and oxygen flow and helps with strained abdominal muscles. It's also beneficial for post-surgery recovery for those who have a cesarean birth.
Those who have bought this lightweight and plush elastic abdominal stomach binder rave about its features. People like its breathable material, durable closures, and stretchy fabric.
If you're interested in other kinds of undergarment designs, then take a look at these recommendations. Our plus size belly band resource includes the popular option below.
We hope you've enjoyed our curated list of plus size nursing dresses. If you're interested in plus size baby carriers, we've got you covered there as well!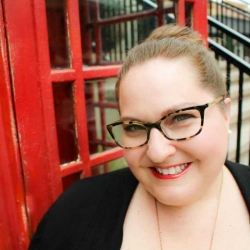 Latest posts by plussizebirth
(see all)