Hello, Summer! Ready for some plus size pregnancy summer essentials?
It's that time of year when we soak up the sun while trying to avoid thigh chafe and back sweat. Yup, I went there!
And no, I'm not scared or squeamish when it comes to talking about these real #plussizemomlife issues! With articles like 7 Embarrassing Plus Size Pregnancy Questions You're Too Afraid To Ask, I tackle sticky topics and provide helpful resources.
Below I'm answering 7 questions about plus size pregnancy summer essentials to help you stay cool and comfy this sweaty season!
Disclosure: Plus Size Birth is a participant in the Amazon Services LLC Associates Program, an affiliate advertising program. As an Amazon Associate, I earn from qualifying purchases. Read more about these links in my disclosure policy.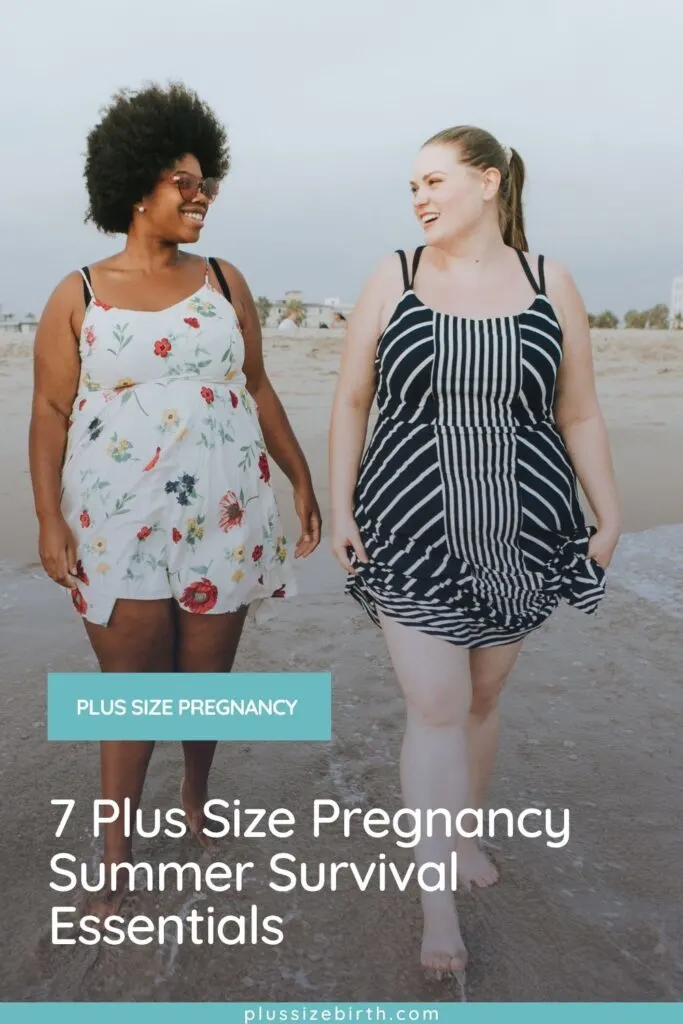 Where can I buy plus size maternity bathing suits?
Nothing quite says summer like going for a refreshing dip in the pool, lake, or ocean! If you're newly pregnant, your current go-to plus size swimwear should fit just fine so don't fret and get wet!
As your belly expands, and your old suit reaches the end of its stretch, you're going to need other options. If you're a fan of tankinis, your top will last longer than your bottom.
Simply picking up a pair of plus size maternity swim bottoms might be all you need this summer. You can find a pair at Motherhood Maternity or go up a size up with swim bottoms on sites like Amazon.
Motherhood Maternity and Pink Blush hold a lot of the plus size maternity market. Unfortunately, if you're beyond a size 24, your choices are limited. Have no fear though because I've got you covered with the list I compiled on Regular & Plus Size Maternity Swimsuit Options From Size 14 – 34.
Are there affordable plus size bathing suit covers?
Why is fabric so expensive? I don't know about you, but I find it frustrating when plus size swim covers are $50+!
I found some great (and more affordable) options for you just click on the image of your favorite plus size swimsuit cover.
Here's a hot tip for staying a little covered poolside – use a plus size kimono as a bathing suit cover! Not only are Kimonos affordable, but they are so versatile, you'll wear them with your other summer (and other seasons too, who am I kidding?) apparel.
Don't let this image below fool you, this Kimono goes up to a size 5XL and comes in 12 different patterns.
Do you have any recommendations for water floats with high weight limits?
Pool floats are all the rage thanks to TV shows like Shrill and Instagram Influencers.
By the way, have you seen the epic fat girl pool party on Shrill? If you missed it, you need to stop everything you're doing and watch Shrill on Hulu!
It's a real bummer but it's true that pool floats have weight limits. No one wants to be that girl who pops a floatie (if you've been there I'm sending you a big virtual hug).
To avoid any embarrassment, I've pulled some adult pool floats for you below with weight limits of 300 lbs and over.
Consider ordering one and bringing it along to your next pool party so you can partake in that glorious feeling of floating on the water… and maybe grab an electric air pump too while you're on Amazon because these things take a lot of air to fill!
I need to find a lawn chair with high weight limits can you help?
Absolutely! A few summers ago, I found myself in the role of soccer mom for the first time. I immediately panicked because I wanted to blend in with all the other soccer moms with their collapsible chairs along the sidelines.
Only, I needed to find a chair that not only had a high weight limit but a chair wide enough for my big booty!
Two days later, after an extensive Amazon search and Amazon Prime shipping, I planted myself in this chair like a soccer mom pro! This chair has lasted many soccer seasons now, and I love it.
Looking for a maternity lawn chair or an extra-wide rocker? Tap into our 7 Extra-Wide Glider And Rocking Chair Options For Your Nursery resource!
Where can I find plus size maternity summer dresses, shorts, and tanks?
Plus size maternity clothes can be a pain to find, I sure understand!
Hear me when I say you'll be amazed how long your regular clothes will last during a plus size pregnancy. Also, you can purchase a few summer "maternity" items that aren't actually "maternity" clothes!
I recently shared this maxi dress I purchased on Amazon over on Instagram via my Plus Mommy page. I shared it on Facebook, too, and a few hundred people bought the dress (true story)!! It's that good!
There were moms-to-be who wanted this dress (which comes in over 20 different patterns!) for their upcoming baby shower. Others, like me, weren't pregnant and just wanted a fashionable new maxi dress for under $30. You can view this amazing plus size maxi dress here.
Don't worry: I have other recommendations beyond my favorite maxi dress of all time!
As shared above, Motherhood Maternity and Pink Blush have a ton of summer options from dresses, shorts, to tanks! You can also purchase on Amazon – check out all of the items they offer in plus sizes here!
If you're looking for more plus size maternity options, be sure to click on over to Plus Size Maternity Clothes Must-Haves Size 3XL And Beyond.
Please help – any chafing solutions for my thighs rubbing together?
I'm here for you!! I live in plus size leggings and dresses…but when the summer heat hits I can't even fathom slipping my sweaty legs into leggings.
My three favorite products for chub rub are below, so click to snag one for yourself!
You can read about even more chafing solutions via my article Chub Rub Solutions for Thunder Thighs. Yes, this topic is so near and dear that I wrote an entire article on it!
Any tips for staying hydrated this summer and summer mocktail recipes?
I sure understand the importance of staying hydrated as I happen to live in the desert! When you're pregnant, staying hydrated in the heat is especially important.
This topic of hydration isn't plus size specific of course, but it sure deserves a spot on this summer essentials list.
Plus, note the question also involves mocktails, and those are so fun! Let's start with good old fashioned water, straight from the tap!
While you sure don't need a fancy water bottle, I'm going to recommend investing in a big jug with a straw.
Why? One word – postpartum!
You'll soon have a very needy infant in your arms almost 24/7. You need to be able to lift your water with one arm and turn your head to drink with ease. Knowing this, you might as well invest in that type of water bottle now!
On to mocktails AKA cocktails without alcohol! LOVE them!
My favorite mocktail is simply ginger beer (that you can buy at your local grocery store) over ice, squeeze of fresh lime and garnish with lime slices. It's so refreshing and tastes like a Moscow Mule! You can pour it into a copper mug if you want to get a little fancy.
I have even more fun mocktail recipes you can find on my Pregnancy Nutrition Pinterest board.
Hop on over for your pinning enjoyment but while you're there, be sure to follow along with my Pinterest feed so you can tap into hundreds of other plus size pregnancy articles and resources.
I sure hope you've found these plus size pregnancy summer essentials helpful for surviving the heat this summer.
Before you know it, you'll be pouring yourself a mocktail and relaxing poolside without fearing thigh rub thanks to your new anti-chafing gel (seriously, get some!)!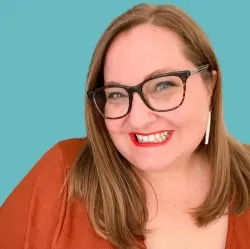 Latest posts by Jen McLellan, CBE
(see all)