I recently went on the hunt for chub rub solutions and quickly discovered that not all options for plus size people are created equal. You see, my friends, my thighs don't gap – they clap! If you're like me, and your legs bring the thunder smacks when you dare to go bare, then this article is for you!
Disclosure: Plus Size Birth is a participant in the Amazon Services LLC Associates Program, an affiliate advertising program. As an Amazon Associate, I earn from qualifying purchases. Read more about these links in my disclosure policy.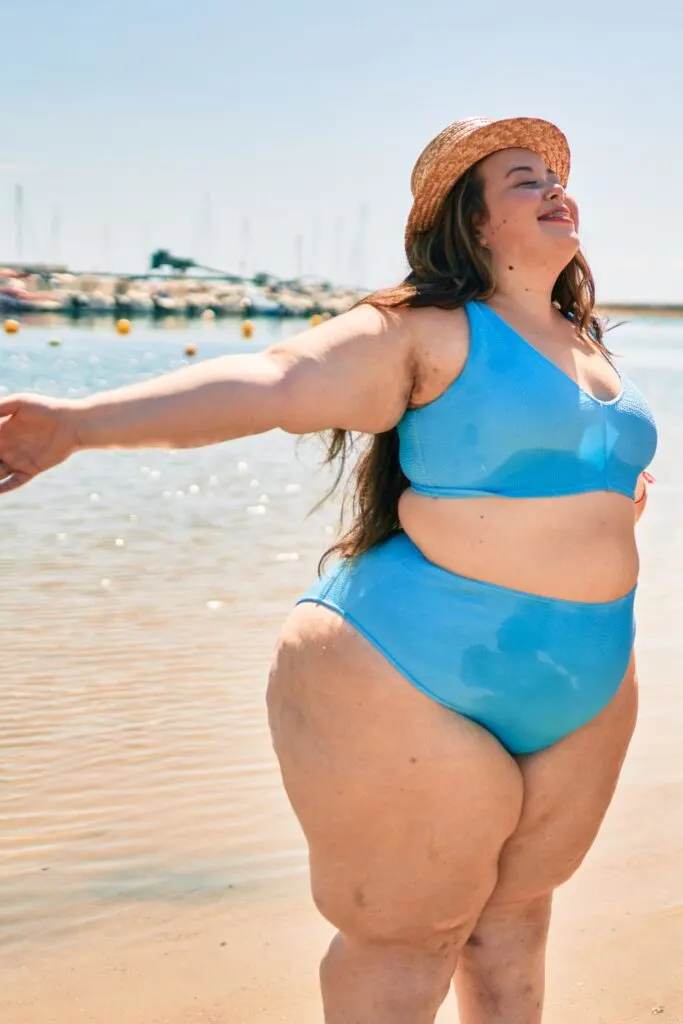 Chub Rub
I purchased the four most popular plus size chub rub solutions on the market and my BIG thighs put them to the test. All in the name of uncovering the best and the worst of the options available – you can thank me later.
For your reference, I wear a size 24/26 and carry a lot of my weight in my lower half. I'm built a lot like the plus size model Tess Holliday.
Let's start with what didn't work for me, but turned out to be what many of my "smaller" plus size mom friends rave about…
Please don't send me hate mail for writing this, because I'm sure there are Undersummers fans reading this, but I just don't understand their popularity.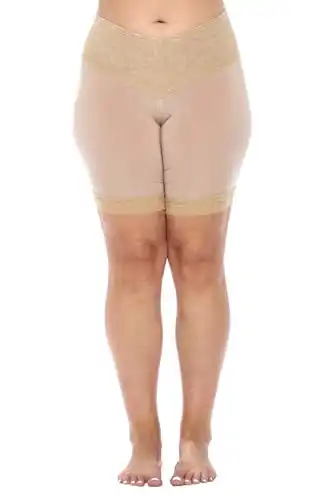 Many of the Amazon comments said they ran large so a 4XL should've worked just fine. However, I feel like they were a bit too snug because there was a little gap at the very top of my thighs. I kept pulling and tugging at them, which wasn't comfortable, as you can imagine.
It felt like I was wearing Spanx (because they look like Spanx, let's be honest), only without the sausage-like feeling of being sucked in. Yet, Undersummers aren't nearly as soft as Spanx, so…
My mind was confused and my thighs were not happy.
I will say, if you want to try Undersummers for yourself, you can get them on Amazon and the return process is super easy if they don't work for you and you want your money back.
What To Try Instead:
The original chub rub solutions seem to still be the best. First, good old plus size bicycle shorts. Just My Size bike shorts go all the way up to a size 5XL!
Next, personally, I'm a huge fan of plus size leggings – from Capri to full-length. I own about 10 pairs of black leggings and even purchased plus size maternity leggings when I was pregnant.
I kept hearing these words combined, "chub rub Bandelettes" – as if Bandelettes are the go-to solution to thigh chafing. Many plus size influencers recommend them.
I so wanted Bandelettes to work because they seem like an incredibly sexy cub rub solution.
I also watched this popular BuzzFeed video where they were her top pick for chafing prevention.l
In my experience, unfortunately, they did the exact opposite of what they are marketed to do on my huge thighs. And that's exactly why I wanted to write this article for us bigger gals!
The Bandelettes continuously rolled down on me and after wearing them (read: fighting to keep them up) for about an hour, my thighs were red and irritated.
So sad!
My advice is to actually measure your thighs (as they recommend you do) if you want to try Bandelettes. I didn't – I just purchased the largest option and hoped they would work. I know, I know, but all the cool kids are wearing them so I wanted to fit in (story of my life).
What To Try Instead:
Sadly, there's nothing else like this on the market that I've found for larger thighs. That is unless you're talking about actual lingerie that's not made for this sort of thing. You know, when things rubbing together is a good thing!
I learned about Kix'ies from my friend over at Curvy Girl Lingerie. They use the same elastic webbing as Bandelettes but in this case, I've found they don't roll down very often – or maybe they just don't stay on long enough for me to notice or care. They're not only something I recommend but something my husband highly approves of!
Let's have a little chub rub theme music as we shift to my highly recommended solutions!
I was hesitant to purchase this gel because for the amount you receive, it's kind of expensive. Yet, can you really put a price on quelling chaffing? I don't think so!
This gel works and it works well! I was genuinely and pleasantly surprised that it lived up to what pretty much everyone who uses it says.
It lasts a few hours (depending on what you're doing and how active you are while wearing it) and it's easy to reapply. The texture is a bit greasy (in my opinion) – yet it's also a gel-like powder mixture. Sounds odd but you just need to feel it on your skin to understand. It's soft and feels nice.
I recommend the investment!
When I'm not wearing my go-to leggings, this is what you'll find in my purse all summer long!
There's something magical about however this Body Glide is formulated because it holds up so much longer and better than just regular deodorant (which I've also tried but don't recommend!) even though it has the same consistency. The Body Glide also lasts longer than the Monistat gel for me.
It's smooth and easy to apply – just like deodorant – but works incredibly well.
I LOVE it!!
Funny enough, Body Glide tanked within in the BuzzFeed video – she straight up hated it. I found that so surprising because out of everything I've tried, it's my favorite.
If you're looking for something organic, Chub Rub by MedZone is my go-to!
I guess the lesson learned is that what works for one person might not work for another. Thank goodness there are so many options on the market!
Let me know what works best for you and your thighs (with whatever level of thunder they bring) within the comments below. Remember regardless of how big your thighs are, you have every right to be cool and comfortable and wear whatever you want this season.
Chub rub sisters unite!
You Might Also Like: Plus Size Maternity Swimsuit Options From Size 14 – 34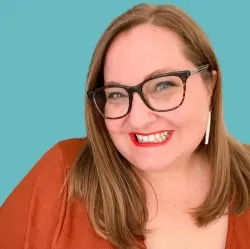 Latest posts by Jen McLellan, CBE
(see all)