If you're ready to make the leap from a Pinterest board to booking the shoot, take a look at the best plus size maternity dresses for photoshoot inspiration!
These plus size maternity dresses range in size all the way up to 6XL!
Disclosure: This post includes affiliate links. Plus Size Birth is a participant in the Amazon Services LLC Associates Program, an affiliate advertising program. As an Amazon Associate, I earn from qualifying purchases. Read more about these links in my disclosure policy.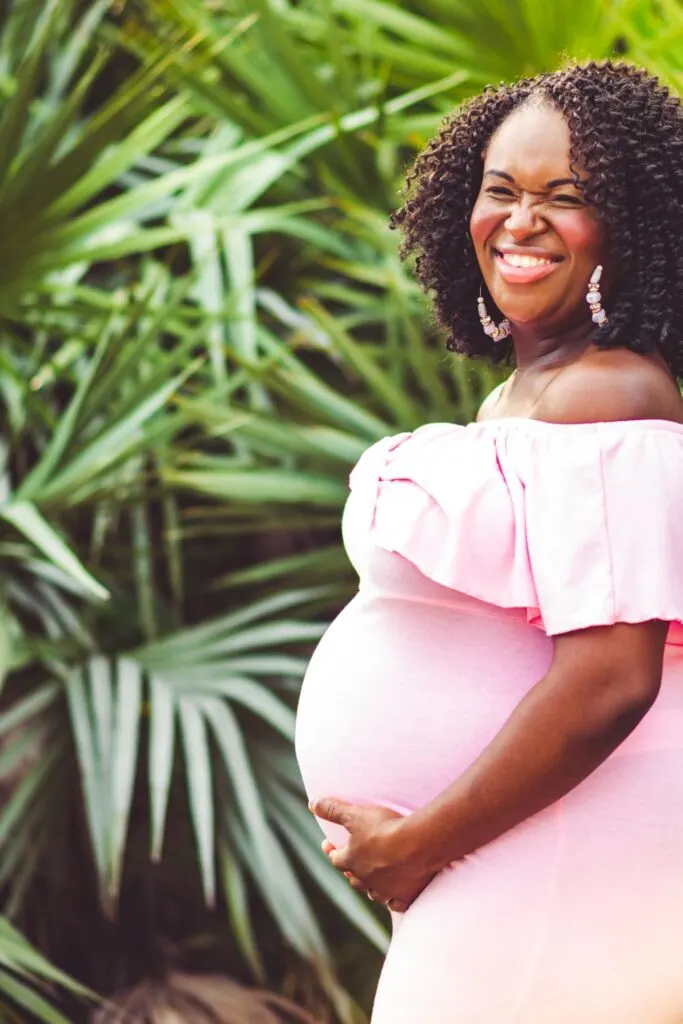 Plus Size Maternity Dresses For Photoshoot Inspiration
You're getting ready to have a baby, and what better way to celebrate than with a maternity photoshoot?
This is a big moment for you, so you deserve to go all out with it, Beyonce style.
Whether it's on the beach or in the snow, in the forest or at home, picking the right dress will cast you in the best light possible.
The dresses below come in all styles and colors, but most importantly, each fabulous dress comes in plus sizes, promising a great fit.
1.

LysaBo

Plus Size Long Sleeve Maternity Gown
Most Popular
This popular long-sleeved off-the-shoulder dress has plenty of color options.
Women love this dress for its comfort and durability, especially for pregnancy photoshoots!
It's accomodating in all the right ways with sizes reaching a 6XL.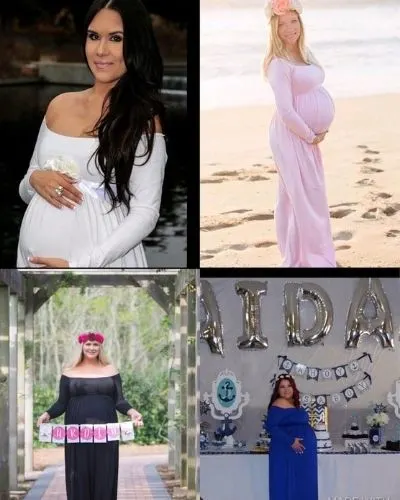 2.

POSESHE

V-Neck Plus Size Maxi Dress
Affordable Dress
Sexy, sleek, and affordable. This dress comes in plenty of colors, plus a few multi-colored floral prints and patterns.
The beautiful design gives you plenty of space to play with props and accessories.
The material stretches, making it an excellent option for your maternity photoshoot since it goes all the way up to a size 5XL.
This dress doesn't have the "maternity" label, so you'll keep it in your closet for other events well beyond pregnancy.
3.

PinkBlush

Plus Size Mermaid Maternity Dress
Best Mermaid Maternity Dress
If you have any doubts in your mind, look no further than the maternity plus photoshoot gown.
It has everything – an extra-long skirt, gorgeous off-the-shoulder sleeve detail, and high quality!
This mermaid style maternity dress makes a statement while also being–as reviewers say–"comfy and flattering."
The most difficult decision? Picking your color!
The only downside is this dress is from PinkBlush, so it only goes to a 3XL. So, if you're looking for more ravishing red plus size maternity dresses, we have you covered!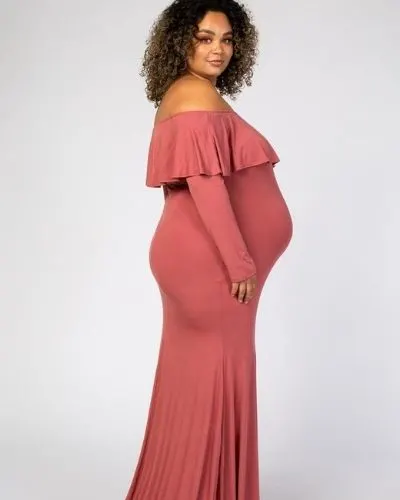 4. LysaBo

Plus Size Velvet Maternity Dress
Velvet Plus Size Maternity Dress
If you're looking to feel like royalty at your maternity shoot, then look to this dress.
The long hemline and velvet fabric make it a rave-worthy plus size dress sized to your neeeds.
It comes in deep regal tones of black, burgundy, hunter green, or navy, so it's the perfect option for a winter photoshoot.
5.

COSYOU

Off-Shoulder Plus Size Lace Maternity Gown
Affordable Lace Option
Go ahead, show off some skin, and go sheer with this lace gown.
With a deep V and all-over lace, this dress says "sexy but delicate." It's form-fitting and come in sizes up to 5X.
Are you not sold yet? You will be when you see the range of colors, from deep wine to light blue, and the very budget-friendly price.
6. Anyutas Couture Plus Size Sweetheart Open Belly Maternity Dress
Plus Size Open Belly Maternity Dress
This plus size maternity photoshoot dress is the whole kit and caboodle.
Coming in a wide palette of colors, the top has those cute off-the-shoulder draped sleeves for a Princess Jasmine look.
The flowing A-line skirt opens up to reveal that beautiful baby belly while matching boy shorts bring the look together.
You can request specific sizes based on your measurements, promising a perfect fit for your photoshoot moment.
Statement Plus Size Maternity Dress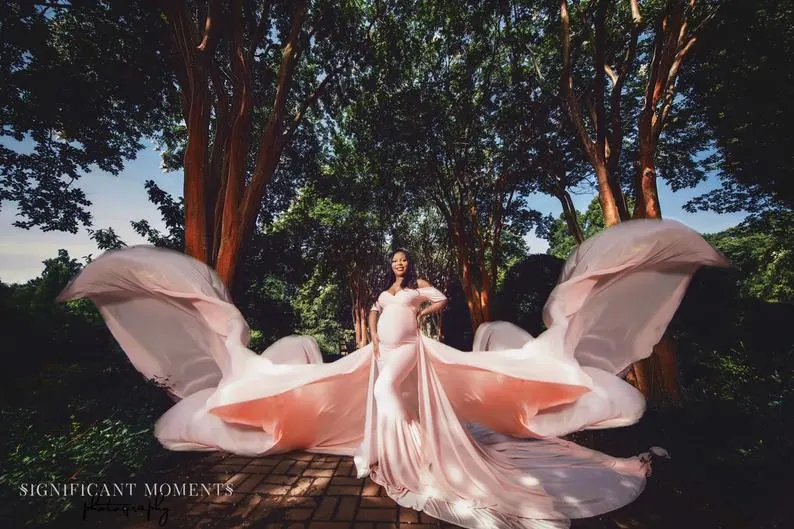 Want something utterly show-stopping? Here it is!
Let yourself soar free in this plus size maternity butterfly dress.
This gorgeous plus size baby shower dress comes in almost every color of the rainbow (and then some), plus, goes up to 5XL.
Photos taken in this dress will remind you for years how fierce you are!
8. Angie K Designs Fitted Plus Size Maternity Dress
Embrace every beautiful curve with this fitted plus size maternity dress with an attached cape.
Yes, cape!
When it comes to sizing, custom measurements are available!
Allow your wildest maternity photoshoot dreams to wonder with this gorgeous gown that comes in many different colors.
Fancy Plus Size Tulle Robe
If you like a little UMPH, then take a look at this gorgeous tulle maternity robe.
You can choose the color that makes your vision come to life. And this robe goes up to any size with custom sizing.
Indoors or outside, you're sure to get a glamorous look for your plus size maternity photoshoot!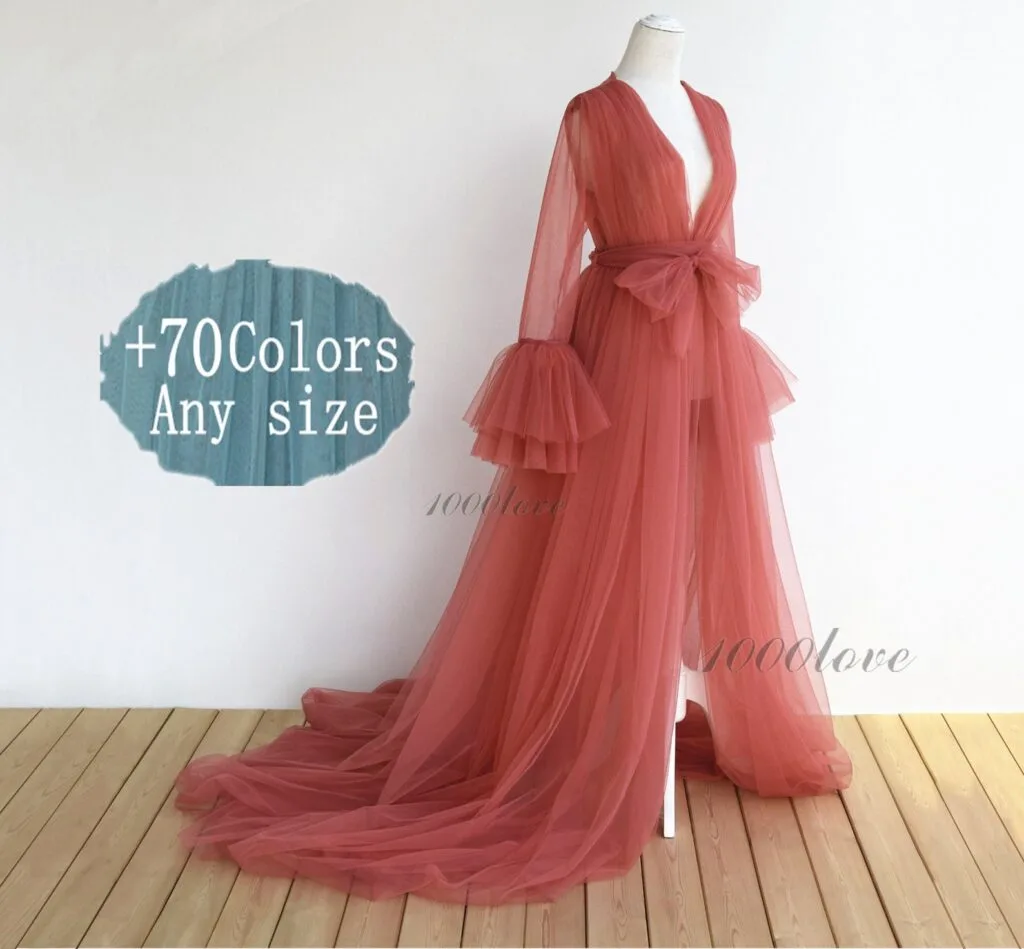 Best Plus Size Maternity Boudoir Option
Want to go all-out diva? This is your chance!
With its oversized ruffle edgings and sheer front-cut skirt, this unbelievable robe has beautiful boudoir vibes for someone who loves to get glam.
In almost any color you could want, this dream is yours and fits up to a size 4XL.
You Might Also Like: Beautiful Plus Size Maternity Gowns for Photoshoots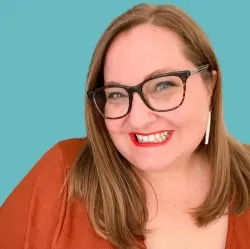 Latest posts by Jen McLellan, CBE
(see all)