Don't feel limited if you can't go out and about; we're sharing seven pregnancy exercises at home when you are plus size.
We hope you love these suggestions and be sure to check with your care provider before starting a new exercise routine.
Disclosure: Plus Size Birth is a participant in the Amazon Services LLC Associates Program, an affiliate advertising program. As an Amazon Associate, I earn from qualifying purchases. Read more about these links in my disclosure policy.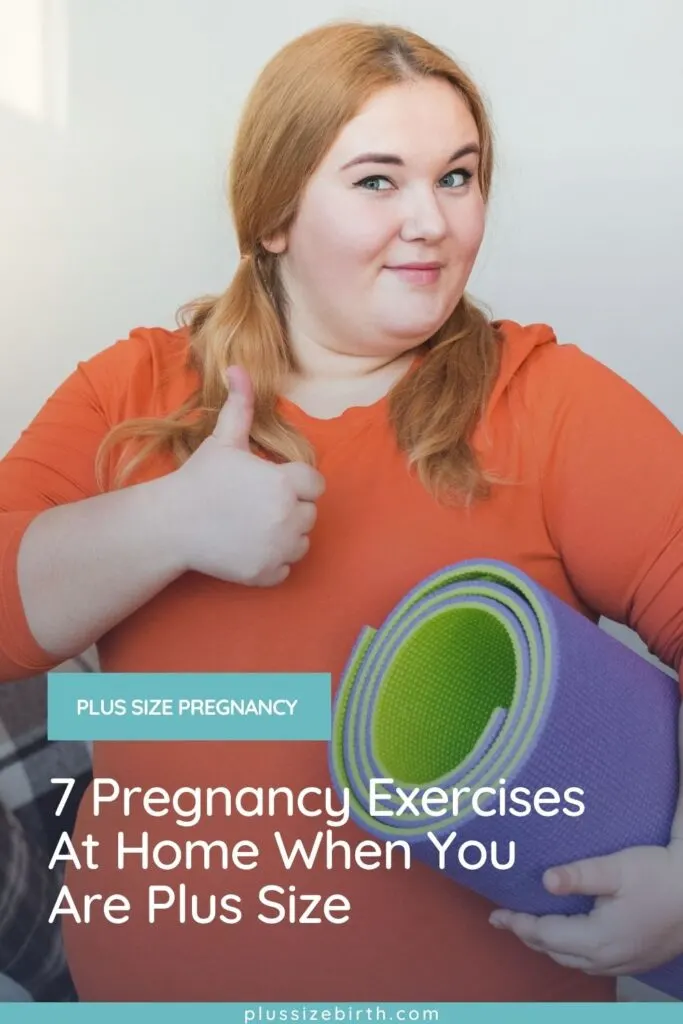 Best Pregnancy Exercises At Home
During a plus size pregnancy, there's often a focus on increased risks. What if I told you that moving your body can help to decrease your risks?
Not only that, exercise helps to reduce stress, and people often experience a better night's rest after being active.
While there are some popular plus size pregnancy exercise options, let's focus on pregnancy exercises you can do at home.
1. Walking
Walking is great because it's low impact and can be done anywhere and at your convenience.
From strolling around your neighborhood or walking-in-place at home (it's a lot more fun than it sounds), all you need is a pair of comfortable shoes, and you are good to go!
Walking has many benefits that most of us know, including boosting your mood and eases that dreaded back pain.
Also, walking helps you sleep better, relieves constipation, and keeps your muscles strong as your body prepares for delivery.
Studies also show that walking has specific health benefits for you and your baby during pregnancy to reduce pregnancy and birth complications.
Like other pregnancy exercises at home, remember to listen to your body and stop when you need to.
There are many great walking-in-place YouTube videos to get your body moving while indoors.
Lace-up your shoes and go for a walk today!
If you experience any chafing, we recommend Chub Rub – words like a charm!
You can enjoy listening to plus size birth stories via the Plus Mommy Podcast.
2. Prenatal Yoga Pregnancy Exercises At Home
Yoga strengthens your muscles and helps you stay balanced while increasing your flexibility.
Prenatal yoga enables you to stay in tune with your body during pregnancy and prepare for delivery. It also reduces stress and anxiety, decreases lower back pains, nausea, shortness of breath, and headaches.
Remember, some forms of yoga are more strenuous than others. Even though you can't do this at home, I want to mention avoiding hot yoga during pregnancy. The temperature is too high and may cause hyperthermia.
Since we are looking at pregnancy exercises at home, you can use purchase a DVD or online prenatal program.
There are also wonderful free videos like the one below by Amber Karnes where she shares yoga poses for back and hip pain during pregnancy.
Beyond prenatal yoga videos, you might also enjoy videos for yoga in bigger bodies.
You'll just want to aware of a few yoga positions you don't want to do during pregnancy like deep twists and laying on your stomach.
You'll want to purchase a yoga mat and blocks (to help augment positions) to get started.
If you have an apron belly that limits your ability to get into some yoga poses, you can use a chair to help augment positions. That leads us nicely into our next pregnancy exercises at home when you are plus size chair yoga!
3. Chair Yoga During Pregnancy
Chair yoga can be an excellent introduction to yoga. It's also a form of yoga that's inclusive for people with limited mobility.
Like yoga, chair yoga can help alleviate discomforts and strengthen your muscles as you prepare for birth.
There are many chair yoga videos on YouTube, and your local recreational center might offer an online class.

One of the greatest benefits of yoga is tuning into your body. We encourage you to enjoy this 10-minute guided meditation by the amazing Jessamyn Stanley.

4. Prenatal Aerobics
Pull-on your legwarmers, throw on that 80's music, and let's get physical!
Aerobics is a fun way to get your body moving – with or without the 80s pizzaz.
When it comes to aerobics during pregnancy, you'll want to look for low-impact aerobics. That is unless you've been doing high-impact aerobics before getting pregnant.
As always, chat with your care provider if you have any concerns or are interested in starting a new fitness routine.
You'll want to ensure your feet don't leave the ground simultaneously, such as jumping rope or doing star jumps. Your equilibrium has changed, and you heavier at the front. Workouts that need careful balancing may see you topple over, and we sure want to avoid that!
With all of this in mind, select an aerobics or cardio video and have a blast.
While it doesn't have to be a prenatal aerobics video, we sure love the prenatal cardio video below.
5. Pregnancy Dance Workout
When it comes to pregnancy exercises at home, dancing is one of our favorites!
Dance is an excellent way to remain active and improve your balance. Have good shoes on to prevent slipping and shake your booty!
For some inspiration, enjoy this plus size pregnancy dance video from our friend Darlene @suitsheelcurves.

6. Belly Dancing
If you already love to dance, consider giving belly dancing during pregnancy a try!
Show off that beautiful plus size pregnancy bump, especially if you have a B belly you're trying to embrace.
You can purchase videos like Belly Baby: A Prenatal Bellydance Workout or there are free videos on YouTube.

7. Prenatal Exercises On A Birth Ball
A birth ball is one of our recommended plus size pregnancy essential items!
There is no difference between a birth ball and an exercise ball, but exercise balls are often referred to as "birth balls" during pregnancy.
This pregnancy exercise at home helps you strengthen your core muscles even when seated on the gigantic ball since you use your muscles to stabilize yourself.
Two things you'll want to keep in mind when purchasing a birth ball are weight limits and making sure the ball is anti-burst.
If you pick up an exercise ball at a local retail store like Target, you might see a weight limit of 300 lb.
Amazon has you covered with plus size birth ball options well exceeding 2,000 lb like this birth ball.
There are also different sizes of balls, so be sure to use the appropriate size for your height.
You can add light hand weights into the mix not only for exercises with a birth ball but for all of the pregnancy exercises at home listed above.
As you'll see in the video below, people also use a birth ball to help induce labor. Don't allow that information to make you fearful that you'll go into labor before your baby is ready by sitting on the ball.
From the seven exercises at home when you are plus size suggestions we've provided, choose a workout regime that best suits you!
Be sure to listen to your body while exercising, stop if you experience any pain or lightheadedness, and always contact your care provider with any concerns.
We hope you'll find joy in movement and cherish the special time tuning into your body and baby.
Let us know your favorite exercise listed or share an at-home exercise recommendation you think should be added to the list in the comments below!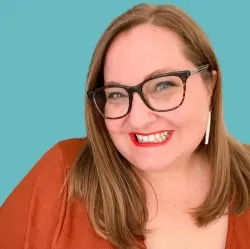 Latest posts by Jen McLellan, CBE
(see all)