I wondered, as a plus size woman, how my belly would look pregnant while having a plus size pregnancy. As months passed by I watched my friends' bellies pop and couldn't help but to question: Where's my bump?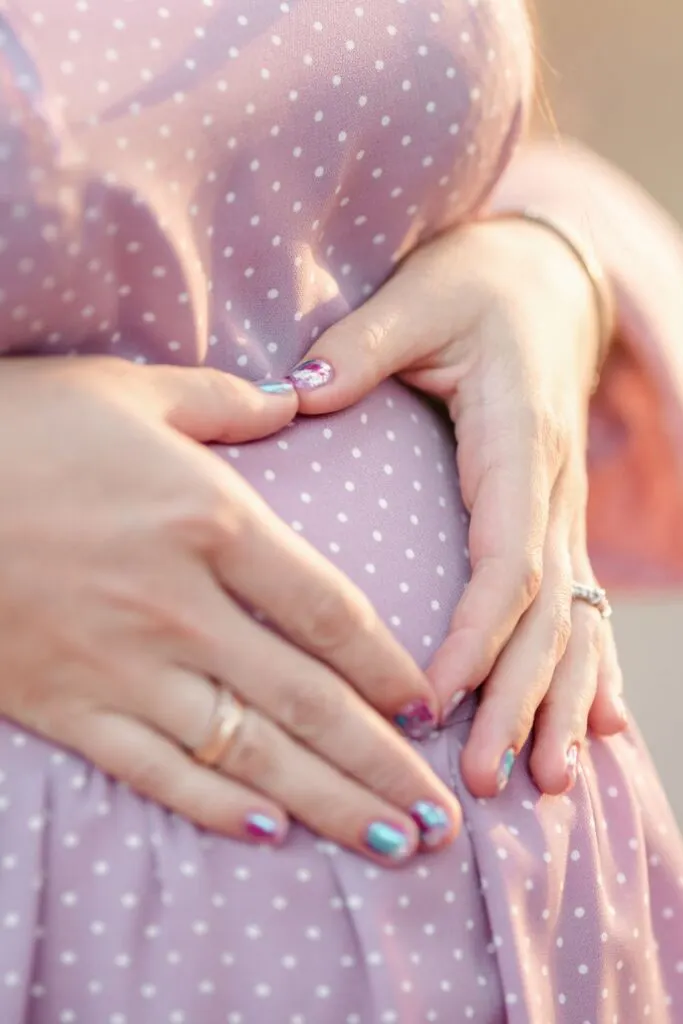 Where's My Baby Bump?
I typed "plus size pregnancy belly pictures" into Google Images and saw women I could relate to with protruding pregnant bellies.
This made me really hopeful since I wasn't sure what my belly would look like as my pregnancy progressed.
I surfed around the Internet and found an inspirational site called The Shape of a Mother.
On this site women of all shapes and sizes had imperfections just like mine.
After seeing pictures of women I could relate to I no longer questioned if I would look pregnant, I just wondered when it would happen.
Every morning I'd look in the mirror and ask my husband, "Am I bigger yet?"
What woman would ever ask their husband such a question let alone be hopeful his answer was yes?
My poor husband was tormented by these daily inquisitions.
Thankfully he knew me well enough to always answer "yes" while displaying a loving smile.
While my husband continued to assure me of my increasing belly size, as the months passed my clothing (even though I still wore plus size maternity clothes) told the truth.
I was attending water aerobics with a pregnant friend, Angela, who had a due date a month ahead of mine.
Within a few months, she needed to purchase a maternity swimsuit as her beautiful belly grew. I began receiving compliments from classmates when I was five months pregnant. Only instead of "congratulations" on my pregnancy, it was "Wow, you look great! How much have you lost?"
You'd think I'd be happy but all I could think was…where's my bump???
Angela had always been a very supportive friend and never made me feel ashamed of being plus size.
Jessi was another incredible friend who amazingly had a due date just a few days after mine.
Jessi and I had a weekly lunch date during our pregnancies.
We would often do a belly show and tell in the restroom following our lunch dates.
Sure enough, her gorgeous belly popped while mine just flopped.
My friends were getting the random public attention pregnant woman often pine for. Angela even told me about strangers touching her belly.
I on the other hand never had strangers randomly come up and want to touch my belly.
I'd rub my pregnant B-shaped belly all the time but people probably just thought I was hungry. It bothered me a little but all I really cared about was…where's my bump!?!
I finally caught up to Jessi and Angela around the seventh month of my pregnancy. It was as if all of a sudden this gorgeous bump showed up overnight.
The moment I had anticipated finally happened: my bump had arrived!!!
I was so happy and absolutely loved my big round belly. I didn't even mind the new stretch marks that came with its arrival.
Next time I'm pregnant I won't question where my bump is but just look forward to when it finally shows up!
I've been amazed by all of the beautiful plus size pregnancy bumps shares on Instagram, and those who have posted their beautiful belly pictures.
Below you'll see a helpful poll sharing when community members started to notice their bump. Learn even more via our second trimester plus size pregnancy breakdown.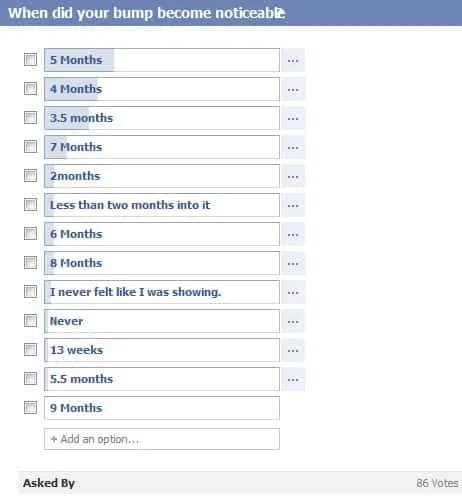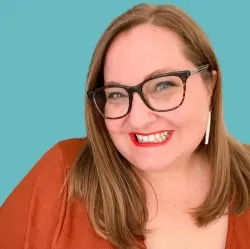 Latest posts by Jen McLellan, CBE
(see all)