When you're pregnant, it can be hard enough to find plus size maternity clothes, let alone a plus size maternity swimsuit.
The good news is, there are plus size maternity swimwear options for nearly everybody!
And you don't have to buy special and expensive maternity suits, we're going to cover great options for regular plus size bathing suits as well that can last you from pregnancy to motherhood.
Disclosure: Plus Size Birth is a participant in the Amazon Services LLC Associates Program, an affiliate advertising program. As an Amazon Associate, I earn from qualifying purchases. Read more about these links in my disclosure policy.
Everyone deserves to experience the bliss of feeling weightless in water when you're pregnant. Not to mention, water aerobics during pregnancy can be an outstanding way to exercise!
The truth is though, you need a swimsuit to do these things!
Let's dive in the deep end to explore plus size maternity swimsuit options. Be prepared to think a little outside the kiddy pool!
Where To Shop In Stores For P

lus Size Maternity Swimwear
The less-than-ideal reality is the options are pretty limited for in-store shopping for plus size maternity swimwear. Sorry.
Target carries maternity suits up to size XXL, and while that may be good for some, that isn't going work for many of us.
They do have larger options, up to size 26, for their plus size swim line.
Like Target, Walmart has limited sizing with their plus size maternity line, but they have a lot more options with nonmaternity suits.
Motherhood Maternity is your best bet if you want that in-store experience but know they go up to a size 3XL.
Favorite Online Options For Plus Size Maternity Bathing Suits
Pink Blush is a go-to for many plus size women who wear a 3XL or smaller. Along with their plus size swim line also have quite the selection of plus size maternity dresses.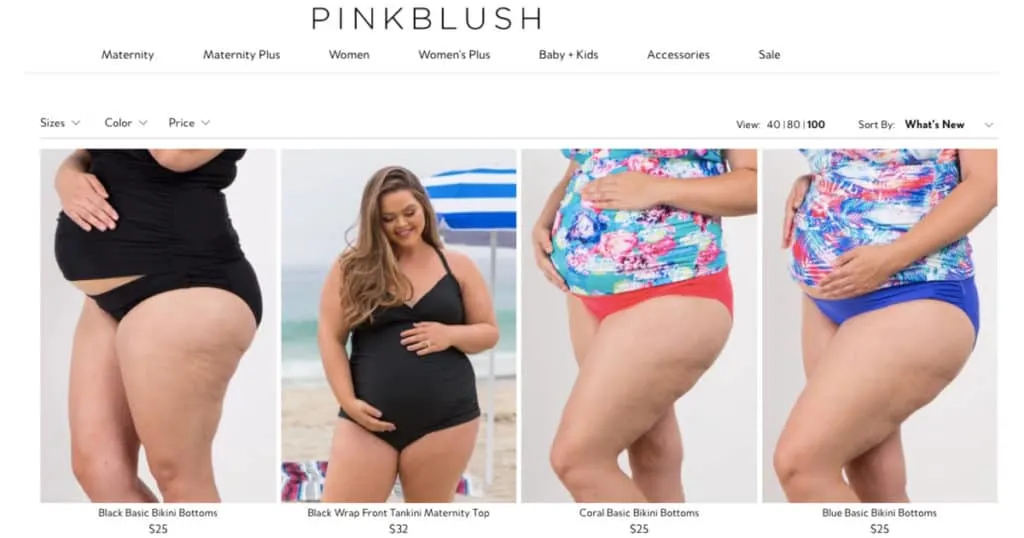 Amazon is our recommendation for plus size maternity clothes and bathing suits of all sizes, but especially sizes beyond 3XL!
We love Amazon so much at the end of this article you'll read tips and tricks for having a positive online shopping experience.
Skip The Maternity Section When Searching For P

lus Size Pregnancy Bathing Suits
Yes, you read that correctly! You don't need to spend the extra cash on a plus size maternity swimsuit to splish and (make a) splash at the pool.
For many having a plus size pregnancy, you will start to show later than expected. You might have a B shaped belly along with an already existing apron belly.
The swimsuit you already have in your dresser will probably last longer than you expect, stretching over your belly as it grows.
If you happen upon a fantastic clearance deal, you can also purchase a plus size swimsuit that is a size or two bigger than the one you usually wear to accommodate your changing shape. This is great alternative considering the average maternity swimsuit only goes up to a 3XL.
Something you may not know is that your perfect pregnant body is actually a bikini body! Did you know that your body is a bikini body?
Yup! Put a bikini on your body, and you have a bikini body (ta-da!).
If that's pushing you too far outside of your comfort zone, consider a tankini!
Plus Size Tankini tops can support you while your belly expands. The teal plus-size swimsuit retro print two-piece tankini below comes in five different colors and goes up to a size 28/30. The maroon one goes to a size 26 and comes in 19 fun patterns and colors!
If the bottoms get too snug, you can purchase plus size swim bottoms while still rocking your tankini top.
The high waist swim skirt below comes in five colors and goes to a size 26. The plus size swim shorts below go all the way up to a size 26 with thousands of positive reviews.
Popular places for plus size bathing suits for that in-store shopping experience:
Forever 21 – up to size 4XL (in-store options might be limited for plus sizes)
Kohls – up to size 26 (in-store options might be limited for plus sizes)
Lane Bryant – up to size 26/28
Target – up to size 24/26
Torrid – up to size 30
Walmart – up to size 3XL
Favorite online sites for plus size bathing suits:
Amazon – you can find options up to a 6XL and probably beyond!
Avenue – up to size 32
Swimsuits For All – up to size 34
Amazon
Amazon gets this highlight because of their low prices and excellent return policy. Here are some tips on how to make sure you buy a plus size maternity swimsuit that will fit.
Read the reviews! Reviews make all the difference and will give you great insight if it's a deal that seems too good to be true.
When in doubt, size-up! Make sure you're paying close attention to tip #1 because reviewers are quick to point out if items aren't true-to-size. Many clothing items available online are manufactured outside of the United States. Therefore, sizing can be off, and often items end up being much smaller than expected.
If it doesn't fit, send it back right away! While in most cases you have 30 days for returns, be sure you actually send things back. It's pretty easy to allow life to get busy and items don't get returned.
We hope these plus size maternity swimsuit options encourage you to suit-up for summer fun!
Oh, and if you're worried about a little thigh rub, have no fear because we have you covered with this article, Chub Rub Solutions.
Never allow the size of your bump or any other part of your body to hold you back from enjoying a refreshing swim in your local lake, pool or ocean!
You Might Also Like: Plus Size Maternity Clothes Must-Haves Size 3XL And Beyond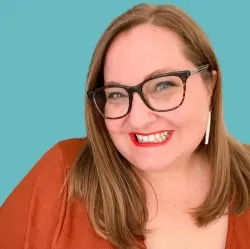 Latest posts by Jen McLellan, CBE
(see all)