Let's face it, it's hard enough to find cute plus size clothes let alone plus size maternity clothes. Have no fear because I have you covered with super plus size maternity clothes! Below you'll see my top plus size maternity must-haves with options up to size 6XL.
We should all be able to look cute without going broke during pregnancy!
Disclosure: Plus Size Birth is a participant in the Amazon Services LLC Associates Program, an affiliate advertising program. As an Amazon Associate, I earn from qualifying purchases. Read more about these links in my disclosure policy.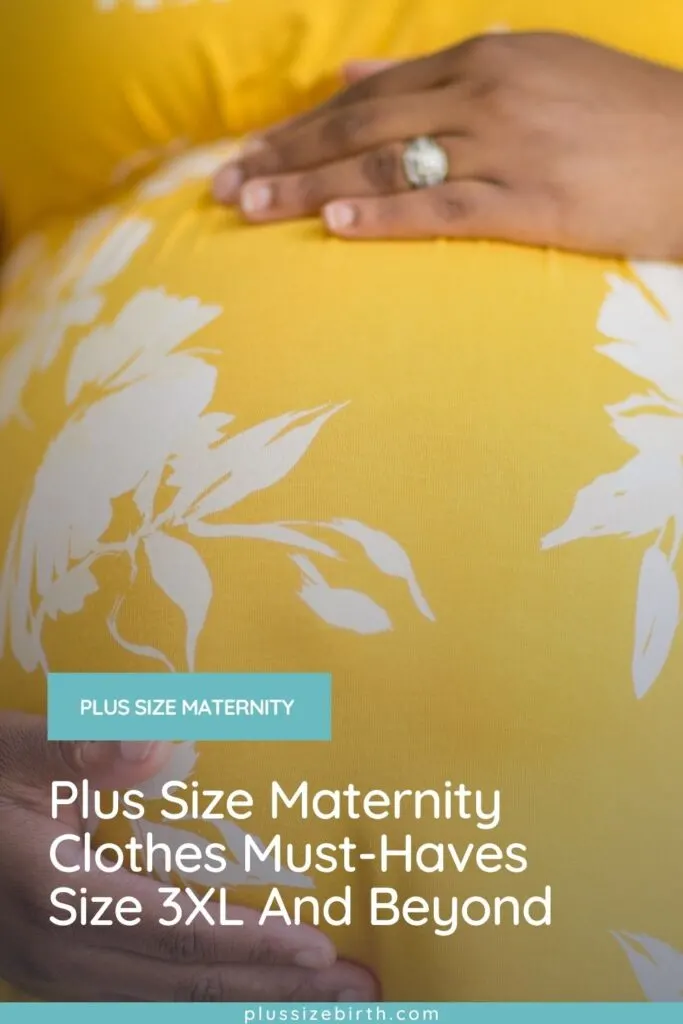 9 Best Options for Super Plus Size Maternity Clothes
Before we dive in, we have a more extensive plus size maternity clothes resource with a list of places to shop. This resource is for the best plus size maternity must-haves with super plus sizing.
1. Plus Size Maternity Underwear Options
Okay, some people like their plus size maternity underwear and there's nothing wrong with that. I just prefer wearing plus size boy short underwear.
I like to look cute while feeling comfortable at all times! Plus I'm on a budget and boy short undies last throughout pregnancy and beyond (not to mention larger sizing options).
The plus size maternity underwear below goes up to a 4XL and the plus size cotton boy shorts go to a 6XL.
2. Plus Size Nursing Sleep Bra
I sure recommend picking up a wrap nursing sleep bra as I shared in the video. Not only is it functional, but it's also super comfy throughout pregnancy and postpartum.
When it comes to selecting a nursing sleep bra, sizing ranges from the popular Motherhood Maternity 3XL (fits most people who wear a size 22/24) to DELIMIRA that goes to a 48 F/G (pictured below).
If you need a larger option, consider purchasing a plus size sports bra and sizing up. Just My Size has sports bras that go up to a 6XL.
3. Plus Size Nursing Tank
While this wasn't included in the video, we sure think a plus size nursing tank is a must-have during pregnancy and postpartum.
As your body changes during pregnancy, you'll appreciate a little extra support.
Motherhood Maternity's tank with built-in bra is a popular option, but their sizing seems to be currently very limited.
So, don't limit yourself to the "maternity" label!
Regular tanks with built-in bras that have a bit of stretch will last throughout your pregnancy. You just might need to size up. This one below goes up to size 6XL.
For postpartum, you might like the design of the Naked Nursing Tank. It's an open-busted tank top so you can nurse comfortably without exposing your belly if that's a part of your body you want to cover up. It goes up to size 4XL.
4. Plus Size Maternity Shapewear And Plus Size Maternity Support Belt
If you're feeling some back and belly aches, my boxer brief tip might not provide you with enough support. There are many different types of plus size belly bands, shapewear, and support belts.
One option many plus size women rave about is the Belevation Women's Maternity Underwear Support Briefsthat go up to a size 26. There's also a basic belly band, pictured below, that goes up to a size 26. See even more options here – Plus Size Belly Band Resources
5. Plus Size Maternity Jeans
This is the must-have of all plus size maternity clothes – maternity jeans.
As I shared in the video above, there's just something about that band that makes you feel pregnant even if you're not showing yet.
The go-to for plus size maternity jeans and the ones I featured in the video are Motherhood's boot cut. Like most plus size maternity jeans, they go up to a size 3XL.
Another option is Good American, where they say they offer jeans up to size 26 – but those are slim pickings. However, if you're a size 24 or under, they have you covered.
A workaround is to make your own plus size maternity jeans and it's not as difficult as you might think. You can use your own jeans or purchase a new pair (these LEE women's plus size jeans go up to a size 30).
6. Plus Size Maternity Maxi Dresses
Go through your closet and pick out loose-fitting or maxi dresses. Hit up affordable stores, like Ross, that carry plus size maxi dresses. You don't need to pay extra for "maternity" maxi!
Amazon has a lot of affordable plus size maxi dresses, including the one below that, goes up to a size 5XL and comes in 19 different colors and patterns.
Speaking of Amazon, and those looking for plus size maternity clothes 4x 5x – you might want to check out the Daily Ritual line! Daily Ritual carries comfy and affordable clothing that works well for maternity, and they go up to size 7XL.
7. Plus Size Maternity Yoga Pants
I talk about plus size gaucho pants in the video but these days the go-to seems to be plus size maternity yoga pants. But I don't think you can go wrong with either!!
Comfy black pants, that you can dress up or down, are a necessity during pregnancy!
Motherhood Maternity has a great option for plus size maternity yoga pants that up to a 3XL. If you want a larger size you'll need to skip the maternity section. Stretch, featured below, goes up to a 5XL and will last you from pregnancy to well into motherhood.
8. Fuzzy Socks
This tip is something you probably won't see on most lists but it's sure on mine – fuzzy socks! Swollen feet and pregnancy go hand-in-hand so why not treat your feet to something soft and comfy?! If you need plus size compression socks you can find some here.
9. Plus Size Maternity Swimwear
This is another item that didn't come up in the video but it should've because swimming was one of my favorite things to do during pregnancy! Swimming is a fabulous way to not only get in some great physical activity during pregnancy but also enjoy the benefit of feeling weightless. Pick yourself up a plus size maternity bathing suit and hit the pool (look out for indoor recreational centers during cold months). The tankini suit below goes up to a size 26 and comes in many different patterns. Tankinis are a great alternative to splurging on a maternity suit.
Once you have the essentials above, you can raid your own closet! You'll be surprised how long you'll be able to wear your own clothes. Yet, it's also nice to treat yourself to a few cute plus size maternity tops.
I hope you found these plus size maternity clothes tips helpful and regardless of what you're wearing, your beautiful pregnancy glow is the best accessory ever!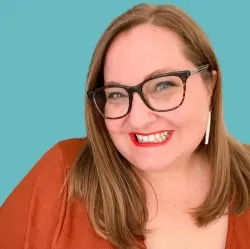 Latest posts by Jen McLellan, CBE
(see all)