You might be wondering…is Whitney Way Thore pregnant? Will there be Whitney Way Thore baby news heading our way? As a big fan of TLC reality show My Big Fat Fabulous Life I've been wondering if Whitney Way Thore is pregnant or if it's just a storyline!
Whitney Way Thore Pregnant?
Two weeks ago, after we saw her with a positive pregnancy test, I was thrilled another plus size public figure was pregnant!
After covering Tess Holliday's pregnancy on my blog, I saw the impact of a celebrity talking openly about the struggles of being plus size and pregnant. I saw how people in that position help to normalize plus size pregnancy. And I know how important that truly is.
I was so happy knowing how Whitney's story would bring hope to many women struggling with Polycystic Ovary Syndrome (PCOS). Whitney has been very open about her own struggles with PCOS and it can cause infertility.
Whitney Way Thore Baby News
Tonight, as the show aired, Whitney posted the image below on her Facebook page to share that she is not pregnant.
My Big Fat Fabulous Life Pregnant Storyline For TV ratings?
A lot of people were upset and I understand that.
The thing is, when it's on TV, it's easy to forget that this is actually someone's life.
This is Whitney's life.

I think it's safe to say that if you've ever taken a pregnancy test, you did so without a camera crew filming you. Am I right?
Then you got to sit there for that awkward minute or so either praying for a positive or a negative outcome… by yourself. You probably told the results to so few people you could count them on one hand. You got to sit with the news and process through your emotions…be it joy or shock (or maybe a bit of both)… without a million people watching you.
Whitney didn't get that privilege of privacy and now, many of her fans have turned their backs on her as we have learned that the infamous Whitney Way Thore is not pregnant.
Sure, we could argue that she willingly signed up for this TV reality show gig. She has made the choice to live in the spotlight if you will, and judgment from others is part of the deal.
Yet, again, Whitney, who is a real live person, really experienced this.
Whitney also had this to share via TLC's blog.
"In the doctor's office I was prepared for my life to change forever, and when the nurse came back and told me the test was positive, in that moment I became something I'd never been before in my life: a mother. It was real and I was overwhelmed, but I knew no matter how scary (and unplanned) this journey would be, I was ready to take it. All of that got turned on its head literally moments later when the ultrasound showed that there was no baby. A part of me felt relieved, but to my surprise, the biggest part of me felt disappointed."
I'm not going to turn my back on her because of this "Whitney Way Thore Pregnant" storyline.
I'm still a fan of My Big Fat Fabulous Life. I think the best thing that can come out of all of this is more awareness of PCOS. As you'll see below Whitney sure agrees…
"The unknown is something women with PCOS face often; so much about PCOS remains unclear and debatable, from the diagnostic criteria, to the causes, to the still yet-to-be-found cure. What DOES matter to me is hope for my body, hope for my "cysterhood," and hope for the future. I have to remind myself that millions of women around the world live full lives with PCOS every day and they do it with children, too. I know when the time is right, motherhood will happen for me, and honestly, I can't wait."
PCOS impacts hormones, fertility, causes weight gain and so much more. Below you'll read about real-life experiences from women who have PCOS and how it impacts their lives.
Amy's PCOS Story
I was diagnosed with PCOS when I was 17 years old. I didn't think about my fertility at the time. Over the years (I'm 37 now), I struggled with the weight gain and the difficulty of trying to lose weight. In 2013, I went off the pill and my husband and I started trying to have a family.
After a year, I consulted a reproductive endocrinologist who basically insulted my weight and when I started to cry, she told me to seek therapy. In 2016 I went to a different fertility doctor who was compassionate and caring. After 1 IUI, I was pregnant and gave birth to twins in November. I love Whitney. I wish I had the self-confidence that she has. She truly is a role model for any woman who suffers from PCOS.
Dana's PCOS Story
For me, the hardest part of my struggle with PCOS is the feeling that my body is failing me. One of the most natural and main things my body is designed to do is have babies, and I feel like a failure every month. After a time, you start to feel like you are a failure as a woman; failing your husband and family. You start to wonder if there is a higher power telling you aren't meant to be a mom. It is so hard when in your heart, it is all you want. I can deal with the weight gain/struggle, the hormones, and everything else. It is that feeling of failure that gets me…
Jessica's PCOS Story
For me, PCOS and infertility had been two very different roads until I married and began to think I about holding a brand new baby in my arms. My husband and I have tried for 2.5 years and still are not pregnant. Every time I get a negative test, I think back to when I was a teenager and how much I appreciated my condition because I didn't have to stress about birth control and many of the things my friends did (extremely naive, right?).
Now as a woman who desperately wants children, I realize how careless those thoughts were. I've never let PCOS and my weight define me, however, since trying to get pregnant all I think about is how this disease controls my life. I have tried to embrace my PCOS and many other women who know me and have concerns themselves, ask me questions and I bravely explain my experience. I just continue to pray and lift up women of PCOS because the struggle is hard not only with our bodies but our spirits and worth.
Jennifer's PCOS Story
I was diagnosed at 18 and I am now 37. I didn't start thinking about infertility until I was married and we tried to start a family. The struggle with infertility is the feeling that you aren't a real woman, that your body is failing you and it is all your fault (even though it isn't). Even though I have children now, (after 7 years of trying, miscarriages, doctor appointments and ultimately giving up) I still struggle with the weight gain, the body hair and other symptoms. PCOS has a profound effect on a woman's emotions, self-image, and life regardless of the symptoms and struggles that they have with it.
Lauren's PCOS Story
I was diagnosed with PCOS around age 15 when my periods were irregular and very painful. I gained weight like crazy and started having facial hair, it took a large toll on my self-esteem. Little did I know that years later when I got married and wanted to conceive that it would be such a heartbreaking struggle. It made me feel so inadequate as a woman. Watching other women getting pregnant made me feel like there was something wrong with me or that I was broken. Finally, after a couple of years of trying, I went to a doctor and begged them to help me. With some assistance from ovulation medications, I was finally able to conceive. I wish PCOS was talked about more so other women suffering didn't feel alone, or like they're the only ones who have certain symptoms.
Daniela's PCOS Story
Some girls grow up wanting to be a doctor or a teacher, I wanted to be a mom. I have spent most of my womanhood thinking of my uterus and ovaries. At 14 I was told not to worry about it that medicine was advancing and it wouldn't be a problem. If I only knew what was ahead of me cycle after cycle, month after month, loss after loss and finally giving birth to a beautiful daughter and thinking this is it. She's my only child. Accepting that and learning to love my new landscape.
I spent the next two years just me and her against the world. Miraculously. Unexplainably. I found out I was pregnant again and my amazing son entered our lives and he was like a summer thunderstorm. Completely unexpected but so very needed. He taught me not to give up on my dreams of a big family. Three years of trying and I found out again that we are expecting in September.
My journey isn't typical and it's not for the faint of heart. Many trials, failures, setbacks and unmet expectations. Through all of it though I wouldn't change one minute. Who I am, how my body functions or looks. I love my life and it has taken me my entire life to learn to say that. Every single struggle has been worth its weight in gold.
Whitney – whatever you're going through, know that the Plus Mommy community is behind you and beside you on your journey!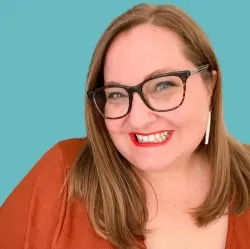 Latest posts by Jen McLellan, CBE
(see all)