Graphic tees are all the rage these days with motherhood sayings like, "Mom Enough" and "Mama Bear" filling your Instagram feed. I've searched the internet to bring you plus size maternity graphic tees with options up to 5XL!
Disclosure: Plus Size Birth is a participant in the Amazon Services LLC Associates Program, an affiliate advertising program. As an Amazon Associate, I earn from qualifying purchases. Read more about these links in my disclosure policy.
Plus Size Maternity Graphic T-Shirts
Before I tell you about my new favorite plus size maternity graphic shirts, I'd like to share a tip.
If you have a bump that's shaped more like a B than a D, you might want to invest in a belly band. This band will help to smooth out your belly to appear D-shaped.
By the way, if you have an apron belly, you're not alone, and I have supportive resources for you.
Now time to know where to find great graphic tee plus size maternity shirts!
Where To Buy Plus Size Maternity Shirts With Sayings
Thankfully more and more online retailers are offering cute plus size maternity graphic tees. Here are a few of our favorite options beyond the plus size maternity selections at Target and Walmart.
If you're looking for any type of plus size maternity shirts up to a size 3XL, Motherhood Maternity is a great resource. Plus, they are one of the few places you can have an in-store experience. They have a fun selection of plus size graphic maternity options and seasonal selections.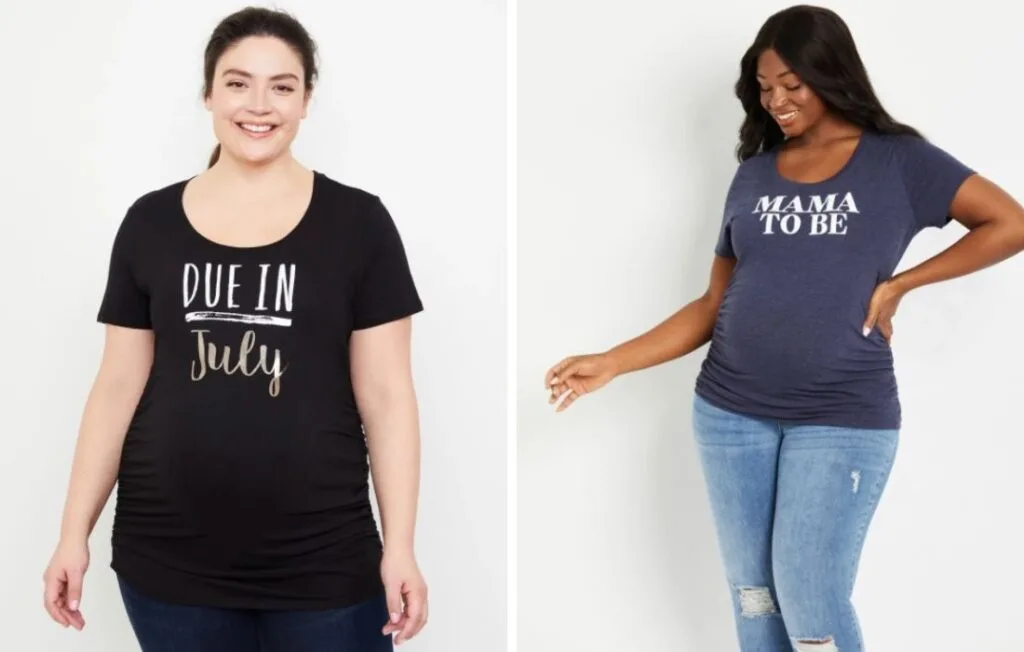 Pink Blush is exclusively online and offers adorable plus size maternity clothes. Unfortunetly, they also only go up to a size 3XL. However, if you wear a 3XL or smaller, be sure to hit up their clearance selection for some adorable finds!
While their selection of maternity graphic tees is limited, they do have seasonal options, and a "Mama" shirt we love!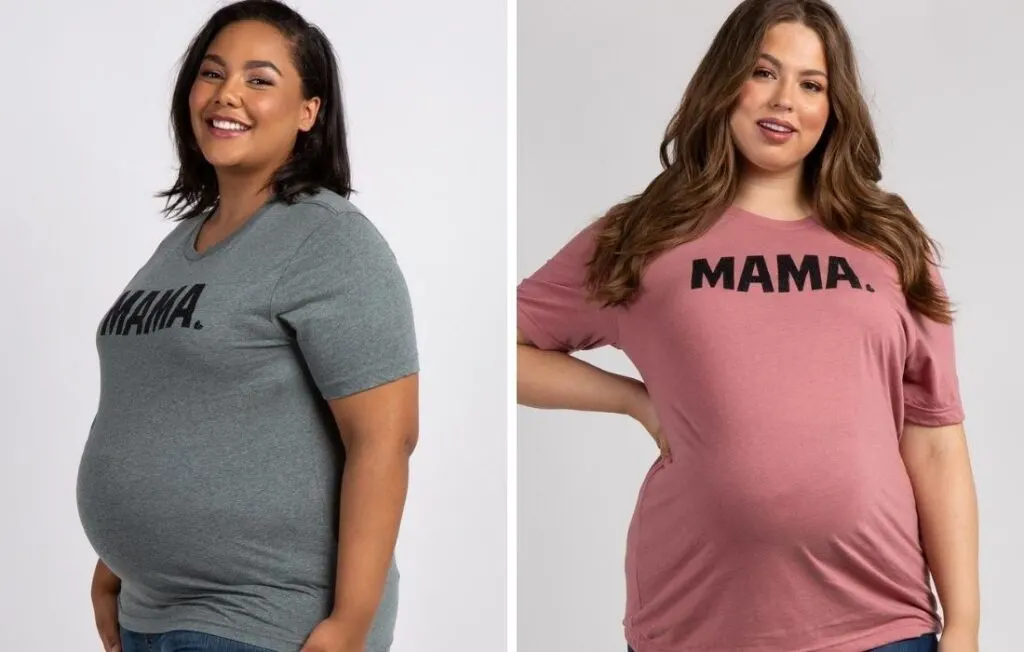 If you can think of a cute maternity shirt slogan, you can probably find it on Etsy!
Sizes range from small to 5XL, so there's something for almost everyone. Just be sure to note that not all of their shirts are actually maternity shirts. So you might want to size up!
You can find a mix of plus size maternity graphic tees and regular shirts that work great for maternity on Amazon. You'll be surprised by all the offerings and affordability, but most of the options go up to 3XL.
Below are a few of our favorites!
Are you eagerly awaiting those baby flutters? When you're plus size, it can take longer to feel movement and for your belly to pop.
Waiting can feel like torture! Only once those kicks start, you go from excitement to wishing your little love bug would stop tap dancing on your bladder. This maternity tee is quite fitting!
You'll love it so much you might dance through those kicks!
This, You're Kickin' Me Smalls, plus size maternity tee goes up to a size 3XL and comes in nine colors.
Oops, I did it again. I found a cute shirt, oh, baby, baby!
Ha! Sorry, I couldn't help myself, but if you're a Britney fan, this shirt is for you.
We hope you find the perfect plus size maternity graphic tee and you might also like our selection of plus size maternity Halloween tees and plus size maternity holiday sweatshirts.