Are you wanting to tell the world you're pregnant with a plus size pregnancy announcement shirt but struggling to find inclusive sizing?
We've pulled together a list of adorable tops with sizing up to 5XL!
Disclosure: We participate in affiliate advertising. Read more about these links in my disclosure policy.
Plus Size Pregnancy Announcement T-Shirts
Whether it's your first pregnancy or fourth, it's always exciting to start sharing the news with friends and family.
There are many cute ideas for pregnancy announcements, but one growing in popularity is pregnancy announcement shirts.
Plus, they make great gifts for expecting parents.
Please note, these shirts aren't actual maternity shirts. So, you might want to size up depending upon when you plan to wear your new top. And, so you're not caught off guard, the pricing increases by sizing, but many of these shops run great sales.
Don't worry; we're also sharing resources for plus size maternity announcement shirts.
Here are 18 of our favorite plus size pregnancy announcement shirts with holiday selections, too!
Sizes: XS – 5XL
Inspired by the old wives' tale involving watermelon seeds and surprise babies, this particular pregnancy announcement shirt will undoubtedly earn you a few belly laughs.
You won't have any issues finding one that fits your tastes, given the many colors and sizing options that it comes in.
Sizes: XS – 4XL
The perfect blend of subtle and hilarious, this Always Read the Fine Print plus-size pregnancy announcement shirt is so fun!
Thanks to its lightweight poly-cotton fabric, people find it very comfortable to wear, even if they spend the entire day running errands to prepare for their new arrival!
Sizes: XS – 5XL
This shirt sure speaks the truth!
For some, the pregnancy glow feels like a mere myth. Feeling exhausted and hungry all the time is far more common.
Available in more than a dozen different colors, this should be in every mom-to-be maternity shirt collection.
Sizes: XS – 4XL
Given its eye-catching print and hilarious quote, this Spoiler Alert, I'm Pregnant shirt is too adorable to pass up!
And, its many color options – combined with its affordable price – means that it would make for the perfect gift.
Sizes: XS – 5XL
If you aren't a big fan of the usual funny graphics, then this Mama in the Making pregnancy announcement shirt will be perfect for you.
This shirt will have other expectant parents begging to know where you shop.
Sizes: XS – 5XL
This Mom Established print is proof that not all pregnancy announcement shirts have to feature hilarious and cheeky quotes.
This adorable plus size graphic maternity t-shirt is a subtle way to announce and surprise friends and family.
With various color options, there's one that will fit everyone's unique taste!
Sizes: XS – 4XL
This pregnancy announcement shirt is definitely a crowd favorite.
The hilarious "Pregosaurus" print is even more special because the dinosaur is pregnant too!
Sizes: XS – 5XL
If your cravings involve a ton of Mexican food, then this Tacos For Two shirt would be your ideal option.
Plus, it would make for the most adorable pregnancy announcement photo with delicious tacos in hand.
Sizes: XS – 4XL
Are you expecting twins?
Make sure that your friends and family know how sacred naps are for expectant parents with this plus size pregnancy announcement shirt!
Featuring a hilarious print, this will definitely be your new staple before naps become a thing of the past.
Holiday Pregnancy Announcement Shirts
Sizes: XS – 5XL
Are you planning to announce your pregnancy around St. Patrick's Day or go to a St. Patty's party? Then, you need this One Lucky Mama shirt!
Featuring an eye-catching shade of green and a couple of four-leaf clovers, this will take your holiday celebrations to a whole new level.
Sizes: XS – 4XL
We're experiencing cuteness overload with this shirt! What a fun way to share your exciting news.
Sizes: XS – 4XL
Autumn is associated with many things, from Halloween to pumpkin spiced lattes.
This particular plus-size pregnancy announcement shirt – especially in its original burnt orange shade – will remind you of all the things you love about this spectacular season.
Sizes: XS – 4XL
Are you feeling extra thankful during your pregnancy?
Let others know that you're expecting a little one soon with this adorable announcement shirt. It's perfect for Thanksgiving and all year-round.
Sizes: XS – 4XL
Inspired by one of the most famous quotes from the hit film Hocus Pocus, this pregnancy announcement shirt is perfect for moms-to-be who can't get enough of those villainous witches.
We love the personalization you can add to the shirt with your child's birth year!
Sizes: XS – 4XL
Are you planning to announce the coming of your little one during Thanksgiving? Then, make sure you do so with this I'm So Stuffed pregnancy announcement shirt.
With dozens of color and size options, you can even get the entire family on board for an unforgettable Instagram photo.
Sizes: XS – 4XL
If you celebrate Christmas or Hanukkah, you might want to snag one of these Bump First® shirts. It's a
great conversation starter at this year's holiday parties.
Without a doubt, you'll be the center of attention!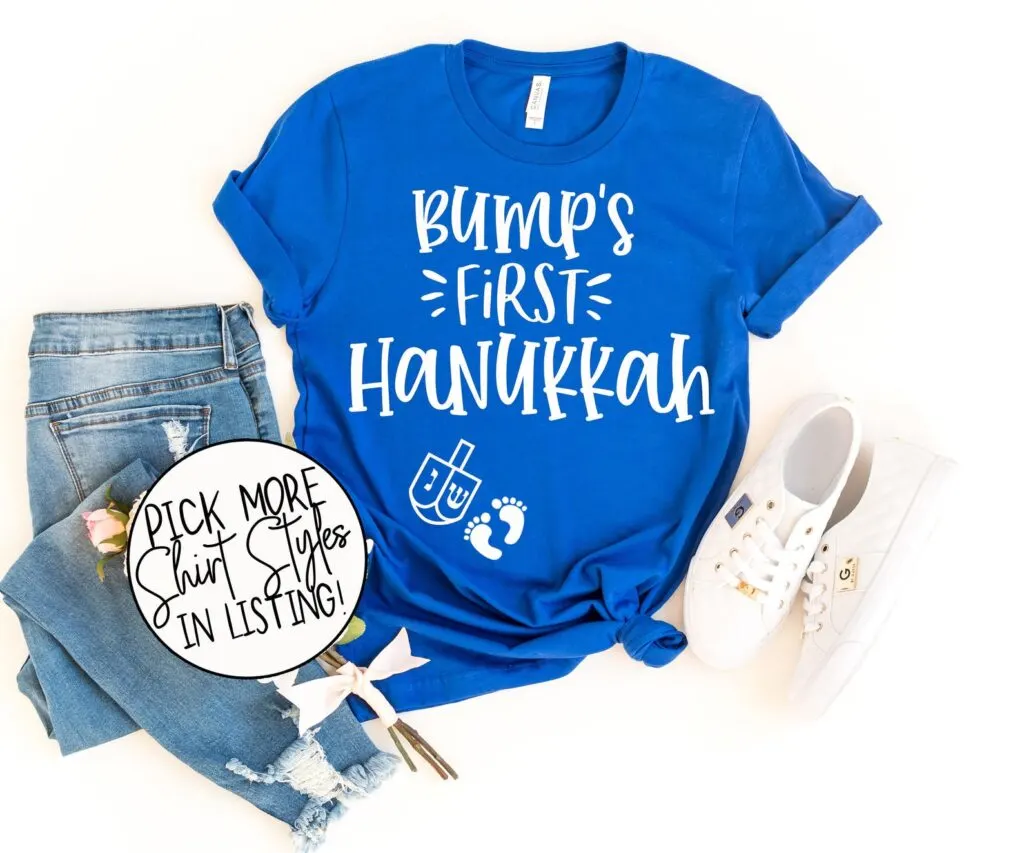 Let dad have some fun with these pregnancy announcement couple shirts! These shirts are such a fun way to announce your pregnancy to your loved ones as a couple.
Plus Size Maternity Announcement Shirts
We hope you found a shirt above that feels like the perfect fit.
Unfortunetly, most maternity clothes in stores only go to a size 2XL/3XL. So, that's why we like the selections above that go to 5XL. But we understand if you want a maternity shirt.
Below are our favorite places to shop for plus size maternity clothes that carry cute graphic tees. The selections change often, so be sure to purchase right away if you find something you love.