Pregnancy announcement shirts for couples in inclusive sizing? Yes, finally!
Are you looking for a fun way to announce your pregnancy?
Do you have a couples-themed baby shower planned and are wondering what to wear?
Are you getting ready to take maternity photos and want a fun top to match with your loved one?
Whatever the reason, we've searched the internet to bring you the best pregnancy announcement shirts for couples up to size 5XL!
Disclosure: Plus Size Birth is a participant in the Amazon Services LLC Associates Program, an affiliate advertising program. As an Amazon Associate, I earn from qualifying purchases. Read more about these links in my disclosure policy.
Pregnancy Announcement Shirts For Couples
These fun pregnancy shirts for couples come in unisex sizing. So be sure to size up depending on when you plan to wear it during your pregnancy.
Sizes: XS – 5XL
If your idea of a perfect date is sitting at home and binge-watching yet another season of Friends, then this pregnancy announcement couple shirt is your best option.
Inspired by the hit show's episode titles, this cool graphic will have the two of you looking as lovable as Ross and Rachel!
Sizes: XS – 5XL
This Pregnant, I Am pregnancy announcement shirt is perfect for couples who can't get enough of the Star Wars universe.
And we've seen first-hand how creative a Star Wars maternity photo shoot can turn out!
These shirts are available in a wide variety of colors, depending on if you prefer the dark or light side.
Sizes: XS – 5XL
You're about to be a MAMA or a DADA, so you might as well wear your new label.
With lots of color options, these cute shirts also make for an excellent pregnancy gift.
And, for those with two Mamas in their family, these pregnancy announcement couple shirts are a perfect pairing because you pick and customize the design!
Sizes: XS – 5XL
Like the MAMA shirts, these also work as pregnancy announcements. But, we think they are ideal for your little one's first birthday!
They are customizable to include the date of your choice. Be it the month they are due, or your child's birthdate.
With a poly-cotton blend, these are comfy shirts!
Sizes: XS – 5XL
Want a subtle way to surprise your family and friends with life-changing news? Then, this Bun Maker pregnancy announcement couple shirt is for you.
Available in many colors, there's one that will fit both mom and dad's tastes.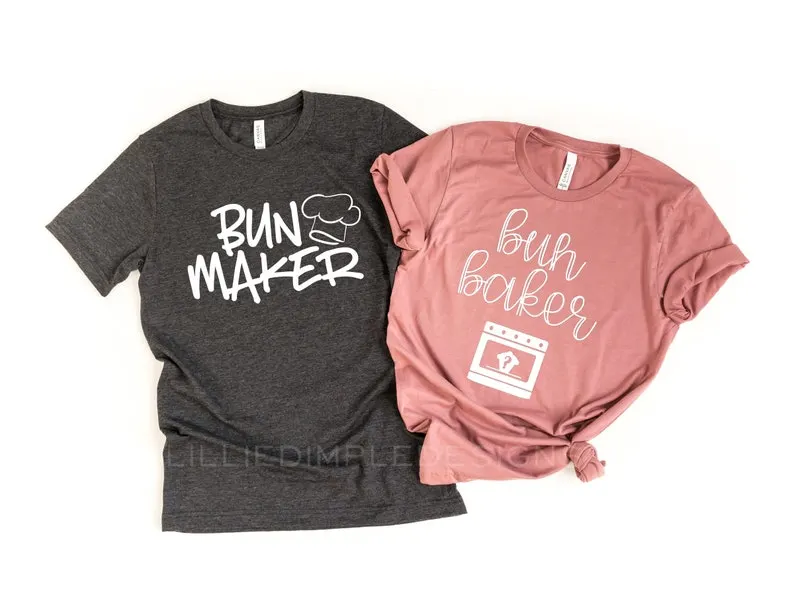 Sizes: XS – 5XL
This belly and beer pregnancy joke is a classic.
The attention-grabbing graphics, combined with the arrows pointing at both your bellies, will have your friends and family in hysterics!
We've even seen people make their own shirts. So, if you need sizing beyond 5XL, you can take a DIY approach with a plus size t-shirt and fabric markers.
Sizes: 3 Months – 5XL
These couple's pregnancy announcement shirts are a favorite because you can get the whole family involved!
There's something for nearly everyone with sizing from 3 months to 5XL and over 20 color options.
Plus Size Holiday Pregnancy Announcement Shirts for Couples
The holidays are such a thrilling time to celebrate happy news, so here are some fun pregnancy announcement couples shirts you'll love!
Sizes: XS – 5XL
How sweet are these "Just Call Me Cupid" and "Special Delivery From Cupid" shirts?
They'd make for an unforgettable Instagram post, especially around Valentine's Day!
Sizes: XS – 4XL
Speaking of holidays, planning to announce your pregnancy sometime around Halloween? Well, you're in for a treat!
These hilariously spooky Halloween Skeleton pregnancy announcement couple shirts will ensure that none of your family and friends forget about how you shared your good news.
Sizes: XS – 4XL
Here's another option for adorable Halloween-themed pregnancy announcement shirts.
With several color options available, you're sure to find a spooky fun vibe.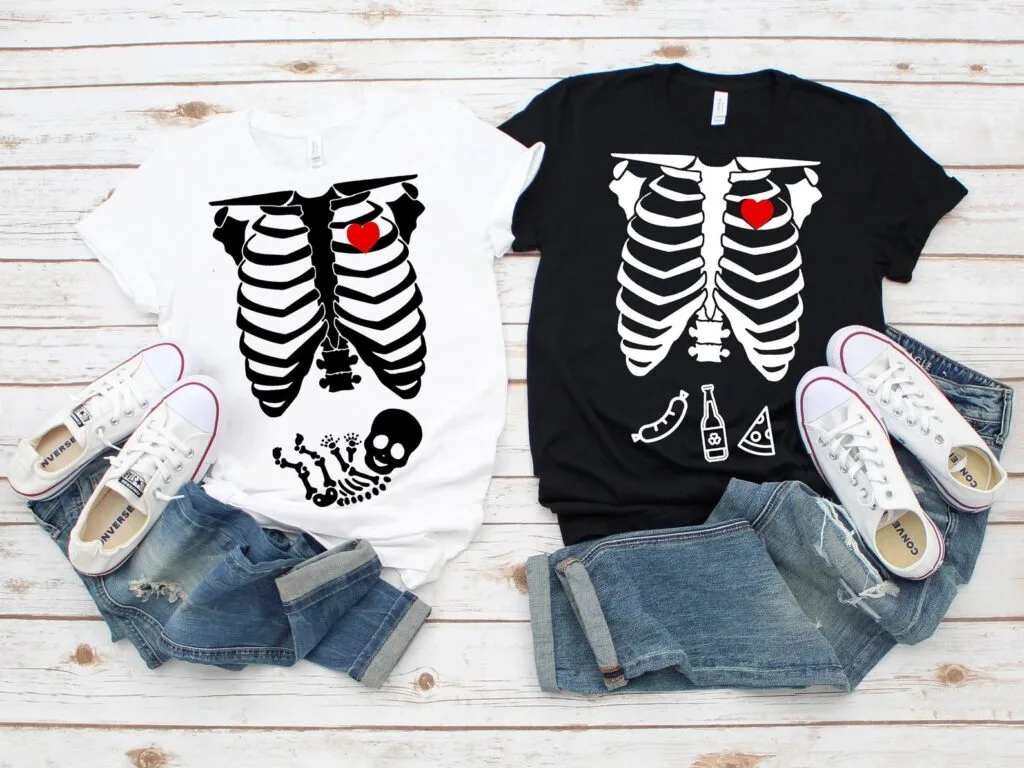 See our guides for even more Halloween graphic shirts and adorable plus size maternity costumes!
Sizes: XS – 4XL
Dad can join in the fun with these matching Little Turkey pregnancy announcement shirts.
What a fun conversation you'll have around this year's Thanksgiving table!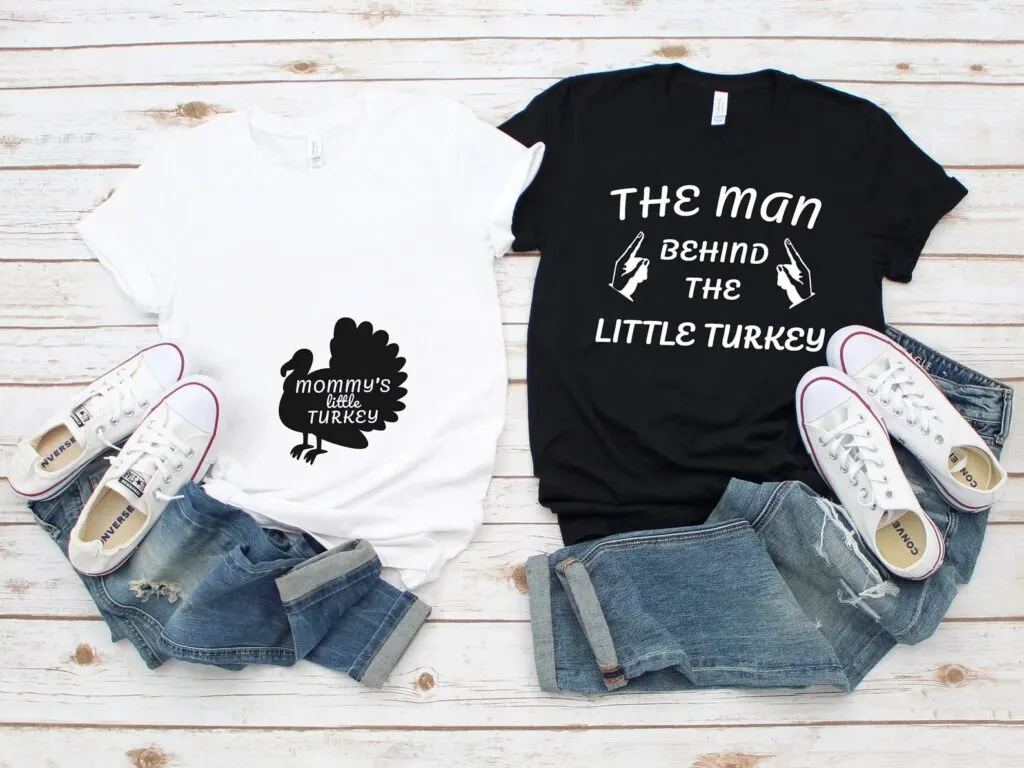 Sizes: XS – 5XL
Can't think of what to wear for this year's holiday photos?
Then, these hilarious pregnancy announcement couple shirts are for you.
Nothing beats a good pun, and the "Oh Deer, I'm Pregnant" graphic is undoubtedly a funny one.
Thanks to these cute prints, your pictures this season will be unforgettable. And with sizing up to 5XL, most couples can have a jolly good time in these shirts!
Sizes: XS – 4XL
Looking for the perfect outfits to wear for family photos in front of the Christmas tree, then you've found them. And we sure agree, your bundle of joy is the best gift ever!
Sizes: XS – 4XL
Now, this is a cheeky way to share the good news with your friends and family!
These pregnancy announcement couple shirts, "Just Call Me Santa" and "Special Delivery from Santa," is simple but great fun.
See even more plus size pregnancy announcement shirts!
We have an ultimate guide to plus size maternity clothes and some of our favorite retailers below for even more adorable maternity options.