Halloween is a treat, and everyone wants to feel included. When you're plus size and pregnant, it can be tricky to find plus size Halloween maternity shirts and sweatshirts that fit.
If you're crafty, you can make a DIY plus size Halloween costume, but many people just want to throw on a Halloween shirt and call it good.
Have no fear because we have you covered with plus size maternity Halloween shirts and sweatshirts!!
Disclosure: Plus Size Birth is a participant in the Amazon Services LLC Associates Program, an affiliate advertising program. As an Amazon Associate, I earn from qualifying purchases. Read more about these links in my disclosure policy.
Plus Size Maternity Halloween Shirts
We're sharing options for plus size Halloween shirts that cover bumps of all sizes and shapes (like a B Belly). While many of the options go to size 3XL – we also found adorable shirts that go to 6XL.
This shirt is an adorable and affordable "costume" to show off your bump this Halloween.
You can wear it to work or trick-or-treating with the kids!
The My Little Boo maternity shirt goes up to a 3XL and is from Motherhood Maternity. Easily order this shirt on Amazon if you don't see it at your local Motherhood Maternity location.
This Pumpkin Smuggler shirt is a little more of a "costume" than the My Little Boo – but they are both super cute!
Like, My Little Boo, the smuggler shirt is from Motherhood Maternity and goes up to a size 3XL.
You'll surely get a lot of attention around town with this fun shirt! Pair it with plus size leggings or plus size yoga pants.
Hocus Pocus is a Halloween classic and we love this maternity shirt that goes up to a size 3XL. You can also get the v-neck option that goes to a 4XL.
Dress this shirt up with a plus size skirt or dress it down with plus size maternity jeans.
Due to the popularity of Hocus Pocus, we wanted to make sure those who might need larger shirt options feel included!
This Amazon shop carries fun plus size holiday shirts that go up to a size 26/28. Best of all, the reviews say the shirts are true to size.
This plus size Winnie I Smell Children shirt from Etsy goes to size 5XL.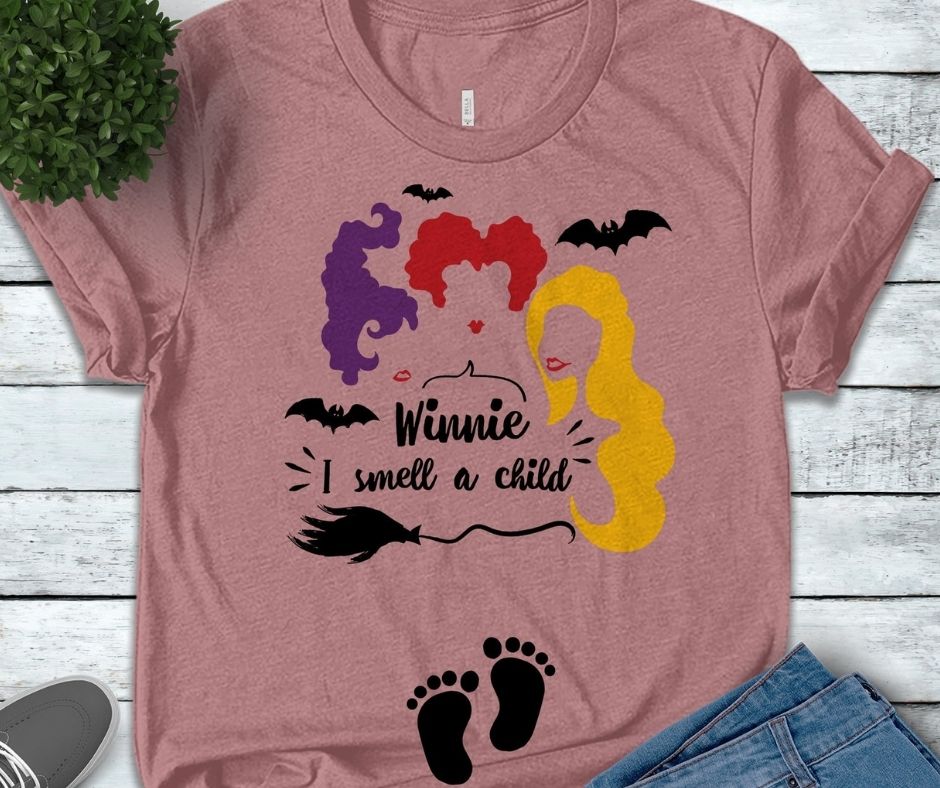 This Kick Or Treat shirt reminds us of another favorite, You're Kicking Me Smalls, we have listed via our article, 11 Cute Plus Size Maternity Graphic Tee Options You've Been Waiting For!
You can order the Kick Or Treat shirt via Etsy and it goes up to a size 3XL.
You'll wear this My Little Pumpkin shirt long after Halloween is over!
This sweet shirt, that's available via Etsy, allows you to add your due date. Such a fun personalization!
It comes in a few different styles from a unisex t-shirt and v-neck that goes to a size 4XL and a 2XL tanktop.
Pick from black, white, or orange t-shirt colors.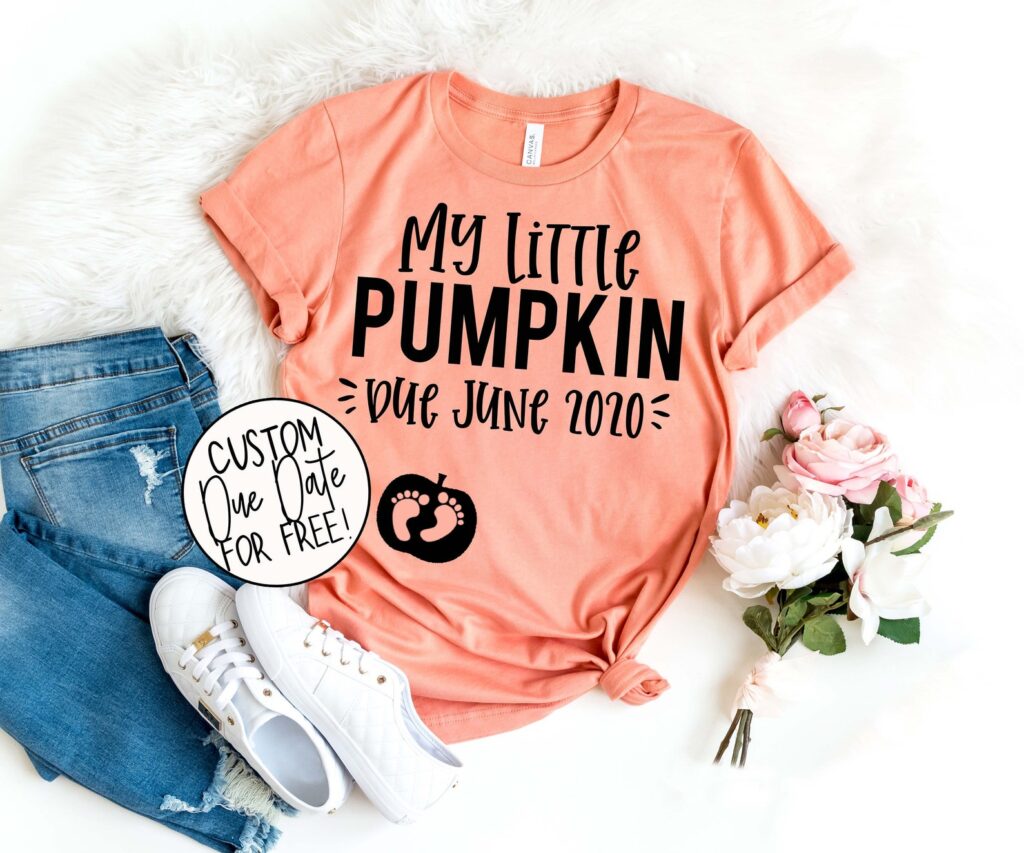 Here's another adorable option – My Little Bumpkin!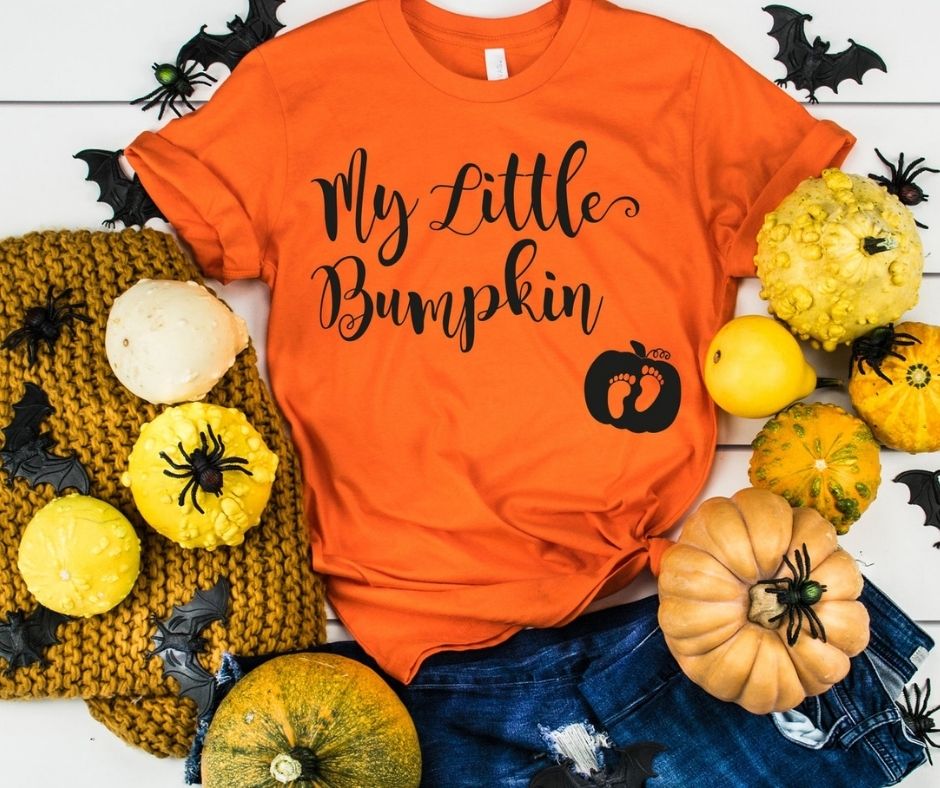 These oversized off-the-shoulder sweatshirts are fun and cozy! They make an easy Halloween costume with a pair of plus size leggings (size-up to wear them throughout your pregnancy or buy plus size maternity leggings).
After trick-or-treating, snuggle up on the couch and watch a Halloween favorite flick like The Nightmare Before Christmas.
We also adore this "frequent flyer" sweatshirt that works well as a plus size maternity sweatshirt.
Nearly everyone can get in on the Halloween festivities with this plus size pumpkin shirt that goes all the way up to a size 6XL!
You can also purchase this shirt in black with orange pumpkin details.
Consider grabbing a pair of scissors and cut up your shirt in many different ways to add a little pizazz to this standard unisex t-shirt shape. Or grab their v-neck design that goes up to a 4XL.
Maternity couples t-shirts are a lot of fun to wear as a costume or for a pregnancy announcement photoshoot!
These adorable plus size Halloween couples shirts go to size 4XL. They come in sixteen different colors so you can customize your spooky look!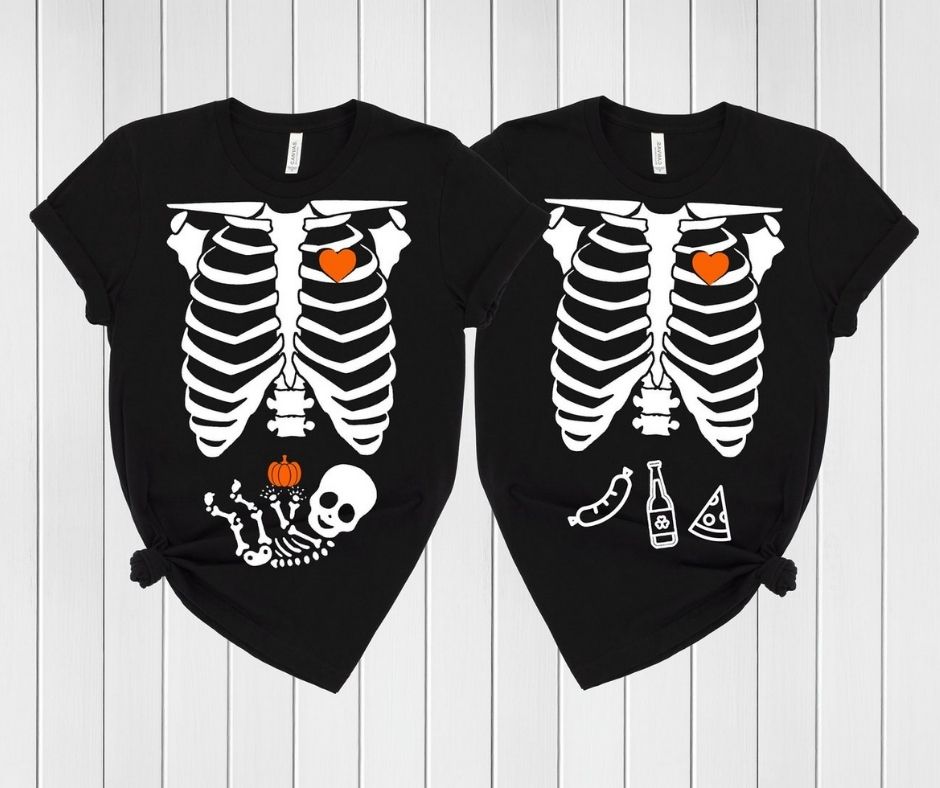 10. DYI Plus Size Halloween Maternity Shirt
The options are truly limitless with the DYI approach!
Making your own Halloween maternity shirt is easier than it sounds.
You'll want to start by purchasing a plus size maternity shirt or size-up and save a few dollars by buying a regular flowy plus size shirt.
Then happy hunting through a maze of Halloween iron-on patches until you find one that meets your fancy.
Wishing you a spooky fun time this Halloween season!