After continually being asked where people can find Mommy And Me matching plus size robes and swaddles, I'm delighted to review this Dressed To Deliver plus size maternity robe and swaddle.
As with all sponsored product reviews on my blog, I only promote size-inclusive items that I truly use and would recommend.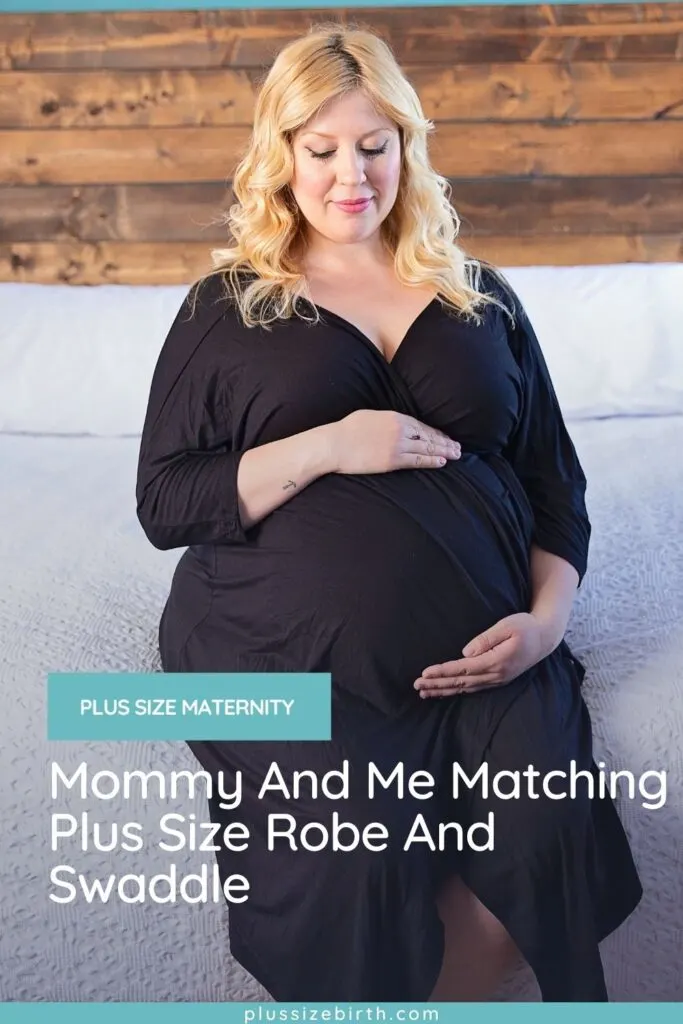 Plus Size Robe And Swaddle Set
When it comes to adorable baby announcement photos, Mommy and Me matching robe and swaddle pictures are all over Instagram. As a plus-size mom, I remember looking online and finding nothing that would fit me! It was disheartening. I wanted a Mommy And Me Matching plus size robe and swaddle! I wanted to be a part of this adorable photo trend too!
Little did I know I'd go into labor a month early without a chance to pack my hospital bag let alone plan for cute pictures in the post-delivery! My husband, Chris, pulled random things together while I labored.
Chris packed frilly underwear for me (adorable yes but not practical for post-birth needs!). Our son wound up with a mismatched outfit. While I don't have an adorable Instagrammable Mommy and Me photo to cherish, I sure have a hilarious memory to share.
Lucky for you, I'm thrilled to share one of my favorite size-inclusive maternity brands has launched a Mommy and Me matching robe and swaddle collection! It's perfect for those hazy postpartum days when you want to capture every new moment and not worry about what you're wearing.
It's basically a plus size mom-to-be dream come true!
Their plus size robe comes in six different patterns, from floral to stripes, with options up to 4XL/5XL.
Yes, you read that correctly – 4XL/5XL plus size maternity robe!
I first learned about Dressed To Deliver years ago, when I was searching for a plus size labor gown.
Dressed To Deliver was the only company I could find that went up to a 5XL. Their labor gown has all the necessary snaps to allow for easy access for monitoring during labor and breastfeeding postpartum. They also work great as a maternity dress with buttery soft fabric.
When I heard the buzz that Dressed To Deliver was creating a plus size robe and swaddle set, I knew they'd roll out something with the same outstanding quality.
As you'll see below, their robe fits my plus size body perfectly!
Plus Size Maternity Robe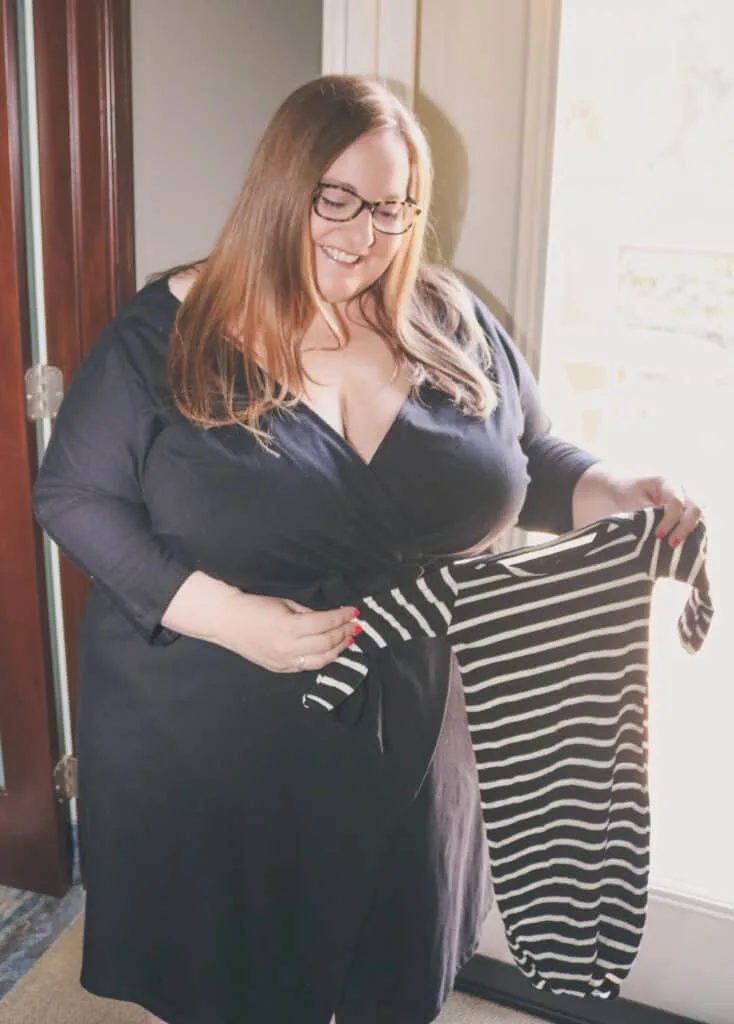 I'm pictured wearing the 4XL/5XL Mommy And Me Matching plus size robe in black.
The crossover design is terrific for skin-to-skin and loving the skin you're in. I kid you not, my first impression when I put my robe on was how flattering it is on my body. I even said to my husband, "Damn, I look good!"
I've never owned a robe that felt like it was designed for my plus size body. I can only imagine how good it would've made me feel about my body after giving birth.
The robe is 95% rayon, and 5% spandex for that ideal stretch with a belt with length that is extremely accommodating for larger bodies. Plus, you can toss it in your washer and dryer for cleaning along with all the countless loads of laundry you'll be doing as a new mom.
The swaddle and matching hat is too cute for words! Like the robe, the material is extremely soft but also breathable. My only complaint is that I don't currently have a baby to put in the swaddle!
Below you'll see some cute Mommy and Me combos in the photos, and there are even more options you can view on their website.
Plus Size Mommy And Me Matching Robe And Swaddle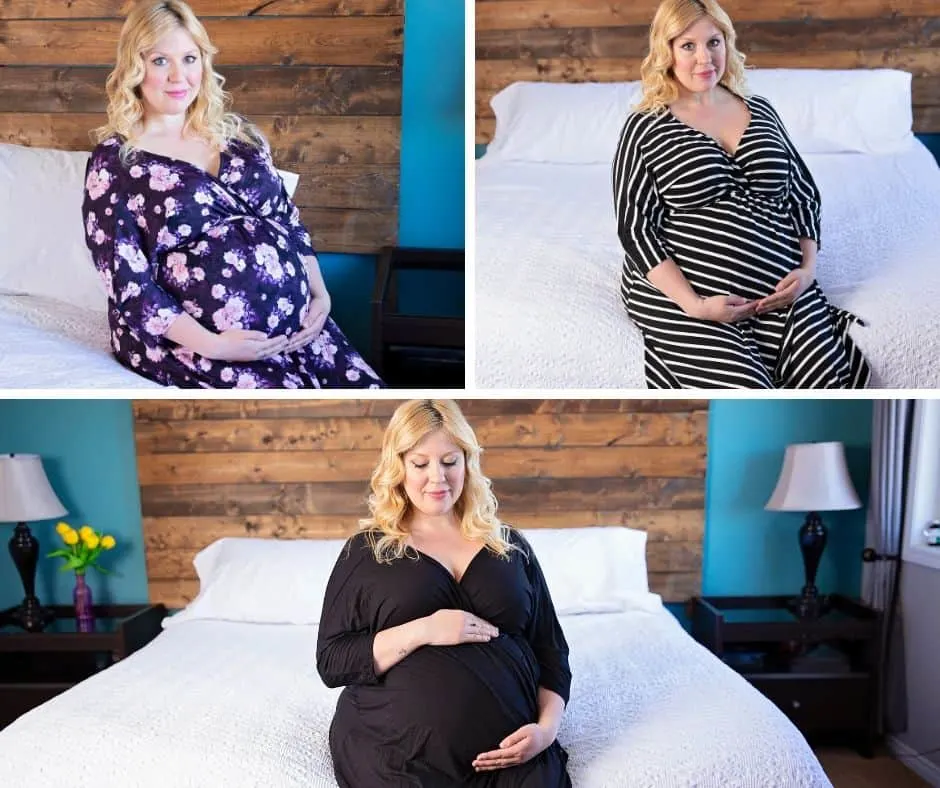 I hope you learned from my story to order your Mommy and Me combo early because you never know when you'll go into labor… pack that hospital bag today!
This robe is great for pregnancy, postpartum, and I'm wearing it well into motherhood. Order yours today for yourself or to give as the perfect baby shower gift for a mom-to-be.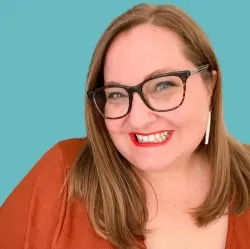 Latest posts by Jen McLellan, CBE
(see all)