Welcome to the article you've searched for but didn't know existed! We're going well beyond the frustrations of trying to find plus size maternity clothes today. Here we'll cover all the embarrassing plus size pregnancy questions you wouldn't dare ask even your best friend.
During pregnancy, your body changes in magnificent (and sometimes weird and scary) ways to accommodate growing a baby.
When you're plus size and pregnant, these changes can impact both your hygiene and body image.
From struggling to reach to wipe to tips for comfort when you have an apron belly – here are the top embarrassing plus size pregnancy questions (and the answers you've been waiting for)!
Disclosure: Plus Size Birth is a participant in the Amazon Services LLC Associates Program, an affiliate advertising program. As an Amazon Associate, I earn from qualifying purchases. Read more about these links in my disclosure policy.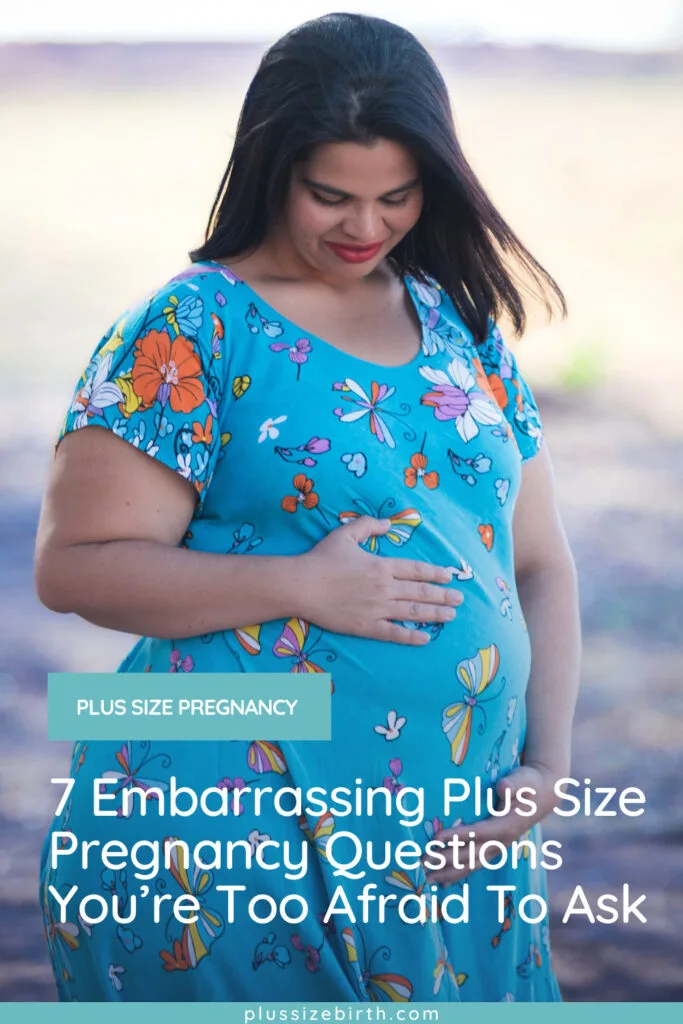 Embarrassing Pregnancy Questions
1. Is there an easier way, aside from the tiny specimen cup, to provide a urine sample during my prenatal visits?
Providing a urine sample when you're plus size can be a messy and frustrating experience.
I encourage you to address this with your care provider. Ask them to provide you with a urine catch basin.
I know for some it's too embarrassing to ask for support with providing a urine sample.
A workaround is to purchase your own! You can bring your very own handy urine catch basin (purchased discretely on Amazon), concealed in a large purse to your doctor's appointment.
If you bring a urine catch basin, be sure to wash it out thoroughly before and after each use.
I recommend bringing a plastic bag to put the basin in after cleaning so the inside of your purse doesn't get wet.
One other creative option – try using a red Solo cup! Give this method a test-run at home to make sure it works well for you.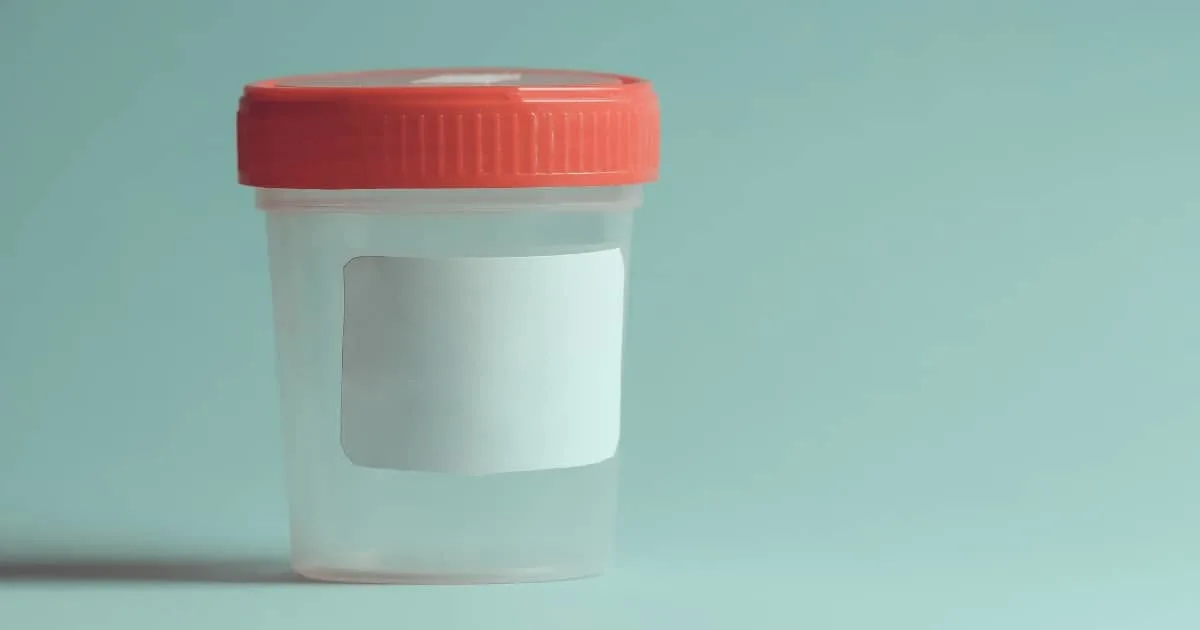 2. I'm concerned about my body odor during prenatal care exams. Any tips?
When you're plus size and have an apron belly or other areas of your body that chafe, you can produce a strong body odor.
Along with basic personal hygiene, one tip that might help you feel less self-conscious during exams is having a package of baby wipes in your purse.
Give yourself a little wipe down before your prenatal care exam. With that said, know that your care provider has seen it (and smelt it) all!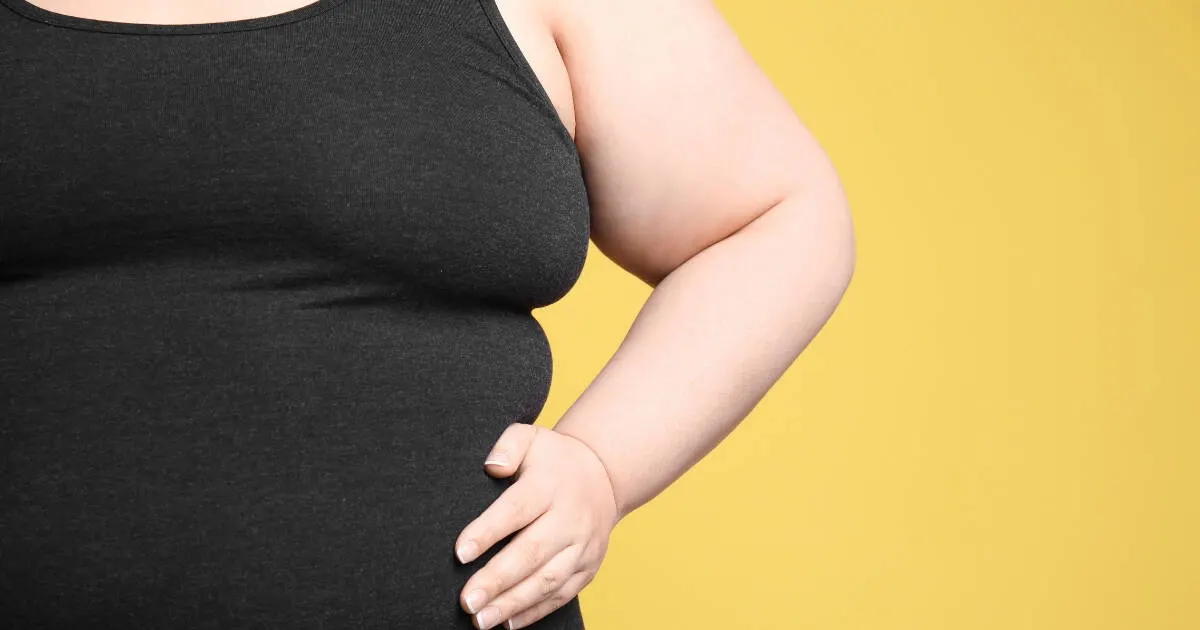 3. Help! My hanging belly over my pubic area is uncomfortable as my pregnant belly is expanding. What can I do?
A hanging belly (also called a fupa, or apron belly) can cause discomfort. This is one of those embarrassing plus size pregnancy issues many women face, especially those who have been pregnant before.
Below are our three top comfort measures but you can learn even more in our article, What's An Apron Belly? Practical Solutions And Comfort Tips!
Wear a belly band! A belly band provides support and tightness to help stop your hanging belly from chafing. Purchasing a plus size belly band not only helps to bring comfort from a hanging belly but can also reduce lower back pain and aching from round ligament stretching.
High-waisted plus size underwear and stretchy pants (plus size leggings or plus size maternity yoga pants) are another helpful way to get compression. Getting support and structure in this area keeps things right where you want them.
Anti-chafing gel can soothe tender and chafed skin. Some people swear by coconut oil but there are lots of anti-chafe products on the market for this specific purpose as well.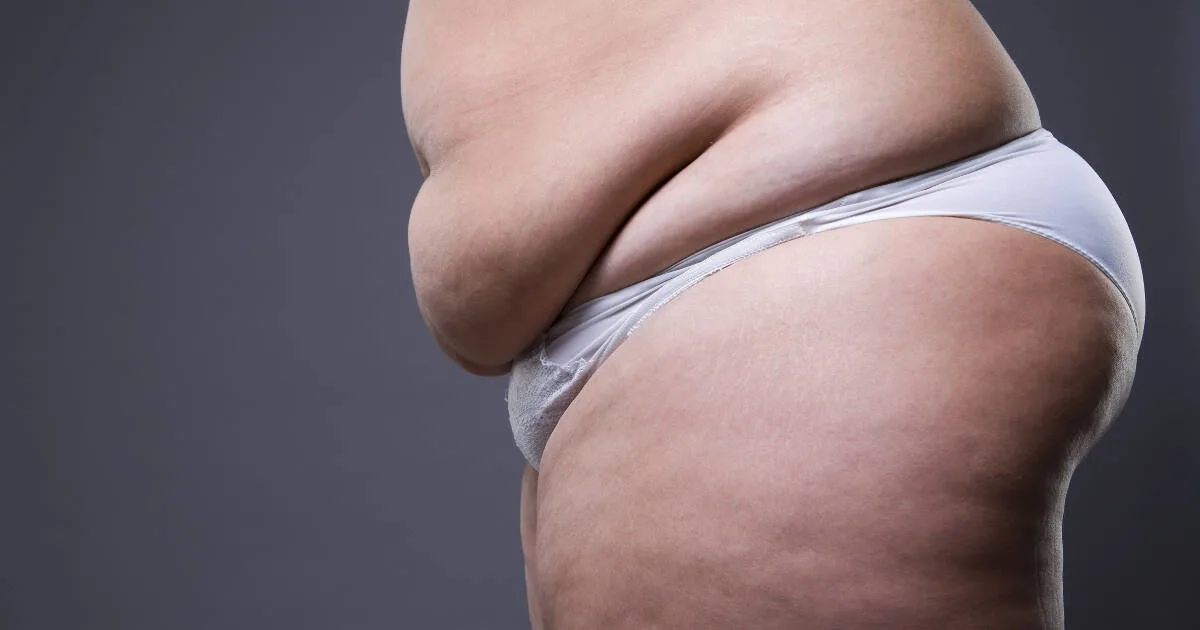 4. I'm having trouble reaching to wipe my butt! What can I do?
This is one of those embarrassing pregnancy questions many people are too afraid to ask. As your body expands for a baby, it can become difficult to reach to wipe your butt.
And let's be real and say that some people go into pregnancy having a little trouble being able to reach their booty.
To solve this problem, I have a multi-use solution for while you're at home and a tool you can take on the go. What's most important is that you find a solution that works great for you because good hygiene is critical.
First off, two words – get yourself a bidet sprayer!
While it's common knowledge that a bidet sprayer is a must-have during cloth diapering, it's also a lifesaver when potty training. Those little potties get pretty gross, and a bidet sprayer cleans them up without having to wash out poop in your bathroom sink where you also brush your teeth (yuck!).
What does cloth diapering and potty training have to do with wiping?
The primary purpose of a bidet sprayer is to clean your bottom! It is, in fact, commonly used for this purpose outside of the United States.
A sprayer gets the job done without you having to do yoga poses to reach to wipe during pregnancy.
I shared the other benefits of a bidet sprayer so you won't feel embarrassed about buying one for your booty!!! That's right –blame the kids for this purchase – no harm done.
If you're not in the comfort of your home, or if don't want to buy yourself a bidet sprayer, you can purchase a wipe extender on Amazon. It's literally made to help you reach all your nooks and crannies.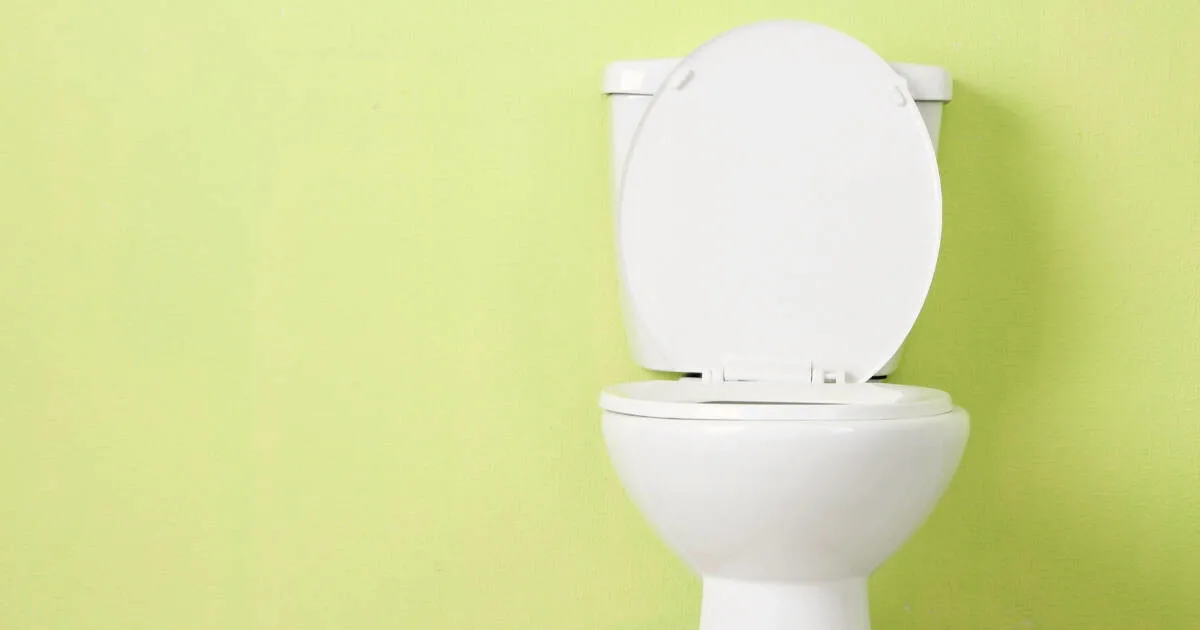 5. Any tips for plus size pregnancy sex? I want to be intimate with my partner but my belly is getting in the way.
Pillows are your best friends – lots and lots of pillows! Before I share more about pillows, I want to provide a friendly reminder that there's a lot more to intimacy than penetration.
While we talk about sex, we're also talking about sharing intimate moments with your partner.
Intimacy can be a loving massage or a fun make-out session.
Pregnancy is a time in your relationship where you can either bond and become closer together or drift apart. I hope for you it's a time where you explore romance in your relationship like never before.
Back to the pillows – using pillows or wedges during sex can help you get into comfortable positions and support your belly at the same time.
If your apron belly is bothering you, consider wearing a belly band or lifting your stomach if it gets in the way.
Here are some articles with a lot of great tips for plus size pregnancy sex!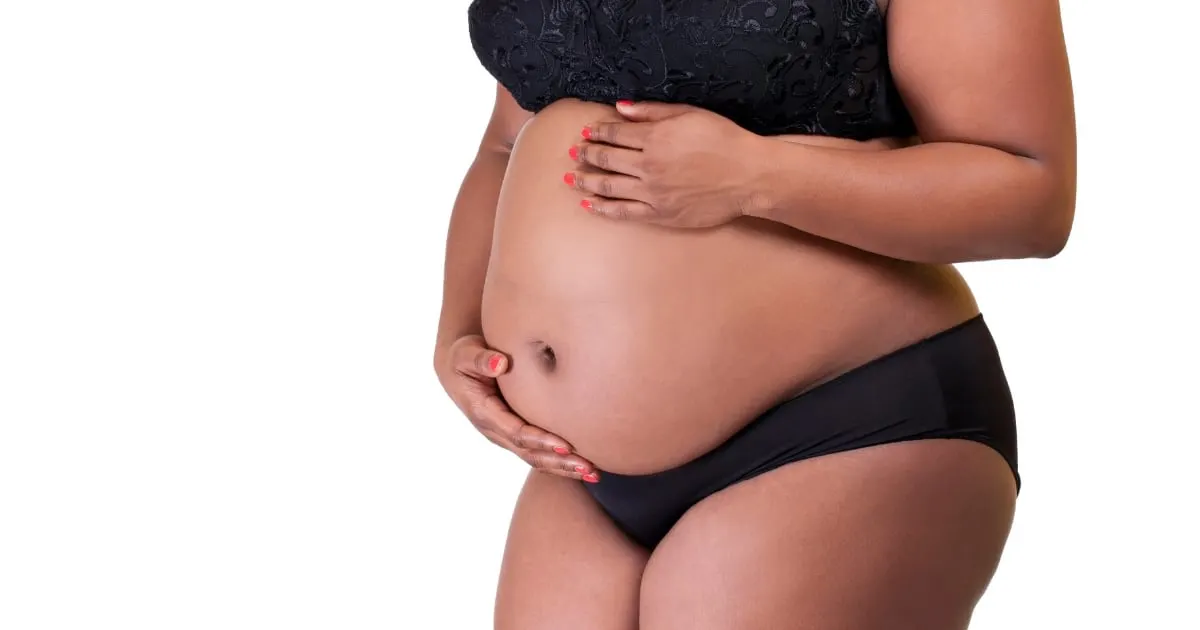 6. I can't reach to shave, what should I do?
Stop shaving! Okay, maybe that's not the answer you wanted, but there are plenty of hairy pregnant people (and non-pregnant people), and there's absolutely nothing wrong with that.
If you want to shave, then you can buy a long reach shaving wand. This can help you shave your legs but still might be tricky for a bikini shave.
If you want to shave your pubic area, consider asking your partner to help.
We've covered intimacy above, and there's something really sensual and beautifully vulnerable about having your partner shave you. It's also a handy way to get the job done for free!
Lastly, if you'd prefer to get a little pampering, go to a body-positive professional waxer or esthetician.
You can connect with one by asking your plus size friends if they have a recommendation.
Another tip is to call around to local waxers and ask them about their experience supporting plus size pregnant women.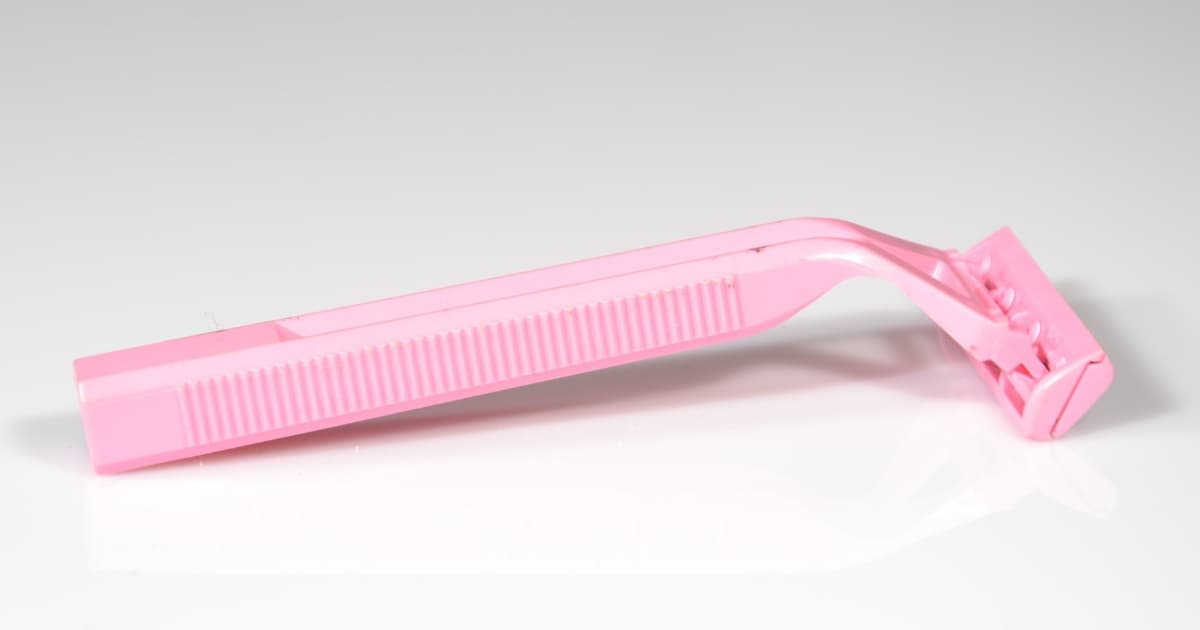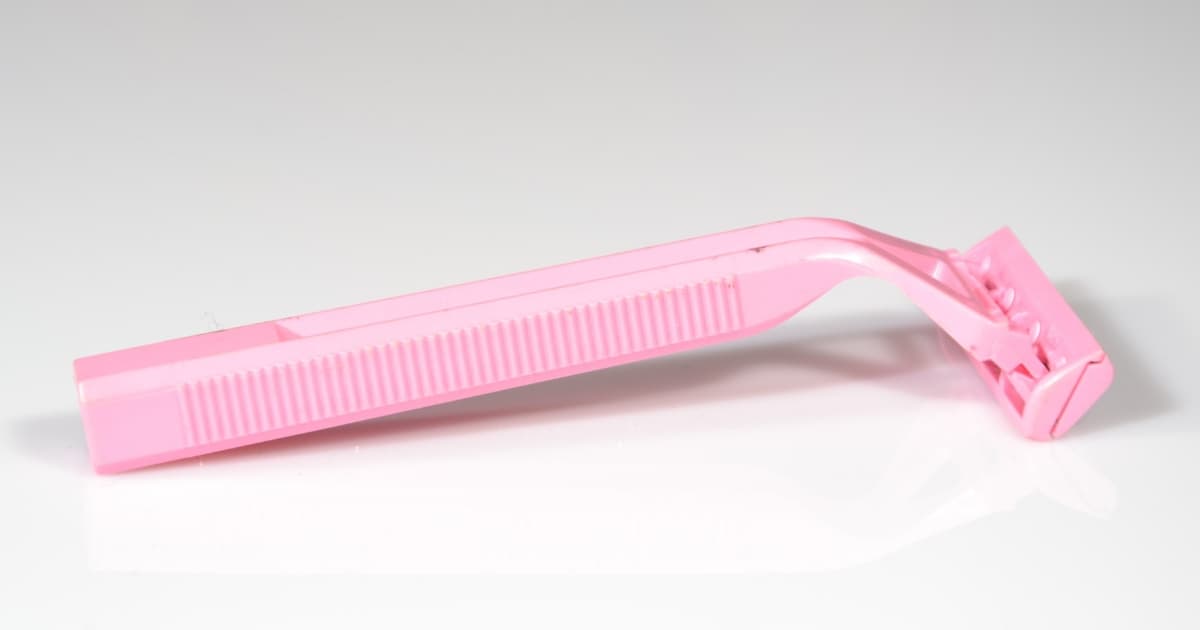 7. Am I too big for the equipment my doctor needs to support me during pregnancy?
This is such a legitimate concern and something that can cause embarrassing plus size pregnancy experiences!
Most exam tables and hospital beds have a weight limit exceeding 500 lbs.
However, there are many little things that not all providers take into consideration – from having lobby chairs without arms to a large blood pressure cuff in your exam room.
The reality is you're going to have to be your own best advocate here! While I'd love to say all care providers provide larger hospital gowns and comfy waiting room chairs, the reality is, that isn't always the case.
If your care provider doesn't have a scale that goes up to your weight, you should say something.
I know weight is a triggering topic, but tracking this is one of the many ways a provider can assess for medical concerns during your pregnancy.
Along with a scale that meets your needs, having your blood pressure taken with the correct size cuff is incredibly important.
A blood pressure cuff that isn't the right size will give you an inaccurate reading. If your provider is using the wrong size cuff, you need to speak up or find a new provider.
As far as gowns, while you'll probably be okay with your prenatal care provider, you might not be provided with a large enough cover during ultrasounds. There's no shame in bringing your own, and there are many options available via Amazon! Who knew?!
Those are just a few items I wanted to address, but if you have any concerns, you need to speak up.
If you don't feel comfortable talking to your provider about your worries and needs, that's a clear sign they are not the right provider for you.
You want to connect with a size-friendly care provider who knows how to support you and treats you with dignity.
Your physical health and emotional well-being are largely improved when you feel safe and seen by your care provider so be brave and demand the best.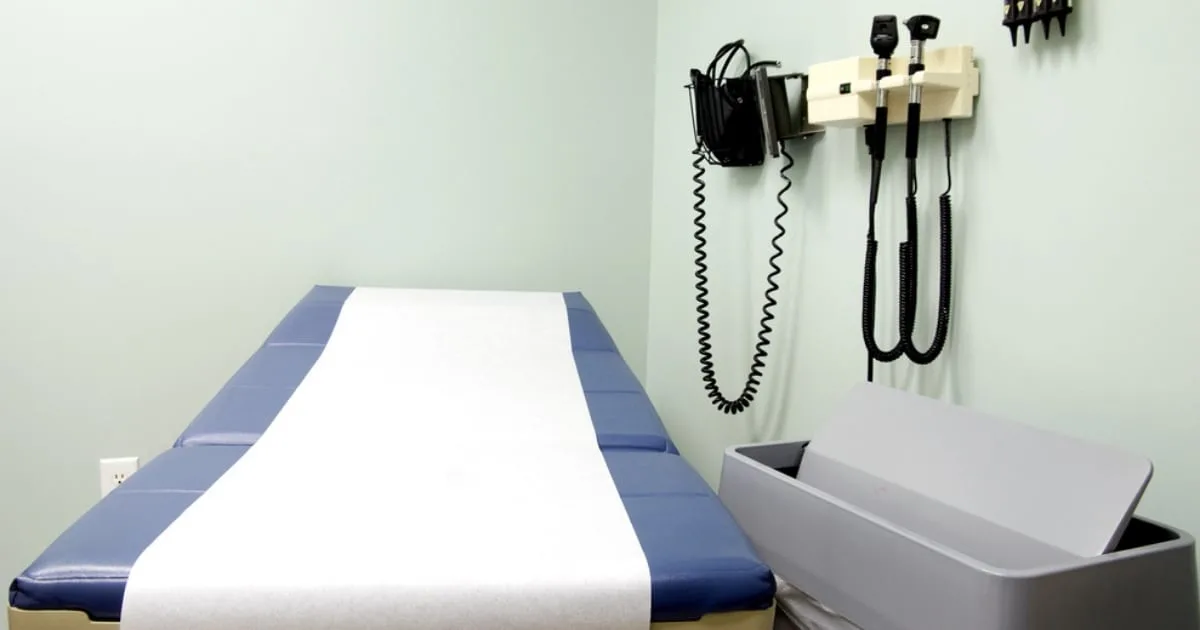 There you have it! The most embarrassing plus size pregnancy questions – answered.
If I missed anything, feel free to post an anonymous question within the comments below and I'll answer.
Be sure to check out the My Plus Size Pregnancy Guide that covers everything you could want to know about being plus size and pregnant.
Most importantly, remember that your body is amazing, apron belly and all!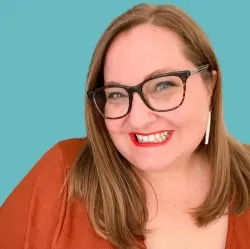 Latest posts by Jen McLellan, CBE
(see all)