This is a paid promotional blog post and I also received products for this review. If you've been following my blog for a while, you know that I'm very selective about the products I talk about. It has to be something I'd personally use or something my family would honestly add to our lives. You can read my disclaimer policy to learn more.

My friend Angela and I spent our pregnancies in the pool.  Our due dates were a month apart and we'd spend almost every Monday, Wednesday, and Friday evening talking about how our boys would become best friends while doing water aerobics.  If it wasn't for all of that time spent in the pool I don't think I would've cared about keeping my legs shaved during pregnancy.  I remember, as my bump finally popped, how it became more and more difficult to shave.  I was concerned about slipping while shaving and it was hard to reach all the way down to the bottom of my legs.
I wish I would've known about the pregnant shaving tool, Giraffe Bath & Body Wand when I was pregnant!  When they contacted me for a product review for the Plus Size Mommy Memoirs blog I was intrigued.  Giraffe Bath & Body Wand is designed to extend the reach of your razor to make shaving easier.  It has two razor attachments allowing for it to fit pretty much any razor you're already using.  The wand extends and pivots to get to all of those hard to reach areas.  As you see in the picture it is purple and white and purple just happens to be my favorite color.  So I liked the look of it and it arrived with a cute travel and storage bag.

As a busy mother of a toddler shaving my legs is a luxury now so I was excited to try this gadget out.  Once I attached my razor to the wand I was concerned about how long it was.  I'm only 5′ tall so something that long made me a little unsure about how it would work as I broke out my luffa to lather up my legs.  Now it was time to put this wand to the test and I'll say it worked great!  I really liked how the wand pivots and see how it makes shaving while pregnant easier.  I was happy to have such a good reach shaving the backs of my upper legs that I often skip.  As a plus size woman, it's a little bit of a stretch to get certain areas with or without being pregnant.  Just knowing that you've reduced your odds of slipping in the shower while shaving makes the wand well worth the $29.99.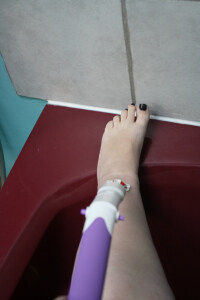 I'm thrilled to own this shaving tool for the next time I'm pregnant! I even plan to use it on the rare occasion I get to shave my legs before taking my son for a swim playdate with his best friend Sawyer.
Get yours today for 20% off!!!  Just enter code PSMM at checkout.
Get Support!
Subscribe to our informative weekly newsletter, and you'll receive a free resource on how to connect with a size-friendly care provider.