Plus Size Pregnancy Support 
Here you'll find positive resources and plus size pregnancy support! Be sure to subscribe to our newsletter to receive a free guide on how to connect with a size-friendly health care provider.
Get Support!
Subscribe to our informative weekly newsletter, and you'll receive a free resource on how to connect with a size-friendly care provider.
Plus Size Pregnancy Tips 
What can expect when having a plus size pregnancy? 
While being plus size and pregnant does come with some increased risks, people of all sizes have healthy outcomes!
Books like, What to Expect When You're Expecting, are full of complicated nutritional plans that can bring on a loss of appetite just by looking at them. Simplify all of the rules by doing your best to eat food that isn't highly processed and nourishes your body. Also, consider working with a nutritionist.
The secret to committing to an exercise routine is finding something fun! Water aerobics and swimming are two activities that can be truly enjoyable during pregnancy. Consider starting a walking group with co-workers. Do what works for you but always check with a care provider before starting a new exercise routine.
During pregnancy, you want to work with someone who will not only provide excellent care but also build confidence in your ability to have a healthy outcome for you and your baby. A size friendly health care provider does just that! You owe it to yourself to connect with an OB-GYN or midwife who will treat you with dignity.
When will I start to look pregnant? 
I wish I could answer this question for you, but the reality is, it's different for everyone. Some plus size women start showing early in pregnancy (especially if this isn't their first pregnancy) while others have bellies that may never "pop". It's important to know that even if you don't show as early or as much as you wish you would – your body is still growing life within you, and that's amazing! Read my story and see a survey of 100 plus size women sharing when they started to look pregnant – Where's My Bump? Plus Size Pregnancy Woes
Where can I see images of pregnant women my size? 
Sharing images of plus size pregnancy is super important to us as it helps to normalize plus size pregnancy for everyone.
You can see even more stunning bumps via the Plus Mommy Instagram page that I encourage you to follow!
Plus Size Maternity Clothes 
Where can I find plus size maternity clothes, support belts, babywearing options, nursing bras, and pillows?
Maternity Must-Haves Maternity Clothes Featured on Instagram  Maternity Gowns  Support Belt/Belly Bands Nursing Bras Nursing Pillows Plus Size Babywearing Carriers and Wraps      
Should I have maternity photos taken even if I don't look like most of the images I see of pregnant women? 
The most prevalent regret I hear from moms on the Plus Mommy Facebook page is not feeling confident enough in their body to have maternity photos taken. Even if you just take bathroom selfies, it's so important that you document your pregnancy. These pictures aren't only for you – your children will cherish them. Due to so many people wishing they would've taken photos, I've spent a lot of time collecting stories and images for our blog. 5 Tips for a Stress-Free Plus Size Maternity Photo Shoot Plus Size Maternity Photo Shoots & Stories  Plus Size Maternity Dresses & Outfits for Photo Shoots
My belly looks more like a B than a D. Is this normal? 
Yes! If you have a belly that's shaped more like a "B" than a "D" during pregnancy, it's completely normal! See photos and learn more here – What's a B Belly?
How much weight should I gain? 
Here are pregnancy weight gain recommendations from the Institute of Medicine – "Overweight women carrying a single fetus are advised to gain a total of 15–25 lbs. during pregnancy (compared with 25–35 lbs. for normal-weight women). Obese women are advised to gain less: 11–20 lbs." It can be quite discouraging to be told you should only gain around 20 pounds during pregnancy. However, it isn't uncommon for plus size women to actually lose weight during pregnancy. Be sure to have an open line of communication with your care provider and address any concerns you have. As long as you are making healthy choices throughout your pregnancy, most often your body is going to gain what it needs to do to grow a baby.
Where should I start when it comes to nutrition during pregnancy?
While I have a few helpful nutritional articles, I highly recommended you connect with a Registered Dietitian to account for your own unique nutritional needs. Find out if your medical group or insurance offers payment assistance. Even if you don't have coverage, investing in your health (if you're able to afford to do so) will pay off in the long run. Here are two articles that might be worth reading, depending on your situation. The Best Plus Size Pregnancy Diet Gestational Diabetes Nutrition Tips for Plus Size Women
Can you provide me with options for being physically active during pregnancy?
Absolutely! Moving your body, in whatever way feels doable to you (after getting medical clearance) is terrific for your physical and mental health. From starting a walking group to joining a water aerobics class, here are 7 Plus Size Pregnancy Exercise Tips I hope you'll try.
How can I connect with a size friendly health care provider? 
Connecting with a size friendly care provider can be the most significant game changer when it comes to having a healthy plus size pregnancy. I'm so passionate about this topic that I've created a free guide to help you out! It includes tips on how to connect with a size friendly care provider and questions you can ask to make sure they're the perfect fit for you. Simply subscribe to my newsletter to download the guide immediately – My Size Friendly Care Providers Guide
Are all medical facilities size friendly? 
Sadly, no. Depending on what area of the world you live in, the nearest medical facility to you (including birth centers) might have BMI restrictions or other restrictions on your options during labor and delivery. It's critical that you not only connect with a size friendly care provider but also research the place where you're planning to give birth – Not All Hospitals Are Created Equal
What's a doula? 
A doula is a trained professional who supports pregnant people and their families during pregnancy, birth, and postpartum. Doulas offer informational, physical, and emotional support along the way. Learn more here – Do I Need a Doula? and explore the Size-Friendly Doula Directory!
Tips for sex during a plus size pregnancy?
Some women experience a heightened sexual drive during pregnancy while others have no interest in sex. Whichever end of the spectrum you land on, or if you're somewhere in between, it's entirely normal. You're completely normal! The sexiest thing you can do is to have an open line of communication with your partner about these things. Connecting with your partner during pregnancy in a physical manner is important for your relationship. But remember, there's a lot more to intimacy than just intercourse! Here's a lot more information (as well as position suggestions) – How to Have Great Plus Size Pregnancy Sex: Talk and Tips
All of these plus size pregnancy questions and so much more are tackled in depth in the My Plus Size Pregnancy Guide.
Plus Size Birth Support 
Where can I read plus size birth stories? 
From the hospital, birth center to homebirth stories – here's an ever-growing collection of Plus Size Birth Stories! There are also photo galleries of pregnancy, hospital birth, home birth breastfeeding, and babywearing.
Are there special labor positions for plus size women?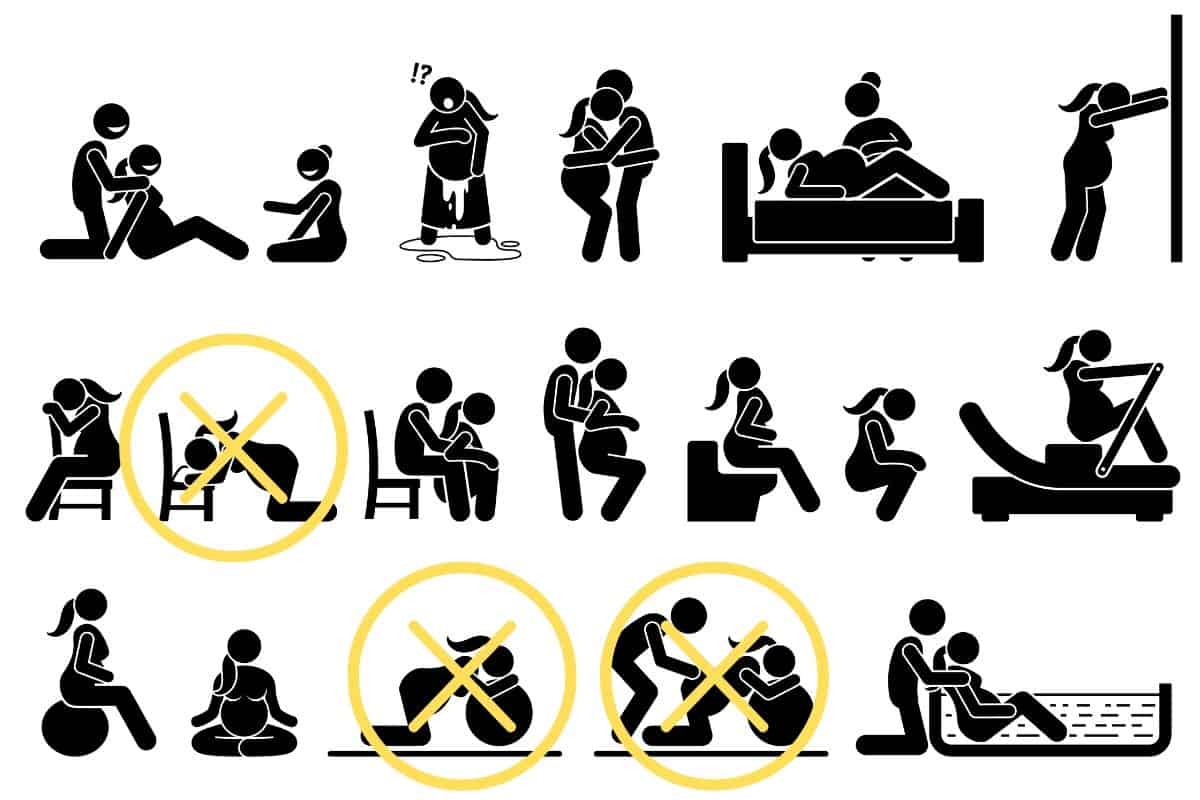 The labor positions you see in the image above are great for people of all sizes! You'll find your rhythm in labor and what's best for you. You'll notice three positions have a yellow X. If you have a pendulum belly (plus size hanging belly or mothers apron) you don't want to spend a lot of time in those positions as they can slow down the progression of labor. Please note that exercise balls (AKA birth balls) have weight limits but you can purchase exercise balls that support thousands of pounds on Amazon.
I'd like to have a natural childbirth. Any suggestions to help me prepare for a natural, unmedicated childbirth? 
For most women, natural childbirth isn't something that just happens. It's a choice that requires mental preparation and planning thanks to it being counter-culture. It's critical you pull together a supportive birth team (including a size friendly care provider) as well as prepare your mind and body to have a natural birth. Remember that birth is unpredictable. Even if you do all you can to have the outcome you desire, it doesn't mean it will come to fruition in that way for you. What's most important is that you feel supported throughout your pregnancy, birth, and postpartum!
How can I prepare for having a cesarean birth?
The resource C-Section for Plus Size Women will help you to prepare. The article is divided up in the following way: preparing for surgery, operating room, immediately following surgery, hospital recovery, and home recovery. 
Is it possible to have a vaginal birth after cesarean when you're plus size? 
Yes and I have this resource and stories from plus size moms to share with you – Vaginal Birth After Cesarean (VBAC) Resources 
How can I prepare for postpartum and breastfeeding when plus size? 
Here's a helpful postpartum resource I've pulled together just for you!