When Tracie-Ann shared her breathtakingly beautiful plus size maternity photo shoot with me in was in awe. I also couldn't help regretting not having my own plus size maternity shoot.
The truth is that I didn't realize how truly amazing I looked when I was pregnant.
I was so focused on a belly that looked more like a "B" than a "D", I couldn't see my own beauty.
I also didn't realize that a great photographer can help you to recognize how stunning you really look!
Hear from Tracie-Ann about her experience.
I hope the tips below inspire you to have plus size maternity pictures taken!
Disclosure: Plus Size Birth is a participant in the Amazon Services LLC Associates Program, an affiliate advertising program. As an Amazon Associate, I earn from qualifying purchases. Read more about these links in my disclosure policy.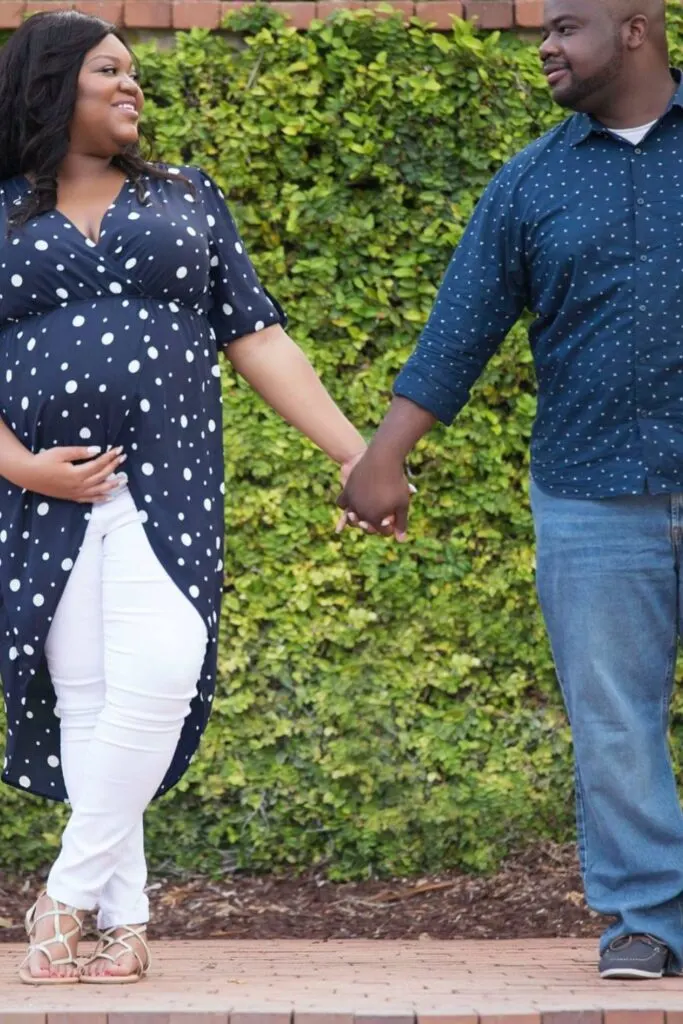 "Believe it or not, I don't really like taking pictures.
I always feel like they are from the most unflattering angles or I just don't look as attractive as I did in my head (lol).
When I met Love Daley Photography and fell in love with her work, I just knew she would give me the maternity photo shoot I dreamed of.
She assisted with choosing the wardrobe/accessories and explained which items would photograph well.
During the photo shoot she seemed genuinely impressed as she previewed pictures between takes. That response coupled with my sisters cheering me on from the sideline and my husband's reaction to the whole experience, allowed me to feel confident and pretty.
These photos represent the love and happiness I felt carrying this child I prayed so long for. Being able to capture that moment was priceless."
– Tracie-Ann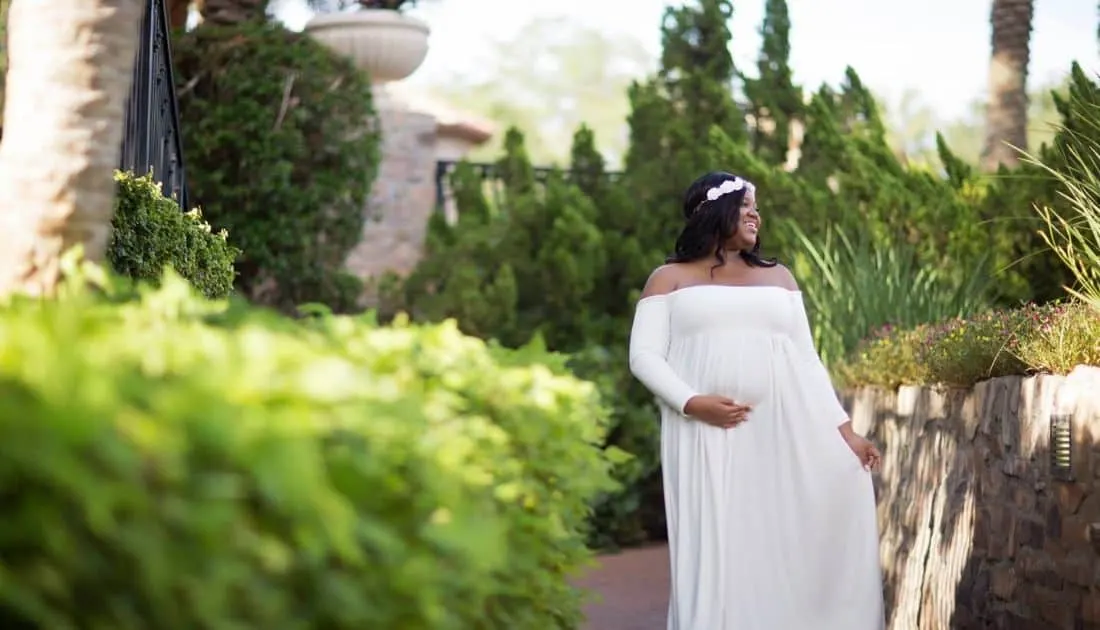 Plus Size Maternity Photo Shoot Tips
Enjoy photos from Tracie-Ann's maternity shoot as we share our five tips for a plus size maternity shoot!
1. Find The Right Photographer
Selecting the right photographer for a plus size maternity photo shoot goes well beyond scoping out their website, Instagram and Facebook pages.
It starts with finding someone who is experienced in photographing plus size pregnant women.
If you have a B belly or are still waiting for your bump to pop, you'll want a photographer who is skilled at making your bump appear round and pronounced.
If you love your B-shaped belly then celebrate it and have it photographed!
It's your photo shoot so be sure to tell your photographer the look you're going for.
When looking for an experienced photographer, ask your plus size friends for recommendations or review local photographers' pages to find photos that you identify with.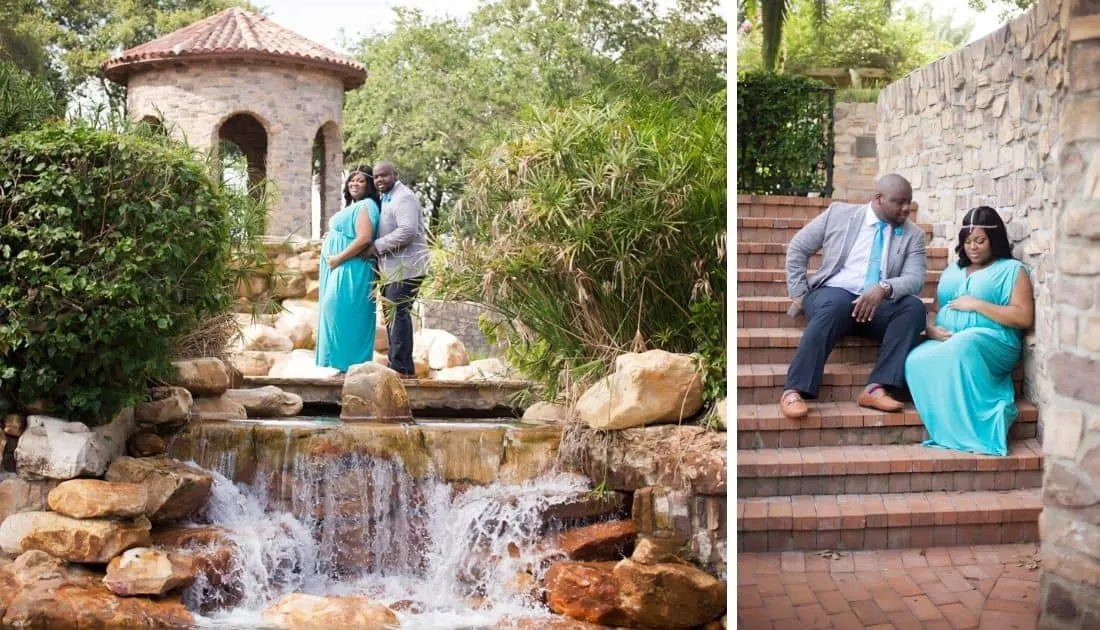 2. Select the Perfect Plus Size Maternity Outfit
As we saw in Tracie-Ann's glorious photos, she had a few adorable plus size maternity outfits. Her white plus size maternity gown is from Etsy and teal dress from KOH KOH (see more gorgeous plus size maternity dresses for photo shoots).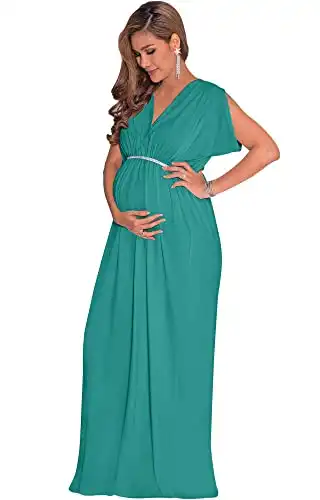 You'll want to pick out your outfits well in advance so you're not feeling frazzled the day of your shoot.

3. Location, Location, Location
If you select the location in advance or have your photographer make some suggestions, you can envision where you'll be and not feel anxious.
I not only recommend a beautiful outdoor space like a public park with lovely scenery – but also having some pictures taken at home where you feel most comfortable!
Consider starting at home and in your nursery, and then venturing out and about somewhere beautiful.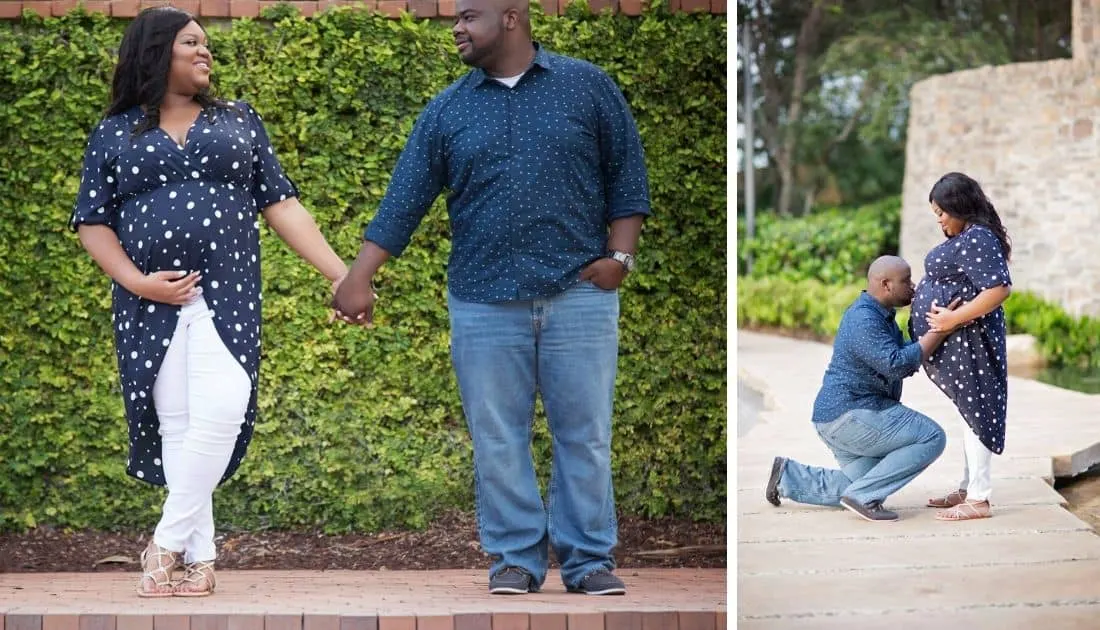 4. Be You!
You want to be able to relax (as much as possible) and feel like you can be yourself during your plus size maternity photo shoot.
Therefore, if you feel comfortable doing so, share any insecurities you have about your body with your photographer rather than focusing on them in your head while photos are being taken.
You'll also want to avoid doing anything you wouldn't normally do.
As I share within my article How to Look Perfect in a Picture, the more you're able to just be you, the more your photos will shine!!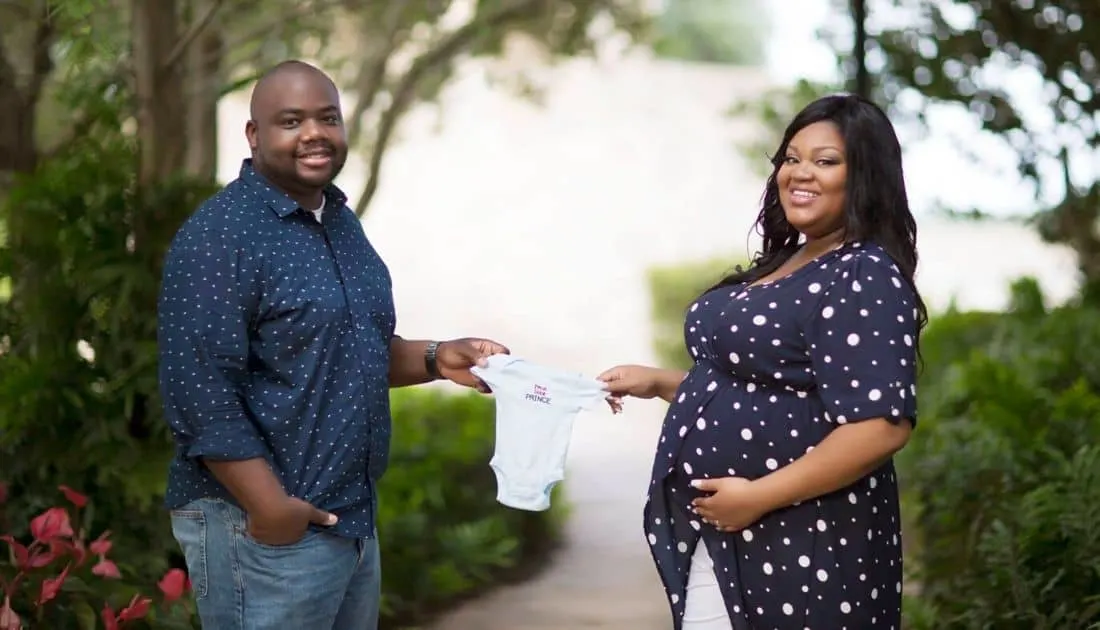 5. Enjoy the Experience
Once you've found the right photographer, picked out the perfect outfit or outfits, selected a location that feels good to you, and have tried to relax…it's time to just enjoy the experience.
Smile! Laugh! Rub that beautiful belly and trust that your photographer will take good care of you.
Remember these photos aren't just for you and your partner to cherish, they are also for your child!
I know you're going to rock your plus size maternity photo shoot and I hope you'll share yours on our Plus Size Birth Instagram feed.
Take a risk and book a plus size maternity photo shoot for yourself right away! Don't allow your size to hold you back.
Photos by Love Daley Photography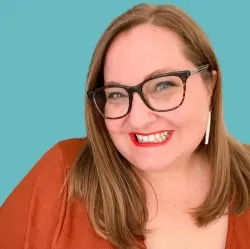 Latest posts by Jen McLellan, CBE
(see all)