Kelli shares her plus size IUI fertility story of her and her wife Cathy's journey to becoming mothers. They used intrauterine insemination (IUI).
This is a fertility treatment where sperm is placed within a woman's uterus to facilitate fertilization.
Kelli fought an uphill battle and I'm so honored she wanted to share her story with us…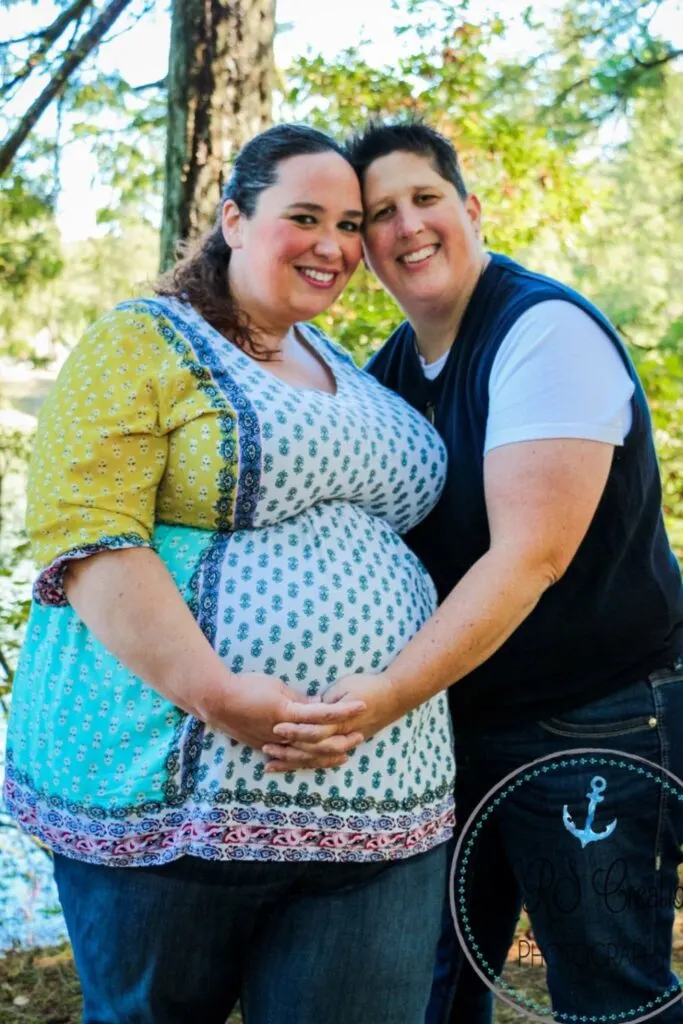 Plus Size IUI Fertility Story
My name is Kelli, I am 33 years old, and my wife Cathy is a very young 42.
First off I will say that from the age of about 20 I have had numerous doctors tell me how, due to my weight, I would never be able to have children. I was diagnosed with Polycystic Ovary Syndrome (PCOS) when I was 18 but was never offered any form of treatment.
When my wife and I married in September of 2014 we started trying to make a family pretty immediately.
We used every type of tracking system you can imagine. As well as doing 11 rounds of at-home insemination with a couple of different known donors.
About halfway through my primary care physician provided me with fertility meds to see if that would help.
We were able to get pregnant once but it, unfortunately, ended in an early-term miscarriage.
At this point, we did seek guidance from an OBGYN. The doctor told me that if I ever wanted any chance at trying to get pregnant that I would have to lose at half my body weight.
I was even told that if I did get pregnant, the chance of my baby's survival was next to nothing. They told me I was guaranteed to have every complication possible including gestational diabetes, preeclampsia and birth defects.
I was even threatened that I had a very high risk of stillborn if I didn't miscarry first. All of this was said to be due to my weight.
This, of course, was quite the blow to the heart but we didn't let it crush our dream.
We knew there are many plus size moms out there that have not had any problems getting pregnant. As well as those who have had very healthy pregnancies.
We sought out a second opinion at Oregon Reproductive. This experience was the complete opposite of what we had originally experienced.
The care team and doctors there were positive and encouraging and supportive.
They suggested that we give Intrauterine insemination (IUI) a few tries before doing anything more invasive.
I had extensive blood work done to make sure my body was healthy enough on the inside to support a pregnancy.
In the second week of January 2016 we went in and did our first round of IUI and then we waited.
After 10 days I decided to do an at-home pregnancy test. I do want to point out here that I was told by my doctor to wait until 12 days after and then do the blood serum pregnancy test.
The home pregnancy test gave us a very heartbreaking negative. With this information, I decided I could no longer wait to do the blood test.
I went in on day 11 post-IUI.
In my mind, I needed to see that definite negative with the blood test results so we could start preparing for our next round of IUI.
To my HUGE surprise, the test was not negative. When I read the results that said "consistent with pregnancy" I burst into tears!
I was at work at the time and immediately called my wife. She came in so she could see the results for herself.
We were both in complete disbelief.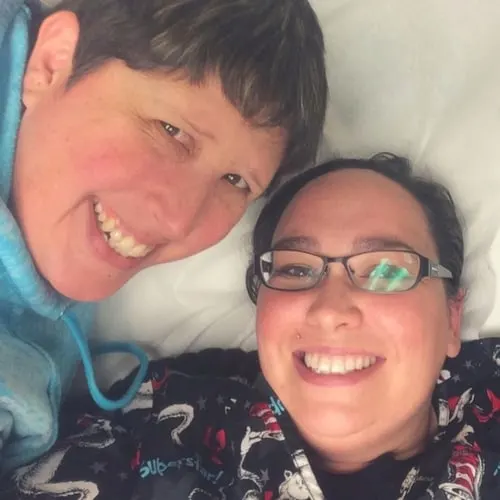 Over the next several days and weeks I continued to have blood tests to assure the HCG levels continued to rise.
Weeks turned in to months, trimesters passed, and with every appointment and every ultrasound, it showed not only a very healthy pregnancy but a very healthy baby!
Every complication that was promised to me never happened.
No diabetes, no blood pressure problems, our baby boy has been on the perfect track the entire time. And now in a very short week, we will welcome our precious miracle baby boy into the world.
We cannot express the amount of joy and appreciation we have for our wonderful fertility clinic. And for the new OBGYN that has been treating me since we confirmed our pregnancy. They have also been nothing but positive and supportive the entire time.
I wish doctors would understand you can't put my category of patient, i.e.: plus size women, in a box and say they are all the same.
Not every plus size woman has a difficult pregnancy and not every "standard" size woman has a perfectly easy time carrying a child.
We are so glad we didn't let somebody convince us that our dream of a family wasn't possible. We are so so blessed!
Maternity photos by MRS Creations

I hope Kelli's plus size IUI fertility story inspires others in her same shoes to keep fighting for their dream. Never forget the turning point of this story was when Kelli switched to a size friendly care provider!
You might also be interested in the Plus Mommy Podcast episode – What Fertility Clinics Don't Want To Admit About Weight Bias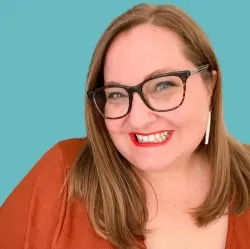 Latest posts by Jen McLellan, CBE
(see all)