My name is Melissa! I met my wife Ariel 6 years ago at work. We got married on May 31, 2014. We knew we wanted to start a family right away, we just were not sure how we were going accomplish our dream of becoming mommies.
Trigger Warning For Miscarriage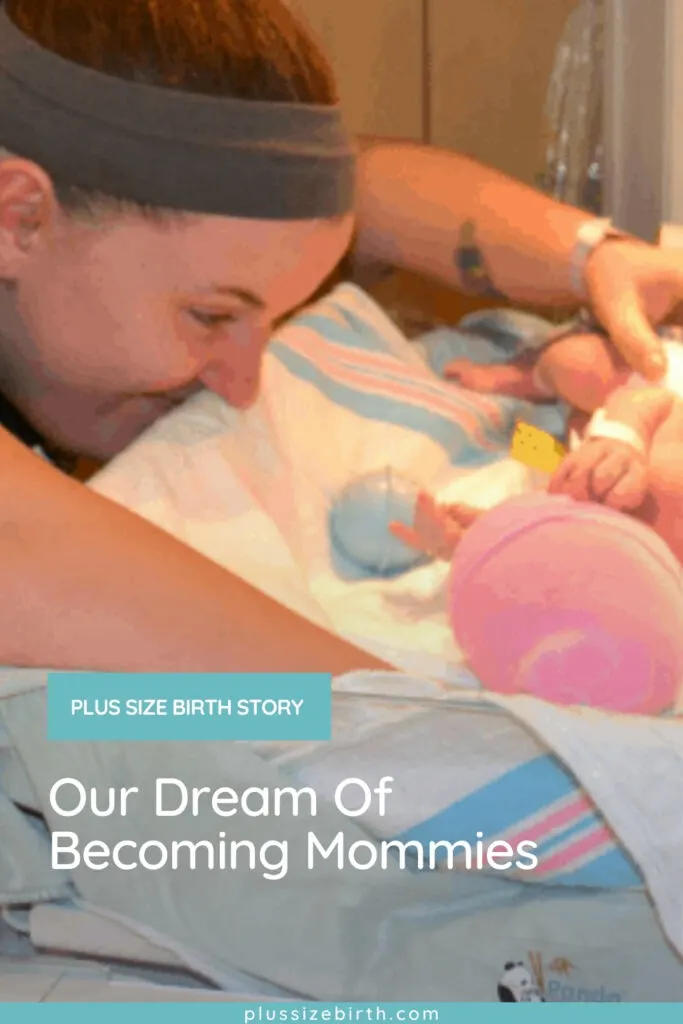 Becoming Mommies
Before we got married we were already looking into the possibilities for us to achieve that dream.
We were planning on purchasing sperm from a sperm bank, however, that can become very pricey and we knew we would have to wait and save up for that.
On our wedding night, my wife's brother said that he would be our sperm donor! Which I had thought about that before but we were not really sure about asking him, so it was fantastic that he offered!
We started trying right away!
In June of 2014, I started taking an ovulation test.
The day came and we did an at home IUI. It was honestly one of the most awkward things that I have done in my life.
After 4 months of trying I was getting very discouraged. It felt like it was never going to happen, and that it just wasn't in the cards for us.
In October I started testing 3-5 times a day, and that's when I realized something wasn't right. I would test positive one time, next time it would be negative, then positive again.
So I went to the doctor and my midwife ordered an ultrasound. We found out I have Polycystic Ovary Syndrome (PCOS). My midwife was so hopeful and said it would happen in no time. She started me on metformin and told me she would see me in two-three months….because I would be pregnant!
December came, and I wasn't too sure about this medicine. However, we did another IUI on December 4th.
For some reason, this time felt different than all the other times. I felt like it worked, I don't really know why, but I just did.
11 days later I got the faintest two pink lines I had ever seen in my life, but they were there!
I couldn't believe it! We were going to be moms!
We went for our first ultrasound and saw our little bean! It was the most amazing thing in the world.
Everything was going wonderful besides me being so tired all the time and the smell of some things sent me straight to the toilet!
On February 9th, 2015 I woke up for work and went pee, that's when I noticed it looked like I started my period.
I told My wife and she said "I'm sure it's fine" I don't think she realized how much blood was actually there. Once I got to work I called my dr office and they wanted us to come in right away.
My wife was at home sleeping and I couldn't get her to answer her phone. I was freaking out at this point. I knew what was happening but thought there might be some hope. When I got to the office they need a urine sample. That's when I lost it, I couldn't stop crying, my pee was more like a container of blood.
I finally got ahold of my wife for her to come to the doctor with me, but there was no time. They pulled me back right away to start the ultrasound. That's when they told me there wasn't a heartbeat anymore.
I was numb, I couldn't move, I couldn't say anything, I didn't want it to be true but it was…
When my wife arrived we sat there for a while and just cried together. Our hearts were shattered. What did we do wrong? How could this be happening to us?
Finally, it was time to go home.
That night the pain was so bad I thought I was going to die. A lot of it was physical pain, but also emotional pain as well.
My wife took to me the hospital because it got so bad, we both thought I was going to die of pain.
Everything looked good at the ER and they sent me home with pain pills.
For the next week and a half, I just cried. That's the only thing I could do as I wanted our baby back so much.
I didn't want to try for another baby right away because I didn't think I could handle something like that again.
But on March 10, 2015, I came home from work and said I think I'm ovulating. After a short conversation, we decided we had to try again. So we did….. and 13 days later I got another BIG FAT POSITIVE!
I was so excited but scared that we would lose this baby.
Everything was going good and everything looked perfect as it did before.
Thankfully, everything continued going very well.
The baby was growing just as she should! Finally, our dream was really coming true!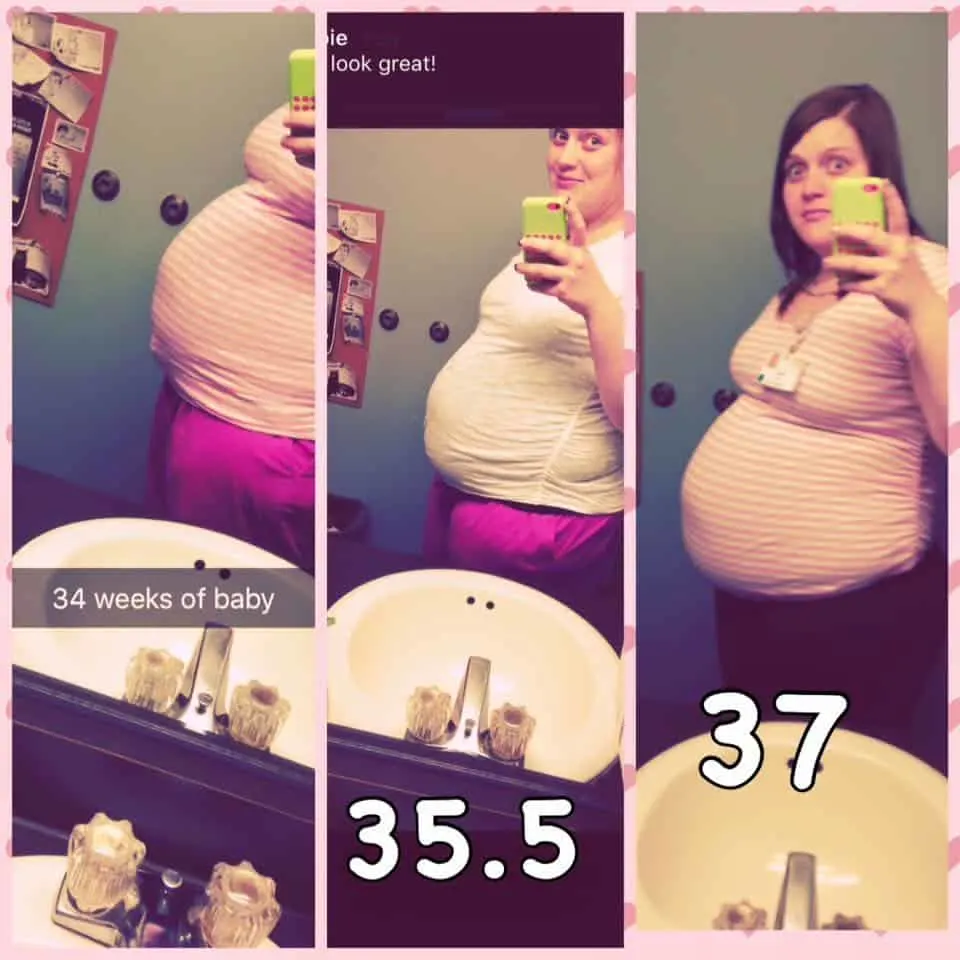 Towards the end, they were starting to get worried about my daughter's weight because she wasn't growing as much as she should. They did another ultrasound and said I needed to come back in 4 days, and if she didn't gain enough wait we would need to get her out.
I was 38 weeks.
Over the weekend I must have eaten a lot because she gained 4oz and she was staying in until she wanted to come out!
I was put on bed rest.
At 39 weeks 5 days at 3:15 am my water finally broke!
The time had come that our dream was coming true!
We got to the hospital around 4:30 am, and by the time we got settled it was around 5:30 am.
I was dilated to a 1, a freaking 1!
I was disappointed, to say the least, but knew they couldn't send me away since my water broke.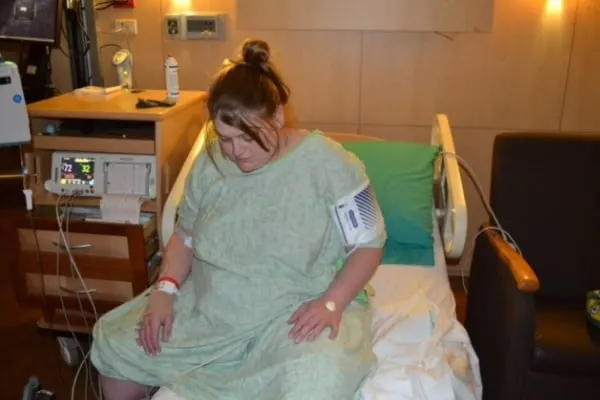 At 9:00 am I was dilated to a 6!!! But I was in so much pain, I finally decided it was time for an epidural.
After that I wasn't dilating as fast as I was, it slowed it down a lot. So my wife, sister, brother in law, best friend were just waiting around the rest of the day.
My daughter's heart rate kept getting lost so they had to do an internal heart monitor. That still wasn't doing the trick until they finally just let me lay on my back as I told them to start with!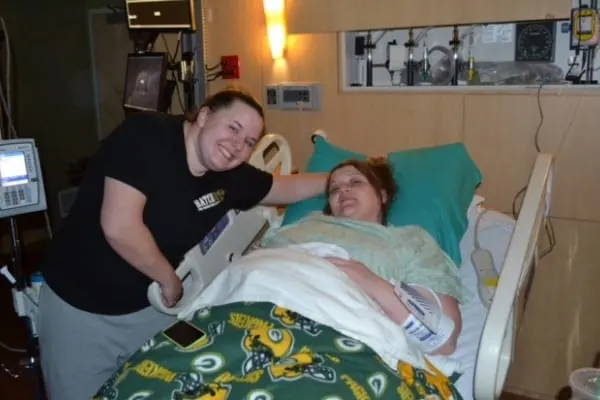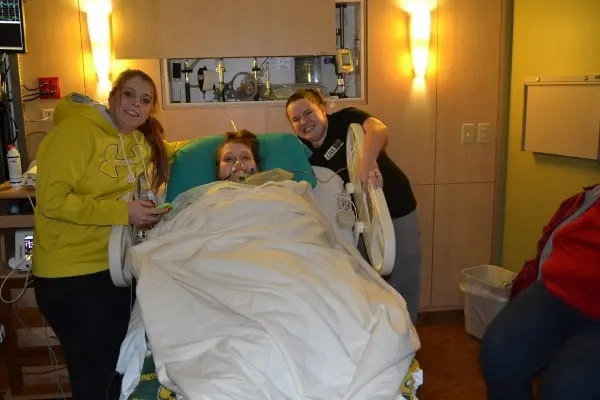 At 4:20 pm I was to a 10! It was time for our girl to come!
My care providers didn't want me to start pushing yet. They wanted to wait so that the contraction could push her out! It's something new they had been doing and it seems to really help. Less time for mom push.
My doctor finally got there at 4:45 pm and kicked everyone out other than my wife and sister. She said this is your first baby, pushing is hard, this can take a few hours but don't get discouraged, she will be here before you know it and you can do this!
So at 4:58 we started to push!
9 pushes and 12 minutes later I gave birth to the most beautiful human I have ever set eyes on.
We finally welcomed Kennedy Sloan Pearson into this world at 5:10 pm on November 28th, 2015, weighing in at 6lbs 6oz 19incs long!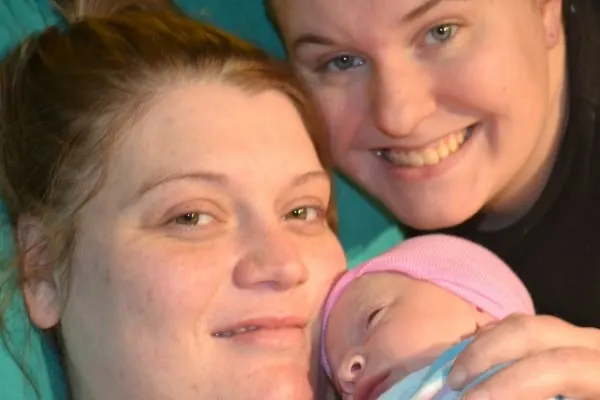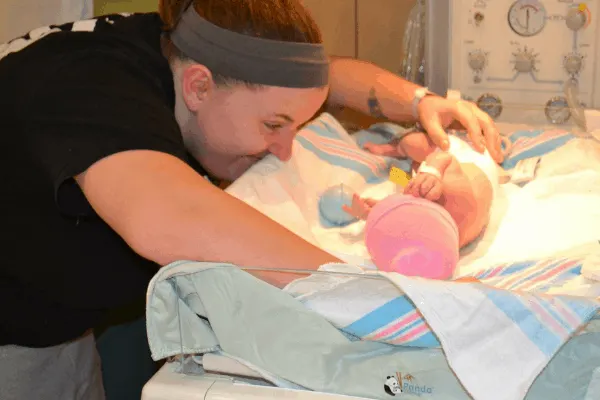 My wife and I have never been so happy in our life! We had finally become mommies to our sweet girl!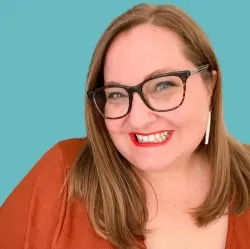 Latest posts by Jen McLellan, CBE
(see all)