Before I share Letrez's plus size c-section birth story, I want to highlight her inspiring words about having maternity photos taken.
Being plus size and pregnant often means that expectations of what your body will look like during pregnancy aren't met.
As Letrez said, "My belly may not look like the storybook pregnant belly, but my body accomplished the same awesomeness regardless of what my belly looks like."
After sharing them on Instagram, I asked Letrez if she would be open to telling her birth story.
Her response was, "It's rather crazy…haha. But I had great support." Just like pregnancy, sometimes childbirth and postpartum also doesn't go as we thought it might.
This is Letrez's plus size c-section birth story…
Disclosure: Plus Size Birth is a participant in the Amazon Services LLC Associates Program, an affiliate advertising program. As an Amazon Associate, I earn from qualifying purchases. Read more about these links in my disclosure policy.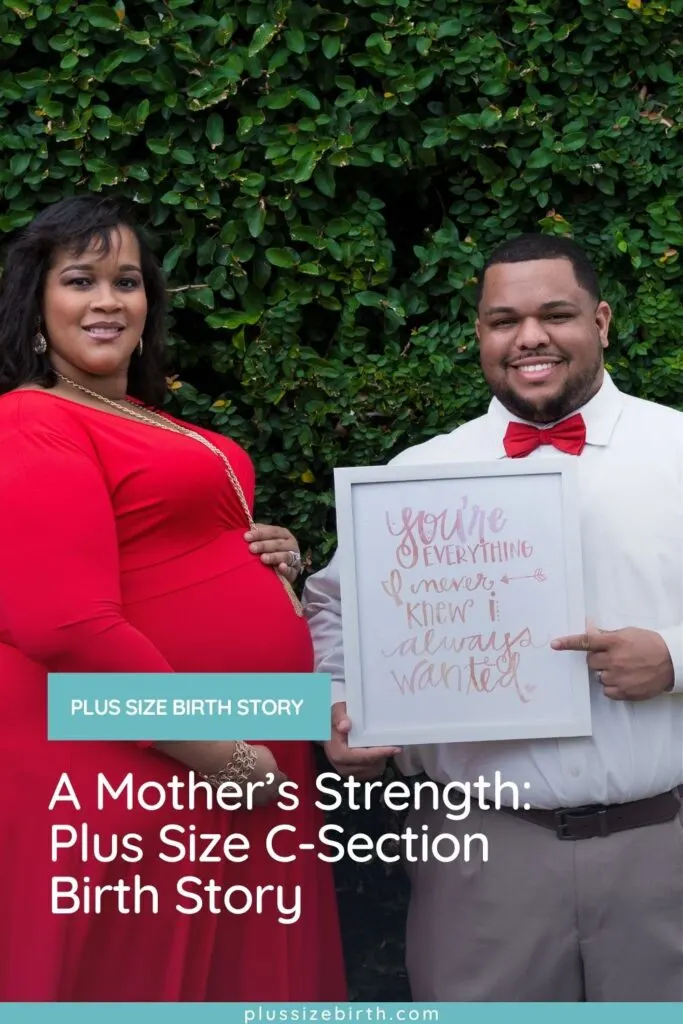 Plus Size C-Section Birth Story
My husband and I tried for about 2 years to get pregnant. I worked in a pretty stressful job and also had high blood pressure.
My OB has always been very supportive.
She never once said that my weight was a problem in my fertility issues or anything like that.
In late 2014, my OB suggested that we start looking into options.
She recommended my husband get a sperm count because it was the most cost-effective thing to check into first. My insurance didn't cover fertility.
He had a bit of a meltdown and long story short, we never got the sperm count done.
So I relaxed on the idea of getting pregnant and stopped checking my ovulation/tracking my period, etc.
I switched jobs in September of 2015 and switched Family Practitioners in April of 2016.
I didn't feel like my doctor was acting in my best interests. The main issue with her was that my pressure readings were all over the map and I had swelling. She wasn't very concerned.
The new job was much less stressful than my previous job, and I felt really supported. I discussed my pregnancy struggles with my new physician.
She switched my blood pressure medicine to one that was safer for pregnancy. The medicine worked within weeks to get my pressure controlled.
I came down with a sinus infection in May of 2016 and went to urgent care.
That was the day before Mother's Day. I was 2 days late, so the doctor had me do a pregnancy test before he would prescribe any medications.
For the lack of a better word, I was shocked when they told me the results. I was pregnant!
Overall, I had a great pregnancy.
I had to also see a Maternal-Fetal Specialist because of the blood pressure.
About I3 weeks into my pregnancy I had the glucose test. My final reading came back at the cut-off of 92, so I was diagnosed with Gestational Diabetes. My Gestational Diabetes was monitored through blood checks, diet, and exercise.
Because of the high blood pressure, I knew very early on that I would not go beyond 39 weeks gestation.
I would most likely be induced.
At 37 weeks gestation and my pressures started to jump around a bit, so the Maternal-Fetal specialist recommended to my OB to deliver at 38 weeks.
We went in on December 29th at 4 am. I was given Cytotec to soften my cervix. Within 30 minutes of taking the drug, my baby's heart rate decelerated. I was given a shot to stop contractions and rushed to the OR for an emergency C-section!
When we got to the OR and I was put back on the fetal monitors. Thankfully my baby's heart rate was back up to 150. My OB decided that I should go back to my room and labor with the aide of a cervix ripening balloon and Pitocin only.
I labored for 36 hours total. Pitocin was given in smaller amounts because large doses would cause the baby's heart rate to decelerate. It appeared that my contractions getting stronger would cause her heart rate to decline. At that point, my doctor let me make the decision of what I wanted to do.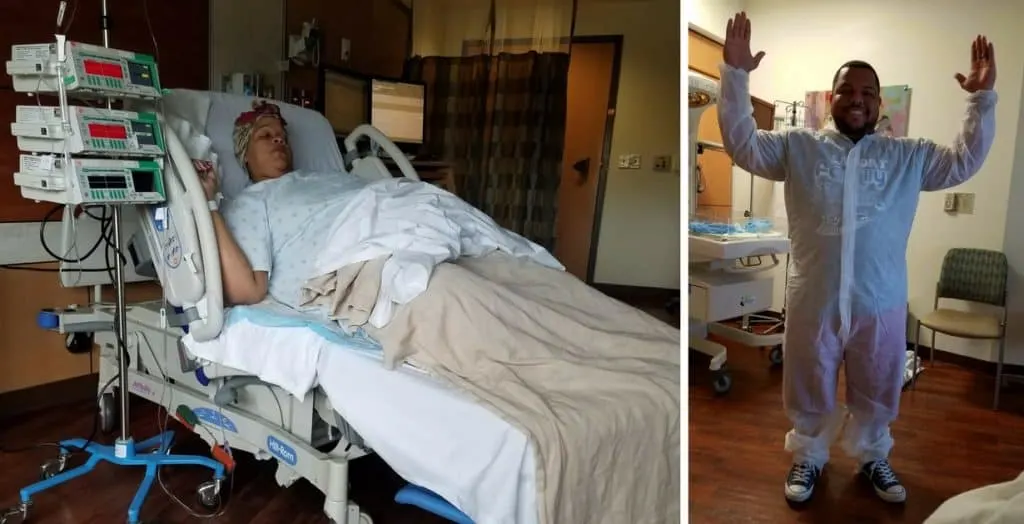 I didn't see the point in putting the baby in distress and decided on a c-section. We went back to the OR (this time much calmer and with a lot less nurses … lol).
I was given an epidural and within 15 minutes, my baby girl was delivered! We were back in the room for recovery and all of her tests within another 45 minutes to an hour.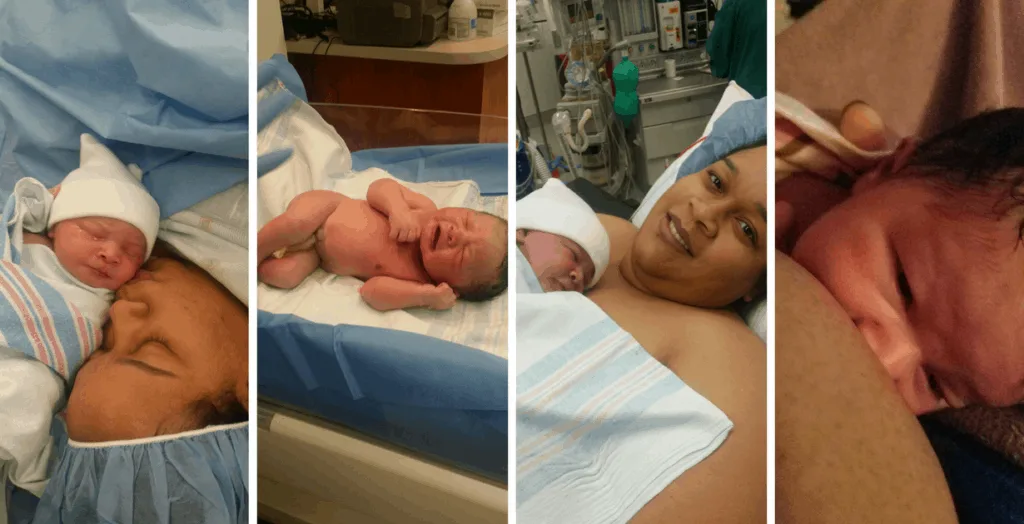 The day I was to be released from the hospital, I was having severe abdominal pains and a fever. The doctor on call came in and removed my wound vac (placed for precaution because of the apron belly) and it was fine.
She then began pressing on my uterus which was very painful. She determined that I had an infection likely caused by being in labor with my water broken for so long. I was also positive for Group B strep.
So I was given 48 hours of 3 strong antibiotics cycled back-to-back with anywhere from an hour to 2 hour break between each. I was let go after one week.
A week after being home, I discovered an infection in my incision and was given antibiotics for 7 days at the ER. The following week, my incision opened up slightly. It wasn't an opening large enough for the doctor to pack, so my husband had to dress it and press out any fluid until it healed itself.
My baby girl made one month yesterday, and I am finally feeling more like myself than I have felt in a long time.
I titled this birth story A Mother's Strength: Plus Size C-Section Birth Story because I can't imagine all of the postpartum complications Letrez faced. She truly is a strong mother!
Her beautiful maternity photos taken were taken by Exprosures Photography with a plus size maternity gown by Poseshe (goes up to a size 5XL).
If you're in need of resources for preparing for or recovering from a plus size c-section, you can find that here C-Section for Plus Size Women.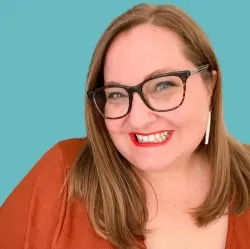 Latest posts by Jen McLellan, CBE
(see all)