I have to say, I'm not really a fan of traditional baby showers (even though, full disclosure, I totally had one). Truth be told, I didn't use about 60% of the gifts I received, so I think a Mother Blessing (also called Blessingway or pregnancy blessing) is the way to go.
I mean, come on, when we're having a baby, we are the ones who should be showered with love, receiving pregnancy or Mother Blessing gifts because we're doing A LOT of work!
And by work, I, of course, mean growing a tiny human!
I challenge you to share these suggestions for pregnancy blessing gifts before an upcoming baby shower. Or as a hint to your partner for Mother's Day (or just on a random Tuesday because you deserve gifts often).
Sure, these gift suggestions are a little unconventional, for your typical baby shower, but they're gifts you'll actually use and love!
Disclosure: Plus Size Birth is a participant in the Amazon Services LLC Associates Program, an affiliate advertising program. As an Amazon Associate, I earn from qualifying purchases. Read more about these links in my disclosure policy.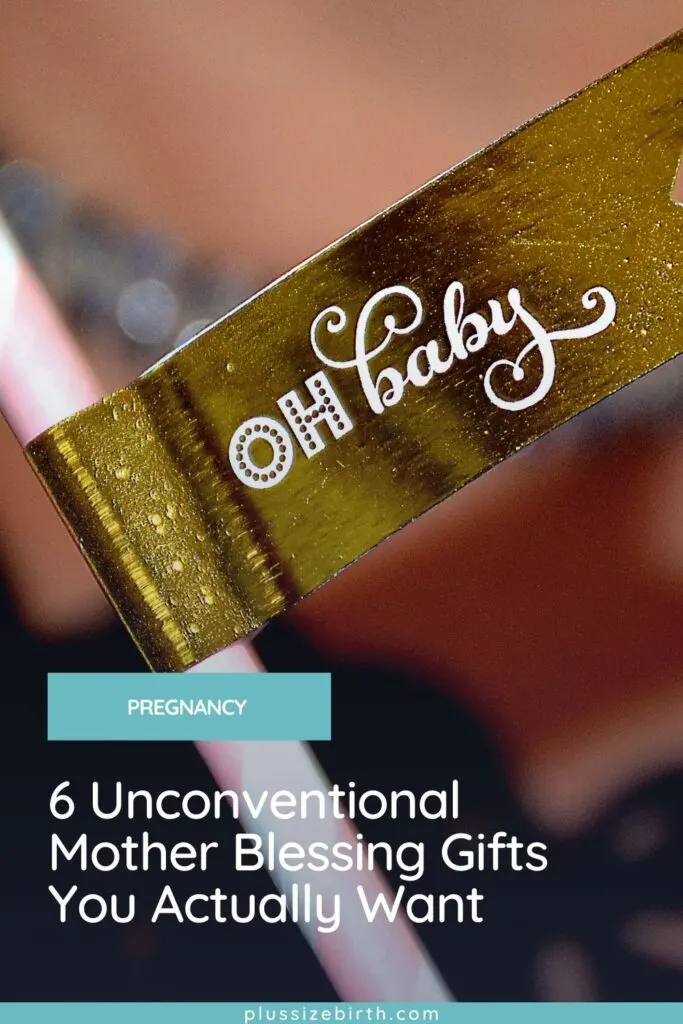 6 Pregnancy Blessing & Motherhood Blessing Gifts
Yoga Toes Yup, you read that right, Yoga Toes!
If your feet are tired and sore, then you need a pair. This little contraption helps to realign your foot structure by spreading and stretching your toes.
It might sound medieval but it feels heavily, I promise!
My husband liked my yoga toes so much that he bought himself a pair (true story).
Bonus: Depending on how far along you are with your pregnancy, you'll need help putting them on. My suggestion? Hand your partner your new yoga toes and some lotion and get a nice foot massage as well. You deserve it!
If you're giving birth in a hospital this is one of those wonderful Mother Blessing gifts you're going to want to receive.
A plus size birthing gown encourages you to feel comfortable and cute while also allowing access for fetal monitoring and other possible laboring necessities.
While hospital gowns are completely functional (and free), some people don't like the stigma attached to them and prefer to wear something softer and made to fit just right.
If you want more birthing gown options, or have other plus size maternity clothing needs – we've got you covered!
Babywearing is for parents of ALL sizes!
And the benefits of babywearing are numerous – from bonding with your baby to having your hands free for tasks while keeping your little one close.
We have a list of the best plus size baby carriers so you can research what one to add to your wish list.
Oh sweet ball of relief! I think every pregnant woman should be gifted a birth ball (it's really just an exercise ball but it's often called a birth ball during pregnancy, birth and postpartum).
This ball allows women to sit comfortably during pregnancy (thinking of you mamas with hemorrhoids or those suffering from SPD), opens your pelvis during labor, and helps to bounce the baby to sleep after you've given birth!
Please note that most exercise balls found at Target or Walmart have a 250 lbs – 300 lbs weight limit. You can find exercise balls with weight limits beyond 2,000 lbs via Amazon.
Bonus: You probably won't realize it, but you'll be getting in some exercise whenever you're bouncing upon that ball. It's super important to be active throughout pregnancy and every little bounce counts!
5. Body Love!
While you can't technically give someone the gift of body love, you can help them to start on their own journey towards loving themselves by giving them the book at their Mother Blessing, The Peachie Moms Guide to Body Love for Moms.
This book doesn't just talk about how to love and accept your body, it also has worksheets to get a woman actively involved with processing through her current body image struggles and working towards loving herself fully.
Bonus/Full Disclosure: I co-authored this book. This is the book my Peachie Moms partner, Amanda Edwards, and I were searching for when we started navigating how to love our new mom bodies – or mombods as Amanda likes to say!
We poured a lot of love and knowledge into this book and I'm incredibly proud of it.
I firmly believe the best gift a mom-to-be (for the first or fifth time, it really doesn't matter) can receive is a doula!
Doulas provide emotional, physical, and educational support to a woman and her partner throughout pregnancy, birth, and postpartum.
Putting together a doula fund is a priceless gift for yourself or a pregnant loved one.
Bonus: For plus size moms I have an incredible doula directory with doulas listed who have experience supporting plus size moms. They won't judge or shame you in any way like you may have experienced with previous providers. They will support you with compassion, I'm sure!
See our Size-Friendly Doula Directory for more information!
These are just a few Mother Blessing gift suggestions. If you're looking for something traditional for a plus size mom-to-be, here are some additional recommendations.
8 Plus Size Pregnancy Essentials You Need to Own
4 Mom Approved Plus Size Nursing Pillows
7 Plus Size Nursing Cover Tips And Tricks
11 Cute Plus Size Maternity Graphic Tee Options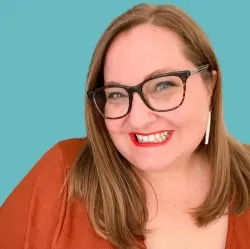 Latest posts by Jen McLellan, CBE
(see all)