Every mother should gift their child their birth story in writing. Below you'll read my birth story from 1979, and the story of me giving birth in 2010. Both were written by my mother, Kathryn Rue.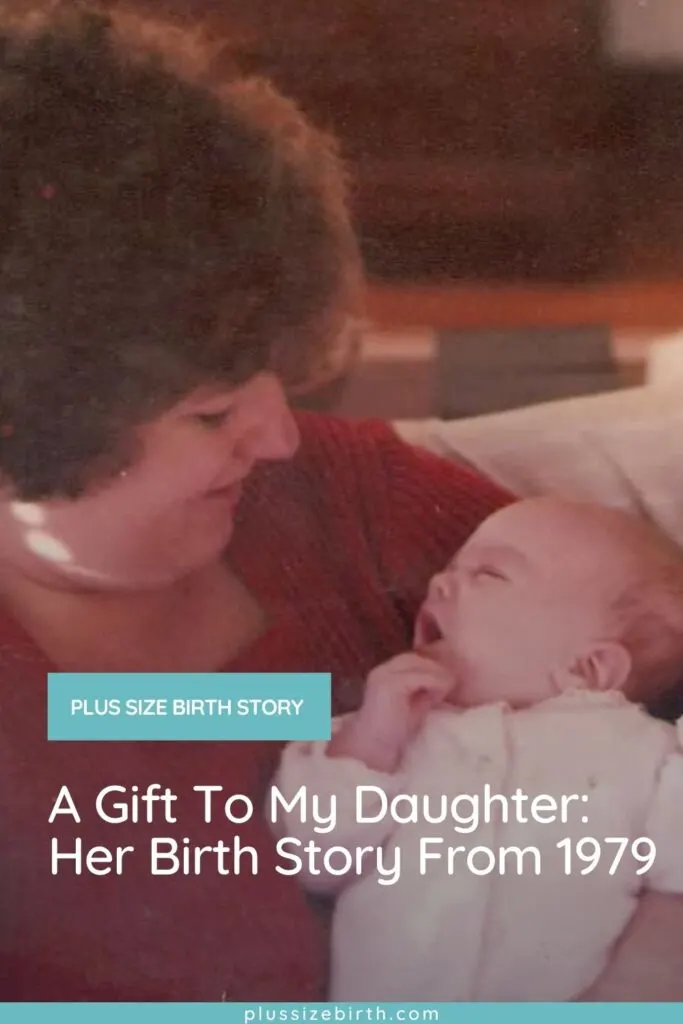 I believe in my mother's era there was a popular song with the lyric, "Love, Marriage, and then something about a Baby Carriage."
After being the oldest child of four children who felt like she had already been a mom and therefore believing I did not want to have my own children, I arrived home from my honeymoon in July of 1978 with my hormones raging with those song lyrics playing over and over in my head!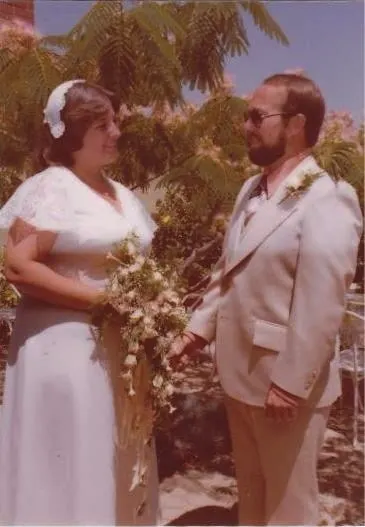 I did my best to put that thought out of my head as I was looking forward to heading back to my college studies in Ornamental Horticulture at Cal Poly Pomona that Fall and focusing on being the new wife of my love Ted Rue.
On my first wedding anniversary, June 24, 1979, I was four months pregnant with our first child. I have always said that God had a better plan than I did!
I loved being pregnant and felt great even though I did experience some nausea in the first trimester.
My father said I glowed. My mother said I had never looked more beautiful and my husband was so happy.
Before we knew it we were picking out baby furniture and decorating a nursery. I read everything I could get my hands on and since these were the days before the Internet I read a lot of books!
I don't remember what put the idea into my head, perhaps it was because of my brief "hippie years" as a teenager or remembering what seemed like a horrible experience my mother had shared with me about her birth experience with me being all alone in a hospital room without her husband or anyone to explain what was happening to her as they gave her some kind of gas to calm her, but it became important to me to have a natural childbirth.
Ted was a union electrician and we had our medical coverage through Kaiser Permanente which I was very comfortable with as that was the medical coverage I grew up with.
I asked my OB about natural childbirth classes and he happily gave me information about a nurse practitioner who taught Lamaze childbirth classes in a home setting. We signed up and went to our first class.
We really enjoyed the classes and Ted was so happy he could be "my coach" when the time came.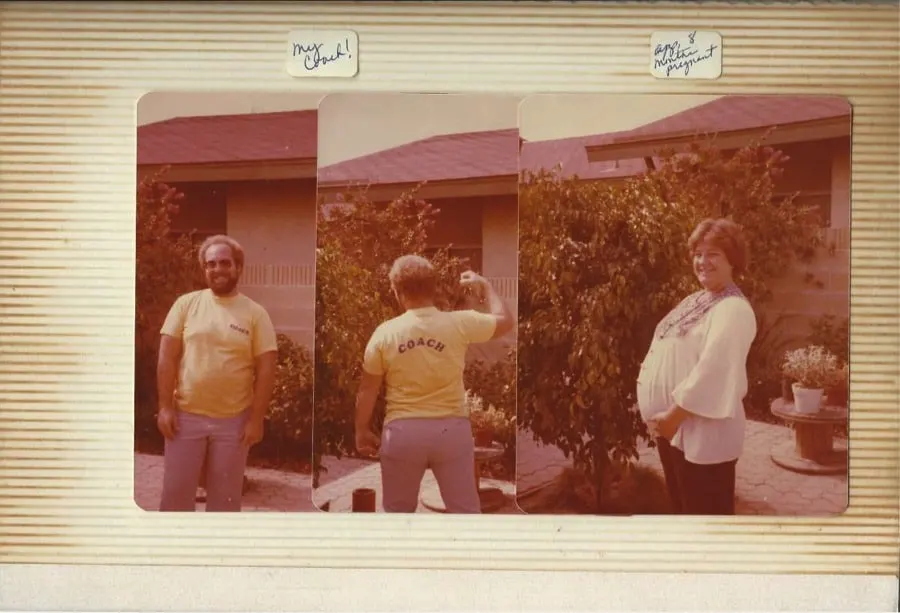 In August of 1979, the end of my second trimester, my feet started to swell and my blood pressure readings were too high.
My OB told me I had developed toxemia and I was to be carefully monitored.
I had planned on starting my senior year of college but my OB recommended that I wait until after our baby was born as he wanted me to take it as easy as possible.
It wasn't long after that my condition became serious enough that my OB told me that I needed to go home and pretend I was in a hospital or he would put me in the actual hospital.
I was told that I had to have full 24/7 bedrest laying on my left side until the baby was born. I had my marching orders and I took them seriously!
With Ted helping me at night and weekends and my sister, Debbie, helping during the day while Ted was at work-life went on and I quickly became addicted to daytime soap operas.
Our baby's due date came and went and approximately two weeks later my mother came to pick me up to take me to an appointment with my OB. That day was Thursday, November 29, 1979, my mother's 49th birthday.
We had planned on going out to a quick lunch to celebrate her birthday after my OB appointment before I had to return to bedrest which I was so very tired of.
That is not what happened.
My doctor told me during the appointment that he didn't feel it was safe for me or the baby to wait any longer.
Before I knew it, I was looking for a pay phone, yes this was well before cell phones were invented, to call my husband's work so someone could go out to the job site he was working on to let him know his wife was going to have a baby that day!
My mother drove me to the Kaiser hospital in Bellflower, CA without us stopping for lunch.
I was admitted and put into a labor room which had very bright lighting, a hospital bed, monitors, IV stands, and a television set.
I was told to undress, put on a hospital gown, and get into bed.
Right after that, IV's were placed into my arm along with an internal fetal monitor.
I wanted to wait until my husband arrived before anything started but the staff doctor and nurses told me they needed to begin the medication, Pitocin, to induce labor and that it would be some time before anything happened so my husband had plenty of time to get there.
I told the doctor and nurses that I had taken the Lamaze classes and that I wanted to have a natural childbirth not even realizing at that time that being induced was not the way to have a natural childbirth.
Nothing had prepared or educated me at the time to question my OB's directions to go to the hospital to have my baby that day. The Pitocin was ordered and administered to me just before 11:00 am.
I remember watching television as I watched the IV solution drip into my body wondering what it was all going to feel like and was so excited to know that I would see our baby soon.
In 1979 ultrasounds were only ordered for women who were having problem pregnancies so Ted and I had no idea if our baby would be a boy or a girl, therefore, we had decorated the nursery in yellow and orange to complement the handmade rug in the nursery.
Ted arrived in my labor room about a half-hour after the Pitocin was administered. I caught him up on all that had happened, and we waited to apply all that we had learned in our Lamaze classes.
We didn't need to wait long!
Around 11:30 am I went from feeling like a very pregnant woman lying in a narrow hospital bed watching television to someone whose body had suddenly been thrown into spasms that were so strong and intense that I felt like I had been punched hard in the stomach over and over.
At first, we forgot our training as my labor did not begin gradually nor did my labor follow the natural transitions we were told to expect.
The pain was unbelievable but I was determined to have a "natural childbirth", no drugs for the pain I kept telling myself.
Luckily a nurse saw me struggling and she explained to Ted and me how to watch the monitor that was tracking the contractions so we knew how to detect when a contraction was about to begin and when it was ending.
Then she worked with Ted and me for a while to help me apply the breathing techniques we had learned.
She kept telling me to "ride the wave".
Within an hour or so Ted and I had fallen into a more natural rhythm of working together and I found watching the monitor helped me prepare for the oncoming contraction and also see a light at the end of the tunnel so to speak when I could see on the monitor the contraction was coming to an end.
Our Lamaze classes had not prepared us for this type of labor so we were very grateful for the nurse's help though most of the time Ted and I were alone in this very bright room.
Hours went by and occasionally Ted would leave me, to update my mother in the waiting room, and now father and siblings who had joined her, about how I was doing.
One time, Ted was gone longer than usual to update my family, and when he returned I was upset because my labor had increased in intensity while I was all alone.
He told me that my mother had insisted that he eat something because it was dinner time.
I remember being so mad because he was my coach who was supposed to be with me plus I had not had any food since breakfast that morning!
Now that memory is funny to us but it wasn't at the time.
As we went into the evening hours I found myself briefly falling asleep between the contractions that came every few minutes it seemed.
I believe that I was offered pain medication only once and when I refused they politely accepted my decision.
I had no idea at the time that the staff doctor had told Ted that I had not progressed in my dilation.
After over 8 hours of intense labor, my cervix was only at 3cm. Ted was told that if I did not begin to make progress in my dilation then they would need to do a C-Section.
Ted had informed my family of this possibility and has the hours became later my mother shared with a nurse that it was her birthday and that she would like to visit with me briefly.
The nurse told Ted that he would have to leave the labor room to allow another family member to come in.
I remember her being very encouraging and loving though she did remind me that the best birthday gift I could give her was having her first grandchild born on her birthday so she wanted me to do my best to make that happen before midnight.
I remember looking at the clock and it was almost 10:00 pm. No pressure Mom!
It actually was probably the best thing that could have happened since everything seemed to change once she walked out of my room and Ted walked back in.
I was never one who wanted to disappoint my mother and I had a focused determination to have that baby before midnight.
I somehow became more relaxed and something told me to stop fighting the pain and contractions and to let my body take over.
Almost magically my labor seemed so different and I marveled at the amazing way my body just knew what to do if I let it.
My dilation began to progress rapidly and within an hour I had dilated to 10cm and off to the delivery room Ted and I went!
I remember a lot of people in a very bright room that was much smaller than I expected bustling about as I waited to see who my doctor would be.
We had fully accepted Kaiser's policy that unless my OB, who had cared for me during my pregnancy, was on duty at the hospital at the exact time of my delivery was available then I would have a doctor who I had never met deliver my baby so I was curious about who the doctor would be as waited for the staff to prep me for delivery.
Soon I saw a very tall, handsome doctor, who was African American, calmly walk into the room with a big friendly smile and say "it's time to meet your baby".
With Ted fully gowned and masked at my head, where he was told to stay and not move about, I was directed to push several times and before long I could feel the baby's head crown.
After more pushing the doctor, I wish I could remember his name, said to me "would you like to deliver your baby?".
I looked up at him with confusion in my eyes and he smiled and said "sit up and I'll guide your fingers under your baby's arms and you can lift the baby out" and that is exactly what I did.
As I pulled our baby out of my body and onto my chest I felt a rush of extreme love and happiness.
Ted and I then heard the doctor say "congratulations, you have a beautiful daughter".
Tears streamed down our faces as Ted kissed me and we looked into our daughter, Jennifer's, eyes.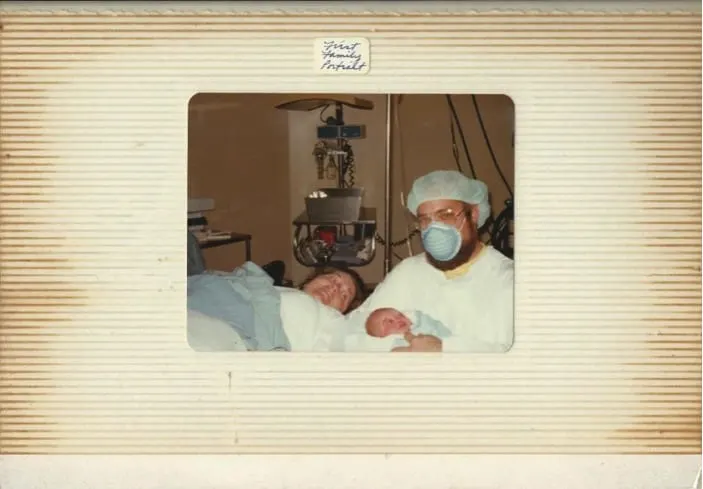 I'm sure we learned in our Lamaze classes about what would happen next but I had forgotten that the process wasn't over yet.
Within what seemed like minutes after giving birth to our daughter I was next "giving birth" to the placenta during which I became so cold and began shaking uncontrollably.
After that, I remember the doctor stitching me up as I had torn somewhat during the delivery and Jenny, as we soon began to call our new baby, was cleaned up and given an outstanding Apgar score of 10.
We had all had a very long day but my parents and siblings had waited to see the new member of the family so we had a brief gathering in a recovery room before they headed home.
My mother was thrilled with the best birthday present I could have given her as Jenny was born at 11:30 pm on 11/29/79.
Just in time to forever share my mother's birthdate.
Once my family was off, I was settled in my room, and Jenny had returned from her newborn examination by the hospital pediatrician Ted headed home to get some sleep.
Jenny had other plans for me…………she was one hungry baby!
I spent the next several hours getting the hang of nursing. I had spent hours while pregnant in the shower toughening up my nipples with a firm washcloth in preparation for what I was now experiencing.
When Jenny dozed off, I dozed off, and before I knew it the sun was rising on November 30, 1979.
As I watched the sunrise I sat in a rocking chair by the window of my room holding Jenny thinking about the future. I remember talking to her for that entire hour I watched the sky turn from a pale pink to a beautiful blue.
I told her all about her dad and what our hopes and dreams were for her life. I told her about the beautiful nursery that would be her new home and about Sycan, our family dog, that couldn't wait to meet her.
I told her about her grandparents who had already met her and about her father's parents who were now traveling from Arizona to meet her soon.
I told her the names of her aunts, uncles, and cousins while I marveled at the fact that I had become a mother and she was my daughter.
She was so precious yet I told her that she was given to us by God to love her and guide her to become an independent woman who would someday grow up to have her own life and future.
I so saw her that way within hours of her birth and truly that is what has come to pass.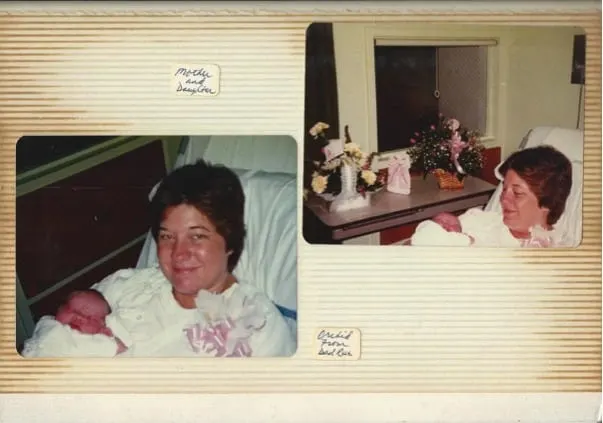 Fast forward to 2010…………….Tuesday, August 24th
Miraculously, I arrive in Denver, Colorado from California on a flight in time to be with my daughter, Jenny, who is giving birth to our first grandchild, who we know is a boy named Braeden as ultrasounds are normal to know the gender of the baby now, weeks earlier than expected.
Jenny, who was inspired by my birth story of her and her sister, also wanted to have a natural childbirth. Though I am walking into Denver Health Hospital my beautiful daughter is having a very different experience than I did.
The wing of the hospital is quiet as if no one is there.
The large room I enter is called a birthing suite. It is dimly lit.
My son-in-law, who is happy to see me, is sitting on a comfortable couch in the clothes he was wearing at home, not gowned and masked, texting his family and friends of the progress Jenny is making.
My daughter is laying in a deep tub of warm water with her doula sitting on the floor near to the tub holding her hand and speaking words of encouragement softly.
Jenny wears a tank top and nothing else.
No hospital gown for her.
The hospital bed, I was confined to my entire 12 hours of labor, is empty and seems much wider and softer than the ones I remembered.
My daughter is happy to see me but quickly tells me I smell and to move away which I do somewhat confused.
The doula quickly determines the offensive smell is the hand sanitizer I was told to apply to my hands before I enter the room and she tells me to wash it off as Jenny's current stage of labor has intensified her senses.
After that, Jenny welcomes me to hug her and the doula leaves me to be the one to give Jenny encouraging words.
Within an hour of me arriving, Jenny transitions into stages of labor where more activity of nurses and her midwife occur.
She is placed on a birthing ball while her doula holds her hands, massages her back, and keeps explaining to Jenny what is happening and why.
I watch in wonder and gratitude that this woman is there to advocate for and guide my daughter through this birthing process.
I am so happy that my daughter's birth experience will be what she has planned carefully with her husband, doula, and midwife all who are there also welcoming me to be a part of this magical moment in time.
I had shared with Jenny when she became pregnant that I, since giving birth to her and her sister, had a strong desire to be in attendance of a natural childbirth as an observer if that were ever possible.
Jenny and her husband, Chris, felt comfortable including me in their experience and I will forever be so grateful for that.
Before long Jenny was helped onto the hospital bed but not to lay on her back as I did to give birth.
Jenny got on her knees, turned her body against the upturned bed, and as her selected birth music played on the iPod I watched my grandson being born out of my daughter's body as I had once done for her.
It was an emotional, beautiful moment I will never forget and will always cherish.
As I watched her husband, Chris, catch their son and hand him to Jenny to hold I was taken back to that moment when I pulled her out of my body and held her to my chest while I realized that we had come full circle in our life journey as mother and daughter.
She was now a mother and I was now a grandmother. It was one of the most beautiful moments and now memory of my life.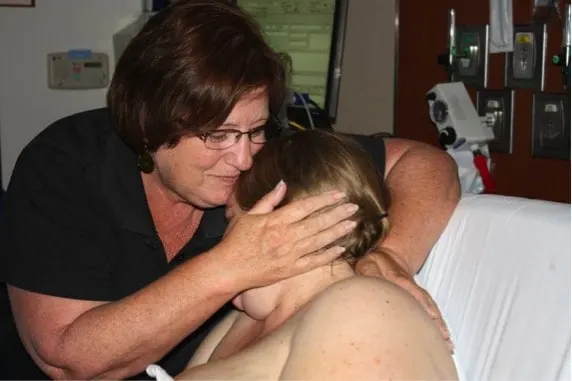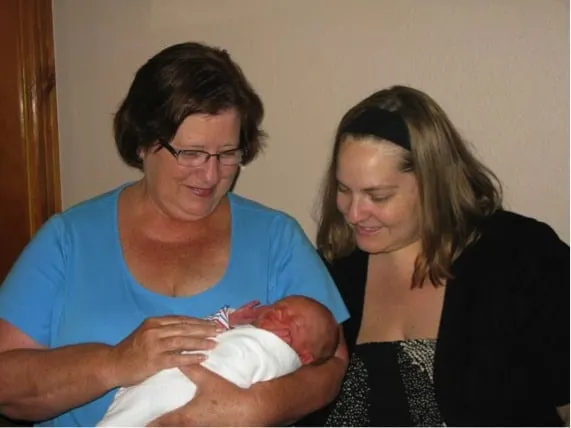 Happy Mother's Day Jenny! You will always hold a very one-of-a-kind special place in my heart and soul. I love you beyond words that can express the depth of the feeling I have had since I felt you stir inside of me. I am so proud of the mother you are and I am so happy you so enjoy being a mother. I love you! Mom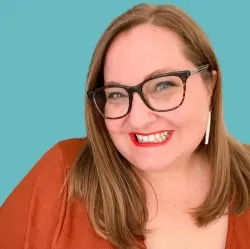 Latest posts by Jen McLellan, CBE
(see all)