Being a plus size mom (and one with big boobs too boot!), I remember feeling like I was always tugging on my clothes trying desperately not to expose my belly or breasts while nursing. For those of us who are plus size and like a little privacy, a plus size nursing cover or oversized nursing cover is a new-parent essential.
I never found the perfect solution for me, so I reached out to plus size parents and asked what they use for a plus size nursing cover.
Here's a list of seven options you can use to provide some additional coverage while nursing.
Disclosure: Plus Size Birth is a participant in the Amazon Services LLC Associates Program, an affiliate advertising program. As an Amazon Associate, I earn from qualifying purchases. Read more about these links in my disclosure policy.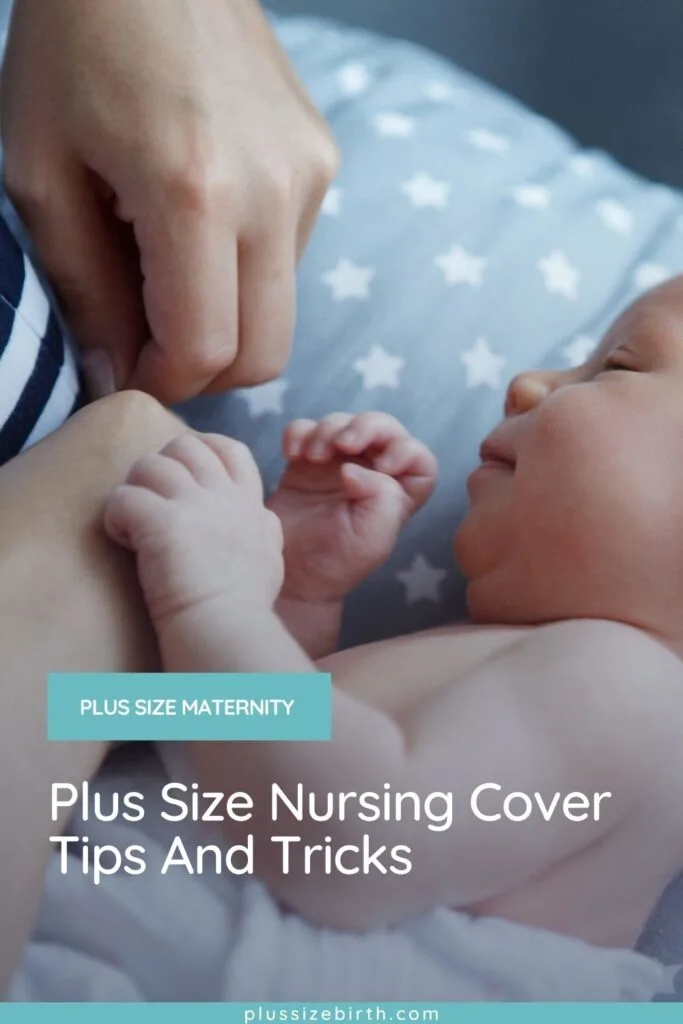 7 Plus Size Nursing Covers
Let's start with my biggest frustration: an exposed stomach! When I was nursing, it was my belly that I feared exposing more than my breasts and I know I'm not alone in this.
There's a brilliant tip no one shared with me until I was long past my nursing days, so I'm sharing it with you now – wear a camisole (AKA a cami or tight, thin tank top) under your top!
When wearing a cami or regular tank top under your shirt, you're able to lift your shirt, undo the clasp on your nursing bra, and feed your baby without exposing your belly. Ta-da!
By doing this trick, the shirt you're already wearing provides some coverage for you, but you can use a nursing cover as well if you'd like.
Whatever makes you feel comfortable while nursing is all that matters!
Beyond just your basic cami, you can pick up a breastfeeding tank top that will easily snap down like a nursing bra. This nursing tank, that clips to your bra, by Undercover Mama goes all the way up to 5XL!
Ponchos are back in style and work quite well as a nursing cover as long as the fabric isn't too thick (which could possibly cause your little one to overheat).
There are also ponchos designed specifically for nursing!
According to plus size moms online, this multi-use poncho is the best plus size nursing cover.
We also recommend large nursing ponchos that are designed with plus size nursing moms in mind.
When you think of nursing covers, the design of Bebe Au Lait will come to mind! I selected this brand to share with you because it comes highly recommended from other plus size moms.
This nursing cover does its job keeping you fully covered, but still allows you to see what you're doing with your baby. This sounds simple, but many nursing covers inhibit the nursing parent from seeing their baby's face!
The Bebe Au Lait lets your baby stay visible to you which is a real need if you have a little one with a challenging latch, not to mention providing an opportunity to connect with your baby as you're nursing!
Yes, this is a scarf designed to be a nursing cover! A nursing scarf has less fabric than a poncho but also allows for full coverage.
Having a regular scarf vs. a nursing scarf can feel a lot less cumbersome. If you want a little coverage (mostly to avoid a nip slip!), an infinity scarf is functional, fashionable, and affordable!
6. Make Your Own Plus Size Nursing Cover!
For the crafty among us, creating your own custom nursing cover might just be easier than you think! Head to your local fabric store and measure out the perfect amount of fabric to keep you comfortably covered while nursing. Watch the helpful DIY video below!
7. Ditch The Cover!
Yes, of course, not using a cover is on the list!
You have every right to feed your baby whenever and however you want. Nursing without a cover is cooler in terms of temperature and you never have to worry about forgetting your scarf or fabric at home!
While I can't prevent creepy people from staring at you, or making you feel uncomfortable in public, I can share there are far more moms like me who support you!
We hope you found these plus size nursing cover options helpful. You might also like our resource with reviews of plus size nursing pillows.
Did your favorite plus size nursing cover make the list? If not, please share yours in the comments below!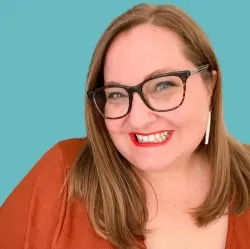 Latest posts by Jen McLellan, CBE
(see all)