This is a sponsored post but as I say time and time again, I only promote products I'd personally use and you'll love. This post is no exception and I'm really excited to tell you all about Latched Mama and their plus size nursing clothes.
As if it wasn't hard enough to find plus size maternity clothes, try finding plus size nursing clothes.
Want an even more frustrating challenge? Hunt for plus size nursing clothes in a size larger than 2XL!
One awesome company has come to the rescue of plus size nursing moms everywhere – Latched Mama!
They offer plus size nursing clothes that go up to a size 4XL. Yes, you read that correctly – 4XL!!!! I wish you could see me doing a happy dance as I typed that.
Related: 7 Plus Size Nursing Cover Tips And Tricks
But wait, there's more!
These clothes are super cute and uniquely designed with nursing moms in mind. Their clothes are made out of an incredibly comfortable cotton-spandex blend that offers the perfect stretch.
Yet, it's the design, which allows for discreet nursing, that blew my mind as you'll see in the video below. Who knew you could nurse in a hoodie without having to pull out one arm? You can, thanks to Latched Mama!
I hope you were able to get a sense of my true appreciation for this size-friendly company!
Latched Mama's clothes aren't just for nursing, or a hot date night, but also for pumping.
I remember pumping at work and having to pretty much strip down. I'm thankful no one ever walked in on me pumping because they would've gotten quite the show. Latched Mama's garments have solved this problem!
Latched Mama meets the needs of nursing and pumping moms with their unique designs and extended sizes.
They are a small company, moving as quickly as they can, so please know they are completely open to feedback and style ideas (another reason I love them).
I really encourage you to check them out – latchedmama.com/collections/plus-size-nursing-clothes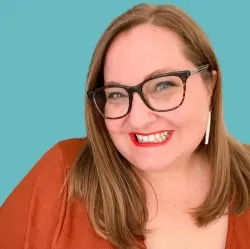 Latest posts by Jen McLellan, CBE
(see all)