Maybe you're reading this now and you're already thankful for your body during a plus size pregnancy – your amazing body that has life growing within it!
That's wonderful.
Yet, there will be days when your feet swell to a point of disbelief, sleep feels elusive, and you're peeing every ten minutes…then feeling thankful might just become a little difficult.
Maybe you're reading this and you're struggling.
Your body doesn't look the way you imagined it would and you're having a hard time finding plus size maternity clothes.
Everything you find online (aside from this resource, of course) makes you feel discouraged about your pregnancy. Possibly even your care provider makes you question your ability to have a healthy pregnancy.
Feeling thankful for your body feels…well…impossible.
Quite possibly you're a little of both: at times blissfully pregnant, but also struggling with lower back pain like you've never experienced before and are wondering why so many people say they loved every moment of their pregnancies.
Regardless of where you land, I hope you'll find some tips for thankfulness within this post.
Disclosure: Plus Size Birth is a participant in the Amazon Services LLC Associates Program, an affiliate advertising program. As an Amazon Associate, I earn from qualifying purchases. Read more about these links in my disclosure policy.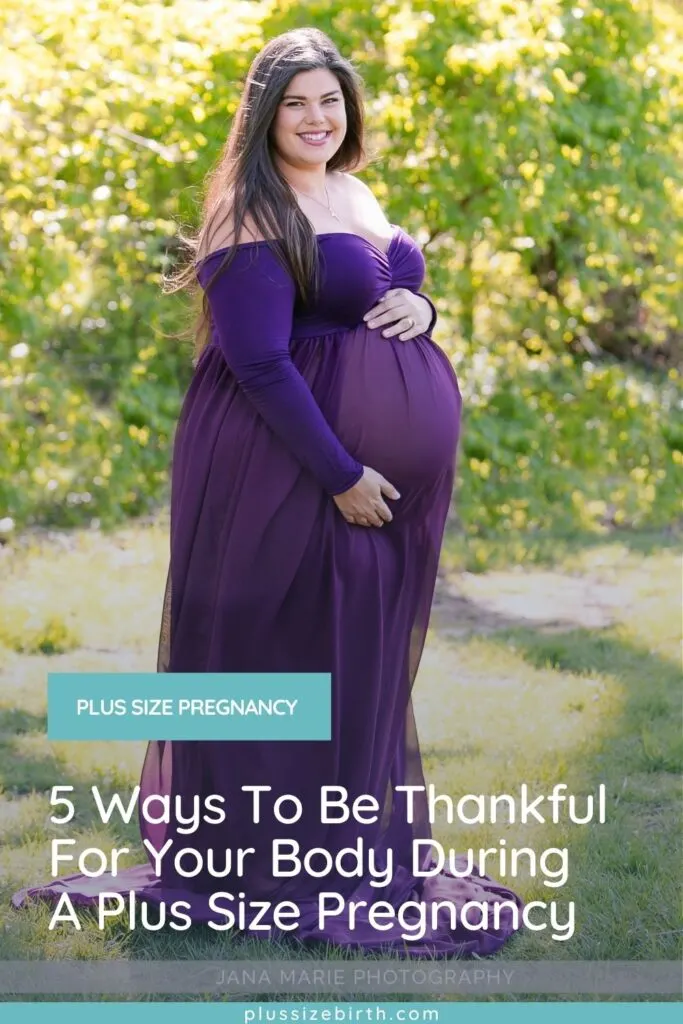 Thankful For Your Body During A Plus Size Pregnancy
When I was told at 8 weeks in that I was carrying twins, I was shocked, overjoyed, and terrified. Terrified that I was gonna get HUGE!
I had already been warned during my first singleton birth that I was "grossly overweight" and the notion that I was now responsible for growing 2 little humans was overwhelming. I worried that I'd be bedridden, too enormous to walk, grotesque.
My wonderful husband encouraged me to embrace this pregnancy unlike any other, not to hide away under loose fitting clothes, but to flaunt my growing body and show the world that not only was I plus size, but I was strong, healthy and beautiful.
Looking back at these pictures I'm so grateful for his pep talks and encouragement. I'm proud to say that despite the discouraging "statistics," I had the easiest, healthiest twin pregnancy.
No bed rest, no gestational diabetes, no high blood pressure.
At 37 weeks, we welcomed our beautiful 6 lb baby girls into the world with no need for oxygen, feeding tubes or NICU time.
My plus size body did an amazing job, I baffled docs that just saw me as "clinically obese" and I documented every moment of it proudly!
Don't allow anyone to make you doubt your body, be proud and show them all what you can do!"
– KC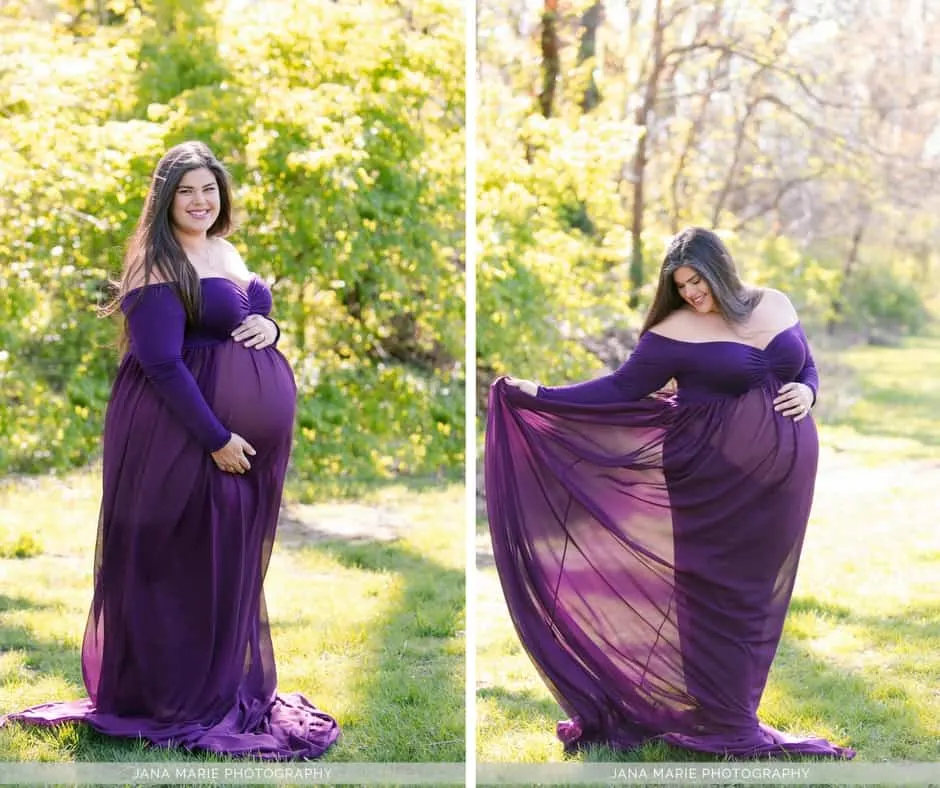 KC's story is truly beautiful and full of thankfulness for a body that grew and birthed her baby girls. Below are five ways you can tap into the strength and beauty your body possesses.
5 Ways To Be Thankful For Your Body During Pregnancy
1. Dress Up
What's that saying? Dress for success! The same goes for pregnancy.
Buy yourself a few staples to help you be thankful for your ever-changing body.
This is especially important if you're not appearing to be pregnant but you most certainly are!
We recommend grabbing a pair or two of plus size maternity jeans, plus size nursing bra, and plus size belly band.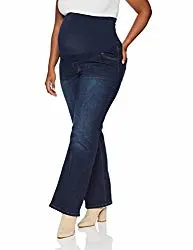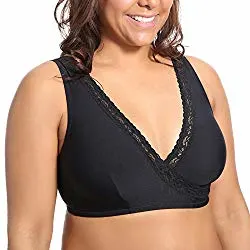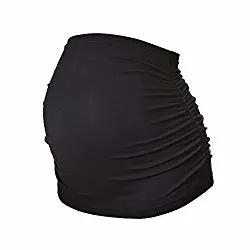 Here's our full plus size maternity must-haves resource.
2. Take Maternity Photos
Time and time again Plus Mommy community members share their disappointment over not having maternity photos taken. Don't follow suit!
Sure, not everyone can afford to have stunning, professional photos taken like the ones here.
However, we pretty much all have a cell phone at our fingertips and Instagram photo filters can do wonders (speaking of Instagram – follow us at @plussizebirth if you haven't already).
If you can't afford a professional photographer, have your partner or a friend take photos for you!
KC was so grateful she had these photos taken and you'll be thankful too! Check out our recent article, 5 Tips for a Stress-Free Plus Size Maternity Photo Shoot.
Here are a few gorgeous plus size maternity dresses that are perfect for a photoshoot. You can click on the images below to learn more.
You can get a dress like KC's, which comes in many different colors, here.

3. Surround Yourself with Supportive People
KC shared how her partner encouraged her to embrace her body throughout her plus size pregnancy.
I can only hope you are supported in such a beautiful way. I know it's not always easy, but if you have family members or friends who drag you down, start setting healthy boundaries now.
Your circle of friends will dwindle and then expand in ways you can never quite prepare for throughout motherhood.
As things change, make a commitment to yourself to allow positive people into your circle but keep those who are negative at a distance. Trust me, you'll be thankful you made this commitment to yourself!
4. Block Out Negative Messages
Along with being mindful of with whom you surround yourself, also be aware of your social feeds and messages you're taking in.
Take note of the people you follow on social media.
There's no harm in unfollowing people on Facebook because they'll never know you did. Follow people whose posts make you smile and unfollow your cousin with political views that make your blood pressure rise.
Beyond social media, we can easily take in negative messages from people with unwarranted concerns about our pregnancy based only upon our size.
If you have been made to feel ashamed of your body by your care provider, please know you're not stuck. You owe it to yourself to connect with a size-friendly care provider.
5. Be Proud
Yes, BE PROUD! There's nothing wrong with being proud of a body that is doing something magnificent.
Challenge yourself to pay your body a compliment each morning and evening while you're brushing your teeth.
From something as simple as being thankful for a good hair day to digging deep and being thankful for stretchmarks because having them means your baby is growing.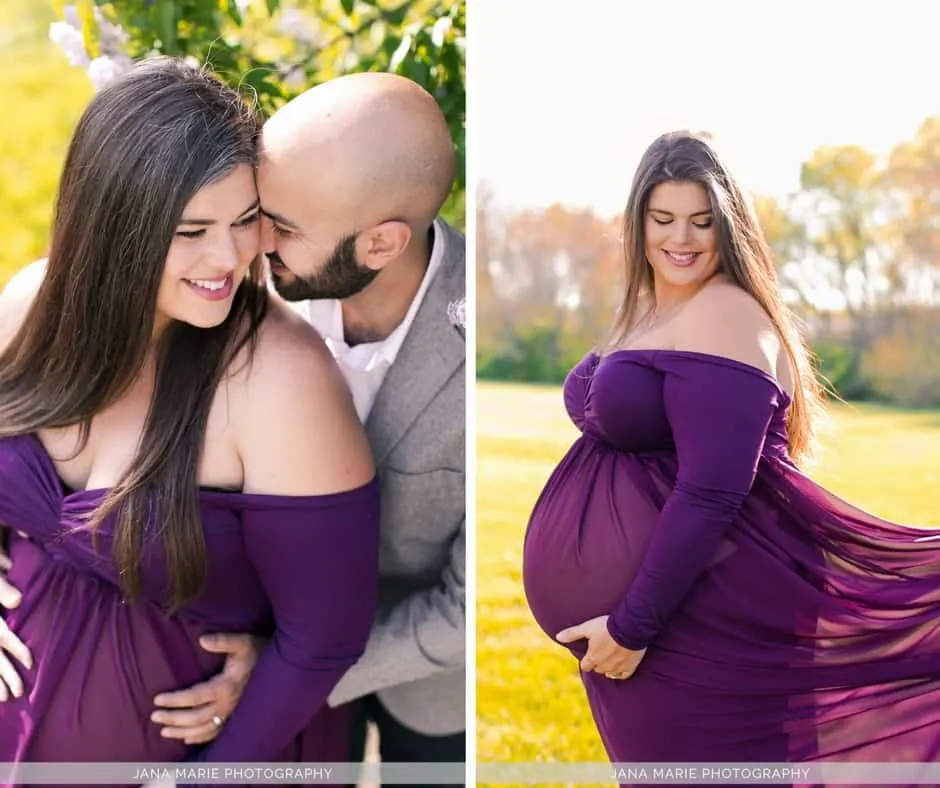 When you put these tips together, you have a recipe for thankfulness and ways to connect with your body throughout your plus size pregnancy.
Huge thanks to KC and Jana Marie Photography for sharing these stunning images.
Want to hear more of KC's story? She was a guest on the Plus Mommy Podcast and you can listen to her episode – KC's Plus Size Pregnancy With Twins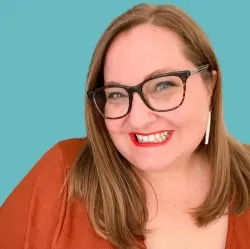 Latest posts by Jen McLellan, CBE
(see all)