If having a natural birth in a hospital is your desired birth plan – please know it's possible!
Birth is unpredictable, and nothing can be set in stone. But, there's a lot you can do to set yourself up for the birth that feels right for you. As a childbirth educator and someone who has given birth on my knees in a hospital – I know this to be true!
For clarification, many people search for tips on having a "natural birth," so that's the language I'm using here. I want people to find the information they are searching for, but that term is so broad as all births are natural.
For this article, when I say "natural birth in a hospital," I mean an unmedicated birth. So, no pain medication and limited interventions.
And please note, I respect whatever choices you want for your birth – I'm just sharing my experience and helpful tips.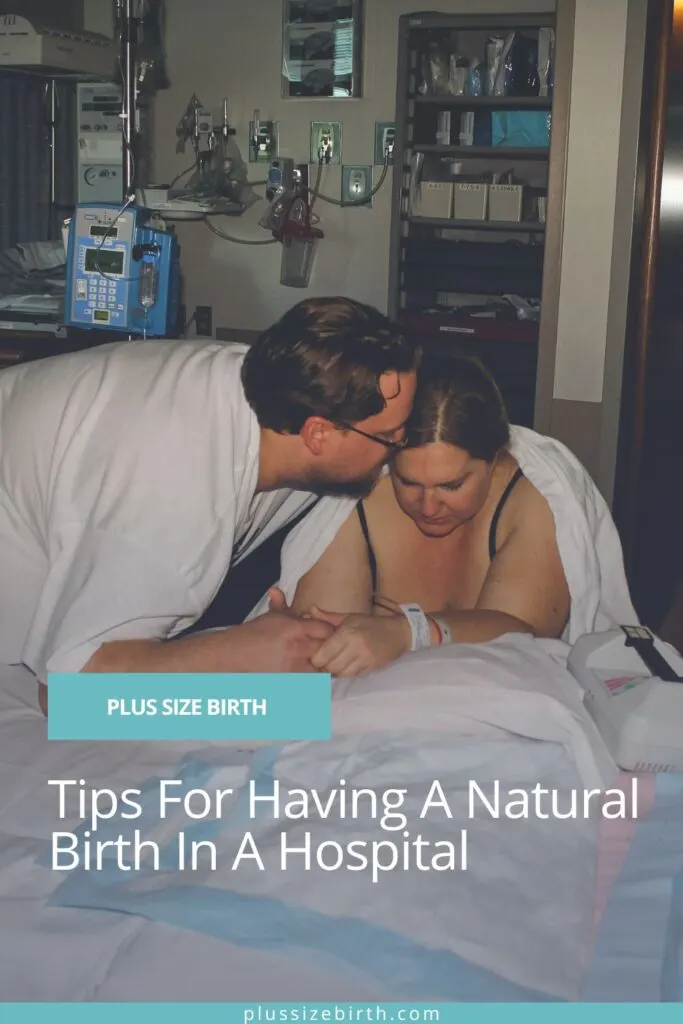 Having A Natural Birth In A Hospital
My doula compares giving birth to having sex. People looking at my naked body while telling me to "try and relax" and "I need you to change positions" was the furthest thing from romance I could imagine.
All I could think of was how scared I was to birth my son. The pain didn't scare me, but the idea of not being in control of my body due to an epidural was terrifying.
Also, my mother often told my birth story in 1979 and how powerful it felt to have a natural birth.
So I did all I could to feel prepared and advocate for an unmedicated birth.
Believe That You Can Have A Natural Birth In A Hospital
There's a lot to be said about the power of positive thinking, and I soaked up as much information as I could.
I read books, watched documentaries, and took classes on coping techniques for having an unmedicated birth. But, I still learned about pain medications and wrote a cesarean birth plan. I felt it was best to be aware of all of my options.
Beyond believing I could, I focused on my body by remaining physically active throughout pregnancy to build strength and stamina for labor.
Sure, I knew things could change, but I had the mindset that I could have an unmedicated birth.
Ask Your Care Provider Questions
I asked my midwife about my hospital's policies as she reviewed my birth plan.
For example, I asked if I could wear my own clothes during labor. I wanted to feel comfortable in my clothes rather than vulnerable in a hospital gown that might not fit.
At the time, I didn't realize how much control I had and that no one could force me to wear a gown while laboring in my hospital room.
Remember, hospital policies are one thing, but as a mentally competent adult, no one can force you to do something you don't want to do. It can just be extremely difficult to advocate for yourself while having a hospital birth where most people opt for interventions.
So, anything that felt important for me to ask about labor and delivery as a plus size woman – I took the time to bring it up during my prenatal visits.
I encourage you to do the same to help feel prepared!
And long before you ask your care provider questions to prepare for labor, you want to ensure you've connected with a size-friendly healthcare provider.
Consider Hiring A Doula
My doula was my epidural!
She taught me how to ride my contractions like waves and believe in my body's strength.
I can't imagine giving birth without a doula!
Doulas provide educational, physical, and emotional support throughout pregnancy, birth, and postpartum.
Learn about the benefits of hiring a doula and listen to podcast episodes with doulas – Q&A With A Size-Friendly Doula and How Doulas Support Plus Size Moms.
Plan To Wear Whatever You Want During Labor
So, what did I end up wearing, you might be wondering?
I wanted a cute yet comfortable short cotton dress, and Target had just what I was looking for!
Once we arrived at the hospital, I was told I had to wear their gown.
Thankfully my doula immediately spoke up for me.
The admitting nurse made a snooty comment about how my clothes would get filthy. She was right; the dress we had fought for didn't make it more than a few hours into labor because I vomited all over it.
Thankfully I was wearing a tank top with a built-in bra underneath, which was perfect! It gave me some modesty, didn't feel restrictive, and was comfortable.
I wasn't wearing anything besides that tank top for the duration of my son's birth. My loving birth team always helped me cover up with a towel or sheet; that was just what I needed to feel secure.
Consider what you want to wear during labor, and remember that your care team will need access for monitoring. But your wishes should be respected if you want to remain mostly covered for modesty or wear nothing.
Set The Tone For Your Birth
Our doula suggested we create music playlists. Our son came early, so I hadn't finished editing my playlists. At one point, a bunch of nursery songs was playing, and I remember thinking, "make this stop," but couldn't vocalize it.
Our doula read my mind and switched to a playlist she knew I'd enjoy.
Thanks to her, music ended up being a key element during the birth of our son. I could tune out everyone in the room and enjoy the music between contractions.
Jeff Buckley's version of "Hallelujah" and Nina Simone's "Feeling Good" will forever flash me back to my son's birth.
Another way we attempted to create the right tone was with aromatherapy.
I had selected "Ocean Breeze" and "lavender," but they never even made it out of the hospital bag. While I was laboring in a bathtub, a nurse asked if it was okay to spray some cedar oil.
The natural scent was perfect and is now another way for me to relive my birth experience.
Think of all of your senses while planning what to bring to set the tone for your birth. From music, and your favorite scents, to electric candles!
Be Selective About Who You Want At Your Birth
While I adore my mother-in-law, being naked in front of her was not within my comfort zone.
I even questioned having my mother in the room, but I decided I wanted her there.
Our selected medical facility was a teaching hospital. So, I declined when they asked if a medical student could assist with my son's birth. While allowing students to learn is wonderful, don't feel you have to invite more people into your birth space.
That said, after almost sixteen hours of labor, I no longer cared who would see me naked. The entire cast of Grey's Anatomy could've been in the room, let alone that one medical student or my mother-in-law, and I wouldn't have cared.
And more people did enter my room as my son was born to help care for both of us. So know to expect to see a few unfamiliar faces (a nurse for your baby, for example).
I had done what I could to create a safe space for birth. So, when it came time to give birth to my son, I did in the position pictured below.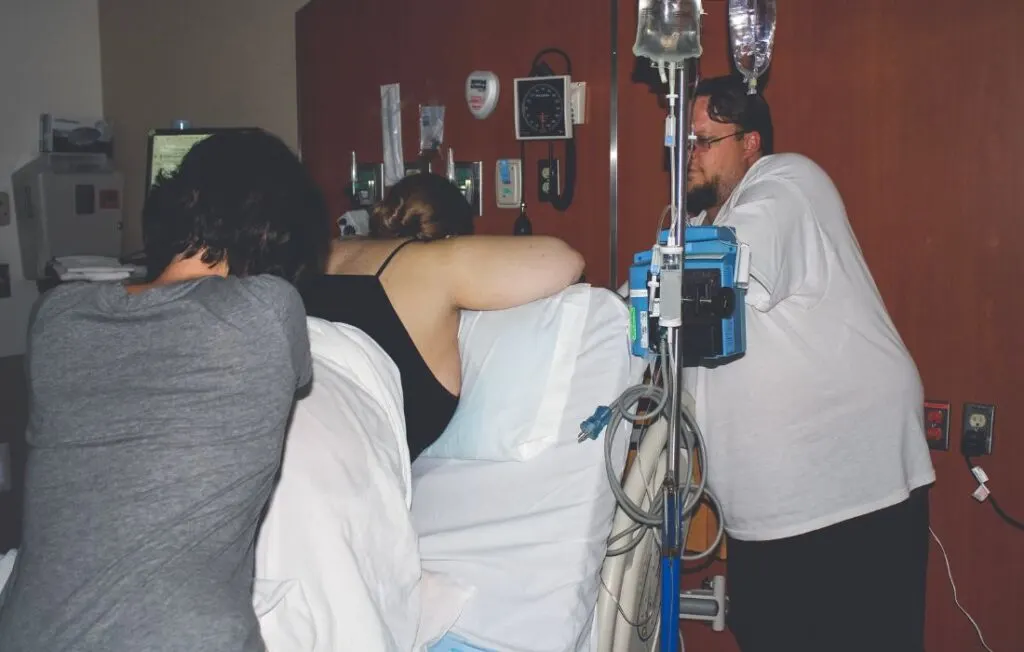 This position was perfect for me since I wanted some modesty, and I'm plus size. Being on my knees didn't leave me feeling exposed. And I didn't experience the discomfort I would have by laying on my back with my feet held up. A sheet covered my body between contractions until right before my son was born.
The only face I could see was my husband's, which was romantic!
You Can Have An Unmedicated Birth In A Hospital!
My doula was right; giving birth is like having sex in many ways. It doesn't matter if you're plus size or otherwise; it won't be enjoyable if you're not comfortable. However, if everything falls into place just right, it can be the most freeing and exhilarating moment of your life.
I was so glad I did my best to set myself up for having a natural birth in a hospital. In the end, I could let go and embrace my body while bringing my son into the world.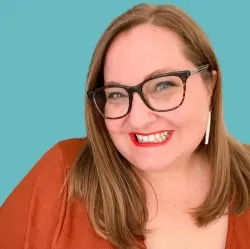 Latest posts by Jen McLellan, CBE
(see all)