This is a paid promotional blog post and I also received products for this review. If you've been following my blog for a while, you know that I'm very selective about the products I talk about. It has to be something I'd personally use or something my family would honestly add to our lives. You can read my disclaimer policy to learn more. Know that I'm a HUGE Gracie & Sam fan and I'm delighted to write about their carriers on my blog.
4 years ago, when my son was a little baby, I really wanted to fit in with all of my babywearing friends. I went to my local mommy boutique and squeezed my body into a carrier. The straps dug into my skin but it buckled so I bought it. Yet I only wore it twice so I basically wasted over $100. At the time I didn't even think to Google, "plus size baby carriers" or look at any online options for plus size babywearing. I just walked into a store and hoped for the best. Now I know so much better and have started a little carrier collection for when my family is ready to grow. I've invited Valerie Tripp with Gracie and Sam Handcrafted Carriers to answer some common questions about babywearing and plus size baby carriers. Be sure to read this post to the very end because Valerie is giving away one of her adorable baby carriers!
What advice do you have for a plus size woman who is interested in babywearing but is fearful nothing will fit?
First, learn a bit about the different ways to babywear. For the mama new to wearing, the 3-4 companies available at the big box stores seem like the whole world of babywearing. And I must say I'm excited at how much those companies have expanded their lines to encompass more styles of carriers. But know there are a bunch of different types of carriers, all of which have their strong points, and some of which are particularly well suited to the rounder body that might need more flexibility. The mei tai is a perfect example of this – there's nothing fixed about it besides baby's seat – everything else can be adjusted to your body type. There are also a lot of smaller manufacturers happy to customize their carriers, so you don't have to worry about "tying in the tips" of a mei tai strap or having an Soft Structured Carrier (SSC) belt that only *just* closes while creating a glorious muffin top!
Also keep in mind that different brands of carriers are like different brands of jeans. Just because an SSC from one company doesn't work for you doesn't mean an SSC from another company won't. A matter of a couple inches in a strap or the curvature of how the waist is attached can make all the difference between a carrier that rubs you raw under the arm and one you can wear for hours during family outings.
What do you find are the greatest benefits to babywearing?
As a mother to an older baby (just turned 2), my favorite benefit is that I can appease her need to be close to me or get cuddled when she gets tired while still being able to do whatever I'm working on that requires up to two hands and my full attention. Whether I'm trying to prep food for dinner or working on sewing a carrier, I can wear Gracie and still keep going. Because I don't have to slow down so much during the day, it also means that come bedtime, I can take that time to sit and breath and just be with the kids, and not stay up late trying to get done what I couldn't do when she needed held earlier.
When both kids were babies and nursing, babywearing helped me manage that relationship. I was able to nurse easily while out and about simply by adjusting the carrier height or switching holds in a ring sling. I truly believe babywearing is one of the things that let me extend our nursing relationship as long as I did because of the interaction and it's effect on oxytocin helping to battle the otherwise drying up of my milk.
Will babywearing cause my little one to become to clingy?
This question comes up repeatedly within big babywearing forums so I have seen literally thousands of responses. Some babies are clingy. Some are not. Some are clingy in certain situations. If babywearing made babies clingy, there would be one unanimous response to this by all those babywearing mamas, and instead, it's incredibly diverse. I'm much more inclined to link clinginess to personality than I am to the act of babywearing. Same with measuring milestones.
Can you wear an older baby/toddler?
I loved wearing my children as young babies because I was able to constantly monitor their needs and well being. I love babywearing my older baby. Sam and now Gracie love to get down and run and check things out. I encourage that curiosity and activity. But invariably, they get tired or fall and get a scrape, or simply grow bored with the immediate surroundings. At that point, I can either hold them in arms (and they're HEAVY for that now!) or I can put them on my back in a carrier where we're all happy (and they can take a nap!). Babywearing doesn't mean the child is only ever worn and doesn't set foot on the ground. The progression of wearing changes as the child changes, and the reasons and benefits that go along with it shift, too. But there are excellent reasons to wear the "walking baby" – reasons that help BOTH the parties.

Now I get to tell you all about Gracie and Sam, a new Plus Size Mommy Memoirs sponsor, and size friendly company! Since my 4 year old isn't too keen on being worn, I had the great pleasure of borrowing a baby to test out the Doctor Who Starry Nights Tween Tot carrier Valerie sent me to review. The mama of sweet baby Callista was amazed by how much she enjoyed being worn (I'm also quite snuggly if I do say so myself). I honestly couldn't believe how comfortable this carrier is and how it perfectly fit my body!
This babywearing experience was dramatically different from my first. As a larger mom, it was such a relief to not only feel like a carrier would fit but that I would feel comfortable wearing it for an extended period of time. The craftsmanship is outstanding and meets all safety regulations. It was super helpful that the carrier came with easy to follow instructions.
The Tween Tot carrier (I'm wearing in the photos) fits up to a size 26 and additional length can be added to the waist strap for no additional charge. The mei tai style carrier's size limit can vary from size 18 – 26 depending upon how you're wrapping it around your body for different babywearing options. Mei tais can have an extra foot added to the strap length for only $5. Please know that Valerie is happy to speak with mamas to help them find the best carrier and fit! She helped me to select the right carrier for my body type and answered any questions I had right away.
I think we also need to spend some time talking about the adorable patterns she offers from Harry Potter, Sherlock, whales to an option for Sci-fi lovers and much more. I hope you'll go to her website, gracieandsamshop.com, and checkout all of the unique options.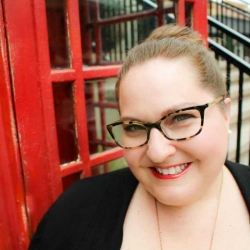 Latest posts by plussizebirth
(see all)