Love Letter to an Internet Bully
As a blogger and owner of a popular Facebook page I've come under attack by internet bullies many times. The main reason I get attacked by an internet bully is because I'm a fat woman empowering other fat women to love and respect their bodies. As if it's a radical notion that women of size can not only be loved by others, but also love themselves.
The majority of the work I do is advocating for plus size women around pregnancy and birth. I'll never forget sharing an image of myself 8 months pregnant with the following text, "I will no longer be ashamed of a body that can do something so amazing!" It received over 1,800 likes on Facebook so it gained a fair amount of visibility. Any time that starts to happen I know internet bullies will come out to play.
These bullies aren't actual followers of my page, they are friends of my followers who see images appear on their Facebook live feed.  Contrary to popular belief you don't actually have to "like" a Facebook page to be able to comment on a thread. Of the many cruel comments, the one that stands out is, "making love by refrigerator light." I cried. I took that attack extremely personally.
Following that experience, I quickly realized if I was going to continue my work with
Plus Size Mommy Memoirs
I would have to grow a much thicker skin. So, I adopted the philosophy "don't feed the trolls" after having a clear understanding that engaging with bullies only fuels their fire.  I just ban them from my page and delete their comments.
Over time I've become less and less enraged by trolls. I actually feel really sorry for them.
I spend my time behind the keyboard empowering women and it's incredibly rewarding. I can't imagine how much low self-esteem it requires for someone to receive satisfaction by belittling people. Bullies type things, behind the safety of their keyboard, that they'd never say to someone's face (or at least I'd hope not). It's cowardice and I'm unable to comprehend how hurting others can be pleasurable. Shaming people has real consequences and words can be damaging.
This past weekend, after an image from my
Cardboard Courage Project
was attacked, I'd had enough. I work diligently to create a safe space for plus size women on my blog and Facebook page. Tired of trolls infiltrating that space with their negativity, I could no longer keep my mouth shut.
I retaliated with the "love letter" below.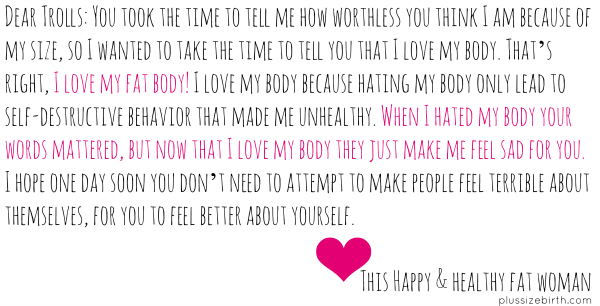 Chrystal, from
Curvy Girl Lingerie
, loved what I had to say and shared it with her Facebook community. Then she came up with the brilliant idea of allowing other women to vent by writing a "love letter" of their own!
If you've ever felt victimized by a bully then join this campaign.
Chrystal and I thought it would be powerful to put a face behind the statement by adding your photo as well. You can use the free photo editing website, 
www.picmonkey.com
, or another tool of your choice. Share your image on my
Plus Size Mommy Memoirs
Facebook page or on
Curvy Girl Lingerie's
page. If you don't want to create an image then you can simply leave your love letter in the comments below.
It's time we stand in solidarity against trolls who spew hate from behind the mask of their keyboard. It's also time we take a long look at our Facebook "friends" and call out those who get their jollies off by hurting others. Join Chrystal and I today!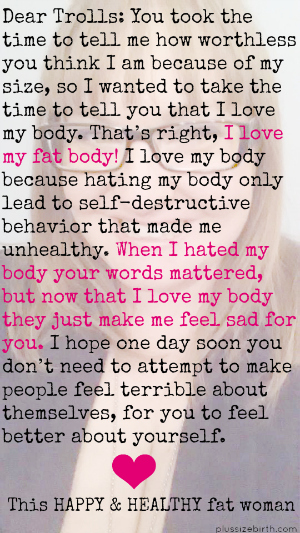 Get Support!
Subscribe to our informative weekly newsletter, and you'll receive a free resource on how to connect with a size-friendly care provider.