When you Google, "what to pack in your hospital bag" you'll find lists with all the basics from a phone charger to ponytail holders. Those lists are great and all, but when you're plus size and pregnant, there are some additional items you'll want to add to your hospital bag checklist to make your life easier during your hospital stay.
Before I share my list of plus size hospital bag necessities, I'd like to tell you a funny story.
The night I went into labor I remember thinking that packing my hospital bag soon would be a good idea.
A few hours later my water broke!
In my defense, I was only 37 weeks pregnant, so I thought I had a couple of weeks left!
I also didn't expect contractions to come on so hard from the start. The only thing that seemed to help me through early labor was pacing around the dining room table.
So I walked!
Meanwhile, my husband ran up and down the stairs packing the hospital bag and timing my contractions. Now I'm not saying he did a bad job packing the hospital bag on his own – but there were definitely a few things I would have done differently if I had packed it myself!
First and foremost, our son ended up having a hilarious mismatched going-home outfit!
On the other hand, my going home outfit matched, but I would've preferred comfy granny panties to the cute teal ruffled panties my husband packed for me. Adorable? Yes. Practical after giving birth? Not so much…
The point being, pack your hospital bag earlier than you think you need to and forgo the ruffled panties!
And now the plus size pregnancy hospital bag suggestions you've been waiting for after this brief disclosure.
Disclosure: Plus Size Birth is a participant in the Amazon Services LLC Associates Program, an affiliate advertising program. As an Amazon Associate, I earn from qualifying purchases. Read more about these links in my disclosure policy.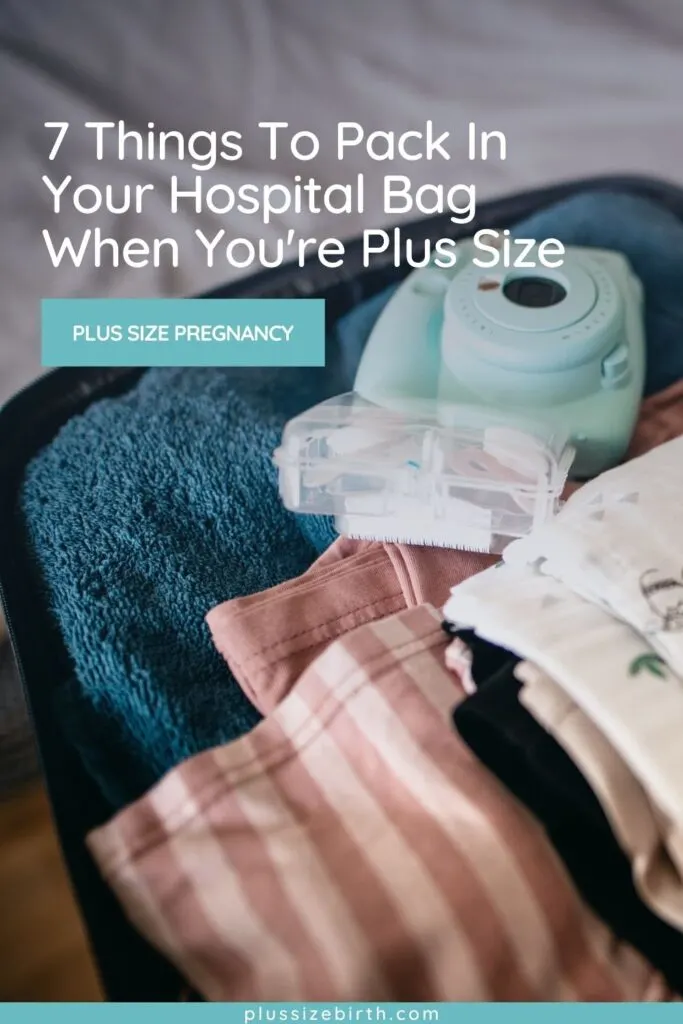 7 Hospital Bag N

ecessities

When You're Plus Size
Hospital gowns come in two sizes – itty-bitty and ginormous. It feels like your only options are to wear two gowns (one for the front and one for the back) or feel like you're wrapped in a bedsheet.
Thankfully there are plus size labor and delivery gowns available now which provide modesty, comfort, as well as functionality so nurses can access your belly for monitoring.
Another option, Dressed To Deliver with labor gowns up to a 4XL/5XL.
If you don't want to splurge on a plus size labor and delivery gown, another option is to wear a plus size cami or plus size nursing tank-top along with a comfy plus size cotton skirt.
Or you can wear a sports bra (this plus size sports bra goes up to a 5XL) and plus size robe.
Whatever you decide to wear, don't select anything you're afraid to get dirty because birth is messy.
Fetal monitoring during labor can be frustrating, as the bands holding the sensors in place are not designed for plus size moms. Lucky for you, I have some tips and tricks to help!
If you're planning an unmedicated childbirth, you can ask for intermittent monitoring with a Doppler.
Some hospitals have wireless monitoring, and the Novii Wireless Patch System is specifically designed for people of size. Be sure to ask your prenatal care provider if your selected hospital has wireless options.
If your only option is the traditional monitoring, a plus size belly band can be super helpful for keeping the monitors in place and this belly band goes up to a size 28! So be sure to pack a band in your hospital bag as a great backup plan!
Remember how I mentioned that birth is messy?
While most people think about needing pads and even diapers during postpartum, you'll want to be prepared for labor as well.
Ya…sorry about that!
Yes, hospitals carry mesh underwear but there's a misconception that they come in one-size-fits-all. The reality is mesh undies are more like one-size-fits-most.
You can purchase plus size mesh underwear via Amazon if you're concerned the hospital won't have an option that works well for you.
Whether you want to buy mesh undies or pack extra granny panties in your hospital bag, I highly recommend purchasing overnight pads or even adult diapers to have on-hand at home.
The Always Discreet Underwear has sizing that goes up to 400 lbs.
Again…sorry about that but I've been there, well I have! Just trust me on this one.
The hospital will provide you with all you need while you're there, but even if you're having a c-section, you'll need a stock of giant pads to have at home.
The hospital provides this magical spray called Dermoplast that helps numb everything up for bathroom trips (if you need more once you get home, Amazon has you covered).
Another handy tool for bathroom trips is a peri bottle, that will become your bathroom buddy.
You might want to purchase a long nozzle peri bottle if you have a large belly that causes trouble reaching. The bottle the hospital provides can be harder to use when you're plus size. This handy tool is inexpensive and worth every penny!
Speaking of hygiene, throw a bath towel in your hospital bag unless you don't mind the tiny towels the hospital provides.
While traditional hospital packing lists include maternity bras, I recommend a comfortable nursing sleep wrap bra as your milk comes in.
Sure, you can splurge on traditional plus size maternity bras, but it's best to wait until you know what size bra you actually need before spending a small fortune on nursing-specific lingerie.
A nursing sleep wrap bra is so comfortable you can wear it 24/7! Pair it with a plus size nursing tank, and you'll get all the support you need for walking the hospital halls.
Here are a few bonus nursing items you might want to pack – nursing pads for leak protection, hands-free plus size pumping bra, and a plus size nursing pillow.
From labor to postpartum, having a robe like the one pictured below from Pink Blush can be handy for leaving your hospital room and feeling comfier in a sterile environment. Plus, this mom sure looks gorgeous!
View this post on Instagram
We also love this simple robe via Amazon that works perfectly as a plus size hospital robe and has rave reviews!
Don't forget to pack some slip-proof socks or slippers to go with your robe, as hospitals tend to be quite chilly.
With that said, if you're worried about feeling too hot, especially during labor, we recommend packing a portable USB fan in your hospital bag.
After giving birth, you'll still have a belly. If you're like me, you had a belly long before getting pregnant, so having a belly after pregnancy isn't a big surprise.
What I wasn't expecting though, is how out-of-sorts everything feels in your abdominal area after giving birth.
A support belt or even your maternity belly band can help you feel more secure and comfortable, especially if you've had a c-section.
I hope you found these tips helpful to add to your hospital bag packing list.
As I mentioned above, you'll still have a belly so don't pack your pre-pregnancy clothes in your hospital bag and leave any stiff fabric at home (it's probably safe to say no denim!). I recommend comfy plus size maternity yoga pants and if you're planning to breastfeed, pack some nursing tanks and nursing tops.
If there's anything we left off, please be sure to comment below!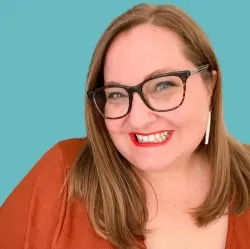 Latest posts by Jen McLellan, CBE
(see all)