Going to Disneyland while plus size? Let's talk about it! If you have questions about Disneyland rides for obese people, they will be answered and your concerns put at ease! The good news? Disneyland and Disneyworld are fat-friendly amusement parks!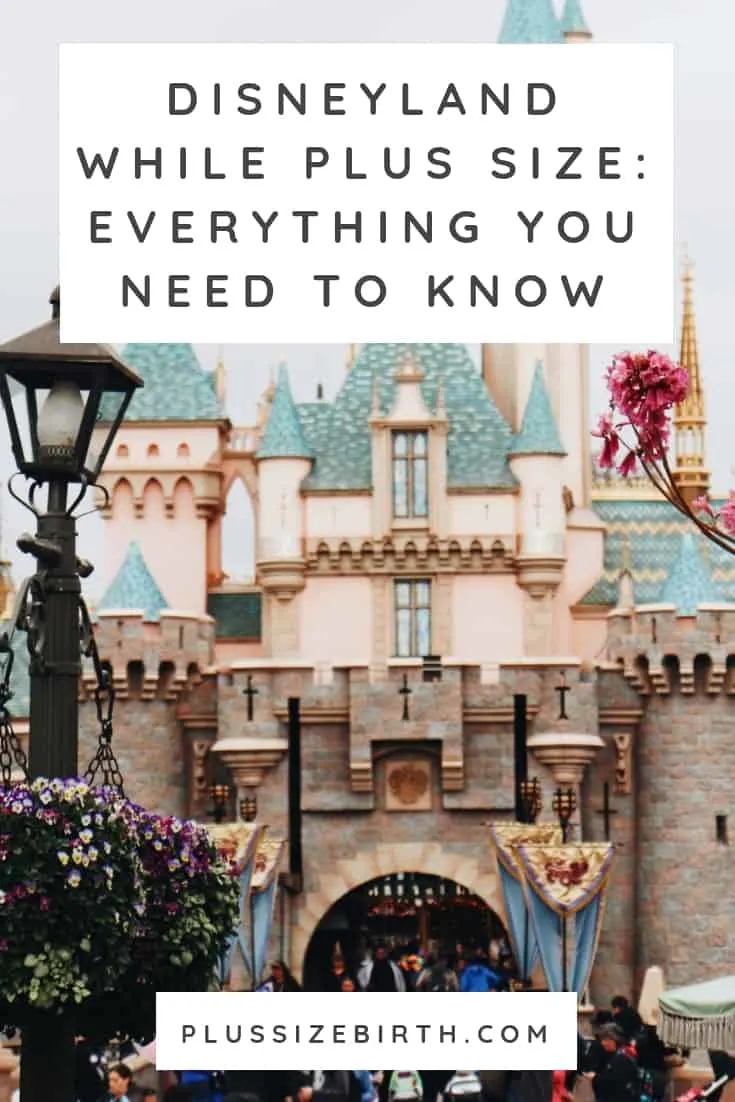 Disclosure: Plus Size Birth is a participant in the Amazon Services LLC Associates Program, an affiliate advertising program. As an Amazon Associate, I earn from qualifying purchases. Read more about these links in my disclosure policy.
Becca, from Love Our Disney, joins us to talk about going to Disneyland while plus size.
I have always felt comfortable in my body. As I have always been plus size, ranging from a size 16 to (after PCOS becoming apparent) a size 26/28. I've never thought much about my weight at all.
Even as a mom, while trying to get in better shape so I could be healthy for my son, I never hated my body because of the size.
Then I visited that place….The Happiest Place On Earth.
But for my size 26 body, I was anything but happy as I thought about going on the rides.
First, I encountered the awful, old and made for smaller people turnstiles. Being my first time visiting the parks at this size, I felt my heart pound as I had to turn sideways to fit through. Once I had my son I was so happy because I could push the stroller through the bigger gate and avoid the turnstiles.
At that point I didn't think much of it. I was in; I was taking in the sights and sounds of all things Disney. Then it came time for my first ride that had restraints.
I knew while waiting in the queue that this ride would have a seat belt. Indiana Jones.
My palms started to sweat, my heart race, and I felt nauseous.
What if that belt doesn't fit?
Am I going to have to get off the ride?
I felt that same fear with each new ride.
Luckily, each new ride proved that all of my fears were unjustified.
In reality, Disney is very size friendly.
Fast forward a few years and I am now a mom. I sit comfortably at a size 22. Knowing that I can fit on the rides, you would think my fears are over. But new thoughts and fears crept into my head.
How could a child possibly be safe sharing a lap bar with me?
My son is still too little for most "dangerous" rides, but what about other children we often have with us at the park (nieces, friend's children, etc). How could they be safe on the ride with me?
This was a new fear. Could my size actually put a child's life in danger?
It took me telling myself over and over "Disney is focused on safety" to calm down.
As I tried to convince myself I was crazy, I realized a few things – if a ride is really in need of restraint, passengers will not share a restraint.
They will each have their own restraint.
Space Mountain, Indiana Jones, California Screaming, Hollywood Tower of Terror, and more all have individual restraints because Disney is focused on safety. They know that there could be a plus size mom with her skinny child riding a ride.
But what about Thunder Mountain? You share a lap bar.
Even I, with the lap bar tight, have felt my rear come off the seat a little if I sit in the back car. How could a child possibly safe with someone my size on that ride. They are!
Thunder Mountain is classified as "mild but wild" meaning while it has thrills; it is not in need of the same restraints as some of the bigger "thrill" rides.
If the simple fact of knowing that Disney wouldn't allow your children on the ride with you is not easing your mind, there are other things you can do to make you, and your child feel secure.
Tips For Disneyland Rides For Obese Parents
1. Sit near the front on Thunder Mountain, the front goes much slower and never quite gets that "top speed" that the back cars get.
2. Keep your arm around the child. This helps both of you feel secure. If you don't want to put your arm around the child, you can have the child hold onto your arm.
3. Ask a cast member if you are still having doubts. Cast members have safety drilled into your heads. If a situation is potentially unsafe, they will let you know.
4. If you are still nervous SIT OUT! Just don't go on rides that are thrill rides and have lap bars. In Disneyland, this is mainly just Thunder Mountain. If you are unsure what kind of restraints a ride has, ask the cast member standing at the entrance of the queue line. They will know.
Disney is supposed to be a magical place where you make memories that last a lifetime. It is not supposed to be the place that makes you feel bad about who you are, doubt your child's safety, or leave you feeling depressed.
Don't let the fear of one or two rides and your size stop you from making magical memories that will last a lifetime.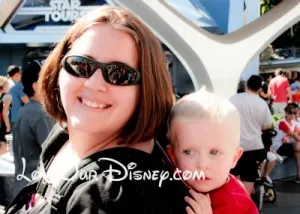 *While Disney does take safety very seriously, it is important to remember that there is always risk while riding rides. This is true whether or not you are plus size, riding with a child, skinny, or alone. To help ensure safety, follow all safety instructions, listen to the directions of cast members, and read all rider guidelines before riding a ride.
Below are some resources to help you plan your Disneyland family vacation now that you know it's a fat-friendly amusement park!
Disney Parks for Plus Sized Guests is an excellent Facebook group for any questions you might have about Disney World and Disneyland while plus size!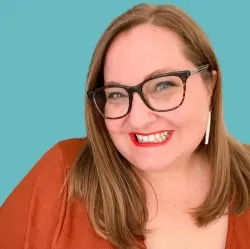 Latest posts by Jen McLellan, CBE
(see all)