Six years ago I started blogging in an effort to change the narrative of plus size pregnancy from something that's stigmatized to a normal experience. I knew one of my biggest challenges would be promoting positive plus size pregnancy news stories.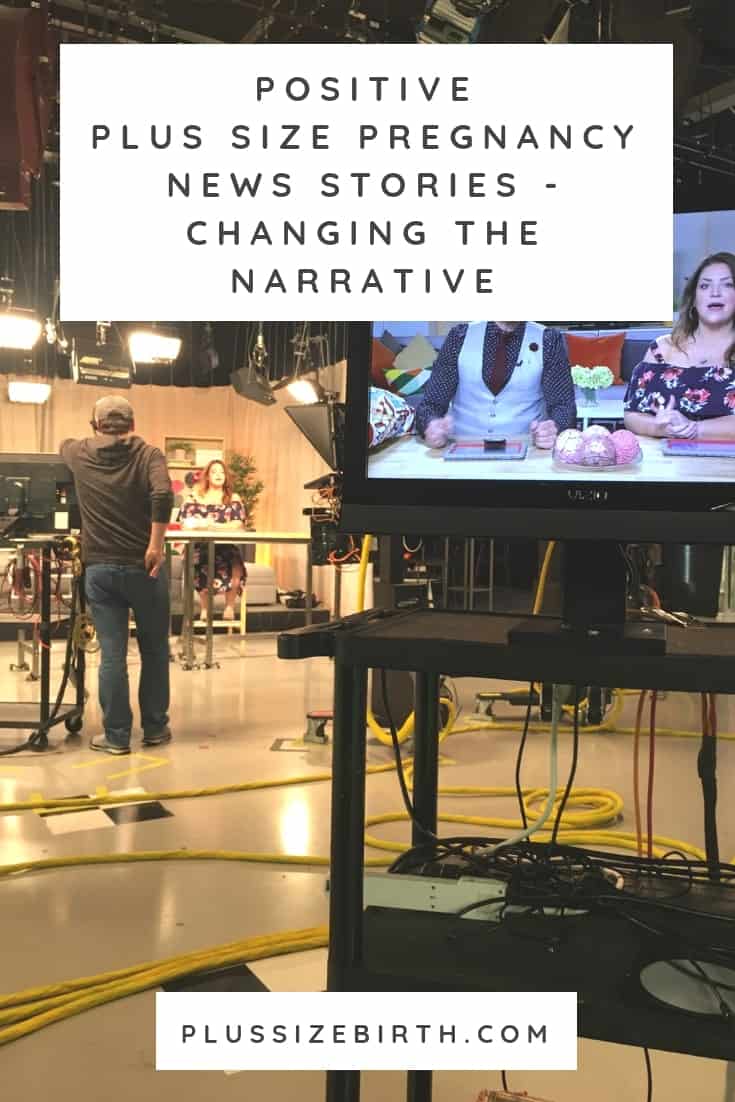 Positive Plus Size Pregnancy News Stories
Along this journey I've had some really exciting opportunities – I've traveled the country speaking and have made so many life-changing connections. I've co-authored a book on body love for moms and wrote a book on plus size pregnancy. My article, Obesity and Pregnancy: Time to Change the Conversation, resulted in a guest appearance on HuffPost Live. In late 2016, I was flown to Washington, D.C. to present to the National Institutes of Health.
Television spots had always been an ambition of mine but also a source of true fear.
In May of 2017 I was presented with the opportunity to be a guest on Channel 2 Daybreak (a local Denver, Colorado morning news show) and I knew I was ready!
When they asked me to provide talking points and I realized this would help to direct the conversation.
Why is this important?
Most often when we see plus size pregnancy news stories, there's a focus only on the negative and language like "obesity" is used. While "obesity" is a medical term, it's a word that many plus size individuals find offensive. I'm thrilled to share that the o-word wasn't spoken once. While the newscaster started by highlighting some increased risks, that wasn't the focus of our very short time together.
I'm getting ahead of myself!
Let me start off by telling you what happened when I arrived at the Channel 2 news station…
After a short wait in the reception area, I was taken back to the staging area and immediately saw my nightmare – barstool style chairs where the interview would take place. As I'm only 5' tall and a larger individual, barstools are uncomfortable and unwieldy. We prefer to avoid each other!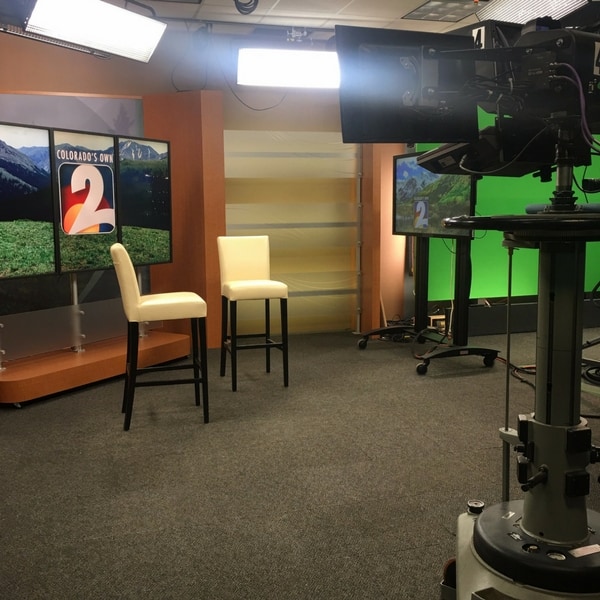 I've learned through doing a lot of body positivity work, that I have the right and responsibility to advocate for myself, my safety, and my comfort.
I spoke up, "I'm sorry but I don't think these chairs are going to work – I'm short and fat." I don't mind the f-word and I just wanted to be clear and state the facts. I made a joke, "I'm a little afraid I'll fall off the chair mid-segment, but at least it would make for good TV." While the joke wasn't needed, it was exactly the fear running through my head so I shared it. The staff immediately jumped into action to accommodate my request. I felt totally supported once I shared my concerns.
We all can learn from this experience. Never be afraid to speak up – even in situations where you might feel like you don't have a lot of control. I am sure you will agree when you see the replacement chairs that were provided, significantly more suitable for me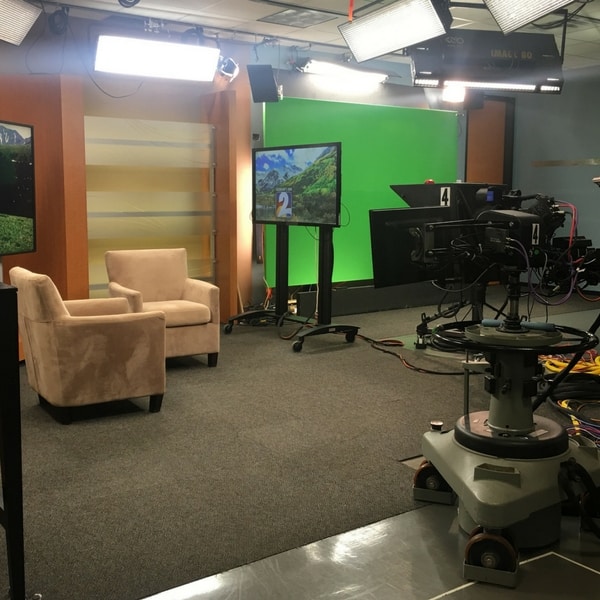 So with the new stage set, I waited for my turn. I got to watch two traffic segments with the newscasters presenting with the green screen behind them. It was so neat to see! As people walked by they introduced themselves. I met those who worked behind the camera to newscasters. Such a nice crew! They made me feel so welcome that I wasn't paying attention to my nerves. I was just eager to go live.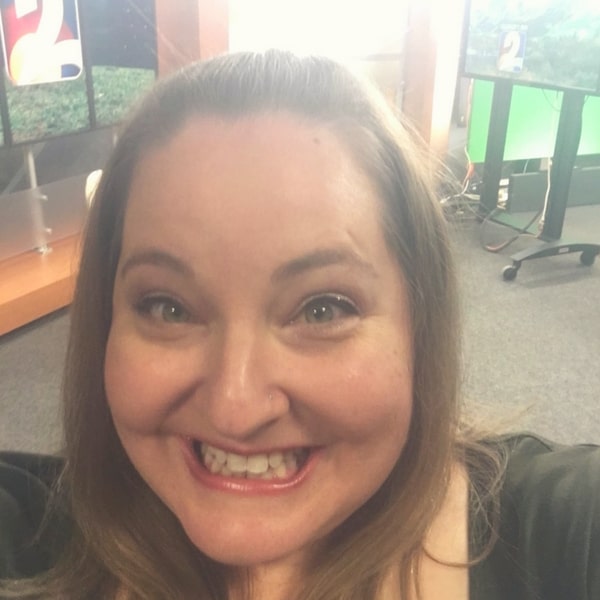 I learned during my brief time on a TV set, that it's all about hurry up and wait. I was waiting for almost an hour when all of a sudden I was getting my mic on and telling the host, Natalie Tysdal, how much I loved her shoes. We started to chat about the talking points I had sent over when all of a sudden I heard "45 seconds."
All of a sudden my nerves came crashing down. I asked Natalie, "Where do I look?" as there were three cameras facing us. She responded, "At me" and then we were LIVE!
I honestly felt like I was tripping on my words a lot. While I was desperate to convey my messaging of normalizing plus size pregnancies, I heard myself sounding a lot like Charlie Brown's teacher, "Womp, womp, womp". Before I knew it I could tell the two or so minutes were coming to an end. I had, just started to feel like I was finally clicking, then it was over.
Had I just messed up a big opportunity to help share positive plus size pregnancy news stories?
No, thankfully I surprised myself with how great I sounded when I was able to watch the playback! Sure, there are things I'd do different but overall I'm really proud of how I represented myself and the issues. More importantly, I hope this super short news segment can be an example of how we can start to talk about plus size pregnancy in a more positive light.
The newscaster started the segment talking about increased risks – this is the "news" after all. However, that wasn't the focus and she quickly transitioned to the fact that I am an expert and a positive resource for plus size pregnancies.
I really hope you enjoy this watching this clip of my interview.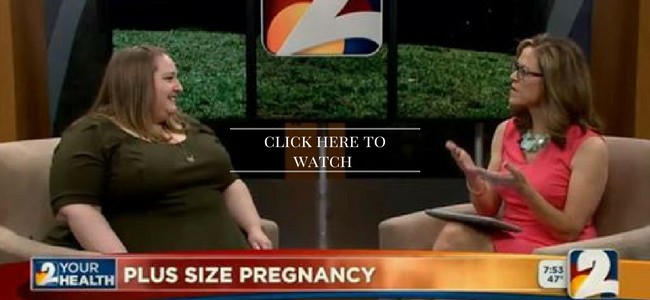 About two weeks later I found myself in front of the camera again on the Fox 31 Everyday Show. This time, I was not only asked to present talking points ahead of time but I also really hit it off with the producer of the show. She had her own struggles with fertility and wanted to make sure I shined in my segment.
Below you can watch the video and see a far more confident woman!
I envision many more TV opportunities in my future to increase the number of positive plus size pregnancy news stories!
Get Support!
Subscribe to our informative weekly newsletter, and you'll receive a free resource on how to connect with a size-friendly care provider.