Plus Size Pregnancy Frequently Asked Questions
Below you'll find the answers to questions you might have about trying to conceive, pregnancy or postpartum. Be sure to direct any medical questions to your care provider. This is not meant to be a substitute for medical care in any way.
As you're exploring this website, you can quickly come back to this page by clicking FAQ within the footer so, as you move through your journey, we hope you'll continue to use this page for information and support.
Before tapping into these resources, be sure to sign up for the Plus Size Birth newsletter. You'll receive a free guide to help you connect with a size friendly care provider and stay up-to-date on all things related to trying to conceive and pregnancy for plus size people.
Get Support!
Subscribe to our informative weekly newsletter, and you'll receive a free resource on how to connect with a size-friendly care provider.
I'm plus size and want to start trying to conceive. What advice do you have?
While it can be helpful to chat with your size friendly medical care provider before trying to get pregnant, our advice is to act like you're already pregnant before, during and after trying to conceive! Nourish your body with healthy, unprocessed food. Move your body in whatever way feels right to you and connect with a size-friendly healthcare provider (if you haven't already!). Read more here – Plus Size Trying to Conceive Advice: Act Like You're Already Pregnant
Can I get pregnant if I have PCOS? 
Big hugs! We have many community members in our private Plus Size Mommy Memoirs Facebook group who have PCOS. You are not alone. Quite a few of these members are also moms, and they have shared their journeys with us there! You can learn more about getting pregnant with PCOS and read their stories here – Plus Size Women PCOS Stories and Resources
I'm struggling with infertility and all I'm told is to lose weight. Are there other reasons why I'm not getting pregnant aside from my weight?  
We hear this story time and time again – a woman goes to see her care provider (or connects with a fertility specialist) and is told she will not receive any support or medication until she has lost a significant amount of weight. The truth is there is a lot more to infertility for plus size women than just weight. People of all sizes have infertility struggles! Learn more – Infertility for Plus Size Women: When Weight Loss isn't the Only Answer
Where can I find plus size maternity clothes, support belts, babywearing options, nursing bras and pillows?
What are some of the main things I can expect when having a plus size pregnancy? 
While being plus size and pregnant does come with some increased risks, people of all sizes can have healthy outcomes! Dr. Thornburg, a size friendly OB-GYN, wrote a guest post for our blog called Pregnant Women of Size: What to Expect and Not to Expect! It's a great article and reviews the points within the image below.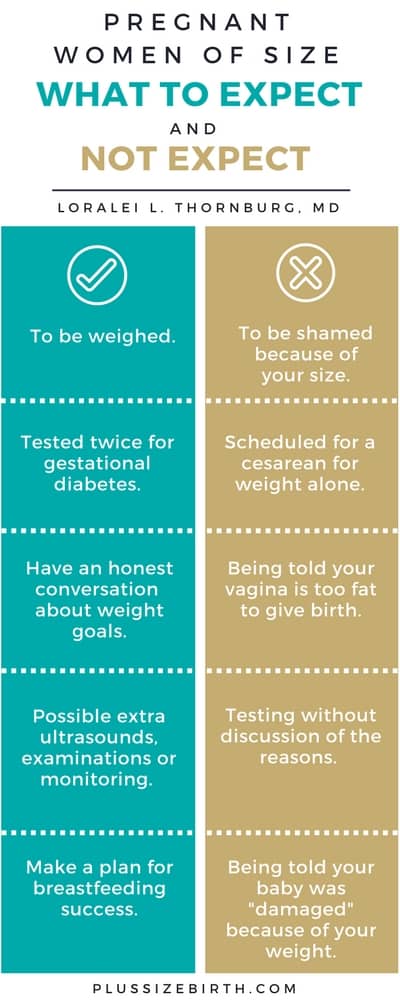 How can I connect a size friendly health care provider? 
Connecting with a size friendly care provider can be the most significant game changer when it comes to having a healthy plus size pregnancy. We're so passionate about this topic that we've created a free guide to help you out! It includes tips on how to connect with a size friendly care provider and questions you can ask to make sure they're the perfect fit for you. Simply subscribe to our newsletter to download the guide immediately – My Size Friendly Care Providers Guide
Get Support!
Subscribe to our informative weekly newsletter, and you'll receive a free resource on how to connect with a size-friendly care provider.
Are all medical facilities size friendly? 
Sadly, no. Depending on what area of the world you live in, the nearest medical facility to you (including birth centers) might have BMI restrictions or other restrictions on your options during labor and delivery. It's critical that you not only connect with a size friendly care provider but also research the place where you're planning to give birth. We have some questions we recommend asking here – Not All Hospitals Are Created Equal
What's a doula? 
A doula is a trained professional who supports pregnant people and their families during pregnancy, birth, and postpartum. Doulas offer informational, physical, and emotional support along the way. Learn more here – Do I Need a Doula?
When will I start to look pregnant? 
We wish we could answer this question for you, but the reality is, it's different for everyone. Some plus size women start showing early in pregnancy (especially if this isn't their first pregnancy) while others have bellies that may never "pop". It's important to know that even if you don't show as early or as much as you wish you would – your body is still growing life within you, and that's amazing! Hear a mom's story here and find our survey of 100 plus size women as to when they started to look pregnant – Where's My Bump? Plus Size Pregnancy Woes

Where can I see images of pregnant women my size? 
Sharing images of plus size pregnancy is super important to us as it helps to normalize plus size pregnancy for everyone. You can see a gallery of over 200 bumps here, Maternity & Birth Photo Galleries, as well as our Plus Mommy Instagram page that we encourage you to follow!
My belly looks more like a B than a D. Is this normal? 
Yes! If you have a belly that's shaped more like a "B" than a "D" during pregnancy, it's completely normal! See photos and learn more here – What's a B Belly?
How much weight should I gain? 
Here are pregnancy weight gain recommendations from the Institute of Medicine – "Overweight women carrying a single fetus are advised to gain a total of 15–25 lbs. during pregnancy (compared with 25–35 lbs. for normal-weight women). Obese women are advised to gain less: 11–20 lbs."
It can be quite discouraging to be told you should only gain around 20 pounds during pregnancy. However, it isn't uncommon for plus size women to actually lose weight during pregnancy. Be sure to have an open line of communication with your care provider and address any concerns you have. As long as you are making healthy choices throughout your pregnancy, most often your body is going to gain what it needs to do to grow a baby.
Where should I start when it comes to nutrition during pregnancy?
While we have a few helpful nutritional articles, we highly recommended you connect with a Registered Dietitian to account for your own unique nutritional needs. Find out if your medical group or insurance offers payment assistance. Even if you don't have coverage, investing in your health (if you're able to afford to do so) will pay off in the long run.
Here are two articles that might be worth reading, depending on your situation.
Can you provide me with options for being physically active during pregnancy?
Absolutely! Moving your body, in whatever way feels doable to you (after getting medical clearance) is terrific for your physical and mental health. From starting a walking group to joining a water aerobics class, here are 7 Plus Size Pregnancy Exercise Tips we hope you'll try.
Tips for sex during a plus size pregnancy?
Some women experience a heightened sexual drive during pregnancy while others have no interest in sex. Whichever end of the spectrum you land on, or if you're somewhere in between, it's entirely normal. You're completely normal! The sexiest thing you can do is to have an open line of communication with your partner about these things. Connecting with your partner during pregnancy in a physical manner is important for your relationship. But remember, there's a lot more to intimacy than just intercourse! Here's a lot more information (as well as position suggestions) – How to Have Great Plus Size Pregnancy Sex: Talk and Tips
Should I have maternity photos taken even if I don't look like most of the images I see of pregnant women? 
The most prevalent regret we hear from moms on the Plus Mommy Facebook page or our private community is not feeling confident enough in their bodies to have maternity photos taken. So even if you just take bathroom selfies, it's so important that you document your pregnancy. These pictures aren't only for you – your children will cherish them.
Due to so many people wishing they would've taken photos, we've spent a lot of time collecting stories and images for our blog.
---
All of these plus size pregnancy questions and so much more are tackled in depth in the

My Plus Size Pregnancy Bundle

.
Where can I read plus size birth stories? 
From hospital, birth center to homebirth stories – we have an ever-growing collection of Plus Size Birth Stories! We also have photo galleries of pregnancy, hospital birth, home birth breastfeeding and babywearing.
Are there labor and birth positions that are easier for plus size women? 
Though all women find some positions work better than others, plus size women may find some positions are considerably more workable for them. From being on hands and knees, reclining pose, to being in water – you'll learn about different positions in the article Labor and Birth Positions For Plus Size Women.
I'd like to have a natural childbirth. Any suggestions to help me prepare for a natural, unmedicated childbirth? 
For most women, a natural childbirth isn't something that just happens. It's a choice that requires mental preparation and planning thanks to it being counter-culture. It's critical you pull together a supportive birth team (including a size friendly care provider) as well as prepare your mind and body to have a natural birth. It's also really important to remember that birth is unpredictable. Even if you do all you can to have the outcome you desire, it doesn't mean it will come to fruition in that way for you. What's most important is that you feel supported throughout your pregnancy, birth, and postpartum!
How can I prepare for having a cesarean birth?
We asked Plus Mommy community members who've had a cesarean birth to share their experiences. The post received over 130 responses! We divided the advice and some research we did in the following way: preparing for surgery, operating room, immediately following surgery, hospital recovery, and home recovery. Please tap into this resource and let us know if there's anything we can add to it – C-Section for Plus Size Women
Is it possible to have a vaginal birth after cesarean when you're plus size? 
Yes and we have this resource and stories from plus size moms to share with you – Vaginal Birth After Cesarean (VBAC) Resources 
I've heard that plus size women are less likely to exclusively breastfeed. Are there any plus size breastfeeding resources?
Studies do show plus size women are less likely to initiate and exclusively breastfeed. These studies also show one intervention that significantly improves breastfeeding outcomes is connecting with an International Board Certified Lactation Consultant (IBCLC). Find supportive resources and read breastfeeding stories here – Plus Size Breastfeeding Resources
Are there any babywearing options for plus size people?
Absolutely! Babywearing is for everybody! From size friendly wraps to structured carriers, see images of plus size women babywearing and peruse our list of size friendly options here – Babywearing Carriers and Wraps
My belly hangs lower than it used to and causes some discomfort. Is there anything I can do to feel more comfortable and prevent rashes?
If you have an apron belly (before, during, or after pregnancy), please know that you are not alone! When you Google "apron belly" you mainly get tips on how to change your body – from weight loss (that often makes an apron belly hang lower but look more deflated) to surgery (that's not an option for many due to insurance or financial limitations). Yet, there are many tips and tricks plus size women have shared with us on how to feel more comfortable on a daily basis. You can find them here – What's an apron belly? Practical solutions and comfort tips!
Any suggestions for having sex when you're newly postpartum and have a larger body?
Regardless of whether you have a vaginal or cesarean birth, your body will be different following childbirth. These changes are not only physical but also emotional. There's a lot you can do to ease back into a sexual relationship with your partner – from having an open line of communication to using a lot of lube. A Board Certified Sexologist addresses all of this and a lot more in the article Let's Talk About Sex: Postpartum & Plus Size Sex
I struggle with body image and want to learn how to love my body. Where can I start to tap into body-positive information?
Learning to love yourself for who you are today, regardless of what you want to look like tomorrow, is one of the greatest gifts you can give yourself. We've developed a full website and newsletter dedicated to helping women walk a path to self-love – Plus Mommy! Start by subscribing to the Plus Mommy newsletter to receive our 10 Steps To Body Love. You are worthy of self-love!
---
Join a community of plus size women who are trying to conceive, pregnant or moms via your favorite social media outlets!
This concludes our Plus Size Pregnancy Frequently Asked Questions. If there are any questions you have that we didn't answer, e-mail us at info@plussizebirth.com. Friendly reminder to always direct medical questions to your care provider.   
Get Support!
Subscribe to our informative weekly newsletter, and you'll receive a free resource on how to connect with a size-friendly care provider.